We've put out a lot of fantasy material this offseason. (Trust me, as the person writing this, I've also edited all of it. It's a whole whole lot.) And we've done it since February. (Again, as the person writing this, my wife will tell you that I take almost no days off.) That much material just out in the ether over that much time can be daunting for someone trying to get ready for a fantasy draft.
Want to be the most comprehensive fantasy player possible? The most well-read one anywhere? Sure, scroll back over six months of material, read every last piece, research every last data point, have fun. Maybe you don't need a job.
But for everybody who needs a job, who can't take that sort of time, we have this.
This is our cheat sheet for 2018. As you prepare for your draft, whenever it is, and whatever structure it is, keep this bookmarked. Here, you can access our rankings, our analysis, and our previews, along with much more.
It's not everything. But it's everything you need.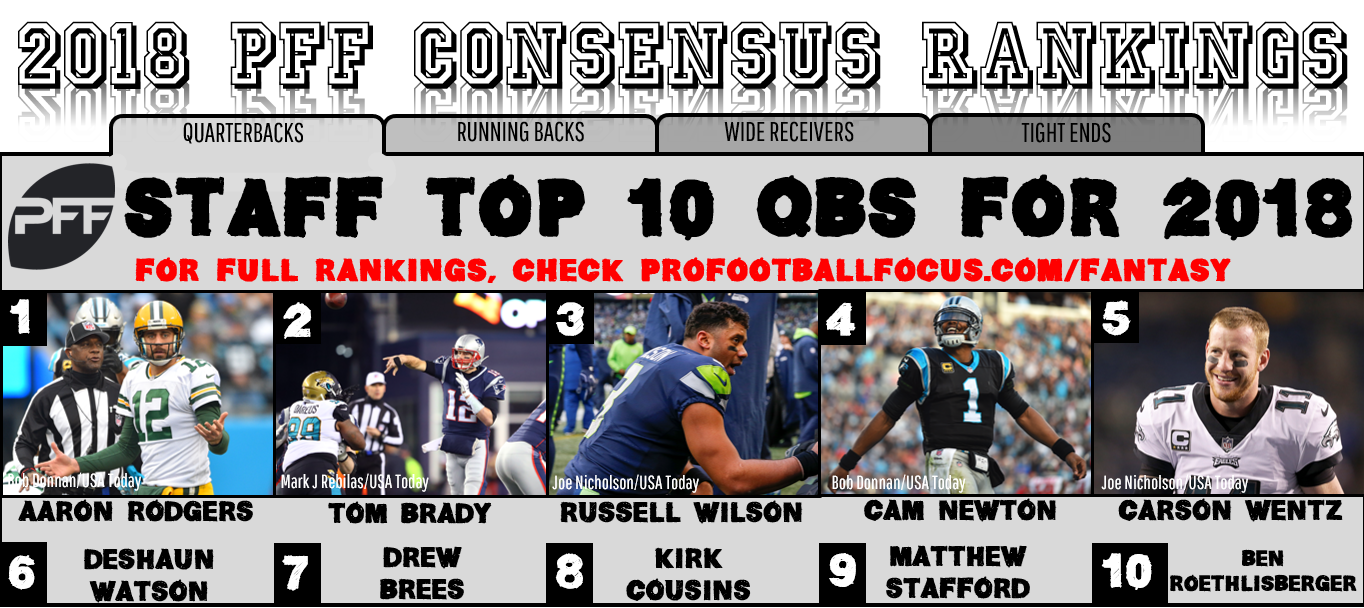 The Playbook is our 2018 draft guide, complete with bios of every fantasy-relevant player, key statistics, and draft boards for multiple kinds of leagues. It will be updated multiple times before the season begins and is as comprehensive a preview as you'll find.
Scott Barrett offered up thoughts and ideas for every last feature offered within a PFF subscription, so a fantasy owner knows what there is to use on the site and how to get the most out of it.
This will change how you see our data, and it's incredible.
Our articles are great. Our podcasts are great. Our YouTube page? Also great.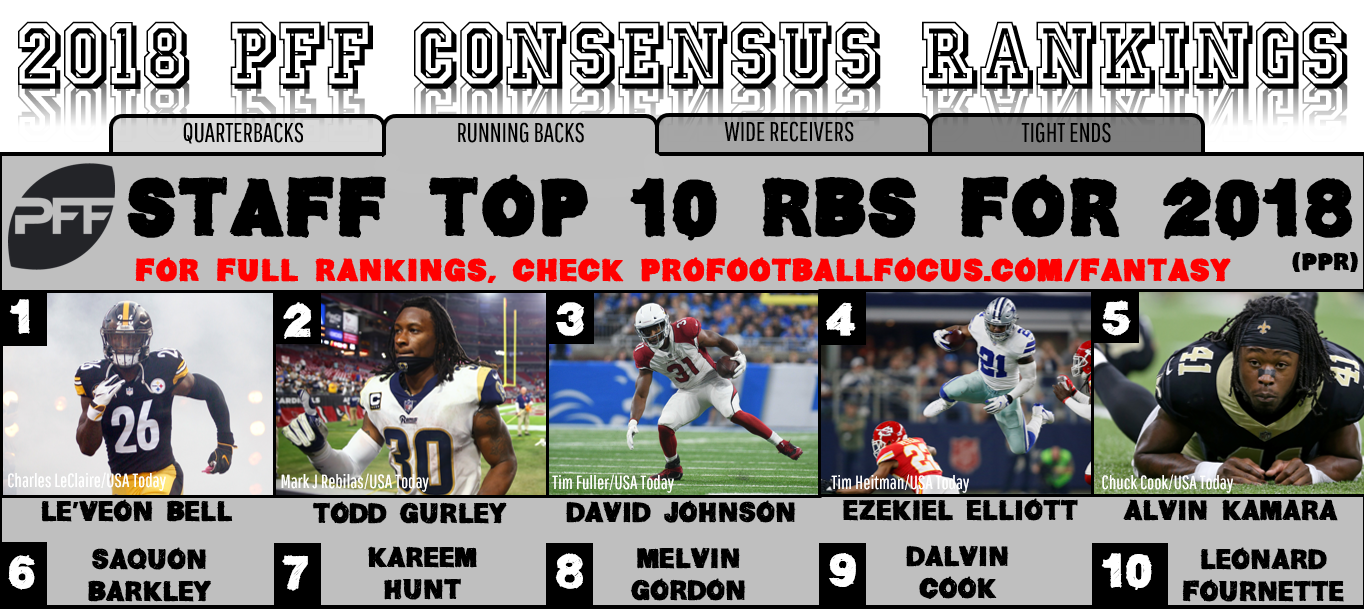 Previewing the divisions
For our last bit of preview before the season, the staff goes division-by-division to identify the top players to watch for every reason:
Fantasy football rankings
"Rankings" sounds like such a simple term, but there are so many ways to look at it. Different league types, different categories. We've offered up rankings in a lot of ways. Check out a few of them:
Bold predictions
The staff conducts their annual Bold Predictions Week, with a whole host of the writers offering up their predictions for the season:
Fantasy team power rankings
Tyler Loechner breaks down all 32 teams in order based on our preseason projections:
News, reactions, and deep dives
Sometimes, our material doesn't fit into a nice box, but it's still important come draft time. These are those:
2018 storylines: Our writers' best guesses in February what the big storylines will be in 2018:
Overrated and underrated quarterbacks by traditional numbers
Upside players at every ADP tier:
Scott Barrett's Actual Opportunity

Offseason series
Sometimes you can't get the entire point across in one piece. Some of our writers have had longer series, covering a broader topic or topics or going team-by-team or division-by-division. Check them out here:
Fantasy football mock drafts
The PFF Fantasy staff (plus sometimes some helpful outsiders!) has spent the entire offseason participating in an entire series of mock drafts, from the perfectly normal 12-team standard to a pre-NFL draft six-round rookie draft to an IDP to just about everything else. Below are all our results and analysis and strategy breakdowns. (Drafts are 12-team unless otherwise noted.)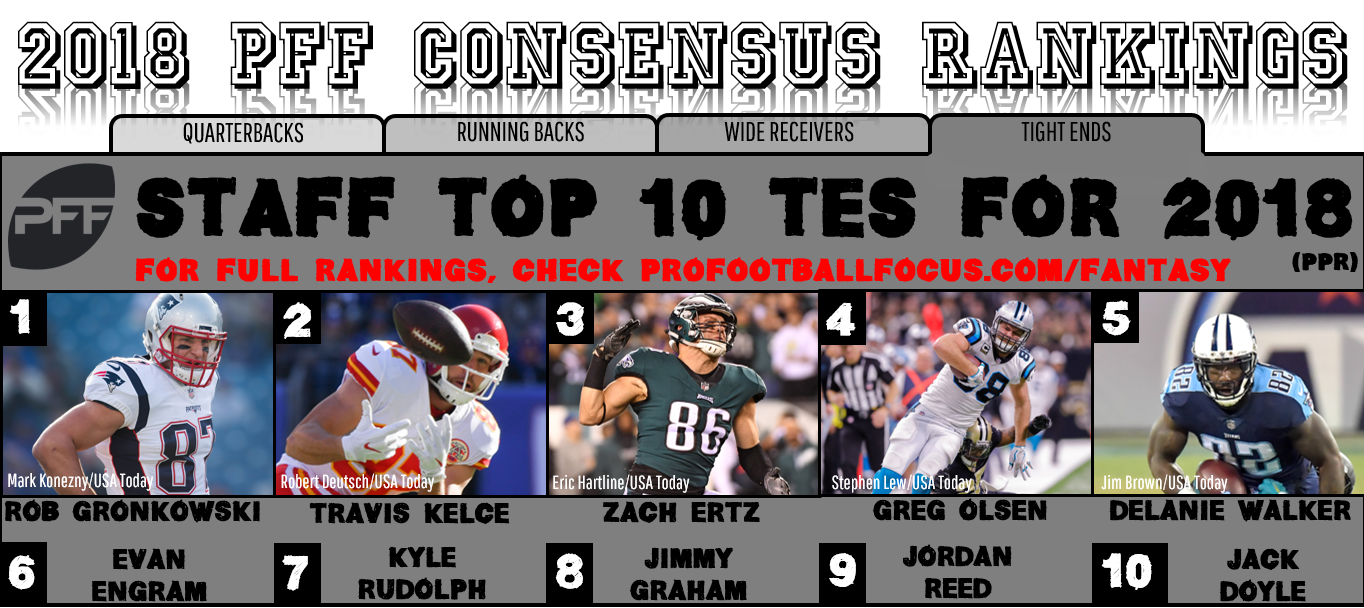 Draft how-tos
IDP leagues
Walton Spurlin and Ross Miles are our resident IDP experts, and they've kept up with plenty of IDP material all offseason:
Devy leagues
Curtis Patrick has captained our devy material, looking at college players who should offer particular value down the road:
Previewing the 2019 draft class:
Conference previews for 2018: