When your pick comes up on draft day, you will know the ADPs and hopefully have your tiers laid out as you see them, but you still have to determine which player to target at that spot. Will you go with safe and steady performer or will you shoot for the stars and chase the upside?
More often than not those owners that hit on the guys that break out and get good value on them wind up winning fantasy leagues.
The top quarterbacks don't really fit the bill here as they all have enormous upsides. However, they each will come with a steep investment. Aaron Rodgers (3.02 ADP) is going off the board in Round 3 while Deshaun Watson (4.02), Tom Brady (4.11), and Russell Wilson (4.12) are lasting over a round longer.
While Rodgers' dual-threat ability has him atop the rankings, Watson could have the highest ceiling in 2018 of the four based off the success he displayed (albeit in a small sample size) as a rookie.
If their health holds up all four of these signal callers are practically locks for big seasons, it won't be that easy to decide which quarterback to grab as the draft goes on.
Let's take a look at fantasy quarterbacks a bit further down the board and identify the "upside" guys.
Rounds 5-8
Current ADP: 5.12 (QB6)
Newton was the top rushing quarterback in the league a year ago with 754 rushing yards. He ran for six touchdowns and now has scored five or more times on the ground every year as a pro. The problem is outside of 2015, when he passed for 35 scores, he hasn't eclipsed 24 passing touchdowns in any other season. The veteran has averaged just 3,430.8 passing yards per year over his past five campaigns.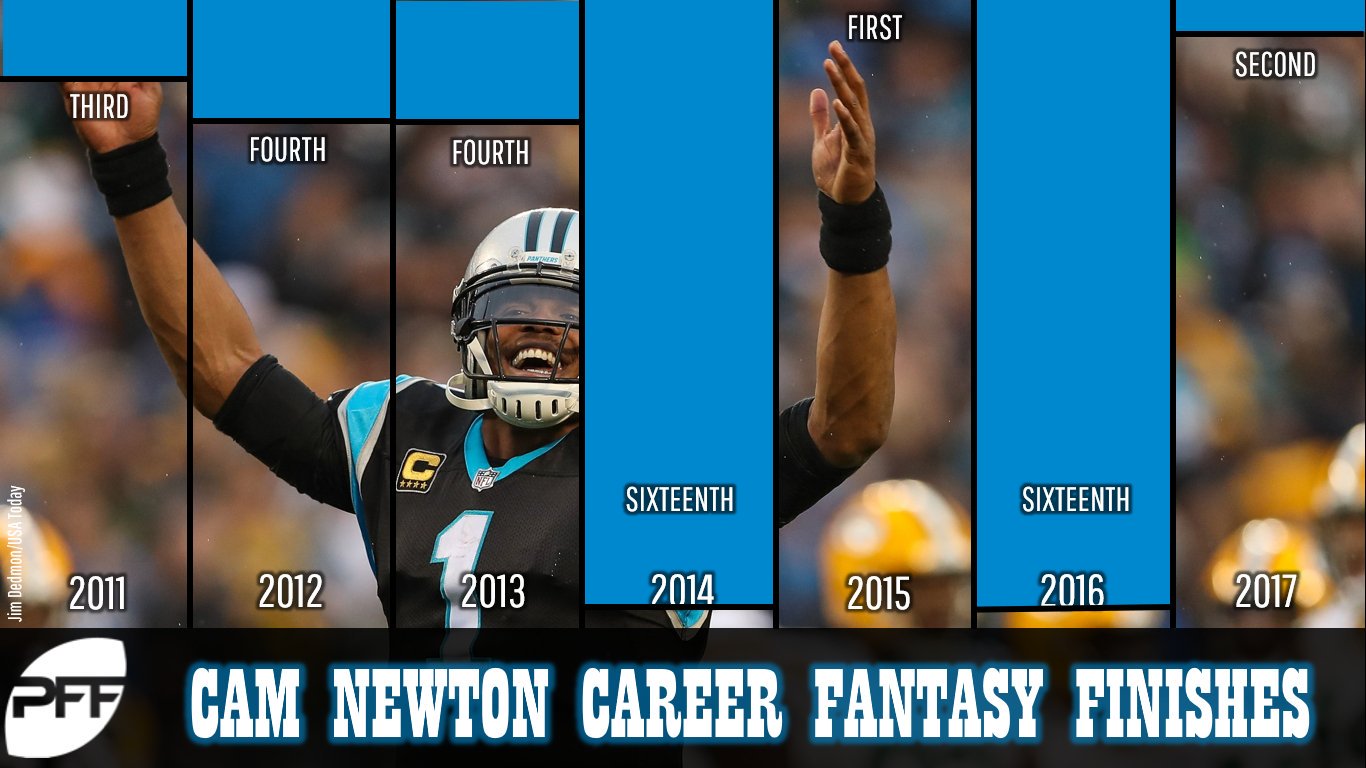 He has finished as a top-four fantasy quarterback in five of his seven career seasons. The Panther has also eclipsed 30 fantasy points in game 18 times in his career, which is the most in the NFL during that span. Newton is going later in drafts than he should be based off past performance and the improving supporting cast. He offers as high of a ceiling as any QB in the league.
Current ADP: 8.08 (QB11)
The last time Luck played in a game was New Year's Day 2017. His supporting cast is thin and lacks many big-time playmakers. When healthy, Luck offers a ton of upside though. In his past 38 starts he's averaged 286 yards through the air and over two scores per game. Since 2015 he's averaged the fourth-most rushing yards per game (24) among all quarterbacks.
Things are looking up for Luck, who turned in his first workout in nearly 19 months as training camp opened up last week. He is expected to return to game action in the preseason and if all goes well will be under center in Week 1 for the Colts. His ADP won't stay this high once owners get eyeballs on him throwing the ball at full strength but enjoy the value while it lasts.
With Andrew Luck trending towards a return to full health and on track to start the preseason opener for the Colts how do you rank him for the 2018 fantasy season?

— Dan Clasgens (@DanClasgens) July 29, 2018
Rounds 9-11
Current ADP: 9.10 (QB13)
Looking outside the top 10 if a dart needed to be thrown, Goff becomes an appealing option. He did a complete 180 under head coach Sean McVay's tutelage as he passed for 3,809 yards and 28 touchdowns, completing a modest 62.1 percent of his passes. His arm strength is limited, but he still averaged a league-best 12.9 yards per completion last season.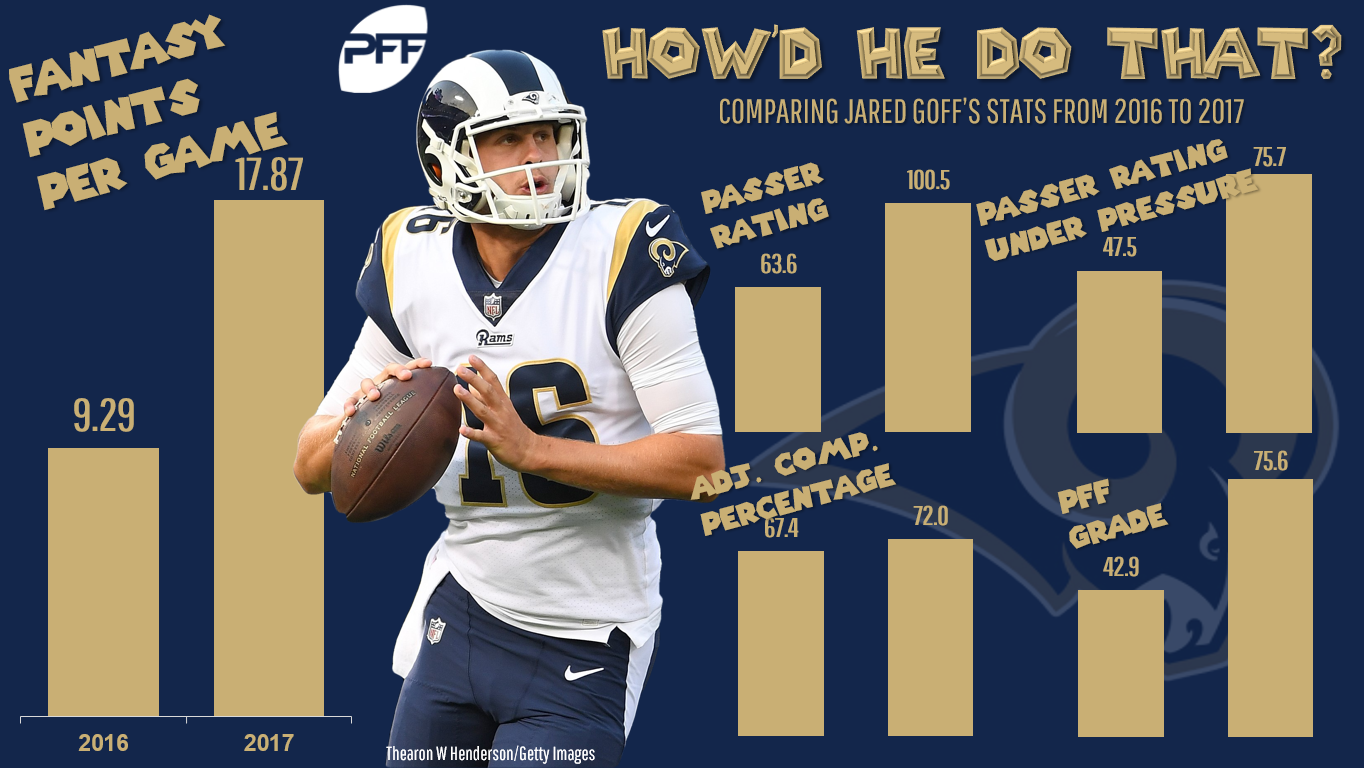 It was a giant leap forward from what we saw from him during his rookie campaign a year earlier. With another year in the system and the addition of Brandin Cooks, another step forward may be possible. Goff is far from the most gifted passers, but he will benefit greatly from the plethora of weapons now surrounding, mainly Todd Gurley.
Current ADP: 11.08 (QB18)
Mariota has endured a series of misfortunes after his surprising mini-breakout during a stretch of 2016. He finished that season with a broken ankle and was plagued by hamstring and knee issues most of last year. The Titans' offense sputtered with Mike Mularkey calling the shots and despite winning a playoff game the team fired the head coach at season's end.
New offensive coordinator Matt LaFleur promises to bring a more aggressive approach in his playcalling and seems better equipped to tap into Mariota's skill set. Mariota's mobility adds to his value as he's averaged nearly 23 yards per game on the ground and has rushed for 10 scores across 42 career games. With some young, but talented players surrounding him in this offense the potential is there for big things in 2018.
Rounds 12 or later
Current ADP: 13.03 (QB21)
It took only about a month into his rookie season before the Bears turned to Trubisky as their starting quarterback. He took the reins in Week 5 and finished with 2,193 yards, seven touchdowns and seven interceptions. It wasn't pretty, but there enough flashes as a rookie that gave reason for optimism.
Trubisky could be this year's version of Goff with the Bears moving away from John Fox and brining in the offensive minded Matt Nagy as their head coach. Free agent additions, wide receiver Allen Robinson and tight end Trey Burton, along with second-round wide receiver Anthony Miller definitely help make for a better supporting cast than we've seen in recent years in the Windy City. He is still very raw, but the indicators are there to suggest Trubisky will be a nice sleeper in upcoming drafts.
Current ADP: 13.07 (QB22)
A year ago at this time Winston was pushing to be in the conversation as a QB1. His final ADP for 2017 was 7.10 (QB8). However things didn't pan out as expected. He was 3-10 as a starter and struggled to convert in the red zone as only five of his 18 passes inside the 10-yard line resulted in a touchdown. Turnovers were also problematic with only three passers coughed the ball more.
Winston is set to miss the first three games of 2018 for violating the league's personal conduct policy. With a Week 5 bye added in it could be the end of October before he's ready to contribute and that has caused his ADP to plummet. There are a ton of weapons in Tampa Bay though and this is a pass-happy system so in leagues where you grab two quarterbacks adding Winston late could pay big dividends.