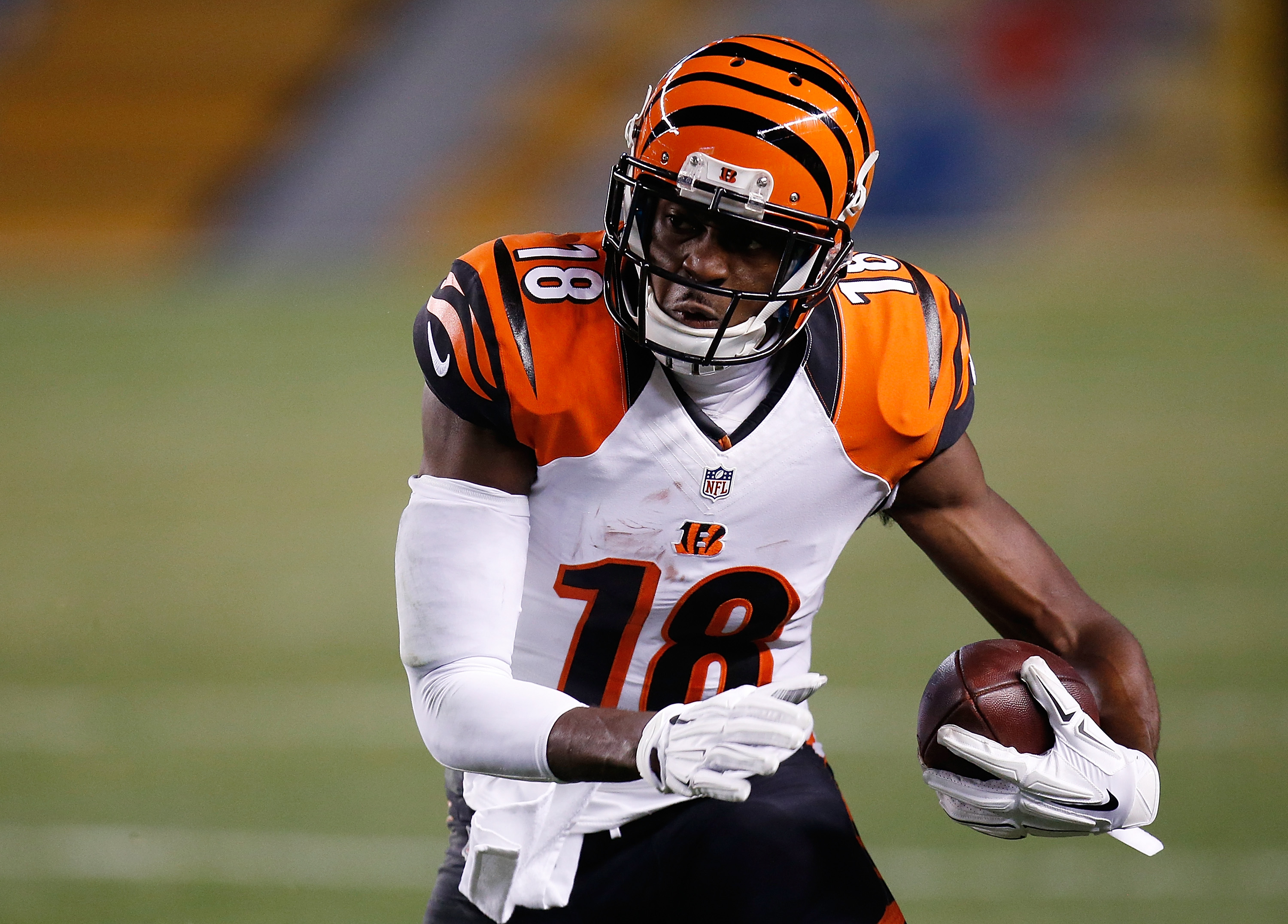 PITTSBURGH, PA - DECEMBER 28: A.J. Green #18 of the Cincinnati Bengals carries the ball against the Pittsburgh Steelers at Heinz Field on December 28, 2014 in Pittsburgh, Pennsylvania. (Photo by Gregory Shamus/Getty Images)
Even at the relatively stable wide receiver position, (fantasy) football is a game of attrition. Look back five seasons at the position, and yes, Josh Gordon, A.J. Green, and Antonio Brown are all hanging out near the top of the fantasy standings, but so are retired (Calvin Johnson), past his prime (Brandon Marshall), and fearing release (Dez Bryant).
We just don't know how long things will last on the broad scale. Looking more narrowly, though, we can place some bets. A 24-year-old wide receiver off back-to-back WR1 seasons, or a 29-year-old who has only played 16 games once in the last three years — we never know, but we can get closer.
That's what we've been doing the last few weeks. I gathered three PFF Fantasy writers (Dan Clasgens, Michael Moore, Dan Schneier), and they and I have been attempting to figure out how long the current fantasy starters will remain as such.
The premise: You can keep Player X for as long as you want, but you have to decide on that duration right now.
The cost: You can keep the player indefinitely at the cost of the last starter at the position. So a quarterback will cost you the draft slot of the 10th quarterback off the board, while a wide receiver will cost you the 20th receiver. In short, the question at hand is: How long will Player X be a fantasy starter?
Quarterbacks and running backs got their turn the last two weeks. Tight ends are up next week. This time, it's wide receivers. Who has the longest remaining shelf life? And who will be just another guy by next season?
| | | | | | | |
| --- | --- | --- | --- | --- | --- | --- |
| Age | G | Targets | Receptions | Receiving Yards | Receiving TDs | Fantasy Rank |
| 25 | 14 | 108 | 74 | 885 | 10 | WR12 |
4 years: Still just 25, Adams has taken over as the Packers' No. 1 wide receiver and will have Aaron Rodgers throwing him the football for years to come. — Dan Clasgens
3 years: Adams' production level with Aaron Rodgers in the lineup never rose to the level of expectation after the Packers drafted him in Round 2, but this is a franchise that re-signs their own, and he did enjoy a nice breakout season. I'm skeptical of Adams' ability to operate as the true No. 1 wide receiver in all areas of the field with Jordy Nelson gone. — Dan Schneier
You must have PFF Edge to continue reading...