The truly bold opinions will start on Monday, but today I'll continue my effort to be fully accountable for all of my fantasy football predictions for 2018. This edition is for the NFC. The AFC was Saturday.
Very confident
Alvin Kamara will have 250 total touches
Mark Ingram's four-game suspension should offer a nice head start of 80 or so touches for Kamara in September. But even after Ingram returns, expect Kamara to add 2-3 touches per game from his average of 12.5 from last season. At 215 pounds, he isn't so small as to demand the same workload restrictions that specialized backs like Darren Sproles and Chris Thompson have.
Elliott's sole fantasy weakness to date has been his lack of receiving production. That should change this season. No back with at least 50 catchable targets has added more than Elliott's total of 0.93 yards per catchable target since 2016.
Julio Jones will catch 8 touchdown passes
Jones was tied for ninth among all players with 16 end-zone targets last year but caught just one. The other 10 receivers who saw that many caught at least 5 of them. I think that's a total fluke, Jones will catch at least 8 total touchdowns this season, and he will return to being a safe first-round pick.
Davante Adams will be a top-tier fantasy WR at a second-tier price
After relatively inefficient freshman and sophomore seasons, Adams has added 0.47 yards per catchable target in each of his last two seasons with the Packers. If he and Aaron Rodgers can stay healthy together, he has a chance to be the No. 1 receiver in fantasy.
Aaron Jones will be the Packers' No. 1 RB
Jones is suspended the first two weeks of this season, which will likely set him back in his tug-of-war with teammate Jamaal Williams. Still, Jones was way more efficient as a runner last season. I see those two as the new Chris Johnson and LenDale White. Williams may have a short-term edge thanks to short touchdown opportunities with his size, but Jones is the one who has the chance to become a star player.
Pretty confident
Christian McCaffrey will have fewer than 600 rushing yards
McCaffrey was an excellent receiver but poor rusher in his rookie season. In fact, only LeSean McCoy (-65) cost his team more yards than the 45 McCaffrey cost the Panthers. Ron Rivera's proposed total of 200 carries for McCaffrey makes no sense to me on a team with so many question marks on its offensive line with a superior inside runner and pass protector in C.J. Anderson.
Jimmy Graham will catch 10 touchdown passes on fewer than 70 total catches
Jordy Nelson led the Packers with 27 end-zone targets over the last two seasons, and now he's in Oakland. That creates a major need for a team that Graham is incredibly well-equipped to fill. Graham should be able to follow the Antonio Gates model and continue to score touchdowns well into his 30s, even as he loses his quickness.
Matthew Stafford will throw fewer than 25 touchdown passes
The Lions threw 23 passes from the 1-yard line last season. Those passes led to 11 of Stafford's 29 total passing touchdowns. The team had a clear need for a short-yardage back, and they got probably the best in the business in LeGarrette Blount this offseason. They should benefit from some balance, but Stafford's fantasy line will not.
Matt Breida won't be fantasy-relevant in San Francisco
Breida was the anti-Melvin Gordon last season. His 4.4 yards per carry looked strong, but it masked poor efficiency given a relatively easy set of carries. Even though Jerick McKinnon is one of the least-established No. 1 running backs, I just don't see Breida as having the talent to earn more than 150 total touches this season.
Somewhat confident
Allen Robinson will not be a top-20 fantasy WR
Robinson cost the Jaguars nearly 100 yards relative to a typical receiver in 2016, and then he tore his ACL. Tarik Cohen, Taylor Gabriel, Anthony Miller, Trey Burton, and maybe even Kevin White give Mitchell Trubisky a much-improved array of pass catchers. I don't think he'll need to rely heavily on any one guy.
Chris Godwin will overtake Mike Evans as the Bucs' No. 1 WR this season
At 6-5 and 231 pounds, Evans looks how a premiere outside receiver should look, but he's never shown the efficiency to match. Godwin is much smaller at 6-1 and 209, but he was dramatically better in his rookie season than Evans has ever been in his career. Bucs' head coach Dirk Koetter has already tabbed Godwin as a starter over the bigger name in DeSean Jackson, so I think his ascension could happen as soon as this season.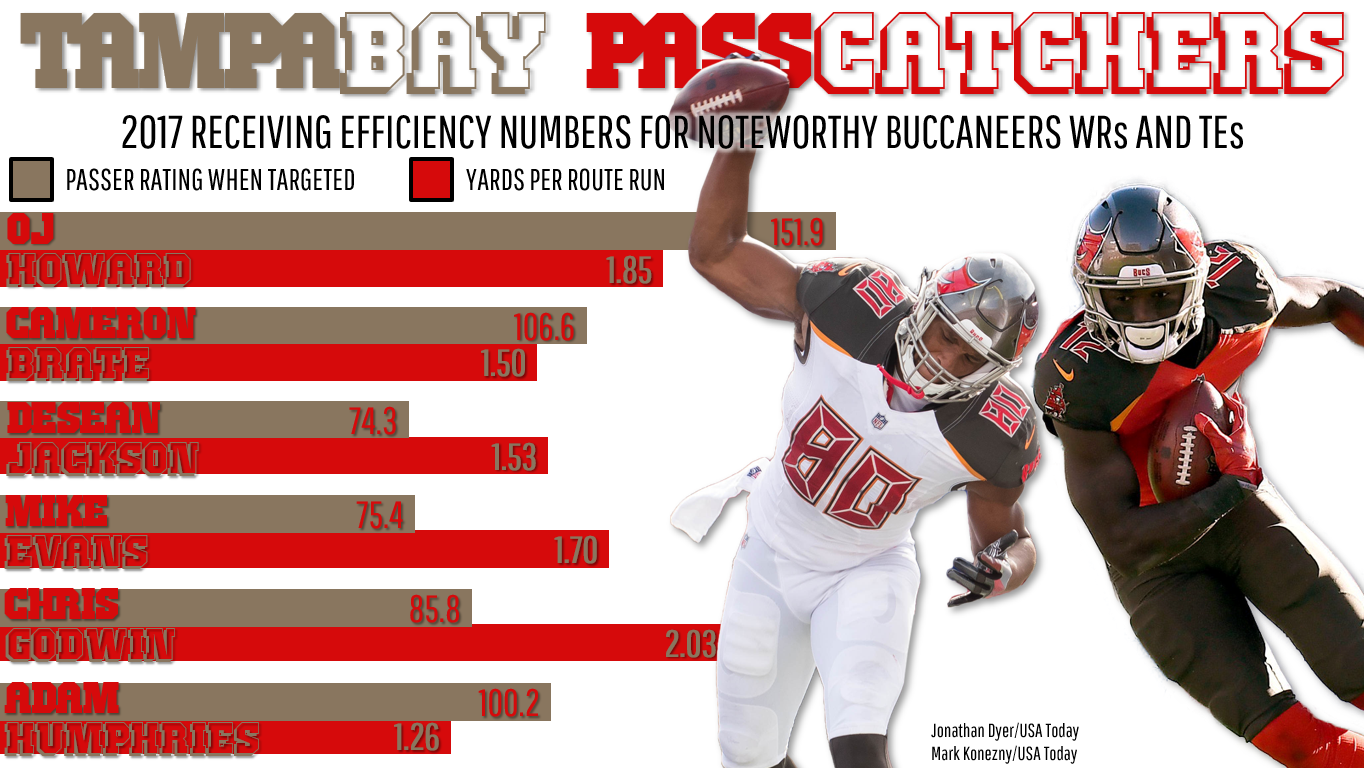 O.J. Howard will overtake Cameron Brate as the Bucs' No. 1 TE this season and become a top-8 fantasy TE
The total overhaul of the Bucs' offense will conclude with Howard about doubling his total of 39 targets from a year ago. I could see the team running some two-tight ends sets to keep both he and Brate involved, but last season, Howard was the much more efficient player.
Like the Chiefs, Washington was in the top-five of Receiving Yards Added as a team last year. The Redskins achieved that thanks to excellent efficiency by the likes of Chris Thompson, Jamison Crowder, and Vernon Davis on their more-moderate target totals. Add a healthy Jordan Reed back into that mix, and Smith will have plenty of talent around him to do what he did last year.
Eli Manning will be a top-20 fantasy QB
When Odell Beckham Jr. and the rest of the Giants' skill talent got hurt last October, Manning's seasonal yards per attempt rate quickly fell from close to 7.0 yards to barely 6.0 yards per pass. Look for that number to rebound and perhaps move further back toward his peak rates now that Beckham is back and healthy and joined by Saquon Barkley.
Not very confident
Aaron Rodgers will play 16 games but throw fewer than 500 passes
Rodgers' Packers have the worst fantasy schedule for passing this season. Obviously, he has the talent to overcome that, but I wonder if Green Bay could instead opt to follow the Saints' lead and shift their offense more toward the run. Jamaal Williams and especially Aaron Jones looked like draft hits as later-round rookies last season.
Carson Wentz will lead all QBs in touchdown passes per game
I'm not positive Wentz will be ready to go for Week 1, but whenever he's ready to lace them up, he should be a touchdown machine. Only Tom Brady's Patriots had more than Wentz's 2.8 plays per start within five yards of the end zone, and Wentz threw passes on a healthy 45.9 percent of those plays.
Jameis Winston will lead all QBs in passing yards per game
Winston's seasonal passing yardage totals of 4,042, 4,090, and 3,504 look uninspiring, but a shoulder injury that cost him three games masked a third-year spike of nearly 15 passing yards per game last season. He's set to miss at least three more games this year thanks to a suspension, but if you can make due in September, then Winston could become a tremendous draft value for the final three months.
Freeman and Coleman have shown opposing efficiency trends in recent seasons, but that is only half the reason I expect Coleman to ratchet up his workload this year. Freeman is entering year two of his five-year contract with $22 million in guarantees, and Coleman will be a free agent next offseason. The prudent if cold thing for the Falcons to do would be to lean more heavily on Coleman this season to help preserve the value of their invested player.