The 2018 preseason is shaping up to have its fair share of training camp battles for us to watch. We've already reviewed the quarterback position; today we'll take a look at some of the murkier backfields from a depth chart perspective. It's important to monitor what each team's beat reporters are saying and how players are being used situationally in practice. Unearthing a team's goal-line back and third-down/receiving specialist can give us an edge on what to expect from these players in the upcoming season. With how prevalent news is widely distributed these days, we need to capitalize on every edge we can to either take down our leaguemates or take down a GPP. For this particular position, I'll be listing which player I believe will end up leading each respective backfield in touches and snaps based on recent reports coming out of spring training and minicamp. Let's break down some of the most intriguing battles to watch during training camp and leading into the preseason.
Projected starter: Sony Michel
Runner-up: Rex Burkhead
Third place: James White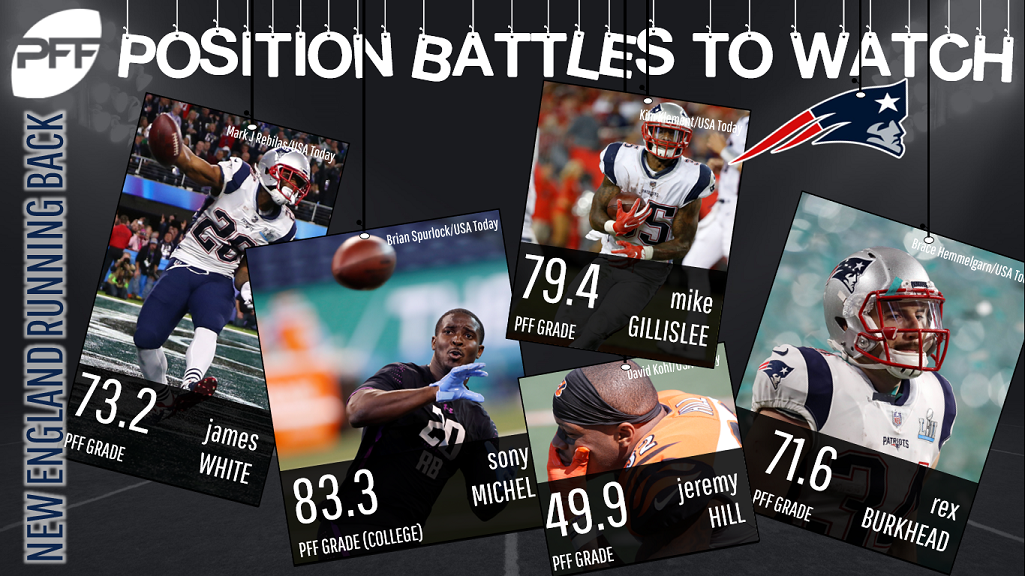 The departure of Dion Lewis opens up 212 touches (39.9 percent of the running back touches) for New England heading into 2018. After widely ignoring the running back position from a capital viewpoint, Bill Belichick flipped the analytics community upside down draft night with a surprising pick. Michel was the first running back drafted by Patriots dating back to 2006 (Laurence Maroney). Michel is a 214-pound do-it-all back drafted out of Georgia, but he enters a crowded backfield filled with differing specialists while trying to learn one of the league's most complex playbooks. Michel's widely reported 12 fumbles throughout college won't be tolerated if history tells us anything with Belichick. He was reportedly making mistakes on some plays, while turning heads in admiration on others in minicamp. It'll be interesting to if he can build on these learning experiences and show steady improvement in training camp.
Burkhead has taken the majority of first-team reps this offseason to date. He showed last year that when healthy, he's a versatile weapon capable of rushing both inside and outside, catching the ball out of the backfield, and showed success in the red zone. He has the inside track to the starting job right now, but things could change quickly with the more this coaching staff gets to see Michel. Burkhead's versatility will surely get him regular touches and is a player I've been acquiring heavily in dynasty leagues for weekly flex consideration.
White looks to be locked in as the receiving specialist once again. He's more of a cheap, DFS punt play than any type of back you want to invest in for redraft purposes — the Patriots shouldn't have many games they are trailing. Jeremy Hill and Mike Gillislee may be fighting for one roster spot between the two. There's also the outside chance both are cut as the team is enamored with Brandon Bolden's special teams work and will want to keep him on the roster. This will be a backfield we continue to monitor throughout the preseason and see how often Michel and Burkhead play with the first-team.
Projected starter: Aaron Jones
Runner-up: Jamaal Williams
Third place: Ty Montgomery
Reports following minicamp have this training camp battle wide open among the team's three backs. Each of these players was given first-team reps.
There's a case to be made for both Jones and Williams to lead the backfield in touches. Jones is the more versatile player of the two and graded as one of our top-12 rushers last season. In the four games he started after Montgomery went down, he averaged 16.8 touches and scored in three of four games. He was the No. 8 PPR running back during that span.
Williams is the typical between-the-tackles grinder. His lack of "wiggle" in open space (7.25-second three-cone drill, 4.53-second 20-yard shuttle) suggests he's best served as an early-down thumper and goal-line back, but his weight (212 pounds) says otherwise. When injuries thrust him into the starting lineup he averaged a paltry 3.6 yards per attempt, but did grade as our best pass-blocker of the trio.
The coaching staff wants Montgomery in the game plan, but how often and in what situations is yet to be determined. His hybrid running back/wide receiver role can be a catalyst for this offense if he can return to his 2016 effectiveness. That year he averaged a whopping 5.14 yards after contact per attempt and forced a combined 24 missed tackles on 106 touches. Montgomery's involvement in the offense — he's reportedly been a mainstay during no-huddle and two-minute drills — just continues to make this a cloudy situation with little clarity for touches at this point. This situation will be one we need to continue to monitor closely as it could draw the dreadful "committee" tag.
Projected starter: Marlon Mack
Runner-up: Nyheim Hines
Third place: Jordan Wilkins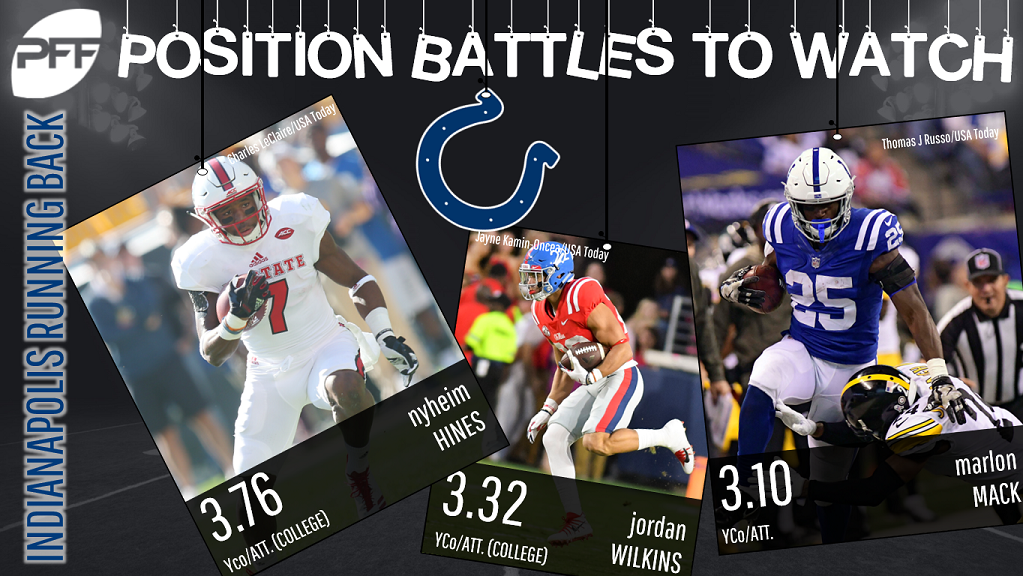 Mack was one of the biggest winners of this offseason. Frank Gore and his 290 touches have travelled south to Miami. Indianapolis didn't sign any free agents and waited until the fourth round for Hines and fifth for Wilkins. Nearly by default, Mack won the majority of touches just by being healthy and on the roster. It's been quite a while since we last saw a healthy Andrew Luck under center, but the status of his health is a paramount to the success of the whole team. Going off the presumption that Luck is healthy, we should see this offense get back to top-10 form. Indianapolis ranked top-10 in points per game each of Luck's healthy seasons after his rookie campaign. That means not only will Mack have plenty of snaps and touches to inherit, but also valuable red-zone work for him to cash in on. Mack had a poor rookie season, seeing few opportunities behind Gore on a 4-12 team and struggling with the few chances he got. Hopefully with Luck under center and an improved offensive line, Mack can balance his boom/bust plays — he ranked third in breakaway percentage — with more scoring opportunities and provide consistent fantasy production.
Hines is a player who is sure to turn heads as soon as he receives touches in the preseason. Combining 4.38 speed with a healthy 3.8 yards after contact per attempt at North Carolina State, Hines looks like he's shot out of a cannon. He runs with the reckless abandon that coaches become enamored with and it wouldn't be surprising in the slightest to see his name continue to creep up fantasy draft boards come August. Playing with a defense that's still miles away from making this a deep playoff squad, we can expect plenty of negative gamescript and for Hines to be a routinely used flex fantasy option.
Wilkins is a wildcard in this backfield, but to date, hasn't made much noise. That being said, if the coaching staff becomes frustrated with Mack's boom or bust ways, it wouldn't be that surprising to see them start to sprinkle in Wilkins. He's already been mixed in with the first-team in minicamp, but that's due to Mack continuing to rehab last year's shoulder injury and Robert Turbin facing suspension discipline (PEDs). Mack is anticipating coming back starting in training camp and should keep the fifth-round rookie at bay.
Projected starter: Nick Chubb
Runner-up: Duke Johnson
Third place: Carlos Hyde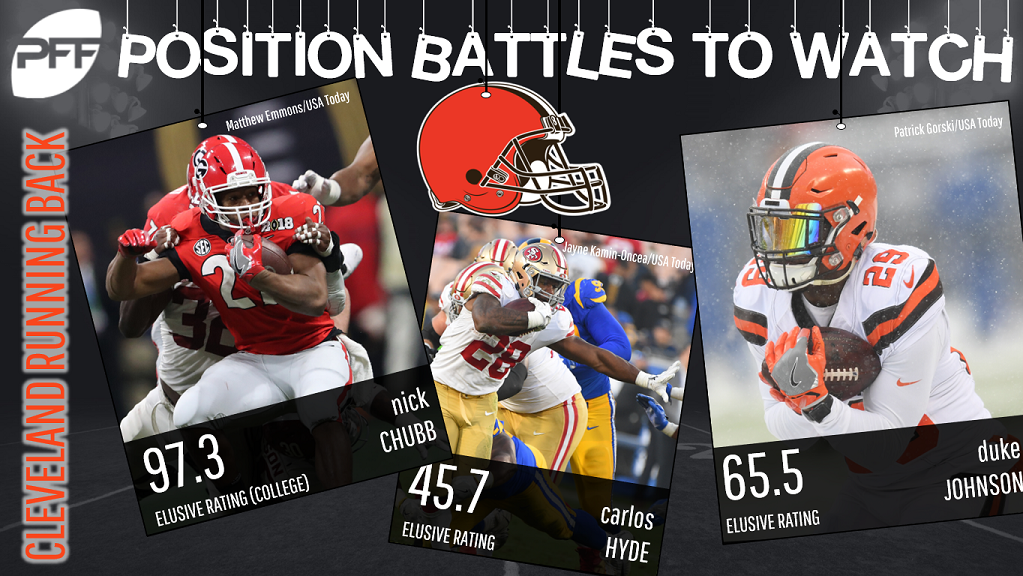 Entering the 2018 season, the Browns find themselves with a plethora of running backs at their disposal. All three have spent some time with the starters in spring practices, and it's currently a true competition to see who will garner the most playing time come September.
Second-round pick Chubb has a Todd Gurley-type ceiling. The 35th overall pick out of Georgia is now three years removed from major knee surgery (multiple ligaments torn). He excelled in a variety of personnel packages his final season at Georgia according to Graham Barfield's Yards Created metric, providing flexibility for new OC Todd Haley. A 98th percentile SPARQ athlete, Chubb has a chance to win the early-down work from free agent addition Hyde and help set the tempo for this new-look Browns squad.
Johnson's receiving abilities helped earn him a three-year, $15.6 million contract extension this offseason. His versatility led to him seeing 15 percent of his snaps from the slot last year, a role that may be in jeopardy following the addition of Jarvis Landry. Only Alvin Kamara forced more missed tackles as a receiver (29) than Johnson last year (24). Combining a quality 2.62 yards after contact per attempt with 2.08 yards per route run, Johnson's versatility makes him a dangerous weapon that will be hard for Haley to keep off the field.
I'm 2017, 32.1% of Duke Johnson's rushing attempts went for a 1st down or TD, the top rate in the NFL among RBs with at least 80 attempts. pic.twitter.com/qhGVMjqKqc

— PFF CLE Browns (@PFF_Browns) June 24, 2018
Hyde is coming to the Browns off the heels of his most usage ever as a pro (299 touches). He was signed prior to the team drafting Chubb and prior to Johnson's three-year extension. Yet the team still decided to make those moves. Cleveland can essentially get out of this contract with Hyde in 2019 after paying him just $5.5 million in 2018 and take a $2.3 million cap hit instead of paying him the rest of his $9.75 million. Hyde looks like a short-term answer here and will need a big training camp to fend off the young rookie.