If you'll allow me a slight diversion from discussion of a fantasy football draft guide…
As the father of a 7-year-old, one thing I've come to experience far more than I expected is TV adaptations of kids' movies. Trolls and Home and Boss Baby and … well, every animated movie lately gets a near-immediate second life as a Netflix show, and you never get to stop watching.
Only they aren't the same. When they made an Aladdin TV show 20-some years ago, Aladdin looked roughly like Aladdin, Genie looked roughly like Genie, it all was basically the same. But now, movie animation has gotten so good these days that the movies are just gorgeous, and the slapped-together TV shows are sad approximations of the movies. Different voice actors voice the characters. It's the same, only it's really not.
What you want are the TV specials. The Toy Story ones, the Shrek ones. They made one for Trolls last year. The best animated shows get TV features that bring back the same actors and the same animators. The quality is just as good, even if the format is slightly different.
It is in that spirit that I circle back to my point for today. Because while it would have been easy for us to slap together our Fantasy Playbook from bits and scraps on the side, we're instead offering up something gorgeous. Our 2018 draft guide, the Fantasy Playbook, is now available (here! Or for non-subscribers, get access here!), and it's all you need for 2018.
UPDATE (8/13): As always, scroll down for all the fantastic features in the Playbook, but as of Aug. 13, there's a new update ready, and it includes: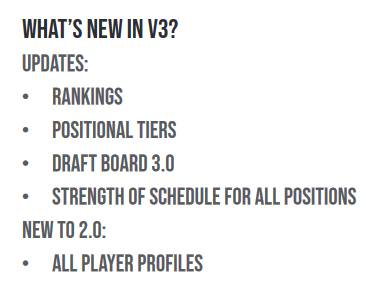 UPDATE (7/25): If you're new to this, scroll down for the highlights of the whole Playbook. But as of July 25, Version 2 is out, and that means: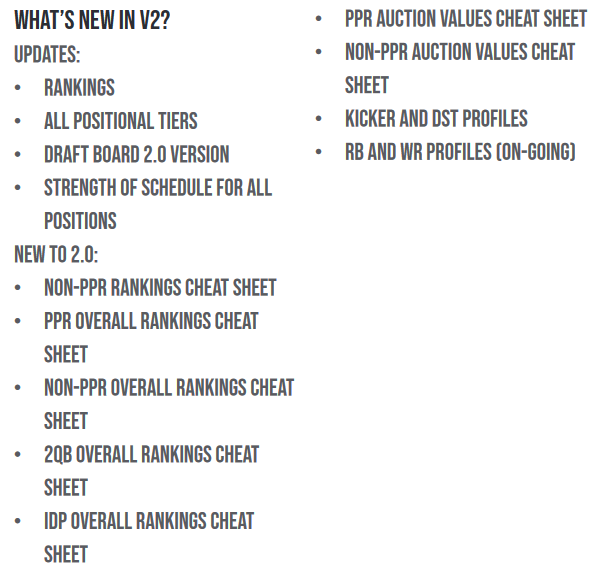 Basically, we took an already-great product and added so much more. We're nice like that.

On top of the appearance, of course, is the key fantasy knowledge you can only get from PFF Fantasy and our director, Jeff Ratcliffe. Above you can see a sneak peek at the fantasy strengths of schedule, which ranks every offensive position 1-32 for the whole season and for the fantasy playoffs.
It also includes key stats for every position, like below:

And it has the shadow coverage data that is only available from us:

You'll also get Jeff Ratcliffe's 2018 Draft Board by round:

All that and more is included in the draft guide, which will get you all the preparation you need to be ready for any 2018 fantasy football draft you might participate in. Read our site all offseason, take advantage of the fantasy draft guide, and you'll be the most prepared drafter all draft season long.
The Fantasy Playbook will be updated and revised throughout the preseason. Jeff Ratcliffe has scheduled four updates and additions now through August 23, so you will always have the most updated PFF information at your fingertips.
The Playbook comes as part of our Edge subscription, which means in addition to everything in the guide, you will get access to all our content across fantasy, NFL, and the draft, our fantasy stats database, and all our fantasy rankings and projections. Did you miss the link above? PFF members can download it here, for those too lazy to scroll. See how nice we are?