In our last article we looked at a few fantasy football players who have seen their ADP drop precipitously from the 2017 season. In that article, I highlighted only the players I felt were still strong values. Today, we're going to look at the players who have seen their ADP rise the most (from 2017) and attempt to determine whether or not we should be buying into the hype.
Notes: For ADP, we'll be using FantasyFootballCalculator.com's PPR ADP. The numbers in parentheses below a player's name represent their 2017 ADP (positional rank) vs. 2018 ADP (positional rank). These players are sorted in descending order by this differential.
(WR42 vs. WR12) [ADP Differential: +30]
Should we buy into the hype: Yes
Last season, Thielen ranked ninth in PFF grade and ranked fifth in total receiving yards. He also ranked seventh-best in yards per route run (2.33), trumping Stefon Diggs for the second consecutive year. While this was a surprise to some, it wasn't to me. In 2016, Thielen was one of only two wide receivers (along with Michael Thomas) to rank top-20 in yards per route run, yards per target, WR rating, and drop rate. This year, he should be spending more time in the slot, which is more good news, considering new quarterback Kirk Cousins has been one of the league's most efficient passers when targeting slot wide receivers since entering the NFL.
(WR57 vs. WR36) [ADP Differential: +21]
Should we buy into the hype: No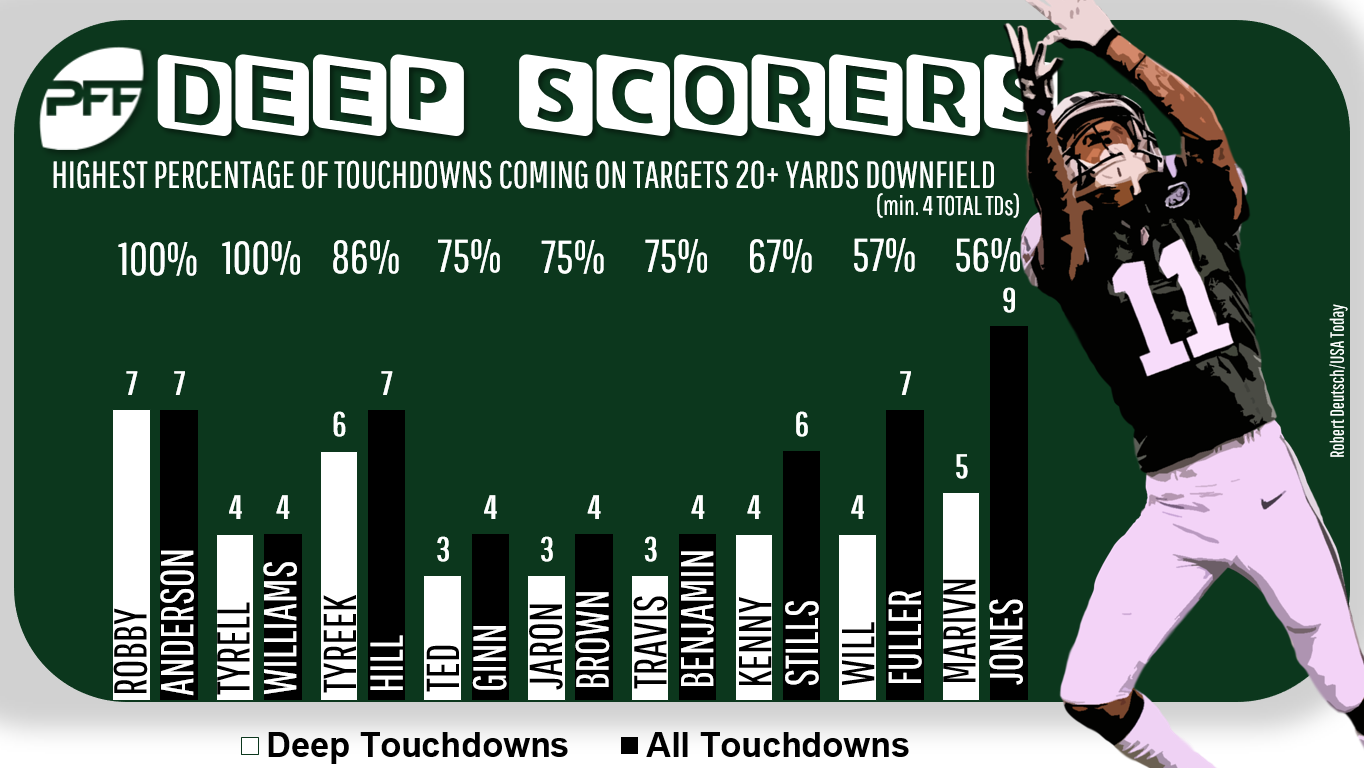 Anderson was one of our 10 worst-graded wide receivers in 2016 (of 119 qualifying) but broke out last year, ranking 17th in total fantasy points. However, I'm pessimistic for a few reasons. All seven of Anderson's touchdowns came on deep passes last season, implying he's due for a statistical regression. He showed strong rapport with Josh McCown last year but it's seeming more and more likely rookie Sam Darnold will be the team's new starter. (Darnold was only slightly above average as a deep passer last year, ranking 54th of 138 college passers in deep passer rating.) Anderson saw terrific volume last year too, ranking 18th in expected fantasy points. This was partly due to a depleted receiving corps that looks more crowded now after the arrival of Terrelle Pryor and return of Quincy Enunwa. This volume was also likely due to intentional scheming from former OC John Morton. Per this article, Morton's ousting was in part due to the fact that, "The skill players on offense felt he only schemed for Anderson and everyone else was a checkdown option."
(RB44 vs. RB24) [ADP Differential: +20]
Should we buy into the hype: Yes
In the final six games Burkhead started and finished last year, he averaged 13.5 expected fantasy points and 16.5 actual fantasy points per game. This would have ranked 12th- and 10th-best at the position, respectively, over a full season. Keep in mind, Dion Lewis was active for all of these games. Now, Burkhead only has to contend with Sony Michel (an injured rookie who has missed the majority of training camp), James White (who isn't much of a threat as a runner), and one of Jeremy Hill or Mike Gillislee (who are coming off disastrous 2017 seasons and are non-factors in the passing game).
(RB53 vs. RB34) [ADP Differential: +19]
Should we buy into the hype: No
Mack struggled mightily in his rookie year — though granted, he was playing with a torn labrum for the entirety of this stretch. Only 67.7 percent of his runs resulted in positive yardage, the lowest rate among all 55 running backs to see at least 75 carries last season. Mack was selected 143rd overall in 2017, which is not far off the draft capital spent on Nyheim Hines (104) and Jordan Wilkins (169) earlier this year. I wouldn't be surprised if Mack starts off the year stuck in a committee and eventually yields majority work to one of the other running backs. At current ADP, for reasons outlined here (mainly collegiate production), I strongly prefer Wilkins.
(WR46 vs. WR27) [ADP Differential: +19]
Should we buy into the hype: No
Davis was our second-least-efficient wide receiver on a per-target basis last year, averaging a 51.2 passer rating when targeted. As bad as that looks, I'm optimistic he improves this year. He was at a disadvantage last year, dealing with various injuries (during the offseason and regular season). Furthermore, wide receivers tend to make a significant leap in terms of production in their sophomore seasons, and Tennessee's offensive coordinator change should mean more good news for Davis. Last year, Terry Robiskie's offense ranked a lowly 25th in plays per game and 26th in pass percentage last year. All of this being said, he's an easy draft-day fade, priced at his ceiling between less risky names like Chris Hogan, Marvin Jones, and Marquise Goodwin.
(WR44 vs. WR25) [ADP Differential: +18]
Should we buy into the hype: Yes
Jones ranked 11th among wide receivers in total fantasy points last year. This level of production appears all the more impressive when considering his especially difficult cornerback schedule. Of 68 qualifying receivers, he ranked top-10 in percentage of routes lined up against (36 percent) and top-10 in percentage of targets in coverage against (30 percent) top-30-graded cornerbacks. While Jones was far less effective in 2016, I'm buying into the narrative that Jones' 2018 season will be more similar to his 2017 season, making him a strong fantasy value at current ADP. Even with the emergence of sophomore wide receiver Kenny Golladay, there's room for all of Detroit's wide receivers to return value, following the departure of tight end Eric Ebron (86 targets last year).
(RB32 vs. RB17) [ADP Differential: +15]
Should we buy into the hype: No
I suspect Henry is overvalued at ADP for a few different reasons. Just as Corey Davis should be positively impacted by the team's coaching change, I suspect Robiskie's departure will have a negative impact on Tennessee's running game. This specifically hurts Henry, who, dating back to college, has rarely ever been used as a receiver. I suspect Dion Lewis (now the 13th-highest-paid running back in the league) will dominate targets out of the backfield. While Henry was quite effective as a runner last year, Lewis was even more effective. Though I think Henry will receive the majority of the team's carries and the far majority of the team's rushing attempts near the end zone, he'll be gamescript-dependent and will lack bell-cow upside for as long as Lewis remains healthy. At ADP, I'd prefer any of the following running backs being drafted immediately behind him: Royce Freeman, Jay Ajayi, Kenyan Drake, Lamar Miller, and Mark Ingram.
(RB61 vs. RB47) [ADP Differential: +14]
Should we buy into the hype: No
Bernard averages just 5.6 fantasy points per game over his last 20 games, with 13 of these games coming in below 5.0 fantasy points. Last season, Joe Mixon ranked 17th-best in PFF grade, while Bernard ranked 34th. In February, the team announced their plans to use Mixon as the team's bell-cow running back in 2018. If this is true, Bernard lacks standalone utility and should only be treated as a handcuff. If false, Bernard still doesn't have much value outside of being a low-upside scatback. At ADP, that sort of value is easy to replace, and especially with names like James White, Devontae Booker, and Bilal Powell all being drafted behind him.
(WR21 vs. WR7) [ADP Differential: +14]
Should we buy into the hype: Yes
Last season, Adams ranked 12th-best in PFF grade, second-best in adjusted WR rating, and ninth in fantasy points per game (15.9). This was despite drawing 61 percent of his targets from backup Brett Hundley. After signing an extension this offseason, Adams is now the eighth-highest-paid wide receiver in the NFL. With Aaron Rodgers fully healthy and Jordy Nelson now out of the picture (clearing the way for Adams to receive a WR1 workload), Adams appears well worth his second-round ADP.
(WR15 vs. WR2) [ADP Differential: +13]
Should we buy into the hype: Yes
Outside of Brock Osweiler, who might be a fantasy black hole in human form, Hopkins is wholly immune to poor quarterback play. That (finally) shouldn't matter this year, with Deshaun Watson healthy and back under center. Hopkins saw historic usage last year and has done so consistently throughout the entirety of his short career. Before Watson's ACL injury, Hopkins led the position in fantasy points per game (21.1). He's an easy early- to mid-first-round pick in 2018.
Chris Hogan, WR, New England Patriots
(WR34 vs. WR23) [ADP Differential: +11]
Should we buy into the hype: Yes
With 32-year-old Julian Edelman suspended for the team's first four games and Danny Amendola now in Miami, it wouldn't surprise me if Hogan emerges as the team's WR1. That's also how Brady's been treating him so far in preseason. If we exclude Hogan's Week 14 game against Miami last season, which was sandwiched in between seven inactive games, Hogan averaged 13.6 fantasy points per game last season, which would have ranked 19th-best last year. To make matters even better, New England's wide receivers have our second-easiest projected strength of schedule this year.