Between my various research projects and article and podcast preparation this offseason, I've come up with a number of predictions for the 2018 fantasy football season. If you've followed me obsessively, you've probably heard me declare most of these. But the one aspect of prediction that I always fear is lost in translation is confidence. Every fantasy question demands an opinion, but my confidence varies pretty wildly on my opinions. Before you build every one of your fantasy rosters around a player I like, you should consider how confident I actually am in my prediction for him. I'll start today with the AFC.
Very confident
Melvin Gordon will be a top-tier fantasy RB with a second-tier price
Gordon has failed to crack 4.0 yards per carry in his three seasons because he consistently sees an unusually high percentage of his carries come in 3rd-/4th-and-short and goal-line situations. Relative to the league expectations on his types of carries, Gordon is a clear positive contributor. Draft him in the back-half of Round 1 with confidence.
Collins' pedigree as a fifth-round draft pick might have justified skepticism over his first few starts last season. But now there is strong evidence that he's a tremendous back. He was top-10 in Rushing Yards Added, the No. 1 back in PFF's rushing grade, and has practically no competition for touches on the Ravens except on third downs.
Derrick Henry will have small gains in carries, catches, and touchdowns that add up to a top-15 fantasy RB season
The Titans' acquisition of Dion Lewis appears to have saddled Henry with another timeshare, but Lewis is crucially 25 pounds lighter and has a lesser track record on third downs than DeMarco Murray. If Henry can pick up even 15 targets and 3 touchdowns from his previous standard, he'll suddenly be a very usable fantasy back.
Marshawn Lynch still has it and will dominate Oakland's backfield touches
Fantasy players may have been disappointed by Lynch's 1,042 yards in his return from retirement last season, but it was an impressive number given his modest total of 227 touches. Lynch is as efficient a producer as ever. I can't say the same for his new Raiders' teammate Doug Martin, who cost the Buccaneers 40 yards relative to a typical back on his 138 carries last season. Lynch should out-touch Martin 2-to-1.
Marlon Mack will be the Colts' No. 1 RB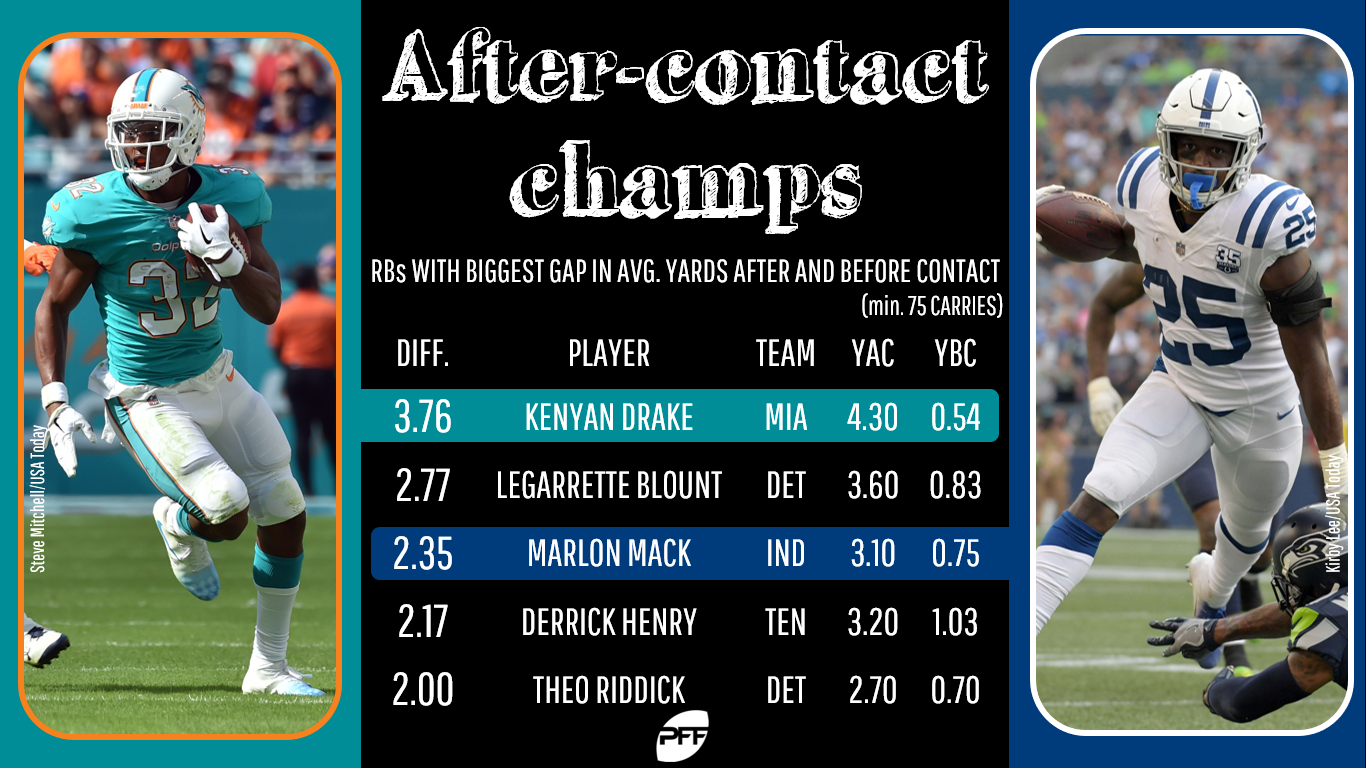 Mack suffered a hamstring injury in Week 1 of this preseason, which could seriously damage his chances to win the Colts' starting RB job from fifth-round rookie Jordan Wilkins. I wouldn't have had high expectations for either player as later-round draft selections, but Mack impressed me in his freshman year last season. He was one of just six backs with 15 Yards Added as a rusher and as a receiver. Unless Wilkins can provide his own evidence that he's an NFL-caliber player, I'll side with Mack.
Pretty confident
Fournette may have developed a reputation as an early-down back, but it isn't justified. He was 24th at the position last year with 43 targets, and his 0.35 Yards Added per catchable target was better than Christian McCaffrey (0.23), Jerick McKinnon (0.24), and Kareem Hunt (0.25), as examples. Like Gordon, I think bad PR is the only thing keeping Fournette out of the first round of fantasy drafts.
Carlos Hyde will catch fewer than 25 passes and score fewer than 6 touchdowns
Hyde cost the 49ers 53 yards as a receiver last season, which was double the next-worst total of 24 by Charcandrick West of the Chiefs. The Browns have Duke Johnson, and that should put a major dent in Hyde's total of 59 catches from last season. And while I do think Hyde can hold off second-round rookie Nick Chubb to be the team's No. 1 back in carry volume, Chubb seems particularly equipped to handle short-yardage situations. That's a recipe for fantasy disaster for Hyde.
The Jets' receiving corps is underrated, but Anderson stands out as the most physically gifted and most capable of running a complete route tree. As such, he's my pick to be the fantasy standout on their roster.
Jarvis Landry is leaving behind 156 targets in Miami. Kenny Stills and DeVante Parker seem to be the fantasy community's choices to benefit from that vacancy, but I think Amendola and Wilson are more natural replacements as shorter route runners with excellent hands. Amendola will likely miss time, and I'm not totally sure Wilson won't take his job at some point either way. In deeper leagues, grab both for your fantasy team.
Keelan Cole will be the Jaguars' No. 1 WR
Cole was one of the big-four rookie receivers in Yards Added, and though he hasn't found the acclaim that JuJu Smith-Schuster or even Cooper Kupp has, he may be in the best position to succeed for fantasy this season on a Jaguars team looking to replace Allen Robinson. Donte Moncrief and fellow sophomore Dede Westbrook are bigger names, but neither has shown the same level of productivity Cole has in his young career.
Jordy Nelson won't be fantasy-relevant in Oakland
Nelson was adding nearly 100 yards per season as recently as three years ago. But in the time since, his efficiency has cratered, and last year, he was among the least productive receivers in football. New teammates Amari Cooper and Martavis Bryant should have greater chances for bounce-back seasons given their relative youth.
Somewhat confident
Drake's 4.8 yards per carry last season was particularly impressive because almost all of it came after contact playing behind the worst run-blocking offensive line in my adjusted yards before contact per attempt metric. And whether or not the Dolphins' line improves he should stave off the ageless Frank Gore because of his proficiency as a receiver.
Tyreek Hill will be a top-tier fantasy WR at a second-tier price
Hill may be super fast, but he can run a diverse route tree. I think Patrick Mahomes has some bust potential, but that is the only reservation I have about Hill as a top-flight fantasy option.
Lamar Miller will have fewer than 700 rushing yards.
Miller may still just be 27 years old, but his career efficiency trends look like a back who fell off the 30-year-old cliff. Meanwhile, D'Onta Foreman looked like the real deal as a rookie rusher last year. If he can bounce back to similar form coming off his Achilles injury, than I'd look for him to push Miller to more of a third-down role.
Kelvin Benjamin will catch 10 touchdown passes
Benjamin's major gripe with the Panthers shouldn't be Cam Newton's accuracy but his tendency to take all of the team's short touchdowns. Benjamin should net 1,000 receiving yards in a more traditional Bills offense this season and will finally have a chance to become the red zone monster his 6-5, 245-pound frame should allow him to be.
John Brown will be the Ravens' No. 1 WR
Michael Crabtree and Willie Snead were the bigger names to join the Ravens' wide receiver group this offseason, but neither player has been a bastion of efficiency in recent seasons. Brown has managed just 11 starts since his breakout 2015 season thanks to a number of injuries, but he finally looks healthy and is tearing up training camp for his new team. Joe Flacco is not an exciting passer, but he is very capable of supporting an impact fantasy receiver.
Not very confident
John Ross will overtake A.J. Green as the Bengals' No. 1 WR this season
Ross didn't do anything to spark confidence in his NFL future in his injury-ruined rookie season. This pick is more about Green, whose Yards Added took a nosedive last season that looked similar to those of players like Mike Evans, Jordy Nelson, and Dez Bryant in recent seasons.
Ryan Grant will become the new Emmanuel Sanders
Grant's total of 40 Yards Added on just 50 catchable targets made him one of the most efficient wide receivers in football last season. If Andrew Luck can return healthy, then Grant suddenly looks like the No. 2 WR on a team that can absolutely support two fantasy receivers.
Eric Ebron will be a top-10 fantasy TE
It was clear last season that Matthew Stafford and the Lions had lost confidence in Ebron — and with good reason, given his frequent drops — but he actually looked to me like he turned a corner with his efficiency. With a fresh start, I could see Ebron producing enough on the balls he does catch to counterbalance the balls he fails to catch. And on a team full of field-stretchers and possession targets, Ebron's touchdown upside is enormous.
I loathe recommending rookie tight ends, who I think have maybe the steepest learning curve of every NFL position short of quarterback. But if I know Joe Flacco, he's going to keep chucking 6-yard rolling passes to whatever tight end is on the field with him. Hurst is technically behind veterans Nick Boyle and Maxx Williams on the team's depth chart, but both are primary blockers who ran a combined 313 routes last season.
Jeremy Hill will run in 8 touchdowns
Hill fell out of favor in Cincinnati I believe because of his lack of versatility. Well, the Patriots already have Rex Burkhead, Sony Michel, and James White to be versatile. If they want a player to ram in their close touchdown opportunities, the 230-pound Hill looks like the best bet on their roster. And under Tom Brady, the Patriots have consistently led the NFL in plays per game within five yards of the end zone.
Chris Ivory will be a worthy start in shallow formats for at least three weeks
Ivory lost the musical chairs for carries in Jacksonville last year, but that isn't a huge indictment of his talent given the Jaguars' surplus of quality running backs. By Yards Added, Ivory has been just below average on his carries each of the last two seasons. In contrast, LeSean McCoy has become one of the least efficient runners in football, and he has a potential legal issue hanging over his head. Definitely avoid McCoy, and take a look at Ivory late in your drafts.