All offseason you've been asking me to write an article on who my favorite deep sleepers for fantasy football in 2018 are. Who specifically I am going out of my way to acquire in the later rounds of 2018 drafts. Who the best bets are to exceed their ADP and/or who might have league-winning potential.
The phrasing might change, but at its core the question is always the same — who are the sleepers?
Well, here they are:
Quarterback (QB20+ by ADP)
Multiple QBs
I almost always employ a "late-round QB" approach in my fantasy drafts, and to great success. This year the position feels even deeper than in any in recent memory. In most of my drafts I'm not only the last team to select a quarterback, but I'm frequently drafting my first quarterback while nearly half of my opponents have already drafted a backup.
Jackson is frequently going undrafted in most fantasy drafts. If he was guaranteed to start the entire 2018 season, I'd happily abandon my late-round QB approach and try to acquire him in all of my leagues (even if that means drafting him in the QB1 range). As I outlined here, due to his monstrous rushing upside, Jackson has league-winning potential if he manages to take Joe Flacco's job. He's one of my preferred quarterback targets in 2018 drafts, though he might not be worth holding onto for long, in shallow leagues, if Flacco maintains starting duties (as I suspect).
Favorites: Winston paired with Taylor
Running back (RB35+ by ADP)
Burkhead's ADP makes little sense to me, even after the Patriots spent a first-round pick on running back Sony Michel. Laurence Maroney (in 2006) was the last running back Bill Belichick selected in the first round, but Maroney ranked second among the running backs on his team in carries and targets in his rookie year. In the final six games Burkhead started and finished last year, he averaged 13.5 expected fantasy points per game and 16.5 actual fantasy points per game. This would have ranked 12th- and 10th-best at the position, respectively, if over a full season. Keep in mind, Dion Lewis (now in Tennessee) was active in all of these games.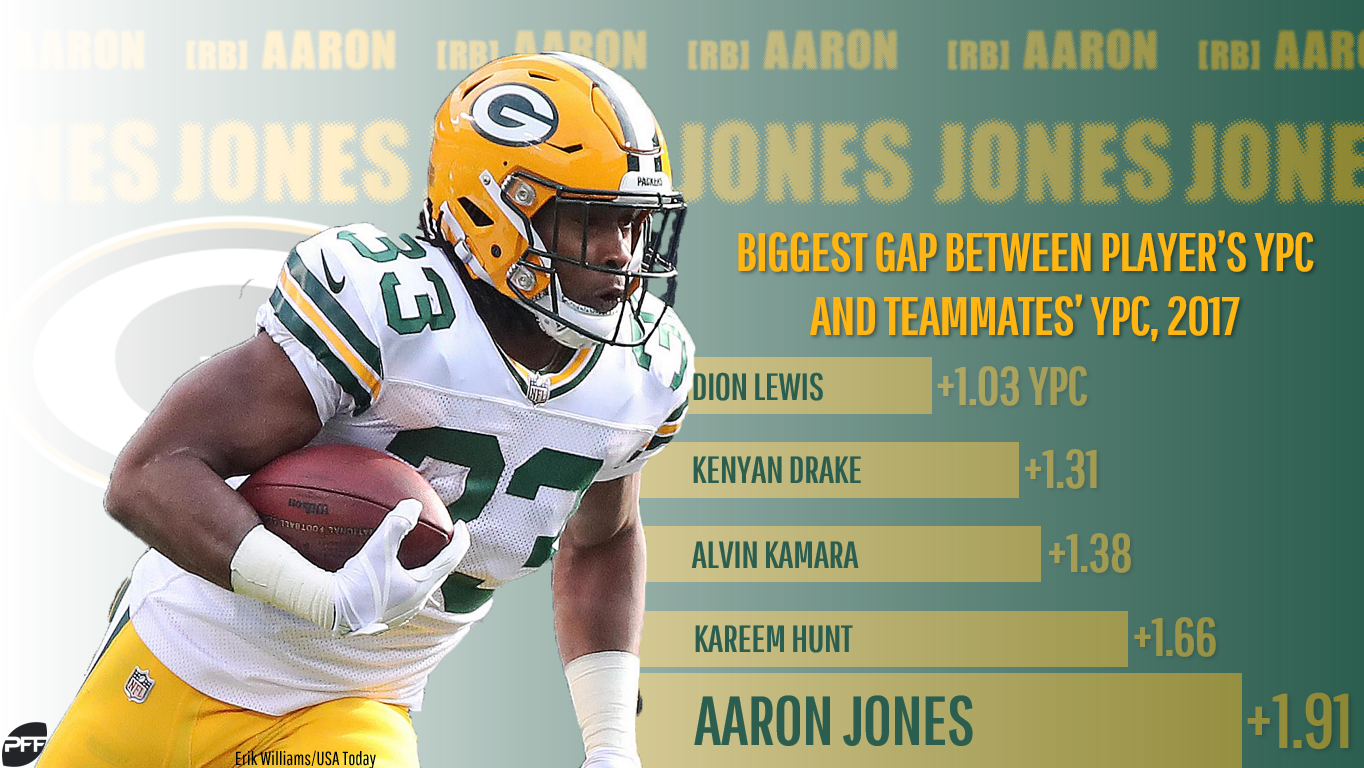 Jones is suspended for the team's first two games and was our least efficient running back in pass protection last year. He's unlikely to garner much work in the passing game (with Ty Montgomery expected to resume that role) and should start the season off in a three-way committee. That said, Matthew Berry is predicting a breakout (per his sources) and quarterback Aaron Rodgers might be an even bigger fan. Jones averaged 5.53 yards per carry last season (on 81 carries) while his fellow running backs combined for just 3.62 yards per carry. With a healthy Rodgers back on the field, and thus lighter fronts and more red-zone trips, Jones has a lot of fantasy potential, even despite the other concerns.
Gore isn't flashy or sexy, but he might be immortal. Despite always being a fantasy afterthought come draft time, he's finished 20th, 12th, and 11th in fantasy points in each of the past three seasons. As much as I like Kenyan Drake, he's not a lock to be used in a bell-cow capacity, or maybe even be the starter (though I think that's unlikely). He's also almost always been used in (only) a situational capacity dating back to college. Whether it was Knowshon Moreno, C.J. Anderson, Matt Forte, Jay Ajayi, or Drake, head coach Adam Gase's running backs have always exceeded expectations for fantasy.
Baltimore ranks second in running back targets over the past three seasons (333). While Alex Collins is likely (but not guaranteed) to resume his role as the early-down bruiser, it's unlikely he ranks highly in targets. Either of Dixon or Allen might dominate this role. Allen has never been efficient on either a per-carry or per-target basis throughout his career, but volume was good enough (18th in expected fantasy points) to allow him to rank 27th in fantasy points last year. Dixon missed all of the 2017 season but ranked first of 71 running backs in missed tackles forced per touch in 2016. I slightly prefer Dixon (due to more rushing upside than Allen), but both are decent values until beat writers anoint a favorite.
There's risk LeSean McCoy could be suspended or placed on the commissioner's exempt list this year, yet it has barely impacted the ADP of his backup. If this is indeed the case, you can make a quick profit on Ivory at a bargain-basement ADP. McCoy is 30 years old, coming off a career low in yards per carry (4.0), and new offensive coordinator Brian Daboll has taken an extremely run-heavy approach throughout his short career. Daboll's teams have ranked top-six in rushing attempts in three of his four seasons as an NFL offensive coordinator, despite a career .281-win-percentage on those teams
Le'Veon Bell is currently in the middle of a holdout and has missed 15 games over the past three seasons. Bell is still well worth a top pick in fantasy drafts because few other players can come close to his expected volume. What many are forgetting, (at least given Conner's ADP), is that when Bell misses time, his backup typically commands a near-equal workload. In 2015-2016, in games started and finished, DeAngelo Williams saw a nearly identical workload to Bell and averaged 22.9 fantasy points per game. For perspective, 22.9 fantasy points per game would have ranked third-best at the position last year. Conner is my favorite handcuff but has standalone value as well. Other backups like Latavius Murray (RB53), Matt Breida (RB57), Austin Ekeler (RB58), Spencer Ware (RB65), Corey Grant (RB76), and Chase Edmonds (RB84) are also worthy of consideration. Edmonds, due to his nearly free price tag, is my favorite of this group. However, almost none of these players should be rostered deep into the season (unless your league has an especially long bench).
Favorites: Like in most seasons, the running back position is especially top-heavy this year. I'd prefer to draft two or three bell-cow running backs in the first few rounds than gamble on more than one or two of these sleepers in the later rounds. With that said, Burkhead and Jones are my most-owned from within this group.
Wide receiver (WR50+ by ADP)
Benjamin was unproductive for fantasy last year, but he was also playing with a minor knee injury since Week 3 and with a torn meniscus since Week 11. Still, he was highly efficient on a per-target basis, at least relative to his quarterback play (which is important given Buffalo's lack of experience at the position). He ranked 25th and 15th at the position in fantasy points in his two previous seasons and won't have much competition for targets on a Buffalo offense likely to spend most of their games trailing their opponents.
DeSean Jackson, WR, Tampa Bay Buccaneers (WR52)
Last season Jackson ranked a lowly 62nd in yards per target (7.4). Over the prior four seasons, Jackson averaged a league-leading 10.9 yards per target. He also fell from 13.7 fantasy points per game to 9.9. What went wrong? If you ask head coach Dirk Koetter, Jackson was still frequently getting open – the issue was poor chemistry. (This was also something Winston and Jackson have worked together on all offseason.) After double-checking our grades, I'm inclined to agree. Jackson ranked 16th-best in PFF receiving grade despite ranking 46th in fantasy points per game. Jackson is easily one of my favorite draft-day targets, and I wondered here if the Jameis Winston suspension may actually be a boon to Jackson's fantasy prospects.
Miller was one of my favorite wide receivers coming out of this draft, was drafted highly (No. 51 overall) and via trade by a first-year coach instilling a new scheme, and has been drawing rave reviews all offseason. Miller is "earmarked" for starting slot duties in 2018, which suits him well. Last season, Miller ranked sixth-best of 179 qualifying wide receivers in yards per route run from the slot (3.43). Last season, slot wide receiver Kendall Wright was Mitchell Trubisky's favorite target, amassing 51.0 percent more targets than the next closest player. In 2016, Trubisky's favorite target was another slot wide receiver, Ryan Switzer, who drew 43.5 percent more targets than the next-closest player.
Earlier this month, I penned a love letter an article highlighting why Wilson was perhaps my favorite fantasy sleeper. With Amendola dominating first-team snaps early in camp, Amendola may now be my preferred target. In either case, both are well worth an investment at their bargain-basement ADP.
Pryor totaled over 1,000 receiving yards and finished the 2016 fantasy season 21st among wide receivers in fantasy points, in only his first full season playing the position and despite catching passes from names like Cody Kessler, Josh McCown, Robert Griffin III, Kevin Hogan, and Charlie Whitehurst. His 2017 season, however, was a massive disappointment despite the quarterback upgrade (to Kirk Cousins). He only played in nine games due to an ankle injury, which he reportedly suffered in Week 2. He saw 11 targets in Week 1, and then never more than five in his other eight games. Perhaps his poor performance was entirely due to this ankle injury and we're understating his potential in 2018. However, he'll need to return back to full health before the start of the season for me to consider him in any fantasy drafts.
Ross was one of my favorite prospects coming out of the 2017 draft and has apparently looked like a different player (and one to get quite excited about) in training camp this year. As outlined in the linked article, Ross was never quite right last season (due to injury and missing training camp last year) but is now back to full health. Brandon LaFell ranks 28th among wide receivers in targets (196) over the past two years, serving as the team's No. 2 wide receiver. Given draft pedigree, and the fact that wide receivers tend to make a significant statistical leap in their sophomore seasons, I expect Ross to beat out LaFell for that role this year.
Opportunity abounds in Dallas, with Dez Bryant, Jason Witten, and Brice Butler leaving behind 229 targets in the wake of their departures. Hurns ranked 22nd in PFF receiving grade last year and projects to be the team's No. 1 receiver but might be playing out of position in 2018. Gallup was my favorite wide receiver sleeper to come out of the 2018 NFL Draft and I expect him to make an immediate impact at some point this season. Beasley was one of the league's most efficient wide receivers in 2016 but one of the least efficient in 2017. Beasley finished 32nd among wide receivers in fantasy points in 2016 but just 73rd last year. I'm expecting a significant step forward in 2018, and he's an amazing ADP value, but he lacks significant upside, unlike Hurns.
Favorites: Jackson, Ross, and Wilson/Amendola.
Tight end (TE20+ by ADP)
Charles Clay, TE, Buffalo Bills (TE20)
Since 2016, Clay has missed four games and spent a whopping 17 weeks on the injury report listed as questionable. In spite of this, among tight ends, he ranks 10th in targets and 12th in fantasy points over the past two seasons. Without much competition for targets in Buffalo, he's a great bet to beat his ADP, despite whichever inexperienced quarterback will be starting in Week 1.
Vance McDonald, TE, Pittsburgh Steelers (TE21)
McDonald has been hyped up quite a bit by beat reporters this offseason, but it appears that hasn't impacted his ADP. Pittsburgh beat reporter for ESPN Jeremy Fowler said in May, "McDonald will be featured in the Steelers offense this year, particularly in the team's quick passing game to utilize his short-area speed." McDonald underwhelmed in the regular season last year but played on 87 percent of the team's snaps in the Steelers' lone postseason game, catching 10 of 15 targets for 112 yards.
Seals-Jones was easily our most efficient tight end on a per-route basis last year, turning 68 routes into 201 yards and three touchdowns. Route volume shouldn't be in an issue in 2018, with Arizona beat writers projecting Seals-Jones to enter camp as the starter and with an expanded role in the offense. In each of four seasons coached by Mike McCoy (now calling plays for the Cardinals), Antonio Gates totaled at least 85 targets.
Watson led the Ravens in receptions last year (61) and now joins a New Orleans team brimming with fantasy potential. Watson saw career highs in targets, receptions, yards, and touchdowns in his last year with New Orleans (2015) and also finished the year as fantasy's No. 7 tight end. Coby Fleener was underwhelming in New Orleans, but that was in part because he played so poorly. Prior to Fleener's arrival, New Orleans had ranked top-six in team fantasy points scored by tight ends in seven of eight seasons, including 2008-2010 when Jeremy Shockey led the team in tight end targets. Given how rarely Payton asks his tight ends to block, volume should be good enough to make Watson one of the safest bets at the position, despite his advanced age (37-years-old).
Antonio Gates, TE, free agent (TE40)
At age 38, Gates might not find his way onto an NFL roster this year but he's still worth consideration in the last round of your drafts. He underwhelmed last year working in a committee with Hunter Henry but has finished as a top-12 fantasy tight end in each of the previous 13 seasons. Los Angeles has yet to fill the void left by Henry (who suffered a season-ending ACL injury earlier this offseason) and Gates is a good bet to sign there. Philip Rivers and Gates have an established rapport (to say the least), and Rivers and offensive coordinator Ken Whisenhunt have a proclivity towards targeting tight ends heavily.
Favorites: Seals-Jones and Watson.