When your pick comes up on fantasy football draft day you will know the ADPs and hopefully have your tiers laid out as you see them, but you still have to determine which player to target at that spot. Will you go with safe and steady performer or will you shoot for the stars and chase the upside?
More often than not those owners that hit on the guys that break out and get good value on them wind up winning fantasy leagues.
We've already offered up some swing-for-the-fences options at quarterback and running back. Now let's take a look at fantasy wideouts going after the first couple rounds that offer the most upside. Here's a tier-by-tier glance:
Rounds 3-5
Current ADP: 3.06 (WR11)
With Andrew Luck sidelined, last season was a bit of a struggle for Hilton. He only pulled in 57 of his 102 targets for 966 yards and he netted a career-low four touchdowns. It also marked the first time since his rookie season in 2012 that he failed to reach 1,000 receiving yards.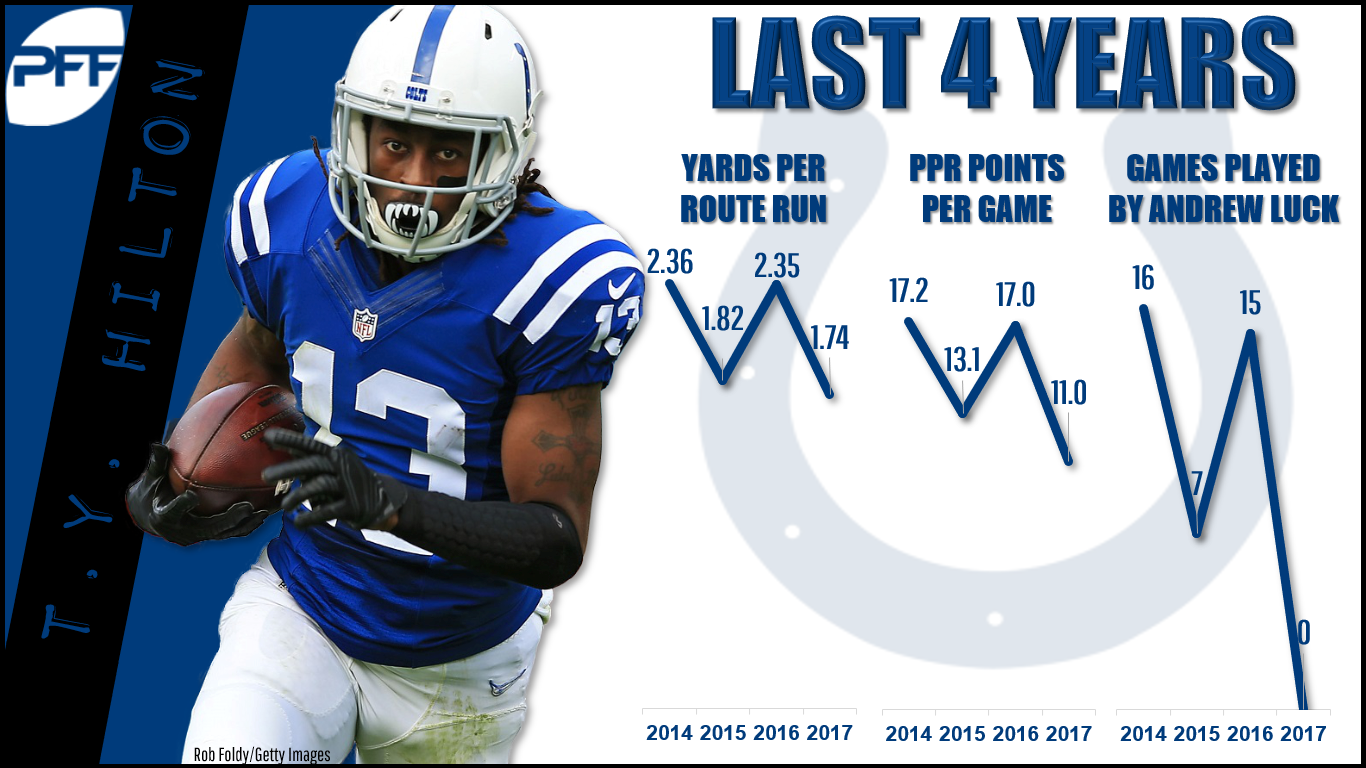 Hilton still managed to post five double-digit weeks even in non-PPR formats, including two 20-point performances even without his quarterback. The good news for Hilton and the Colts in general is Luck is back and appears to be near 100 percent and ready for Week 1.
The last season the duo was together in 2016 Hilton finished as WR5 and led the league with 51.5 percent reception rate on deep ball targets and tied for third among qualifying receivers with a 2.3 yards per route run.
Current ADP: 3.09 (WR14)
Diggs entered the league with some baggage coming out of Maryland, but nobody ever questioned the talent. The Vikings stole him in the fifth round of the 2015 draft and three years in he looks like a legitimate NFL WR1.
He has flashed amazing potential and had some stretches where he's posted some eye-popping stats, but Diggs has yet to put a full season together. Over his three-year career he has caught 200 passes for 2,742 yards and 15 touchdowns.
There's no questioning his playmaking ability, but Diggs needs to become more consistent. He's never played more than 14 games in a season and he didn't break 40 yards in six of his 14 games played a year ago. With Kirk Cousins' arrival there's hope that the 24-year-old will be ready to take another step forward in 2017.
Rounds 6-8
Current ADP: 6.01 (WR24)
Gordon remains one the biggest mysteries for fantasy owners. He left the team for personal reasons shortly before the start of training camp and is expected to return at some point, but when that occurs remains anyone guess.
His price was inflated as summer began, but the recent absence has cooled some owners on him and allowed his ADP to drop. With all the improvements in this offense if Gordon can return he'll be surrounded by the best supporting cast of his career.
He put up some massive numbers during a brief stretch in 2013, but he's only played 10 games since (suspended for 54) and scored just one touchdown during that span. Still, Gordon is just 27 years old and if he can get his life and career on track he can be valuable commodity for the Browns and fantasy owners alike.
There are many questions looming around #Browns WR Josh Gordon entering 2018. What do you consider his fantasy upside to be in the season ahead?

— Dan Clasgens (@DanClasgens) August 12, 2018
Current ADP: 7.03 (WR30)
Injuries have plagued Fuller during his first two pro seasons. He has missed eight contests with four different injuries, including six games in 2017. His small frame (6-0, 185) doesn't bode well for his durability moving forward either.
When he is on the field though, Fuller is capable of scoring on any play with his blazing speed. To get to the next level he'll need to improve on the 59.6 percent catch rate he yielded a year ago though.
Fuller's upside is tied directly to the health status of Deshaun Watson. He averaged 12.7 yards per target in the four games he played with Watson in 2017, but just 5.1 yards per target with other signal-callers. The duo connected for seven touchdowns on 13 receptions in the four games they played together last year.
Rounds 9-11
Current ADP: 9.08 (WR42)
The former 2012 Olympic long jumper exploded onto the scene late in the year after Jimmy Garoppolo took over at quarterback for the 49ers and following the season-ending injury to Pierre Garcon.
In the eight games without Garcon, Goodwin averaged 4.5 catches for 76.6 yards and scored twice. He averaged 17.2 yards per reception in 2017 which was second-best among players with at least 50 catches on the season.
Goodwin is one of the best deep threats in the league and will score on some of big plays, but don't expect much in the red zone, as he only caught one of his 10 targets inside the 10-yard line a year ago. That could limit his potential to be a top-20 WR, but he did finish as a top-30 fantasy wideout in both PPR and standard formats last season.
Current ADP: 11.10 (WR48)
The Dolphin has netted 15.7 yards per reception over the past two years, which is seventh-best among wide receivers with 100 catches or more. He has done most of that damage from the slot, leading the league with 11 touchdown receptions from the slot during that stretch.
Stills don't see a consistent flow of targets, but he makes the most of his opportunities. He has seen his numbers go up across the board in each of his three seasons in Miami and is poised to take another step forward in 2018.
He's made 15 trips to the end zone over the last two seasons and could see more action in the red zone with Jarvis Landry's departure in free agency. There aren't many players at any position going Round 11 or later currently that offer more upside.
Rounds 12 or later
Current ADP: 13.01 (WR51)
The Redskins invested a first-round pick on Doctson in 2016 and so far haven't gotten much of a return on their investment. He barely played as a rookie and was a non-factor a year ago. However, the team is optimistic that he could have a third-year breakout.
Docston only reeled in 35 of his 72 targets (48.6 percent) a year ago and was even less efficient inside the 10-yard line where he caught just two of his nine targets. He will now have to adjust to a new signal caller too with Alex Smith taking over Kirk Cousins.
Still, despite all the baggage the pedigree is there with Doctson to make him a great dart throw near the end of fantasy drafts as a WR5 or WR6. At that price point if he doesn't pan out, it will be easy to move on.