As mentioned in Wednesday's piece, the PFF Fantasy team is on our 13th fantasy football mock of the offseason, ranging from right after to the Super Bowl to right now.
In conjunction with these mocks, and because I have an obsession with tracking things in spreadsheets, I've tracked the players our drafters have taken throughout these drafts in search of trends.
Over the course of a series of mocks, an individual drafter's preferences start to show themselves. Favorite sleepers pop up and tendencies go on display. So I asked our regular drafters to chime in on the players they were taking most often and why — is there some reason they are higher on the specific players than the rest of us?
Obviously, sometimes a player is regular pick for no real reason. So they weren't tasked with defending every pick. (Also, this piece would then be 10,000 words.) But below, our mock participants defend their favorite picks of 2018.
(Every player an individual drafter took at least three times over the first 12 mocks is listed below. Asterisks indicate at least one of the picks spent on a player was from one of our rookie mocks.)
C.J. Anderson (4), Drew Brees (3), Giovani Bernard (3), Golden Tate (3), Jordan Howard (3), Julio Jones (3), Keenan Allen (3), Kenny Stills (3), Philip Rivers (3), Randall Cobb (3), Royce Freeman* (3), Tyler Eifert (4)
Tyler Eifert, TE, Cincinnati Bengals
Eifert carries a bit more injury risk than Jordan Reed, but he has a similar upside and is available at a four-round discount. With the tight ends outside of the top handful largely interchangeable, pairing Eifert's upside with a higher-floor option like Charles Clay makes for a potentially elite tandem.
Julio Jones, WR, Atlanta Falcons
Jones going as a first-/second-rounder makes it hard to draft him very often, but I am all in on the Falcons stud this season. There's no reason to think his touchdown woes of 2017 will continue. His propensity for boom/bust games is frustrating, but he's still an easy WR1 and my No. 2 at the position for 2018.
C.J. Anderson, RB, Carolina Panthers
Anderson is going at almost an identical ADP to the remains of Jonathan Stewart a year ago (Stewart was 105th, Anderson 102nd this year). Stewart finished as the No. 32 RB in standard leagues, 41 in PPR despite the third-worst PFF running back grade. Anderson had the seventh-highest RB grade. If anything happens to Christian McCaffrey, Anderson becomes a bell cow. Even absent that, he'll have weeks here and there.
Albert Wilson (3), Ben Roethlisberger (4), Chris Hogan (6), Chris Thompson (4), Drew Brees (4), DeSean Jackson (6), Doug Martin (3), Demaryius Thomas (7), Emmanuel Sanders (4), Frank Gore (4), Greg Olsen (3), Jordan Reed (4), LeSean McCoy (5), Mark Ingram (6), Pierre Garcon (3), Ricky Seals-Jones (3), Robert Woods (4)
Chris Hogan, WR, New England Patriots
Hogan was quietly awesome last year, and especially if you strip away injury weeks and include the postseason. With a 32-year-old injury-prone Julian Edelman suspended for the team's first four games, I wouldn't be surprised if he finishes the season as New England's WR1.
Mark Ingram, RB, New Orleans Saints
I'm not in love him, but he's finished top-10 in back-to-back seasons and is typically being drafted in the high-end-RB3/low-end-RB2 range. I almost always make the playoffs in my leagues, and these leagues typically have a top-heavy payout structure, so the suspension doesn't worry me too much.
Jordan Reed, TE, Washington Redskins
I've written about him all year. He's super risky, but he has league-winning upside if he finally manages to stay healthy. His current ADP factors in all of his risk but not much of his upside.
Chris Thompson, RB, Washington Redskins
Thompson was amazing last year and is, of course, due for an efficiency regression. However, this should be offset by a larger workload due to the injury to Derrius Guice.
LeSean McCoy, RB, Buffalo Bills
I'm worried about efficiency, the offense as a whole, and the risk that he might be suspended. Even with all of this considered, his ADP is still too low relative to potential workload.
Drew Brees, QB, New Orleans Saints
Brees finished as a top-six fantasy quarterback in every season from 2006 to 2016. In 2017, he finished 11th. He was still just as awesome as ever — the issue was a decline in volume. I'm betting on a resurgence.
Alex Collins (7), Aaron Jones (6), Brandin Cooks (3), Baltimore DST (4), Chris Godwin (5), Cam Newton (3), Julian Edelman (3), John Ross (5), Kalen Ballage* (3), Kelvin Bejmain (6), Kenneth Dixon (5), Kenyan Drake (4), Marlon Mack (4), Robby Anderson (3), Tevin Coleman (3), Tyreek Hill (3)
Alex Collins, RB, Baltimore Ravens
Collins was one of the most efficient rushers in football last season and was PFF's No. 1 back in rushing grade. His lack of pedigree as a fifth-round pick is the only reason I can see he isn't a second-rounder in fantasy.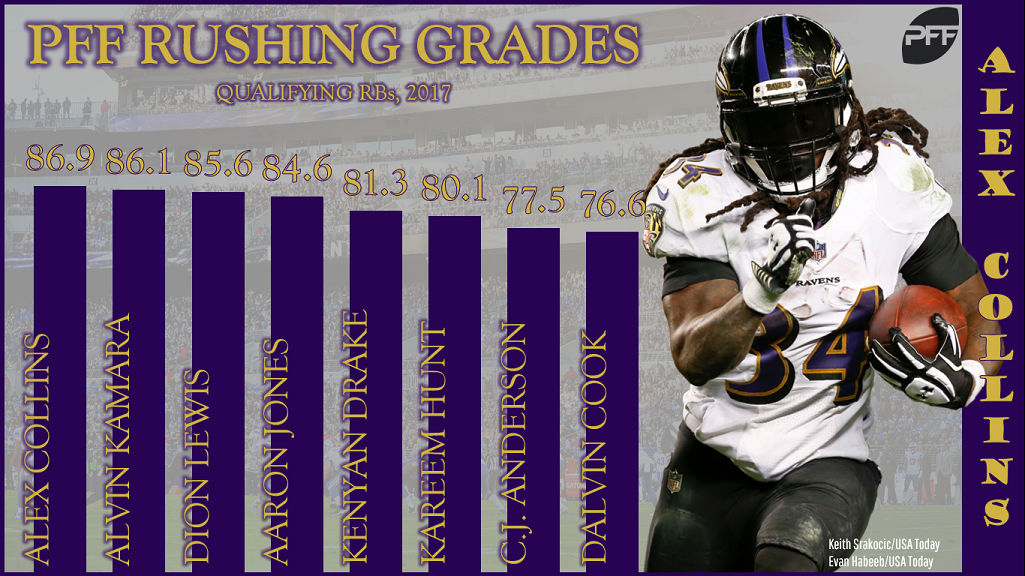 Aaron Jones, RB, Green Bay Packers
Jones will have to overcome the head start he gave teammate Jamaal Williams thanks to his two-game suspension, but he looked like the more talented back to me in 2016. He may not see a ton of short-yardage touchdowns, but he has the big-play potential to become the next Jamaal Charles or Chris Johnson.
Chris Godwin, WR, Tampa Bay Buccaneers
Mike Evans was never an efficient receiver, and that finally caught up to him in fantasy in 2017. Godwin may not look the part of a top fantasy wideout at just 6-1 and 209 pounds, but I think he may well be the best receiver the Bucs have.
John Ross, WR, Cincinnati Bengals
A.J. Green is an all-time great player, but Dez Bryant showed last year that every player eventually runs out of time, and Green suffered from a similar decline in his efficiency in 2017. Ross had a lost rookie season last year, but he is the best-positioned Bengals receiver to benefit if Green steps back.
Kelvin Benjamin, WR, Buffalo Bills
Cam Newton held Benjamin back in fantasy not because of his passing accuracy but because of his tendency to run in so many of the Panthers' touchdowns. In a more traditional offense in Buffalo, Benjamin should have the opportunity to become the elite touchdown scorer his 6-5, 245-pound frame allows him to be.
Atlanta DST (3), Chris Godwin (4), Davante Adams (3), Derrius Guice (4), David Johnson (4), Greg Olsen (3), John Kelly* (3), Kenny Stills (3), Michael Crabtree (6), Nick Chubb (3), Paul Richardson (3), Rishard Matthews (3), Stefon Diggs (4)
Michael Crabtree, WR, Baltimore Ravens
I put my money where my mouth was and backed up my thoughts of Crabtree being a player who can beat his ADP by routinely selecting him in our mock drafts. Over the past three seasons combined, Crabtree has accrued the 14th-most PPR fantasy points of all wide receivers. Entering an offense with the most targets and air yards available, there's a huge opportunity for Crabtree to capitalize and finish as high-end top-24 wideout.
Stefon Diggs, WR, Minnesota Vikings
Everyone's favorite breakout candidate from last year, Diggs may have taken a circuitous route to get there, but he placed an exclamation point on 2017 with his iconic catch against the Saints to propel the Vikings to the NFC Championship. Diggs established a name for himself by sporting the second-highest WR rating (120.4) and finishing as our No. 8 graded wide receiver. Kirk Cousins' addition should help Diggs' week-to-week consistency and elevate him to a low-end WR1.
Chris Godwin, WR, Tampa Bay Buccaneers
I'm not sure Godwin still qualifies as a "sleeper," but he's a player I find myself routinely taking before other drafters. The Jameis Winston suspension has kept his ADP in check, but Godwin showed last year that he can be a fantasy rock star when targeted. Last year, Godwin ranked 28th in PPR fantasy points per opportunity, 17th in yards per target, and 13th in YPRR. He's a player I'd much rather watch blossom into a fantasy producer on my bench rather than my opponent's.
Austin Ekeler (3), Brandin Cooks (4), Corey Coleman (3), Calvin Ridley (4), Derek Carr (3), Harrison Butker (3), Jordy Nelson (3), Nelson Agholor (4), Nick Chubb (4), Stephen Gostkowski (3), Samaje Perine (3), Ty Montgomery (3)
Austin Ekeler, RB, Los Angeles Chargers
Ekeler is a favorite late-round target of mine in PPR leagues. He ranked third last year in fantasy points per touch, and players who are efficient with the football tend to find their way onto the field. Make no mistake: Ekeler is cemented behind Melvin Gordon in Los Angeles. But his role as a change-of-pace back could grow this year, and if it does, Ekeler would likely emerge as a fantasy flex option.
Brandin Cooks, WR, Los Angeles Rams
I actually didn't realize I was drafting Cooks so much because he's not necessarily on the list of guys I think of as "my guys." In hindsight, I started a lot of our mock drafts with running backs early, and when that is how my drafts unfold, I try to find WR2s or WR3s with legitimate WR1 upside. Cooks fits that mold.
Ty Montgomery, RB, Green Bay Packers
The running back situation in Green Bay is unsettled, and one of Montgomery, Jamaal Williams, and Aaron Jones is going to be a great fantasy option in 2018. I look at this pick as a lotto ticket.
Adam Thielen (3), Cameron Meredith (4), Julian Edelman (3), James White (3), Kirk Cousins (3), Matt Prater (3)
Adam Thielen, WR, Minnesota Vikings
He's been steady over the past couple years and finished as a top-10 WR across all formats in 2017. Now he gets an upgrade at quarterback that makes him a nice WR1 target in Round 3 if you go with a pair of running backs to start out the draft.
Cameron Meredith, WR, New Orleans Saints
Meredith landed in many of early summer drafts before the buzz started picking up on the fact he could be the No. 2 wideout in New Orleans. Recent concerns over his health and recovery from last year's knee issues have cooled me off a bit, but it has also allowed his price to drop again.
James White, RB, New England Patriots
It's often hard for fantasy owners to figure out the Patriots' backfield but the player with the most defined role is White, who reached double digits in PPR in 10 of 17 contests a year ago. He's one of my favorite double-digit-round grabs in that format.
Kirk Cousins, QB, Minnesota Vikings
Cousins finished inside the top 10 at quarterback for the third straight year in 2017, something only two others have accomplished. Now, he's in Minnesota where he'll be surrounded by a ton of playmakers and at his ADP he delivers great value and a very high floor.
Calvin Ridley (3), Denver DST (3), Isaiah Crowell (3), John Brown (3), Lamar Miller (3), Marquise Goodwin (4), Marshawn Lynch (3), Nyheim Hines (4), Sammy Watkins (5), Terrelle Pryor (3)
Isaiah Crowell, RB, New York Jets
One of the most efficient runners from an elusiveness standpoint in 2016, Crowell fell off in 2017 as the winless Browns abandoned the run at an alarming rate in some curious game situations. Now, Crowell joins a Jets offensive scheme that should get the backs more involved in the run and pass game and a case can be made that he's the most talented back on the roster.
John Brown, WR, Baltimore Ravens
Brown has become a popular sleeper pick with a slew of news blurbs gushing over his connection and production in training camp with Joe Flacco, but we saw this coming back when we started doing mock drafts. If Brown can stay on the field, he's a sneaky bet to emerge as the No. 1 receiver in Baltimore as a better fit for Flacco's skill set than Michael Crabtree.
Lamar Miller, RB, Houston Texans
As a general rule of thumb for running backs, weight gain is a bad thing while, weight loss can be a good thing. Miller looked much quicker in his preseason debut after dropping down to 217 pounds — his playing weight during his explosive days in Miami with the Dolphins. D'Onta Foreman is on the PUP list with an injury no running back has ever successfully returned from, Alfred Blue is, well, Alfred Blue, and Miller has a clear path toward a massive workload in a Deshaun Watson offense. For some reason his ADP hasn't caught up to his situation just yet.
Marquise Goodwin, WR, San Francisco 49ers
I tend to be a big believer in quarterback/wide receiver rapport and how it translates to fantasy football. Goodwin was Jimmy Garoppolo's go-to receiver after the trade last season and that has carried over to the preseason. His ADP is the only thing that hasn't risen much.
Austin Seferian-Jenkins (4), Carlos Hyde (4), Dan Bailey (3), Devontae Booker (4), D.J. Moore (3), David Njoku (3), Dede Westbrook (5), Josh Doctson (3), Josh Gordon (4), Joe Mixon (3), Michael Gallup (4), Marlon Mack (3), Marcus Mariota (4), Martavis Bryant (5), Patrick Mahomes (3), Sony Michel (4)
Carlos Hyde, RB, Cleveland Browns
Devontae Booker, RB, Denver Broncos
As long as Hyde and Booker continue to run with the starters, I'll gladly take the value in the later rounds. Others can pay a premium for their respective rookie challengers.
Marcus Mariota, QB, Tennessee Titans
Upside is the overarching theme when looking at my list, although Mariota also happens to check the value box. Every time I'm tempted to draft a QB early, I remind myself that Mariota was once fantasy's top QB for a seven-week stretch, even with an offensive scheme that was drawn up on the wall of a cave some 2.5 million years ago.
Albert Wilson (4), C.J. Anderson (4), Chris Boswell (3), Cameron Brate (3), Davante Adams (3), Dion Lewis (8), Giovani Bernard (6), Jamison Crowder (3), Jack Doyle (3), Jared Goff (3), Keelan Cole (3), Kareem Hunt (3), LA Rams DST (3), Marqise Lee (3), Matthew Stafford (3), Michael Thomas (3), Nyheim Hines* (3), New Orleans DST (3), Odell Beckham Jr (3), Russell Wilson (3), Trey Burton (3), Ted Ginn (3), Travis Kelce (4), Wil Lutz (3)
Dion Lewis, RB, Tennessee Titans
Consider the corpse of DeMarco Murray finished as a low-end RB2 on this same team and it's hard not to be excited about the possibilities with Lewis. While Murray finished 32nd among all 47 running backs in elusive rating, Lewis finished third. If you're waiting until the third or fourth round for your running back, Lewis is a perfect candidate.
Davante Adams, WR, Green Bay Packers
The Packers' top receiver when Aaron Rodgers plays at least 15 games in a season has averaged 77 receptions for 1,194 yards and 10 touchdowns. Adams is now the man after a huge extension and the departure of Jordy Nelson. That stat line is what should be expected of Adams.
C.J. Anderson, RB, Carolina Panthers
Someone in Carolina has to run the ball, and it's seemingly not Christian McCaffrey. McCaffrey will still get his, including over 100 carries to go along with 100-plus targets, but Anderson will slide right in to Jonathan Stewart's 200 carries.
Chris Boswell, K, Pittsburgh Steelers
Wil Lutz, K, New Orleans Saints
I don't spend a lot of time on kickers but I will always look to draft those from higher-scoring offenses such as Pittsburgh and New Orleans, both of whom finished in the top-five in scoring last year.
Larry Fitzgerald (3), Leonard Fournette (3), Mitchell Trubisky (3), Patrick Mahomes (3), Rex Burkhead (4), Rishard Matthews (4), Tyler Lockett (3), Will Fuller (3)
Rex Burkhead, RB, New England Patriots
Going back five, 10, or 15 years, nobody has more rushing touchdowns than the Patriots. Their backfield is annually among the highest-scoring in fantasy, and rostering affordable pieces of it pays proven dividends. Burkhead is getting more expensive than were I was picking him in our mocks, but he's still a fine fifth-/sixth-round value.
Tyler Lockett, WR, Seattle Seahawks
The Seahawks have over 200 unaccounted-for targets from last season, Lockett has little depth chart competition and is finally healthy after a late-season broken leg in 2016. Seattle is saying they'll run more often, but with a rebuilt defense and lowered win forecast, game scripts may not allow it. Lockett is one of the cheapest locked-in No. 2 wideouts, and few have his big play ability.
Amari Cooper (6), Corey Clement (4), Cooper Kupp (3), Cameron Meredith (3), Dez Byrant (3), DeAndre Hopkins (3), David Njoku (4), Jimmy Graham (6), Jordan Matthews (3), Kenny Golladay (5), Kerryon Johnson (3), Matt Prater (3), Matthew Stafford (3), Mike Williams (4), O.J. Howard (5), Philip Rivers (4), Ty Montgomery (4)
Jimmy Graham, TE, Green Bay Packers
I have been purposely targeting Graham as I love the opportunity playing with Aaron Rodgers will present. I can easily see a top-five finish for Graham and begin looking to draft him as early as late in the fourth round.
Deshaun Watson (4), Greg Zuerlein (3), Kareem Hunt (3), Latavius Murray (3), Marvin Jones (3), Tevin Coleman (4), Ted Ginn (3), Todd Gurley (3)
Marvin Jones, WR, Detroit Lions
Jones has been one of my favorite targets all offseason. I think his 2017 is being under-appreciated. Jones ranked 12th among wide receivers (minimum 50 targets) with a passer rating of 110.9 when targeted. He trailed only Brandin Cooks and Tyreek Hill in yards accumulated on targets at least 20 yards downfield (599). He has increased his receiving yardage every year of his career. Eric Ebron left town and left an 86-target void in his wake. There is still some room for Jones to improve upon his 2017 PPR WR11 performance and there's plenty of reason to like his floor, at cost.