Yesterday we utilized the PFF Playbook to uncover some of this year's best-kept sleepers that have a chance of jumping a fantasy tier. Time to address the other side of the coin with today's column and identify some of this year's biggest potential busts.
In order to do this, I've grouped running backs and wide receivers by position "buckets" of top-25, top-50, top-75, and top-100. Players that qualify for a "bust" label, will be those that have strong odds of falling short of their current ranking and should subsequently be drafted in the tier below their current status.
(The Fantasy Playbook is available for all Edge subscribers.)
Entering the 2017 season, we all knew Hill had a chance to be one of the year's most dangerous playmakers. However, few likely saw that he would end up hitting the top-end of his range of outcomes like he did last year (fantasy WR9). I mean c'mon. Look at this play:
Let's not pretend this was the only big play that elevated Hill's fantasy production. Hill scored all seven of his receiving touchdowns from 30 or more yards out last year. He caught just one single pass inside the red zone. That type of production just isn't sustainable. Hill hit the high end of his range of outcomes last year, catching 73 percent of his 102 targets with Alex Smith at the helm. Over the past 10 years, just four wideouts have managed to turn in a top-10 fantasy season with 105 targets or fewer. The addition of Sammy Watkins to the mix could mean even fewer targets for Hill with the team not losing any major offensive weapons.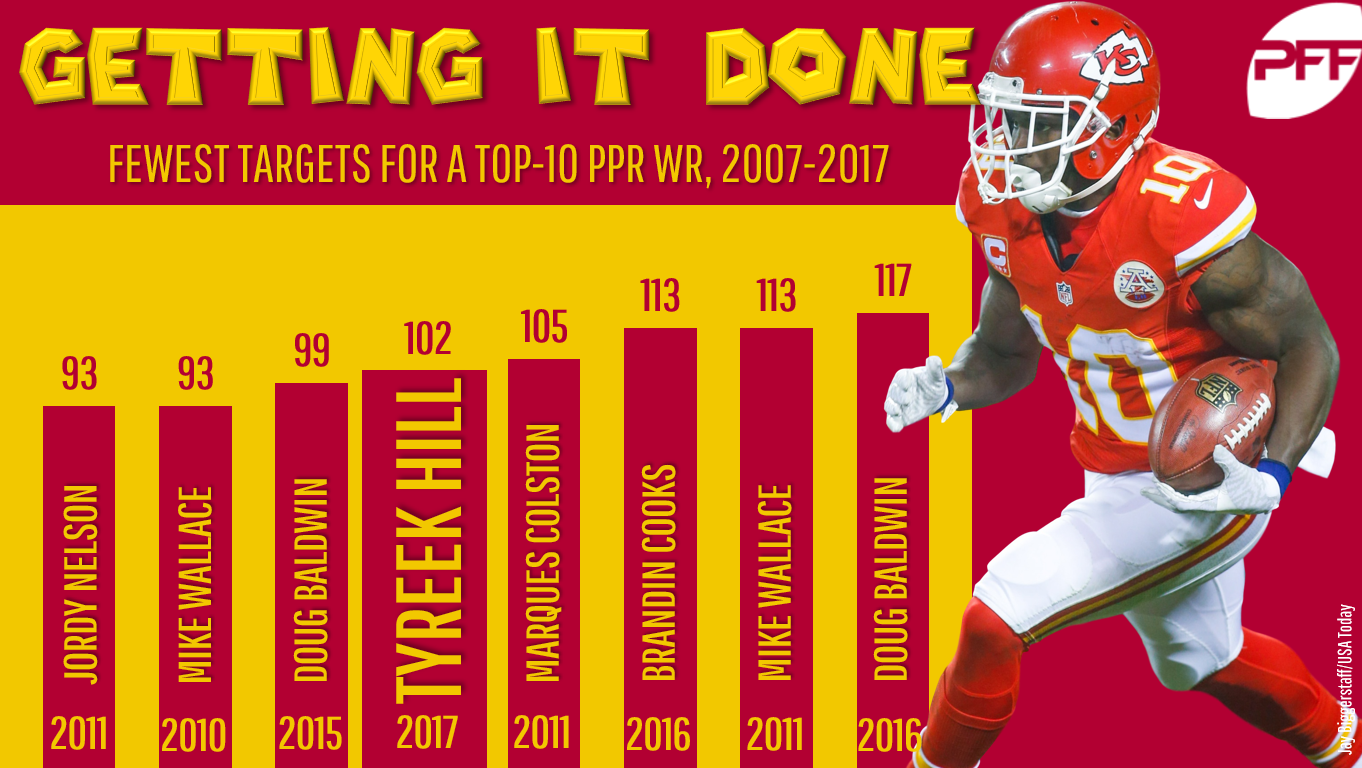 As pointed out in the PFF Playbook, Hill finished lower than the fantasy WR36 five different times last year. His boom-or-bust nature is akin to playing with fire, and fantasy drafters taking him as a top-15 fantasy wideout are just begging to be burned this year.
Opening the season with a four-game suspension, Ingram has drafters who are another courageous bunch. Not only are you foregoing the first four weeks of the season carrying dead weight on your bench, you're also foregoing the potential of picking up one of the early-season waiver wire adds. That opportunity cost could be difficult to stomach, as these early-season emergers are typically the hottest names of the year as they come out of the woodshed.
This is more narrative-based than my typical analysis, but there's a very real possibility that Ingram doesn't resume the role he had last year upon his return. The relationship between Ingram and head coach Sean Payton has been … tumultuous at best, with a checkered history.
Payton showed us last year that he isn't afraid to put a short leash on players who violate the league's policies (Willie Snead). Brandon Coleman played a career-high 62.3 percent of the team's offensive snaps while Snead saw a career-low (39.3 percent). The Saints also have a plethora of backup running backs all vying for Ingram's touches. Any of those backs could emerge as a formidable one-two punch candidate, taking Ingram's place in a committee. It also doesn't hurt that Payton has last year's No. 2-graded running back Alvin Kamara to lean on. Kamara has a chance to emerge as the lead back after seeing just 37.5 percent of the team's running back touches last year.
While there's the possibility that Ingram retains his role upon his return, the opportunity cost combined with the potential for him to lose that role isn't quite justifying Ingram's fourth round ADP. Ingram's a risky proposition at that stage of the draft considering all the talented wideouts going in that range.
Propelled to fantasy stardom after shifting into the slot, Agholor turned around his career in 2017 with a fantasy WR22 finish. Much of that scoring from Agholor came via touchdown receptions. In fact, Agholor's eight touchdowns accounted for 25.5 percent of his fantasy value last year. Only 15 wide receivers had a higher rate. Stemming from a career-year from Carson Wentz with his 7.5 percent touchdown rate, it's safe to project that rate lowering in 2018 back toward the league average. This can safely be applied to Agholor's touchdown rate as well, where touchdowns lifted Agholor into fantasy relevance far above his respective targets. Those targets could also see a knock down with the arrival of Mike Wallace. Wallace had 208 targets combined over the last two seasons, far above the middling 59 targets Torrey Smith has averaged over the past three seasons. Chasing touchdowns is a volatile venture. It wouldn't be surprising in the slightest if Agholor dropped a tier down to WR50-plus with inherent regression inbound combined with fewer targets.
The 49ers did everything they could last year to run Hyde into the ground. He saw a career-high in snaps (71.2 percent), carries (240), and targets (88). Entering his age-29 season, Hyde will now have to contend with early second-round pick, Nick Chubb (22 years old), and receiving specialist Duke Johnson, who leads all RBs in targets and receptions since entering the league in 2015. If Chubb can grasp Todd Haley's playbook quickly and take the early-down work, Hyde could find himself being the odd man out of this running back rotation. Chubb, a 98th percentile SPARQ athlete, could really make a name for himself in the next few weeks in training camp and preseason, leaving Hyde far off in the dust and fantasy drafters wondering how they ended up with a third-stringer.
Dropping from WR70 to the next bottom-dwelling tier could be a potential death-knell to Jones' fantasy career, but is it likely? I don't think there's a more accurate way to answer that question than by seeing how the Bills quarterbacks were priced by DraftKings entering Week 1:
Not sure how you pass on this Week 1 value. #BillsMafia pic.twitter.com/0E5912JfkG

— Dan Gaspar (@MrTuttle05) July 25, 2018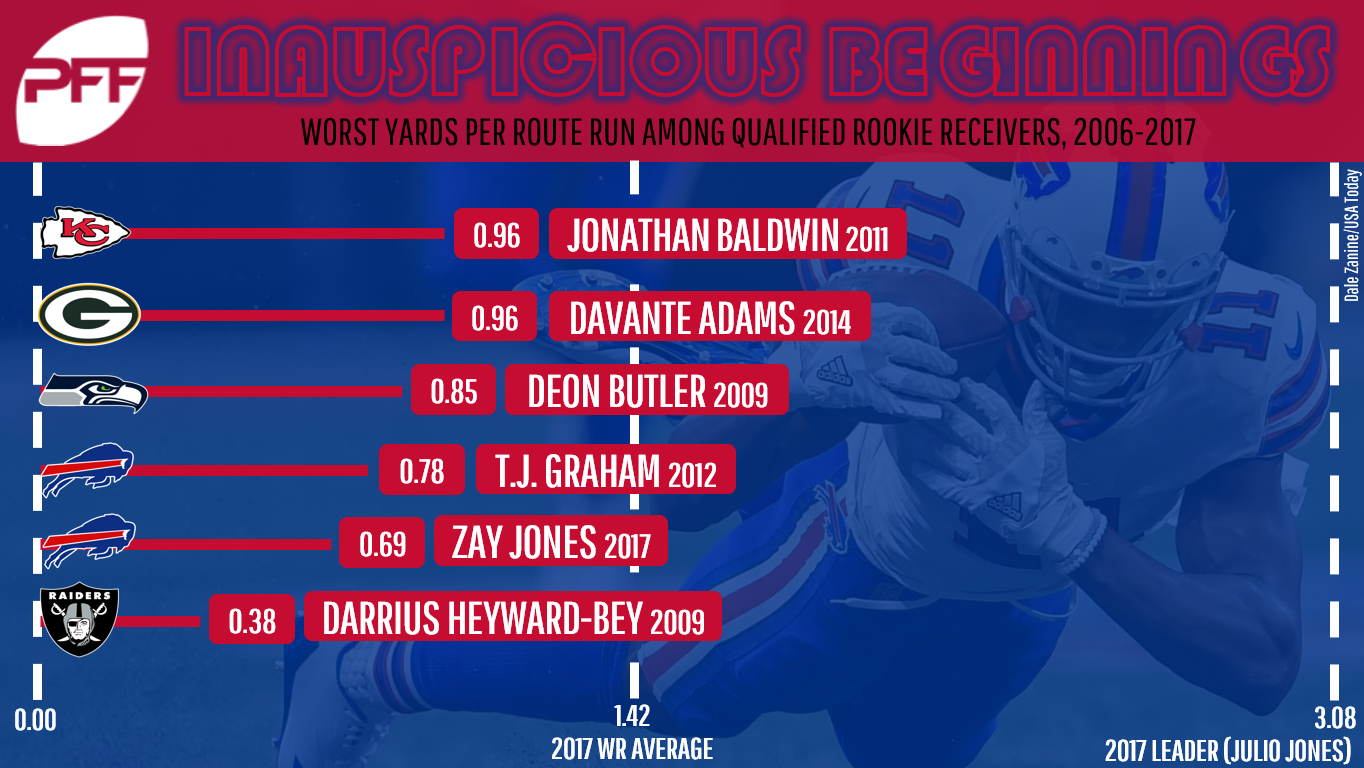 There's punting in DFS and then there's this. I believe it should trickle down to the receiver level in an equally catastrophic manner, leaving Jones as a bottom-tier receiver in terms of fantasy production this year. His anemic 0.69 YPRR combined with an uninspiring 15 percent target share from last year, equates to an inefficient, low-volume receiver. Jones should be off the fantasy radar given the strong possibility he finishes outside the top-75 fantasy receivers.