In the fantasy football world, we use terms like sleeper, bust, breakout, and value, but my favorite is the post-hype sleeper. Unlike normal sleepers, the post-hype sleeper was a trendy player in the season (or seasons) before who failed to live up to his draft projection. Now he's a value based on how quickly people are to write off players as a "bust."
The best part about the post-hype sleeper is that many owners who were let down by one of these players become gun-shy and often leave them off of their draft boards altogether. In turn, the player's ADP stays reasonable, and an opportunity presents itself for those owners who are willing to separate the past from the present.
Today, we'll highlight our favorite post-hype sleepers at the running back position. All of the following players are currently bargains at their ADP and they're likely to remain that way through training camp and the preseason.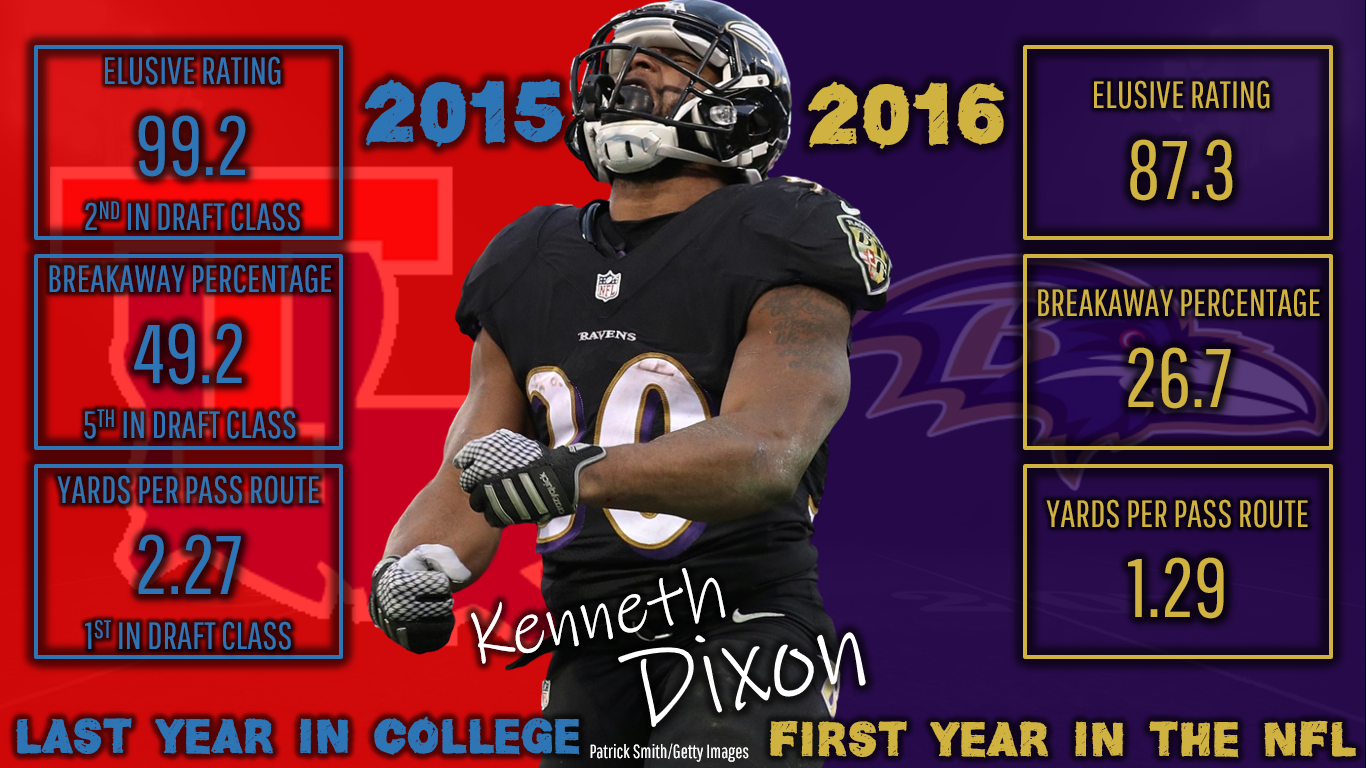 I'm still knocking myself over having Dixon slightly ahead of Jordan Howard in my Tier 1 rookie 2016 running back rankings, but I'm not ready to give up on him after two injury- and suspension-filled seasons — not when his price is this low. When he entered the draft, Dixon earned PFF's highest receiving grade of all backs and he led the class with 16 forced missed tackles on receptions. As we learned earlier this offseason from Scott Barrett, quarterback Joe Flacco has targeted running backs on a higher percentage than all but two quarterbacks since 2007. With just Alex Collins and Javorius Allen ahead of him, Dixon could carve out a role the Ravens hoped Danny Woodhead would assume last season. In a best-case scenario, the incredibly elusive runner PFF charted in college shows up and he runs away with the full-time job. Right now, you can buy him near the end of your drafts.
Last season was supposed to be Ajayi's breakout fantasy season after he finished 2017 as one of the highest-volume runners who also finished in our top-10 in elusive rating. Ajayi finished 22nd and third in elusive rating, respectively, in his past two seasons. Fantasy owners have turned the page on Ajayi as a featured back on a team that loves to use multiple running backs, but there will be plenty of touches for him to score behind one of the NFL's best offensive lines on one of the NFL's most proficient offenses in 2018.
A little over two years ago I dedicated an entire article to why McKinnon should be the one player you acquire via trade in your dynasty league. I expected McKinnon to grow into the versatile passing-game weapon and build on his ability to force missed tackles to also contribute in the run game. I expected McKinnon to take over for Adrian Peterson once the Vikings moved on from his bloated contract, but I never expected him to realize his potential elsewhere. Now, McKinnon is arguably in an even better position after elite offensive schemer Kyle Shanahan made him one of the highest-paid running backs in the NFL via free agency. McKinnon's early-draft ADP is rising following the 49ers' acquisition of mauling offensive tackle Mike McGlinchey at No. 9 overall in the draft, but the price is not too steep for a running back who could end up returning early-round value now that the franchise passed on finding any true challenger in the draft. McKinnon finished with our No. 6 grade overall among all running backs while forcing 39 missed tackles on just 201 total touches.
The Packers backfield is the biggest question mark in fantasy football right now as far as I'm concerned. Finding the right back in an Aaron Rodgers offense that supposedly underwent major changes (and that's a good thing) has massive upside. Montgomery put up elite advanced metrics in 2016 before an injury-plagued 2017 season. He was excellent in converting his red-zone opportunities and finished with our best elusive rating among all running backs who saw at least 100 touches (and second-best wasn't even close). It's possible that Montgomery will return to be the running back who forced 24 missed tackles while averaging 5.14 yards per carry after contract on 102 touches. If he does, you're getting a massive bargain as every owner who was burned by investing early in him last offseason will be sure to shy away.
Prior to the 2017 season, Crowell moved up draft boards among the supposed fantasy football "sharps" who loved his advanced metrics from the 2016 season and figured the Cleveland Browns offense had to undergo positive regression after a one-win season. The Browns actually found a way to regress — winning zero games — and in the process Crowell's volume saw a serious downtick. In 2016, Crowell's 3.18 yards after contact in 2016 was the third-highest among running backs with at least 100 carries and his 16 runs of 15 or more yards ranked fourth. If he can recapture that form in 2018, you will get a massive bargain on draft day.
Crowell's former teammate is another interesting post-hype sleeper following Cleveland's decision to sign Carlos Hyde and draft Nick Chubb. Many expect Johnson to fall out of favor, but he still offers the Browns offense something that no one else can in this backfield — elite route running and the ability to make big plays in the passing game. Johnson racked up the second-most forced missed tackles (24) on reception in 2017 behind Alvin Kamara only. According to Scott Barrett, Johnson has been one of the most elusive receiving running backs since we started charting (back in 2007). The Browns aren't going to phase a chess piece like Johnson out of the offense.
Mixon's rookie season fell short of the hype as the Bengals offensive line collapsed following the subtractions of elite linemen (Andrew Whitworth, Kevin Zeitler). Mixon suffered while running behind the No. 26 overall run-blocking unit, but he remained hyper-efficient as a receiving coming out of the backfield. Yards per route run is one of the best indicators of future fantasy success we've found and Mixon finished with the ninth-highest yards per route run (1.83) among qualified backs. Mixon was impressive in the passing game despite seeing just 34 targets (39th-most) and running 157 snaps in route (43rd-most). The additions of Cordy Glenn and Billy Price on the offensive line should make a massive difference in helping Mixon realize his upside.