It was easy to identify bounceback quarterback and wideout candidates — but once a running back begins to decline, it's usually hard for them to claw back.
Todd Gurley proved that big rebound campaigns are possible, though, so we'll do our best to identify some leading candidates here.
This list is equally hard because every running back who was supposed to be good last year was good (injuries notwithstanding). I could use names like David Johnson (injured), Dalvin Cook (injured), and Ezekiel Elliott (suspended), but those are obvious.
Joe Mixon is the running back I have the strongest conviction on as a bounceback candidate. You could qualify Mixon as a "breakout" candidate — given that this is just his second year — but his expectations were fairly high leading into last year, too, so I think it's fair to give him the rebound label.
Mixon played 14 games last year but carried the ball just 178 times for 626 yards (3.5 YPC) He added 30 receptions for 287 yards, and he scored just four total touchdowns (all rushing), en route to the overall RB32 finish last year. In PPR leagues, he was tied with Jonathan Stewart in fantasy points, who has been the poster boy for mediocrity in recent years.
Finding silver linings in Mixon's 2017 season
Truth be told, there isn't much from Mixon's 2017 campaign to get excited about.
Mixon had a league-worst 23.7 elusive rating due to the fact he forced just 21 missed tackles on his 208 touches last year. His 2.34 average yards gained after contact ranked 25th out of 28 running backs.
Mixon's 15.3 breakaway percent — the percentage of his total yards he gained on runs of 15-plus yards — ranked 26th out of 28 running backs. He broke off 15-plus-yard runs on just five of 177 attempts (2.8 percent).
This season, however, we have Mixon projected for 266 total touches, 1,236 total yards, and nine total touchdowns. After taking about 63 percent of Cincinnati's rushing attempts as a rookie, we have Mixon projected to take closer to 75 percent of their attempts this year.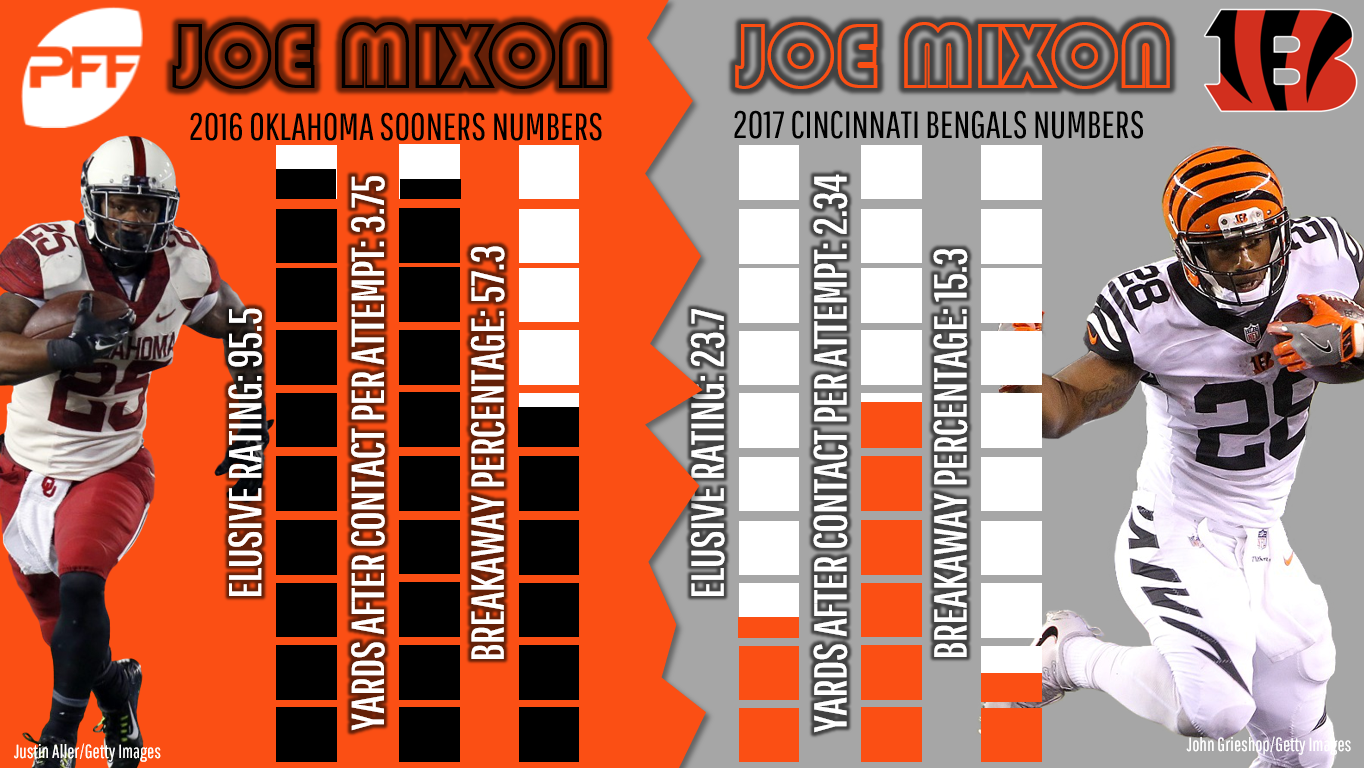 Mixon flashed workhorse-like usage last year, with four games of 18-plus rushing attempts to his name last year — including three over the final five weeks of the season. He popped off 114 yards in Week 12 and 96 yards in Week 17, and he averaged over 4.0 YPC in his final four games of the year. In other words, Mixon finished the year on a bit of a hot streak.
Our early 2018 consensus rankings have Mixon primed to put up strong RB2 numbers. Every PFF ranker has Mixon ranked at either No. 15 or No. 16. He is easily the most agreed-upon running back outside of the top eight.
Here are a few other bounceback running back candidates for 2018:
Our most recent memories of White are from the playoffs, where he scored four touchdowns on 23 touches. His regular season wasn't that good, though, as he scored just three touchdowns (all receiving) in 14 games. New England's backfield is still crowded — with White and Rex Burkhead, as well as newcomers Sony Michel and Jeremy Hill — but White's role as a third-down back in the offense should be secure. He's an under-the-radar RB3 candidate.
McKinnon, like Mixon, could be considered a "breakout" option. But he did have a semi-featured roll last year once Cook went down, and he finished the year as the No. 24 overall running back in PPR leagues as a result — but he never produced at a consistent enough level to be a trustworthy fantasy option. That will change in 2018 now that he has moved to San Francisco to play with Jimmy Garoppolo in a Kyle Shanahan offense. Dual-threat running backs can thrive in Shanahan's system; McKinnon will be no different.
In his half-year with the Eagles last year, Ajayi gained 408 yards on just 70 attempts (10 per game). This was an impressive 5.8 YPC average, but Ajayi scored just one rushing touchdown with the Eagles and was never truly featured in their offense — even in the playoffs. We have Ajayi projected for a healthier 15 attempts per game in 2018, which should be enough for him to gain over 1,000 yards. He's a tail-end RB2.
Williams was good down the stretch last year, so this is a "bounceback" candidate more in terms of expectations. Williams played in 14 games for the Packers last season, gaining 556 yards on 153 carries (3.6 YPC) while scoring four times on the ground. Williams added 25 receptions for 262 yards and two touchdowns through the air. He was a prolific fantasy performer Weeks 10-17 last year. Over those final eight weeks of the year, Williams was the No. 8 fantasy running back. However, questions linger about his role in the offense with Aaron Jones and Ty Montgomery returning from injury. Expectations have been lowered as a result. If he wins the starting job — or at least a significant role — we know he has a high ceiling.