(With attentions turning forward across fantasy football, this week is 2018 Storylines Week on PFF Fantasy, with an article a day highlighting what our writers think are the biggest fantasy storylines we'll see in the 2018 season.)
Ladies and gentlemen, I present to you the most exciting storyline of the 2018 fantasy season — Saquon Barkley's introduction to the National Football League. Over the past three years at Penn State, Barkley has put up an illustrious collegiate career as a do-it-all running back for the Nittany Lions. He's shown elite production creating big plays out of the backfield, but it's his receiving ability that will lead to him being a multi-dimensional back ready to succeed on Day 1 in his NFL career.
After putting up back-to-back seasons of over 1,900 yards from scrimmage and 21-plus touchdowns as a sophomore and junior, there was little else for Barkley to prove at the collegiate level.
| | | | | | | | |
| --- | --- | --- | --- | --- | --- | --- | --- |
| Year | Games | Rush Att | Rush Yds | Rush TDs | Rec | Rec Yds | Rec TDs |
| 2015 | 11 | 182 | 1076 | 7 | 20 | 161 | 1 |
| 2016 | 14 | 272 | 1496 | 18 | 28 | 402 | 4 |
| 2017 | 13 | 217 | 1271 | 18 | 54 | 632 | 3 |
| Career | 38 | 671 | 3843 | 43 | 102 | 1195 | 8 |
Barkley proved last year he was able to create yardage on his own. He ranked 19th among all qualifying backs in yards after contact at 3.45. For context's sake, that wasn't far off from last year's leading rusher, Kareem Hunt, who sported a 3.50 rate in his final year at Toledo. Hunt went on to lead the NFL in rushing yards as a rookie with Kansas City (1,327 yards). Barkley's ability to run through tackles and force defenders to miss in the open field is a highly coveted trait that should translate well to the next level. He forced a defender to miss on 19.0 percent of his touches, leading to many home-run plays.
Barkley also ranked third among all qualifying backs in breakaway percentage, the percentage of yards that come on runs of 15-plus yards, at 55.6 percent. Think about that for a second. Not only was Barkley able to find a crease or beat defenders to the corner, but he was also going for major chunks of real estate each time he was able to do so. He was a true home-run hitter, successfully making big plays quite often. While Barkley may get caught trying to bounce runs outside a bit too often instead of opting for the easy 3-yard gain, his open-field speed to outrun defenders makes these gambles worth it.
Barkley was also a very productive receiver out of the backfield, especially in his final season. He led all college running backs with 632 receiving yards last year. He sported 1.90 yards per route run, a top-12 rate among qualifying running backs last season. He routinely displayed soft hands, catching over 81 percent of his targets and showed that he can make an immediate impact in the NFL as a receiver out of the backfield. We often question running backs entering the league and their receiving ability, but Barkley showed last season that he's immune to such critique, as his receiving skills and athleticism are arguably his best strengths as a prospect.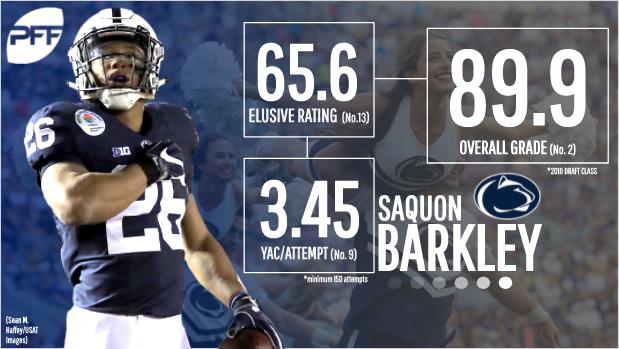 At last year's "Lift for Life" charity event held by Penn State, Barkley showed some immense athleticism. He sported 30 reps of the 225-pound bench press. Since 2006, only three running backs have surpassed that number at the combine. Viral videos have shown Barkley power cleaning 405 pounds and squatting 600 pounds. He has clocked a sub-4.4 40-yard dash and posted a 38-inch vertical. The combine is only a few weeks away and we'll soon get official numbers, but all indications are pointing toward Barkley blowing away the competition. It's no wonder the Nittany Lions tried to manufacture touches for him anyway they could. In fact, he was even utilized on special teams, where he returned two kickoffs for touchdowns while averaging 28.4 per return.
Barkley is perhaps the most complete running back prospect we've seen in quite some time. His ability to create yards on his own rushing the ball and his ability to make defenders miss as a receiver out of the backfield should lead to him making an immediate impact no matter where he is drafted. His elite athleticism has led to productive rushing and receiving campaigns and should springboard him into a top-10 fantasy back as early as this year in PPR leagues. He's undoubtedly the No. 1 prospect to take in dynasty rookie drafts and there's little argument for anyone drafting him in best-ball leagues starting in the early to mid-second round. He's a dynamic running back that's set to hit the ground running no matter where he ends up on draft night.