We are taking a spin around the league for a quick preview of each division, hitting the most fantasy-relevant players in each offense. Up next is the NFC East, which will have the "pleasure" of facing the mostly tough defenses of the AFC South, in addition to taking on a couple of quietly talented units from the NFC South.
Other than the Eagles, who sport one of the better defenses in the NFL, intradivisional matchups should not present too stiff of a challenge for these offenses. Of course, what we know now and what we will begin learning in a couple weeks, do not always line up. Here is what we know now.
(Keep up with the whole season preview series here.)

(Bye: Week 8)
The Cowboys enter Week 1 with more questions than answers. We knew their pass-catchers would be a puzzle best figured out as the season progressed, and now one of their few bankable assets – the offensive line – is in turmoil due to a rash of injuries. If they are weak along the line, Dallas' already limited offense is sunk.
Ezekiel Elliott has a high floor, if only because he'll be fed all the touches he can handle. His ceiling is lowered if the line is compromised and the passing game doesn't find a rhythm. Dak Prescott's fantasy value has been hammered due to anonymous receivers, but it's not as if departed stalwarts Jason Witten and Dez Bryant were difference-makers last year.
Best fantasy value: Dak Prescott, QB – Last year's top scoring quarterback on a per-game basis through seven weeks still supplements his stats by running, didn't lose much relative receiving talent, and is now drafted as a low-end backup.
Fantasy bust: Tavon Austin, RB/WR – Elliott is the only Cowboy drafted high enough to potentially be a legitimate bust, but considering Austin is drafted at all, he's the reflexive choice here.
Sleeper to watch: Cole Beasley, WR – While Beasley's ceiling is low, he costs next-to-nothing in PPR leagues, is swimming in a sea of unclaimed targets, and has the most locked-in role and rapport with Prescott.
Rookie(s) to know: Michael Gallup, WR – He is in position to take on Bryant's vacated X-receiver role, has plenty of available targets up for grabs, and earned increasingly positive reports this summer.
Best current player for their 2020 roster: Ezekiel Elliott, RB – He will get a second contract with Jerry Jones being Jerry Jones, and will almost certainly be operating behind an expensive offensive line until his wheels fall off.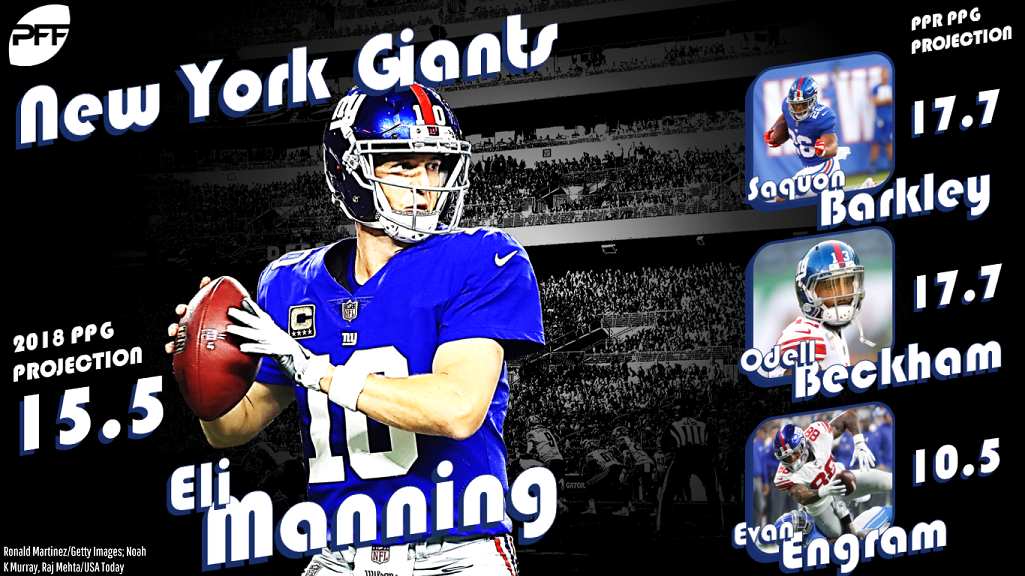 (Bye: Week 9)
After a 2017 season sabotaged by a decrepit offensive line, pass-catcher injuries, and Eli Manning's continued decline, the Giants revamped their front office, coaching staff, and several high-profile roster spots. How much of a fantasy turnaround we see depends on their patched-together line and propped-up quarterback.
With several high cost fantasy assets and a likely slower-paced offense centered on the run game for as long as game scripts allow, there may be workload concerns for New York's ancillary weapons. The Giants are staring at a rough schedule start and bring a high degree of unknown for fantasy purposes, even if some are drafting them with certainty.
Best fantasy value: Eli Manning, QB – With each of his main weapons drafted at or near the top of their range of outcomes, Manning's bargain-basement cost makes him the best candidate to be a value if he isn't actually washed up – however likely that is.
Fantasy bust: Evan Engram, TE – He has recently dealt with a concussion and faces a near-certain drop in opportunity now that he's not the Giants only viable receiver like last year, when Engram saw the second-most tight end targets.
Sleeper to watch: Cody Latimer, WR – The former second-round Broncos bust has the No. 3 receiver role locked up after a strong camp and would theoretically have deep-league fantasy value if injury befalls Odell Beckham Jr., Sterling Shepard, or even Engram.
Rookie(s) to know: Saquon Barkley, RB, and Kyle Lauletta, QB – Barkley is a locked-in mid-first-round fantasy pick with a three-down profile, but if we hear from Lauletta this season it will confirm Manning is toast and the Giants passing on Sam Darnold was foolish. (It was, either way.)
Best current player for their 2020 roster: Barkley – Odell Beckham also qualifies, but he will be somewhat quarterback dependent, while we can be sure Barkley will be fed opportunity no matter the state of the passing offense.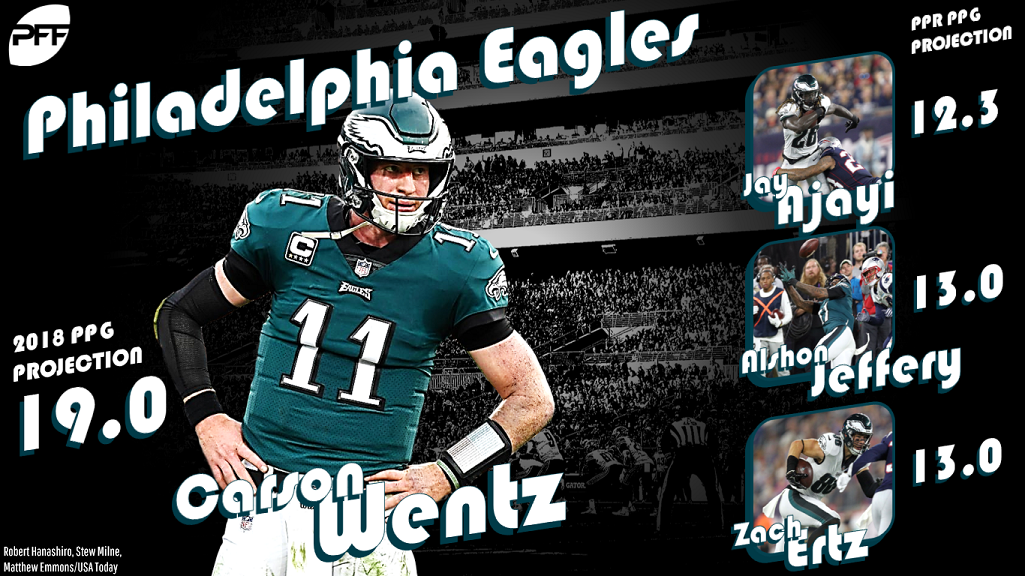 (Bye: Week 9)
The Eagles may get off to a slow start in defending their Super Bowl championship, as Carson Wentz is not ready for Week 1 and, if the preseason is any indication, Nick Foles turned back into a pumpkin. Alshon Jeffery spent the summer on the PUP list recovering from rotator cuff surgery and Nelson Agholor missed weeks with a lower body injury.
Still, the Eagles have our top-ranked offensive line, plenty of horses in the backfield, and a strong defense to keep them in positive game scripts. It is more a matter of when, and not if their offense finds its stride. From a fantasy angle, the uncertainty surrounding their injuries has kept draft prices in a manageable range.
Best fantasy value: Nelson Agholor, WR – A back-end fantasy WR2 last year, Agholor thrived with his move to the slot, will have a head start on Jeffery as the Eagles No. 1 wideout, and is being drafted in the eighth round as a fantasy WR4.
Fantasy bust: Carson Wentz, QB – His draft cost is moderating amid September availability concerns, but spending a still-pricy pick on a quarterback with unknown mobility and few reps with a banged up receiver core is inviting unnecessary risk at a plentiful position.
Sleeper to watch: Corey Clement, RB – The Eagles have a ton of unclaimed handoffs (173 from LeGarrette Blount alone) and are set for plenty of run-friendly game scripts, while Clement will also be involved in the passing game and potentially at the goal line. Both he and Jay Ajayi have attractive draft costs.
Rookie(s) to know: Dallas Goedert, TE, and Josh Adams, RB – Like Trey Burton in 2017, Goedert will see plenty of snaps and would be a fantasy TE1 with a Zach Ertz injury, while Adams was a surprise cut but landed on the practice squad and could be interesting down the road.
Best current player for their 2020 roster: Goedert – Ertz will still be under contract but turning 30 years old, while Goedert will have two seasons in a high-powered two-TE-heavy offense, and enormous upside if he takes over the No. 1 role.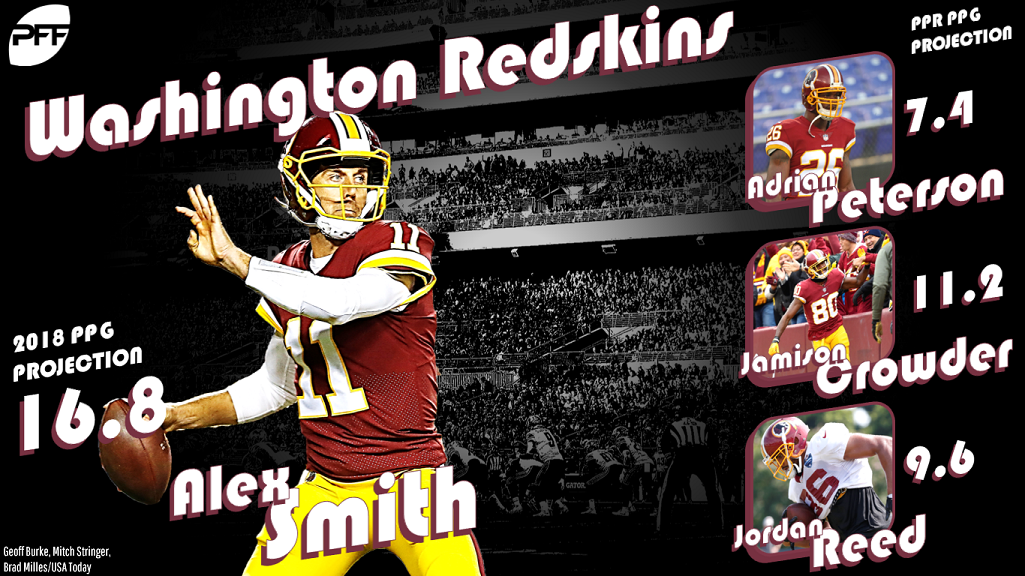 (Bye: Week 4)
It was already going to be a different kind of offense in Washington, with Alex Smith taking over for Kirk Cousins, and a backfield with defined roles and unquestioned talent. Then second-round running back Derrius Guice tore his ACL in the opening preseason game. Now we are left to wonder how much Adrian Peterson has left in the tank and where Rob Kelley fits in.
There is also no shortage of new wideouts, and anytime Jordan Reed is healthy enough to play, he is essentially a new face. With the backfield in flux and the best among them pass-catcher Chris Thompson, expect plenty of throwing. How this conglomeration of talent meshes is anyone's guess, but there is fantasy juice to squeeze here – if we can separate the peaches from the lemons.
Best fantasy value: Jamison Crowder, WR – The ADP is muted by his unsexy name, but Crowder fits the short-to-intermediate slot archetype with which Smith has thrived and should easily top his draft cost in PPR leagues on the back of 100-plus targets.
Fantasy bust: Non-Chris Thompson running backs – We may be tempted to give Peterson one last ride, or think Kelley wins out in the end (nobody wants Samaje Perine), but this is a team forecast for seven wins and their tough schedule will lead to more pass-friendly game scripts.
Sleeper to watch: Alex Smith, QB – There are few sleepers these days, and even fewer of them are quarterbacks, but Smith's ADP says he flying under the radar despite a fantasy QB3 finish, a new coach with proven quarterback results, and an offense that needs to rely on his arm.
Rookie(s) to know: Trey Quinn and Cam Sims, WRs – Quinn was this year's Mr. Irrelevant but has looked the part of future NFL slot receiver this preseason, while Sims' athleticism has stood out so much that Washington didn't try sneaking him onto their practice squad.
Best current player for their 2020 roster: Derrius Guice, RB – ACL tears are fairly routine these days, and Guice was exceeding even his coaches' high expectations before he went down, making him an interesting buy-low dynasty target.