One of the most useful applications of strength of schedule analysis is getting a read on early-season slates. The horizon to project opposing defenses is shortest, and in-season injuries and performance fluctuations are yet to reset our expectations. Of course, how we look at several teams will change, but applying our current evaluations to the closest handful of games should prove most accurate. That's the theory anyway.
Part two of our fantasy quarterback strength of schedule analysis will focus on passers with the easiest and hardest early-season roads, before touching on the fantasy playoffs. We will almost certainly touch many more correct conclusions in the first half than during our December projections.
Part one, which includes the strength of schedule grid, methodology, and initial thoughts can be found here.
Strong September setup
Unlike in years past, there are no slam-dunk September schedules. Several passing offenses have a mostly light path, marked by an onerous opponent – or in Washington's case, a Week 4 bye. Alex Smith starts off in Arizona, and then has home games with the Colts and Packers, before a too-early week off.
The Jets have three appealing matchups – at Detroit, home against the Dolphins, and at Cleveland – before things get ugly (Jaguars, Broncos, and Vikings in a four-week span). Of course, we don't yet know who will take their Week 1 snaps.
The Steelers begin at Cleveland, before hosting the Chiefs. They then travel to Tampa Bay for a potential shootout, ahead of a stiffening schedule. While Ben Roethlisberger's affinity for home cooking warrants mentioning, as two of those "easy" games are on the road, it still appears to be a favorable September.
The Patriots have an interesting start, as their first two opponents are daunting (Texans at home, Jaguars on the road), but the next month is smooth sailing. After a Week 3 trip to Detroit, they host the Dolphins, Colts, and Chiefs in Foxborough. The annual early-season "Patriots are dead" hot takes should be short-lived this year.
There are, however, a few offenses with more immediate and extended favorable early schedules: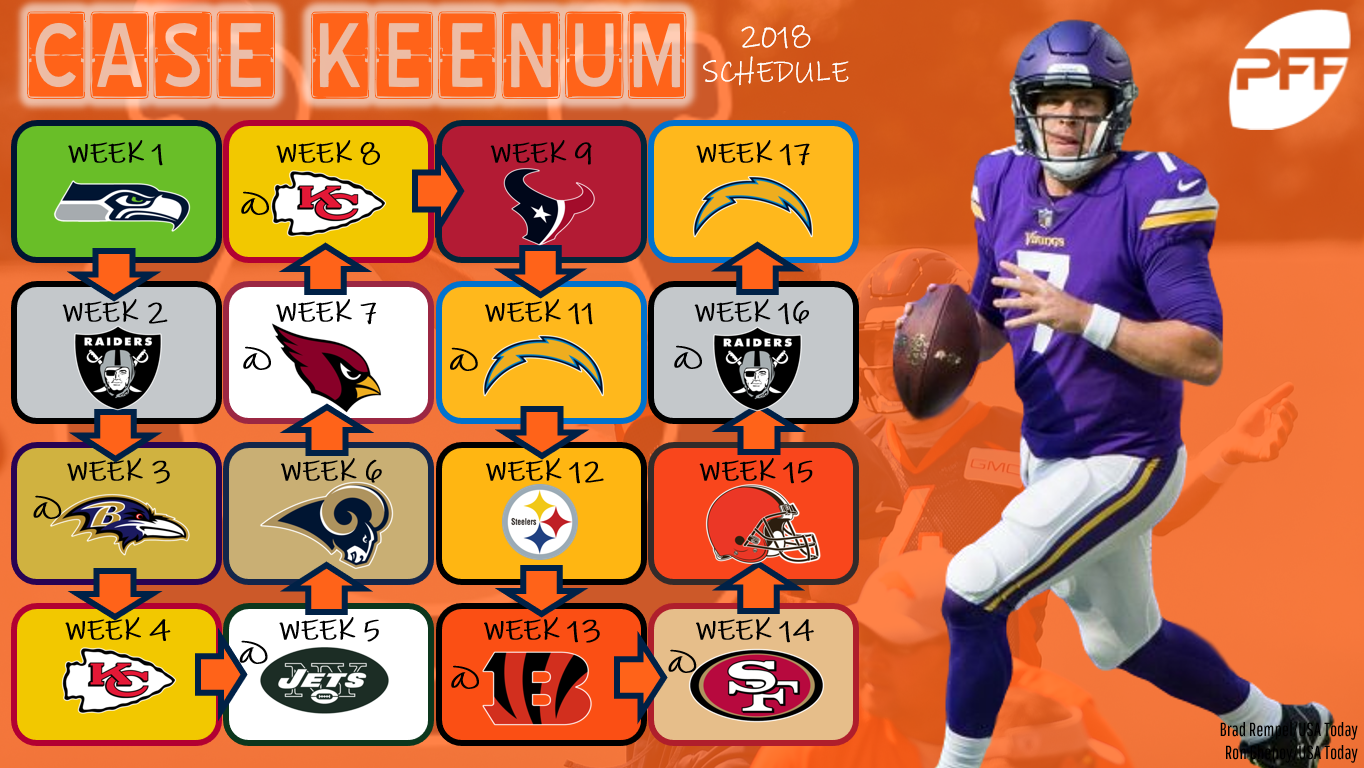 For the first time since Peyton Manning began calcifying during the 2014 season, the Broncos have a solid quarterback. Yet, not many people are talking about them, despite an improving offensive line and still-viable wideouts. The passing game has a chance to make hay early, with a mostly soft five-game start. The declawed Seahawks visit Week 1, followed by the Raiders. A trip to Baltimore is not appealing, but the Broncos get right back on the horse with games against the Chiefs' depleted defense and a trip to face the Jets.
Subscribe to PFF Edge to continue reading
Already have a subscription? Sign In