Over the next few months, we'll have plenty to say about sleepers and breakout candidates for the upcoming fantasy season. With mock drafts ramping up, right now is as good a time as any to develop a feel for which players may not be worth the price of admission.
Average draft positions will continue to take shape over the course of the summer, and by the all-important third preseason game, we should have answers to most of the unknowns. So, the take note of the names and ADPs below, and then we'll circle back closer to Week 1 to assess changes in circumstance and value.
These are 10 players to avoid in the frist five rounds.
Round 1
It feels strange to include Fournette here, given he was one of my favorite college football players in recent memory. As a rookie, he faced eight-plus defenders in the box on nearly half of his carries (49 percent) and still managed to run for 1,040 yards and nine touchdowns in only 13 games.
But Fournette has also battled through numerous lower-body injuries since his college days at LSU, can you confidently envision him getting another 23 touches per game and staying healthy – especially with opposing defenses selling out to stop him?
Gordon has seen his total carries increase each year, from 184 as a rookie, to 254 and then 284 this past season. Still, it's risky business investing a first-round pick on a fourth-year player with a career average of 3.8 yards (on 700-plus carries) coming off his first healthy season. Sure, the workload is pretty bankable given the options behind him.
However, last year's ceiling as the RB5 (PPR) feels like a best-case scenario for Gordon, who ranked outside the top-20 RBs with 0.47 fantasy points per opportunity. With a late-first-round pick, consider instead a potential top-five WR like Michael Thomas, followed by pass-catching RBs such as Dalvin Cook and Jerick McKinnon in the following rounds.
Round 2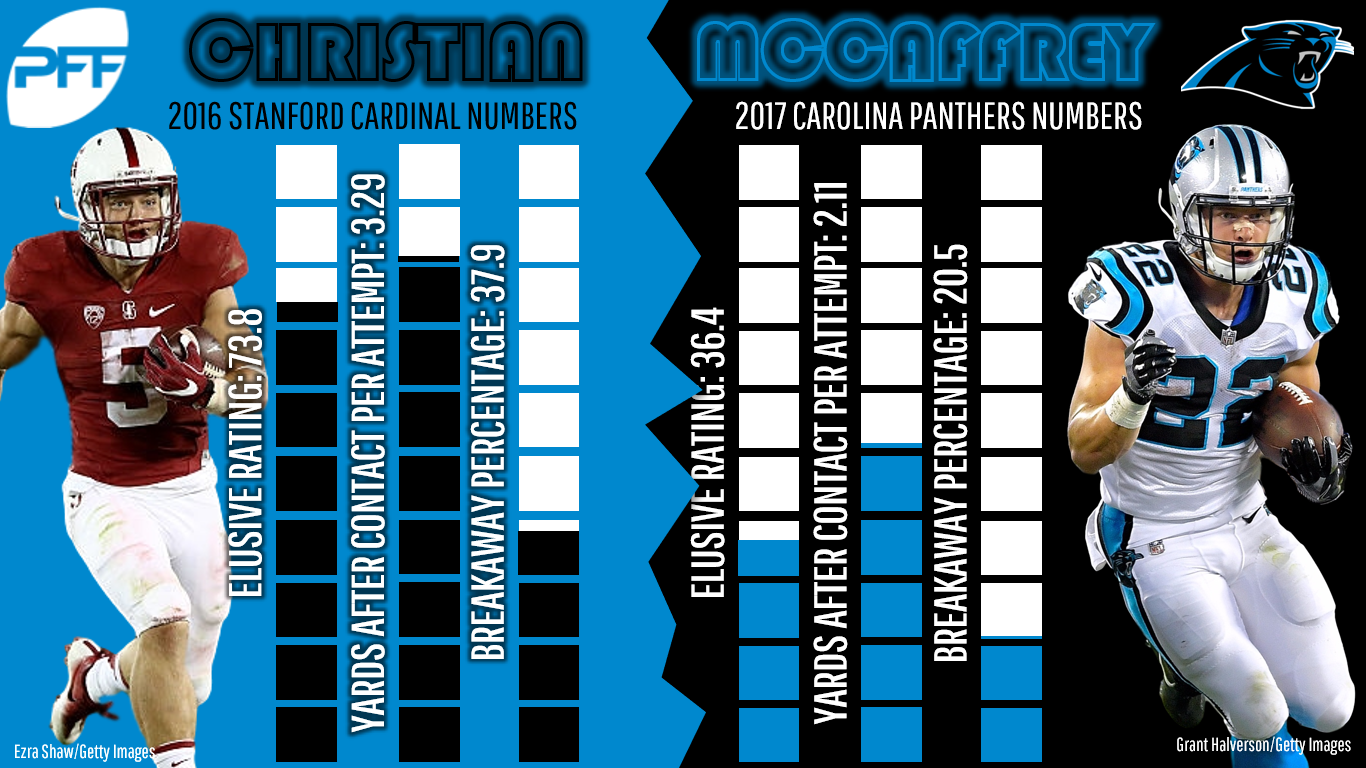 In PPR scoring, McCaffrey finished his rookie season as the RB9, which is certainly nothing to sneeze at. However, he really only flashed his first-round draft pedigree in spurts. Sure, a back who sees 106 targets has a relatively safe floor. But can we count on that volume with a healthy Curtis Samuel and Greg Olsen?
For one reason or another, the Panthers coaching staff never quite felt comfortable turning McCaffrey loose in between the tackles, as he notched only three games with double-digit carries and never eclipsed 66 rushing yards. Jonathan Stewart is gone after averaging 3.4 yards on 198 carries. In his place steps the younger C.J. Anderson, who averaged 4.1 yards on 245 carries to crack 1,000 yards. McCaffrey finished below both of them in elusive rating.
Depending on which site you draft, Ingram is going anywhere between the second and sixth rounds. But ultimately, he's still being picked among the top-25 running backs. Call me crazy, but I need a return of more than eight games during the fantasy regular season from my RB2. Frankly, that's my only beef with Ingram at his ADP range. Over his last four seasons, Ingram has missed a total of seven games (none in the last two) while posting a 16-game average of 1,095 rushing yards, 10 TDs, and 51 catches.
Round 3
Henry's fantasy stock soared earlier this offseason when the Titans parted ways with DeMarco Murray. That lasted all of seven days until Tennessee signed Murray's replacement to a four-year deal.
Don't make the mistake of assuming Dion Lewis will be relegated to third-down duties, as all but eight of his 180 carries in 2017 came on first and second down. In fact, he and Henry both averaged 3.2 yards after contact and ranked inside the top-10 (out of 53 qualifiers) in elusive rating. New offensive coordinator Matt LaFleur recently said he looks at the duo as 1A and 1B. Facing early-down competition with minimal involvement in the passing game, Henry is not quite the RB2 lock many of us pegged him to be just a few months ago.
On one hand, Cooks is a 24-year-old coming off his third straight season with 1,000-plus yards and seven-plus TDs. On the other, he'll be playing on his third team in as many years and faces an uncertain workload in replacing Sammy Watkins, who drew only 66 targets in another injury-shortened season.
It's likely that Cooks becomes the Rams' primary vertical threat after hauling in all 16 of his catchable deep targets a year ago. All told, he saw 36 deep targets (20-plus yards downfield) compared to 13 for new teammate Robert Woods, who caught 6-of-8 catchable balls. While Cooks did play a career-best 89.3 percent of the offensive snaps for New England in 2017, he was targeted on 17.9 percent of his snaps in route, down from 18.5 percent in 2016 and 20.1 percent in 2015. Meanwhile, Woods ranked eighth out of 93 WRs in yards per route run (2.17) this past season and was targeted on 22.2 percent of his routes.
Round 4
Exactly what Jon Gruden's offense will look like a decade after his last coaching stint is enough of a wild card as is. Add in the additions of Martavis Bryant and Jordy Nelson, and it becomes even tougher to justify picking Cooper ahead of guys like Larry Fitzgerald, Allen Robinson, Josh Gordon, Alshon Jeffery and others.
Yes, Cooper averages over 1,000 yards (and six TDs) per 16 games for his career. He's also the same guy who ranked dead-last in drop rate in two of his three pro seasons and is coming off a year in which he averaged a career-worst 48.6 receiving yards per game. Take away his monster Week 7 outing (210 yards, 2 TDs) and he wouldn't have cracked the top-50 fantasy WRs.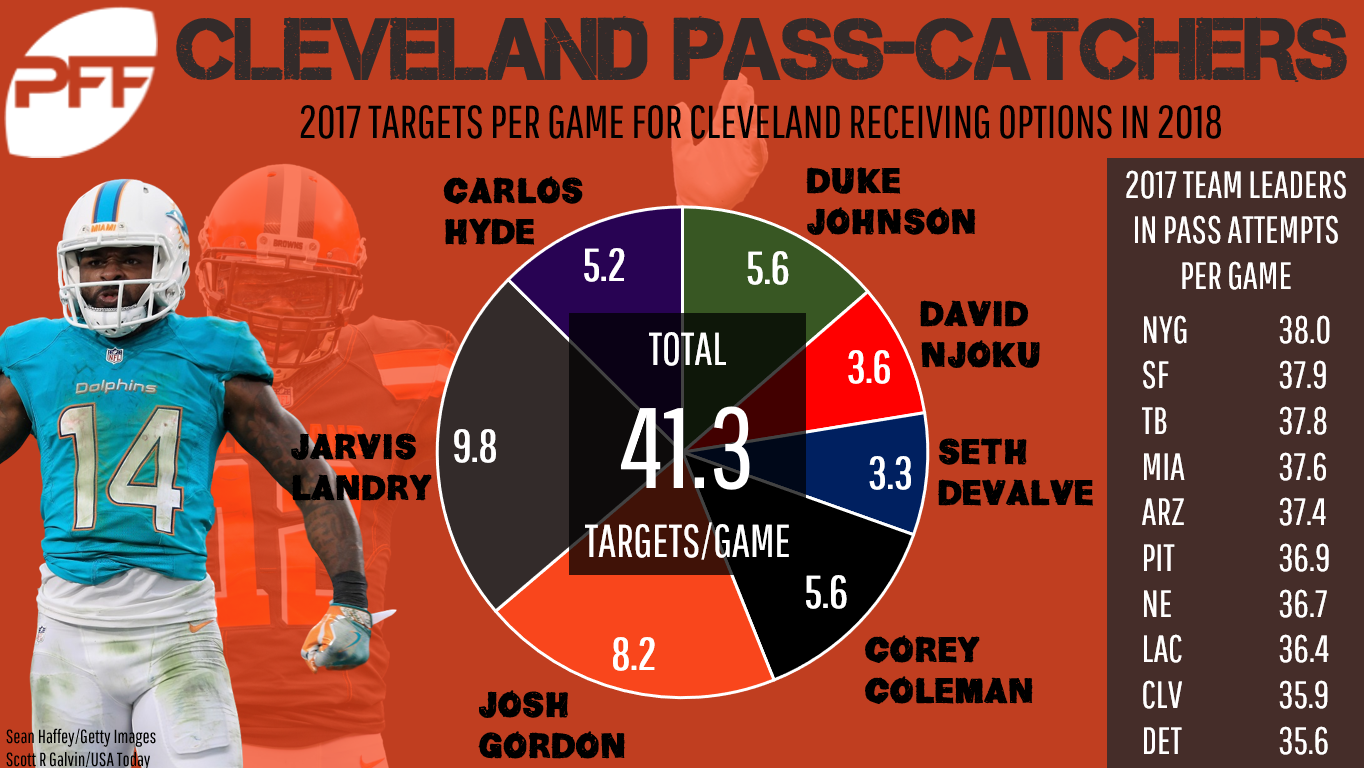 Landry hauled in a league-high 112 catches with Miami last season, earning his third straight Pro Bowl nod. That he averaged a career-low 8.8 YPC and failed to reach 1,000 yards is less of a concern than his expected market share.
Landry saw 155 targets in 2017 and averaged 138 over his four-year career with the Dolphins. However, he'll be hard-pressed to repeat that same type of volume in Cleveland alongside the likes of Josh Gordon, Corey Coleman, David Njoku, Duke Johnson et al. The Browns' target leader from 2017 was Johnson with 90, while no wide receiver cracked 55. Yes, the cast is different, but this was also a team with 16 negative game scripts.
Round 5
Nick Chubb, RB24, Cleveland Browns
Prior to his knee injury in 2015, Chubb was in the conversation for the best running back in the country along with Leonard Fournette and Ezekiel Elliott. With Chubb looking back to full form this past year, really, the only question about his game is that he's hardly been involved in the passing game.
That's kind of a big deal when trying to establish a role in a backfield featuring a couple of other backs who are plenty capable of contributing in the passing game. Duke Johnson and Carlos Hyde both finished inside the top-12 PPR running backs this past season, by the way. I recently mentioned Chubb as one of the rookies with the widest range of possible fantasy outcomes, but his current RB2 price tag is a bit steep for that kind of uncertainty.
This should be self-evident, but a receiver with no team to call home is worth little more than a late-round dart throw. Particularly a receiver who has not cracked 1,000 yards since 2014 and is approaching his 30th birthday. Bryant did play a full 16-game slate for the first time since 2014, but he ranked only 54th in receiving grade and finished as the WR24 in PPR.