Many dynasty fantasy football players will tell you that the startup draft is the most enjoyable part of a league. With a blank roster in front of you it seems that anything should be possible. For most players though, the sad truth is that anything is not possible. There are a number of things to prepare for and consider when creating your startup strategy this year and if you ignore these factors it will take a lot of luck for you to avoid flunking your draft, especially if you are new to dynasty. In this piece, I'll review key preparation considerations for auction draft startups. I've also covered preparation strategies for snake draft startups and I recommend you read that piece as well since some principles are transferable.
I enjoy auction startups because they offer more flexibility with regard to team-building strategy. For example, in snake draft dynasty startups it is only possible to leave the draft room with two players who have early first-round dynasty average draft positions if you are able to pull off a major trade. Your ability to do this is contingent on another drafter consenting and there is no guarantee you'll find a partner who wants to move down to collect additional mid-round picks. Being in full control can be stressful. In snake drafts if you miss out on a desired player you can chalk it up to the structure of the draft. Average draft position trends dictate that there are some players you'll effectively have no shot at drafting unless you reach big time, especially if you draw a pick near the beginning or the end of the draft order. In auctions, if you miss out on a desired player it's at worst your own fault, or at best, because you made a conscious decision that the player was priced out of your budget. However, in an auction startup you can also choose to pay for two elite players (go "over budget") and adjust by filling the end of your roster with $1 players. You are always in control of your ability to build your roster as long as you effectively manage your bankroll.
The prerequisite to beginning an auction in control and staying in control as events unfold is preparation. The most important preparation steps for dynasty startup auctions are creating your cheat sheet and understanding budget constraints.
Building your dynasty startup draft auction cheat sheet
In snake drafts many people use cheat sheets comprising overall and positional ranks. Good rankings are adjusted for the lineup and scoring settings of your league. For more on that, refer to my snake draft article. Rankings lists can be helpful for keeping track of who has been drafted and which positions have the most value remaining on the board. In an auction, we need a more useful and more flexible reference tool. To get started, you'll need to know how many teams are in your new league and how many roster spots each team is allotted, then multiply the two numbers. This will give you the minimum number of players you should include on your cheat sheet. For example, a 12-team league with 25-man rosters will have 300 players rostered (12 x 25 = 300).
Once you know how many players to include on your cheat sheet, the next step is to identify player tiers. A good way to approach building tiers is to assemble your overall and positional rankings and then begin comparing each player to the player above him. Ask yourself whether the players have similar value to each other. One way to do this might be to consider whether a one-for-one trade offer of the two players would be considered reasonable. When you arrive at a spot where the two players you are comparing don't meet your criteria for similar value, draw in a tier line. You've just completed tier-building microanalysis. When you've boxed in a group of player as a set tier, you'll want to look at the tier as a collective and make sure you still feel the same way the interrelated values of the players from the top of the tier through the bottom of the tier. One measuring stick I use for this exercise is "Would I want more than a mid-second-round rookie pick to make up the difference between these players"? If the answer is no, your tier was built correctly and you can move on to the next tier-build. If your answer was yes, then you need to evaluate whether to move your top-rated player in the tier up to the tier above, or whether to bump the bottom-rated player in the tier down.
This may sound difficult, but it's not, as long as you aren't the type of person who gets analysis paralysis. I'll illustrate below using current PFF Dynasty rankings. You can download them for yourself and then format to your liking.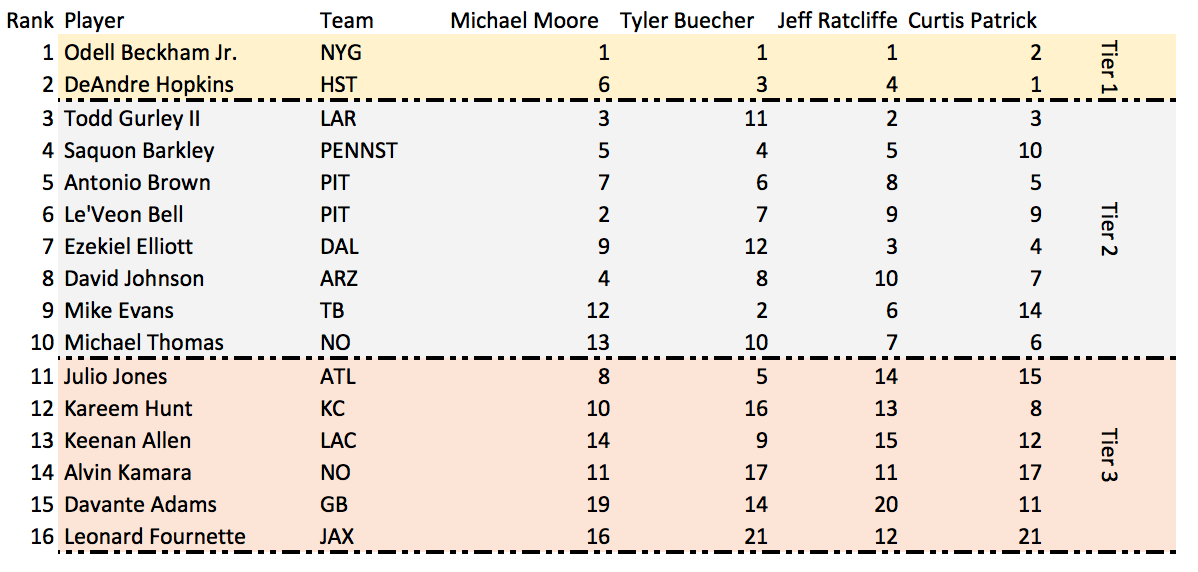 I've drawn in some tier lines based on my assessment of community player valuation in trades I've recently seen and mock draft ADP. My personal tiers would look a little different, but I'm guessing most of you will be working with the full data set from our rankings team and I'm trying to be practical for your benefit. Let's go through the dialogue based on where these tier lines have been drawn and pretend they represent your initial attempt at creating player tiers.
Odell Beckham Jr. and DeAndre Hopkins comprise Tier 1. This means they're viewed as similarly valued players. The most important consideration for finalizing Tier 1 is evaluation Hopkins versus Todd Gurley, the player at the top of Tier 2. Would you want more than a mid-second-round rookie pick added to Gurley to feel comfortable trading away Hopkins? I know I would. I like using trade value as a tiebreaker because it also inherently addresses things like age, production, and positional scarcity.
In our example of a 12-team league with 25-man rosters from earlier, you will continue this exercise until you have delineated player tiers encompassing 300 players. It gets easier as you go lower in the rankings; tiers become much larger. You will spend much more time making the painful decisions about where to draw your early tier lines.
In the next piece in this series, I'll show you how to turn your cheat sheet into a decision-making guide by applying budget tactics that will allow you the flexibility you need to be a dynamic force in your startup room.