The 2019 quarterback class lacks the fanfare of the 2018 class. NFL team scouts and dynasty fantasy football owners alike looked anxiously ahead to 2018 for a few seasons as their chance to solve their signal-caller issues. It's not that the 2019 class doesn't have some intriguing talents of its own, but they've been a bit overlooked or overshadowed by the preceding class. The 2018 college football season will be vitally important to each of these prospects as all eyes are now focused squarely on them.
(Player profile information includes bowl game stats.)
Justin Herbert, Oregon
(Height: 6-5, Weight: 225)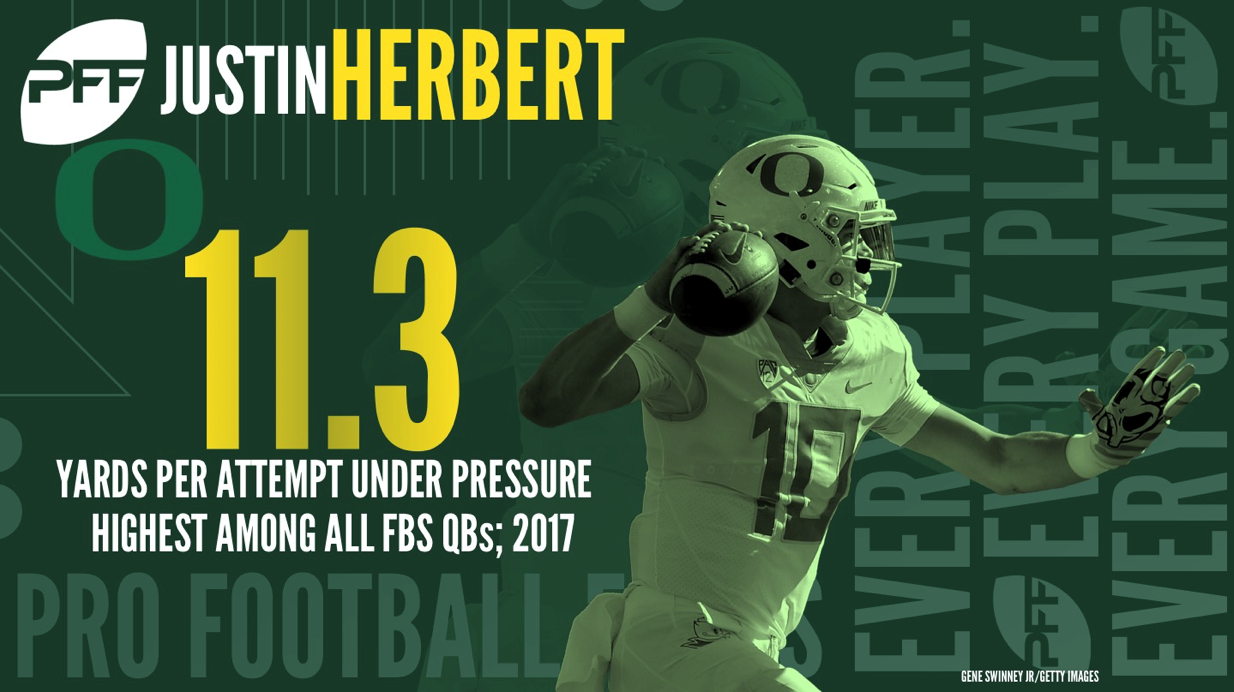 Passing
Rushing
Year
School
Class
Pos
G
Cmp
Att
Pct
Yds
Y/A
TD
Int
Att
Yds
TD
2016
Oregon
FR
QB
8
162
255
63.5
1936
7.6
19
4
58
161
2
2017
Oregon
SO
QB
8
139
206
67.5
1983
9.6
15
5
44
183
5
Career
Oregon
301
461
65.3
3919
8.5
34
9
102
344
7
Herbert trailed only metrics superstar Baker Mayfield in PFF grading per dropback in clean pockets in 2017. He also led the nation in yards per attempt under pressure. Those are a few good foundational building blocks to expand upon as he enters his draft eligible season. Originally classified as a dual-threat quarterback coming out of high school, Herbert certainly isn't immobile and will be a quarterback who can pad his fantasy stats with some rushing production, but he shouldn't be confused with Lamar Jackson either. Early 2019 NFL mock drafts are showing Herbert as the early favorite to be the first quarterback selected. When investing a devy pick in a quarterback, projected draft stock (even more so than skill set or statistical profile) is a great leading indicator of who to target in order to maximize your return on investment. Quarterbacks who are drafted early tend to get the most chances to prove themselves in the league.
Drew Lock, Missouri
(Height: 6-3, Weight: 225)
Passing
Year
School
Class
Pos
G
Cmp
Att
Pct
Yds
Y/A
TD
Int
2015
Missouri
FR
QB
12
129
263
49
1332
5.1
4
8
2016
Missouri
SO
QB
12
237
434
54.6
3399
7.8
23
10
2017
Missouri
JR
QB
13
242
419
57.8
3964
9.5
44
13
Career
Missouri
608
1116
54.5
8695
7.8
71
31
Lock decided to return for his senior season rather than be evaluated in the 2018 cohort. That will likely prove to be a wise decision. Lock has an arm like Brett Favre and a similar mental makeup too – there isn't a throw he won't attempt due to his confidence in his arm strength. Unfortunately, this also leads to turnovers. Lock has also been criticized for his poor accuracy, although I think we should note that he has improved it by several percentage points each season. He will also be operating under his third offensive scheme in 2018. I think scouts will evaluate Lock on his positive traits and think they can coach him up to minimize his imperfections. Mel Kiper Jr. has already hinted that Lock is the quarterback NFL teams will be most excited about in next year's class. In established devy leagues, Lock has likely been owned for several years now, but in startup devy leagues it's absolutely reasonable to have him in your top tier of quarterback targets.
Jarrett Stidham, Auburn
(Height: 6-3, Weight: 215)
Passing
Year
School
Class
Pos
G
Cmp
Att
Pct
Yds
Y/A
TD
Int
2015
Baylor
FR
QB
10
75
109
68.8
1265
11.6
12
2
2017
Auburn
SO
QB
14
246
370
66.5
3158
8.5
18
6
Career
Overall
321
479
67
4423
9.2
30
8
Considered by many as the top overall quarterback and dual-threat recruit of the 2015 high school class, Stidham has long been on the NFL and devy radars. Originally enrolled at Baylor, Stidham sat out the 2016 season as he transferred to Auburn. He didn't disappoint in his first full season as a Tiger, throwing for more than 3,000 yards and posting a completion percentage in the high 60s. He had offseason surgery on his non-throwing arm, so that's something to monitor, but there haven't been any setbacks and he's expected to be unrestricted for summer practices. Like Herbert, Stidham could provide a small fantasy boost to his bottom line with sneaky rushing production, but we haven't seen quite as much of that on the field from him yet.
Will Grier, West Virginia
(Height: 6-2, Weight: 212)
Passing
Year
School
Class
Pos
G
Cmp
Att
Pct
Yds
Y/A
TD
Int
2015
Florida
FR
QB
6
105
160
65.6
1202
7.5
10
3
2017
WVU
JR
QB
11
250
388
64.4
3490
9
34
12
Career
Overall
355
548
64.8
4692
8.6
44
15
After a promising start to his redshirt season as a Florida Gator, Grier was suspended after testing positive for performance-enhancing drugs. Grier shined brightly in the wide-open Mountaineers offense in 2017. Grier should post one of the more impressive seasons from this group in 2018 from a statistical perspective. His father was a college quarterback as well and Grier has some of the polish you'd expect from a player with good pedigree. He's been a strong producer since high school (he led the nation in passing touchdown with 77 as a senior – that's not a typo) and there's nothing to suggest that he couldn't be a productive fantasy player at the next level.
Shea Patterson, Michigan
(Height: 6-1, Weight: 200)
Passing
Year
School
Class
Pos
G
Cmp
Att
Pct
Yds
Y/A
TD
Int
2016
Miss
FR
QB
3
72
132
54.5
880
6.7
6
3
2017
Miss
SO
QB
7
166
260
63.8
2259
8.7
17
9
Career
Miss
238
392
60.7
3139
8
23
12
Patterson will play under Jim Harbaugh at Michigan in 2018 and there is a lot of intrigue regarding his upside in the offense run by the former NFL quarterback. A blue-chip prospect coming out of high school, Patterson has been solid yet unspectacular in thus far in his collegiate career. Patterson likes to move outside the pocket to extend plays, something that could spark the Wolverine offense and its pair of devy superstar wide receivers in Tarik Black and Donovan Peoples-Jones. Everything is set up for the transfer to have his best season yet and drastically improve his pro stock.