Over the next few weeks, we're going to see projections, rankings, and tiers produced from every fantasy football outlet. PFF's rankings are a collaborative effort, headlined by three of last season's top-20 in-season rankers. Sortable by overall rank, positional rank, and by each individual ranker, they are a fantastic guide to help you prepare for upcoming 2018 fantasy drafts.
One of the most fruitful exercises I've done the past couple years is see where the staff agrees and disagrees on particular players. There were very minor differences in our top-24's, so I started my search looking at players ranked No. 25 through 150 to see where the PFF Fantasy staff most disagrees on players entering the 2018 season. My biggest takeaway after going through the disagreement exercise is that these are players that are generally in ambiguous situations. Either a new key player was added or lost during the offseason, often swaying our rankers one way or the other in how to react.
Given the far standard deviations among our seven PPR rankers with these particular players, these are some of the riskier fantasy assets drafters will be investing in this year. These players could provide league-winning potential, or possibly leave you with a dud performer that falls flat on his face.
Let's check out some of the more noteworthy disagreements in player value.
138 overall (highest rank: 75, lowest rank: undrafted)
No surprise here, the player that our rankers most disagree on is one whose ADP has steadily declined since being drafted in May. Chubb joins a crowded backfield vying for touches against both Carlos Hyde and Duke Johnson. All three of these backs have been taking first-team reps in practice, and all three have looked fantastic so far in camp. Our highest ranker (Daniel Kelley) has him at 75, and I'm not too far behind at 84. Chubb's 98th percentile SPARQ score combined with his 3.8 yards per carry after contact make him a formidable weapon any time he touches the ball. Three years removed from surgery, Chubb showed during his final season at Georgia that he's back to being one of the most dangerous rushers as he picked up 1,345 yards and 15 rushing touchdowns.
If Chubb can quickly retain the playbook and pick up his pass-blocking, he could edge out Hyde for the early grinder role and earn valuable fantasy points along the way. Of course, there's no certainty this can happen, which is why his current ADP has PFF Fantasy staffers divided at current cost (RB43).
144 overall (highest rank: 82, lowest rank: undrafted)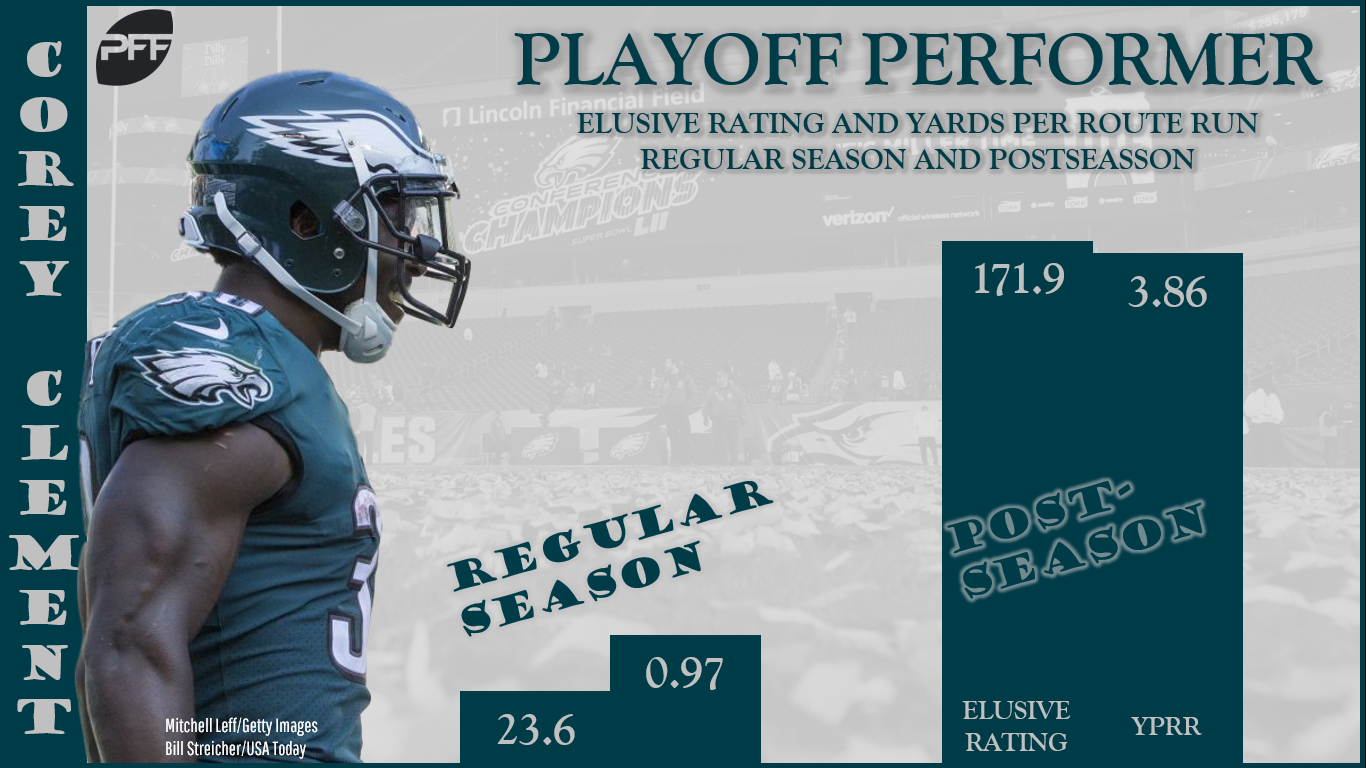 Following the crowded backfield mantra, Clement was another running back that our staff had a difficult time finding where to rank. Pat Thorman believes in both Eagles backs, finishing as our highest ranker of both Clement and Jay Ajayi, but it's the Clement pick that we'll hone in on here. Clement was a receiving stud for the Eagles during their Super Bowl run, sporting a healthy 3.86 YPRR during the playoffs. For context's sake, Alvin Kamara led all backs in this category last year during the regular season with 2.84 YPRR. The Eagles have 190 unclaimed handoffs up for grabs this year. Ajayi should inherit most of those, but it wouldn't be surprising to see Clement see some of those valuable touches as well in one of the league's most prolific offenses.
The counterargument against Clement is that Ajayi sees a massive portion of those unclaimed touches and runs away with the lead back role. Darren Sproles could also cut into Clement's touches after missing the majority of last season, leaving Clement as a third-stringer that fails to see enough volume to warrant fantasy starts.
118 overall (highest rank: 85, lowest rank: 155)
Jackson's arrival in Tampa Bay last year was supposed to help take the lid off opposing defenses as they tried to mitigate his big-play ability. Jackson never really got going (one top-20 week) and with the late emergence of second-year pro, Chris Godwin, it's easy to see why the fantasy staff is so divided on the two. Scott Barrett has Jackson head and shoulders above the rest of the fantasy crew (85), while Thorman (155) and Dan Clasgens (153) remain most bearish on his return to fantasy prominence.
Despite Jackson's penchant for big plays, it was actually Godwin who provided the big plays for Tampa last year, averaging 2.03 YPRR — better than Mike Evans (1.70) and Jackson (1.53). Jackson saw a 15 percent target share last year, but it's safe to question if that stays in tact with both Godwin and O.J. Howard potentially taking on bigger roles as sophomores. We're already seeing reports of Godwin getting the starting nod this year with Jackson working out of the slot. Given the plethora of weapons at Jameis Winston's disposal, Jackson remains best suited for best-ball leagues and a risky week-to-week starter.
122 overall (highest rank: 88, lowest rank: 166)
Kittle's name appearing on this list was one of the more fascinating finds during this exercise. He's routinely being taken as a top-12 fantasy tight end in best-ball leagues (and among five of our seven staffers), but both Barrett and Kelley remain somewhat pessimistic on that outlook. Barrett has him ranked as TE14 and Kelley wayyy down there at TE22. I'm more apt to agree with consensus given that Kittle will have the full season to catch passes from Jimmy Garoppolo, is a size-speed phenomenon, and plays in an offense that was both top-eight in plays per game and passing percentage. Over the 49ers final three games last year, Kittle put up a collective 11-194-1 stat line, finishing as the fantasy TE5 during that span. The tight end position is murkier than ever entering 2018, but it's crystal-clear to me that Kittle has top-12 fantasy tight end potential.
144 overall (highest rank: 114, lowest rank: 178)
Batting in favor of Golladay, yours truly is the highest on "Babytron" among the staff rankers. The Lions are a low-volume, high-pass play offense that ran the third-most 3WR sets last year. Golladay will no longer be fighting for snaps with TJ Jones as he enters the season firmly entrenched as the team's No. 3 wideout. Despite battling injuries for much of last year, Golladay flashed sublime potential as a rookie with incredible size (6-4, 213 pounds) and speed (4.50). Entering his second year in the league, he can become an immediate red-zone contributor, where the Lions have 20 red-zone targets available from last year (26 percent). Considering Golladay saw a target percentage on par with Marvin Jones last year when healthy, Golladay should also be penciled in for an uptick in raw targets. Eric Ebron's 86 targets from last year will be redistributed among the offense and Golladay stands to take a sizeable portion. TJ Jones could also see a reduction from last year's 49 targets considering over half of them came in games where Golladay didn't suit up. Between his red-zone potential and target climb heading into Year 2, I have zero qualms with pushing in the chips on Golladay given his potential range of outcomes.