The 2018 preseason is shaping up to have its fair share of training camp battles for us to watch. We've already reviewed the quarterback, running back, and wide receiver positions. Today we'll wrap up the series diving into the more interesting tight end training camp battles. You guys know the drill by now. Let's get right to it and break down some of the most intriguing tight end battles to watch during training camp and leading into the preseason.
Projected starter: Eric Ebron
Runner-up: Jack Doyle
It may be surprising considering their ADP, but it wouldn't shock me at all if at the end of the season Ebron scored more fantasy points than Doyle. Ebron was brought in to become the move tight end, one that moves all over the formation and creates a "mismatch nightmare" against the defense. Ebron has been split out wide often this spring in minicamp, and has head coach Frank Reich eager to see what he can get out of this position. Ebron has a career 11.1 yards per reception and possesses the size/speed combination that warranted Detroit taking him with the tenth overall pick in 2014.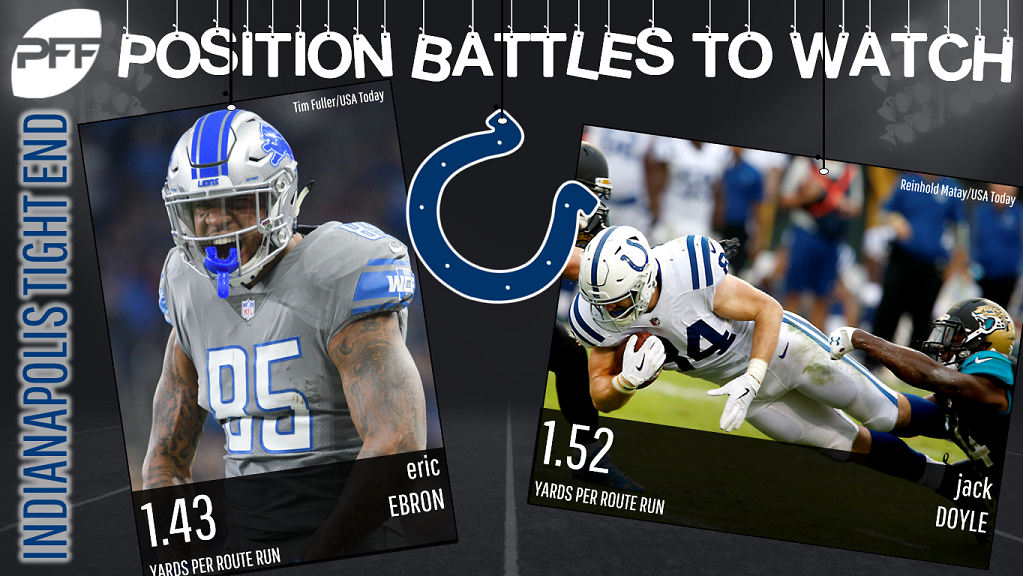 Doyle is coming off a career year last year, posting an 80-690-4 stat line. Only Travis Kelce and Zach Ertz saw more eight-target games than Doyle last year (8), as he emerged as a reliable chain-mover for Indianapolis. While Doyle doesn't have Ebron's speed (4.91 to 4.60 40-yard dash times, respectively), he does have the surer pair of hands, catching 74.1 percent of his targets compared to Ebron's 61.6. That said, his lack of speed does correlate to a lower average depth of target (5.3 yards) compared to Ebron (8.4).
This tight end battle currently has a ton of fantasy equity at stake. QB Andrew Luck has supported two top-24 tight ends once already in 2014 — Coby Fleener (TE7) and Dwayne Allen (TE19). He could potentially do it again with the combination of Ebron and Doyle.
Projected starter: Ed Dickson
Runner-up: Nick Vannett
It's clear through the Seahawks personnel moves this offseason that they're looking for their tight ends to stay more inline and help aid their woeful offensive line. We won't be seeing any Jimmy Graham-esque stat lines this year from this squad.
Dickson was our top-graded pass-blocking tight end in 2017. He was quickly picked up by Seattle when free agency began and should see a lot of snaps this year as a sixth blocker on the line. Dickson has scored more than one touchdown in just two of his eight career seasons, averaging a career catch percentage of just 59.7 percent.
Vannett has a grand total of 15 receptions through two years in the league. He's far from a size/speed specimen (4.95 40-yard dash) and was one of our bottom-20 graded tight ends last year. Fourth-round pick Will Dissly was drafted for his blocking.
Our projections have both Dickson and Vannett finishing lower than the fantasy TE30 range. Neither should be on your fantasy radar at this point.
Projected starter: Jordan Leggett
Runner-up: Eric Tomlinson
Third place: Chris Herndon
The Jets' tight end battle is an interesting one because it could go a variety of ways with the names on their current roster.
Tomlinson was largely used as an inline blocker with Austin Seferian-Jenkins running routes last year. Tomlinson was our No. 7 graded pass-blocker last year, staying inline to block on 64.2 percent of his passing snaps. Tomlinson can safely be avoided for fantasy purposes.
That means we'll likely see a training camp battle between Leggett and an interesting batch of free agent acquisitions. Seferian-Jenkins is leaving behind 74 targets from last year, with 11 of them coming in the red zone. Leggett missed all of last year with a knee injury, but the Jets liked his receiving capabilities enough to select him as a fifth-rounder in 2017. The former Clemson product picked up 736 receiving yards his final year there and is eager to translate last year's mental reps onto the field. Clive Walford was once a favorite sleeper of the dynasty community, but he never seemed to put it all together in Oakland. The same can be said for Bucky Hodges, who will also look to rebound his professional career after a lackluster start in Minnesota. Both Walford and Hodges could be cut casualties.
Rookie Herndon could have the highest ceiling of them all, but the 2018 fourth-rounder was recently charged with a DUI and continues to rehab from a collegiate injury (MCL). He's a longshot to nab the top starter spot, but don't be surprised if he starts to see more snaps as the season progresses.
Seferian-Jenkins was the fantasy TE20 last year and could've finished much higher had he not had so many close touchdown opportunities swing against him. There's some fantasy value in this role and should be one we continue to monitor throughout training camp.
Projected starter: Geoff Swaim
Runner-up: Blake Jarwin
Third place: Dalton Schultz
Last, but not least, we get to the most difficult tight end battle to figure out on our list. While the Cowboys receiver situation could be considered blurry at best, the tight end situation is straight up opaque.
The Cowboys' website currently has Swaim as the current leader in the clubhouse, but this position is hard to gauge until we see players put pads on. Swaim is likely getting the nod solely based on experience. The coaching staff has stated they've also been impressed with what both Jarwin and Schultz have brought to the table.
Dynasty owners and preseason DFS aficionados have been enamored by Rico Gathers and his potential. After missing all of last offseason (concussion), the coaching staff decided the best idea was for him to bulk up this offseason. He's currently up to 282 pounds, but is also reportedly also a cut candidate.
Jason Witten's retirement leaves 87 targets unaccounted for heading into 2018. This situation is one to monitor, as there's a legitimate case to be made for each one. Swaim should start off with the initial nod, but it will be up to the other three to outperform him in training camp and preseason and usurp that role.