There's a symbiotic relationship between offensive line play and running back play. When one struggles, the other tends to struggle. When one is able to succeed, the other also tends to find success in this mutually beneficial relationship.
Our own Mike Renner evaluated all 32 offensive lines heading into the 2018 season. The grades in his evaluation are based off 2017 data while taking into account offseason transactions and future projections. How does this translate to the fantasy side of the ball? Let's break down some of the running backs that are helped and hurt the most by their offensive line run grades.
(See how the grades and rankings break down for yourself with a PFF subscription.)
Running backs to confidently invest in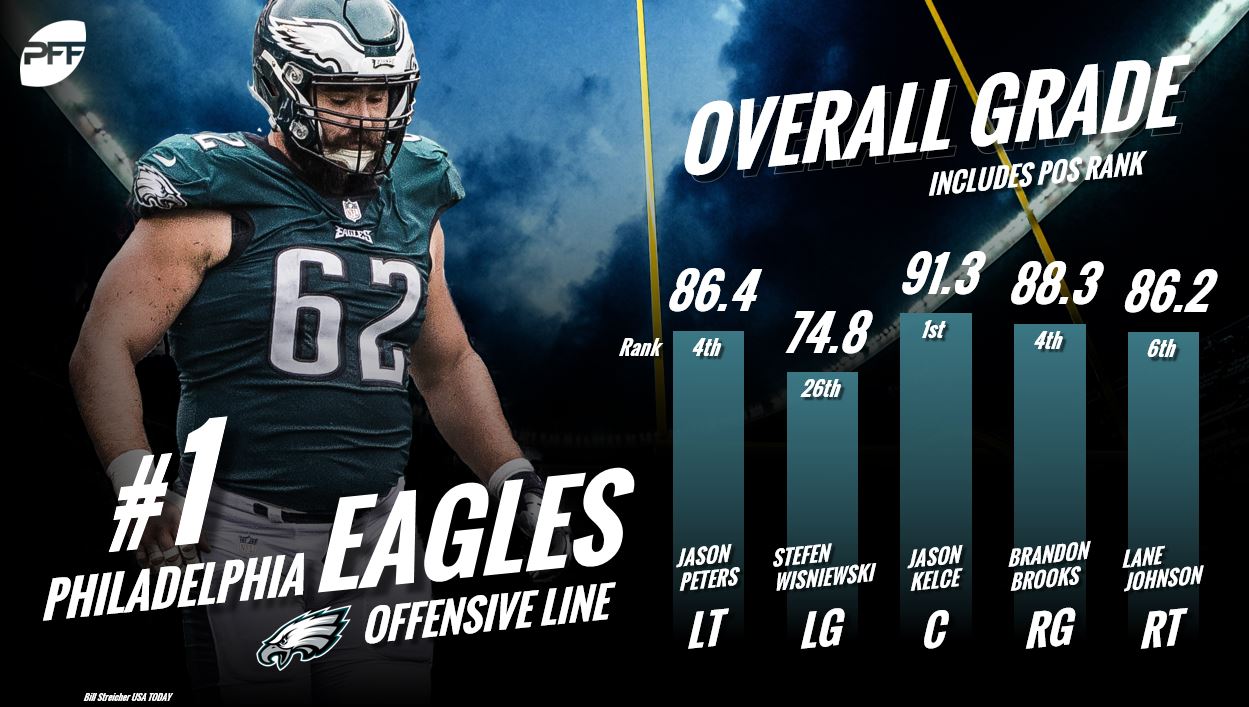 The Eagles retained the top spot from our end of 2017 rankings heading into the 2018 season. Bringing back perennial All-Pro Jason Peters will only be an addition to this offensive line that performed admirably in his absence (nine games). Lane Johnson was our No. 5 graded run-blocking tackle, Brandon Brooks finished fourth among guards, and Jason Kelce led all centers in this category in what was a major bounceback year for him. Among all backs with at least 70 rush attempts, Ajayi tied for third at the position with the 3.6 yards after contact per attempt. The player he tied with? Former Philadelphia teammate LeGarrette Blount.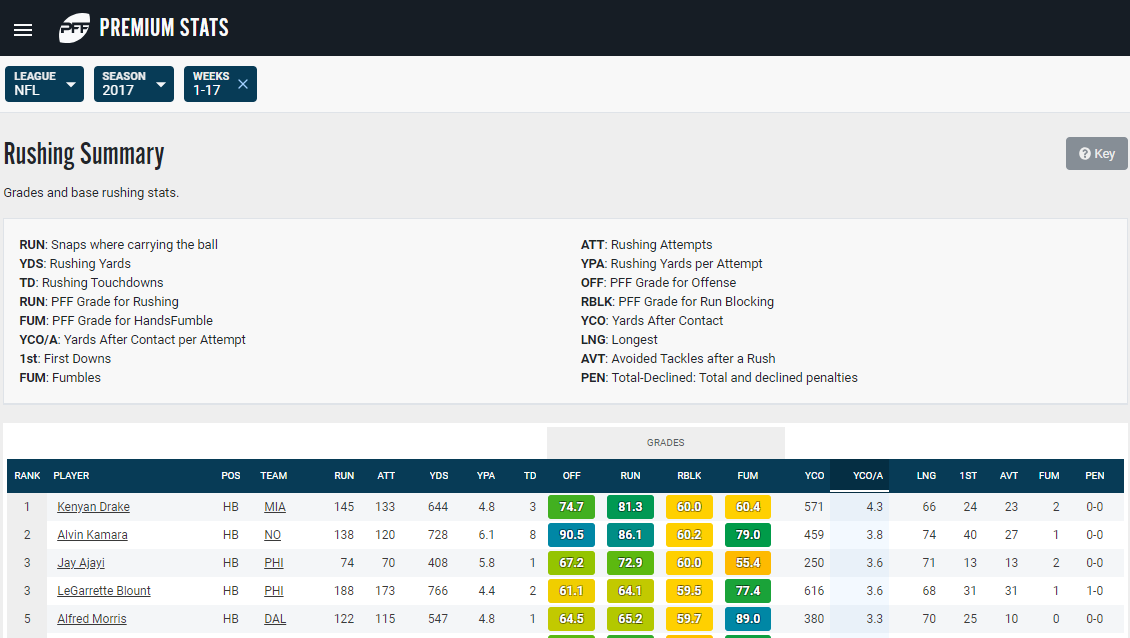 Currently being drafted with an ADP of in the mid-fourth round (RB20), Ajayi makes for an upside RB2 selection at a very manageable price point.
The Falcons were a surprising name on this list, coming in as our No. 3 overall offensive line. Across the entire line, they look solid on paper with Brandon Fusco the "weakest" link with a 76.0 grade. Last year Atlanta finished top-12 in yards before contact per attempt (1.54), routinely providing space for their backs to capitalize. Unfortunately for the Falcons, they ended up on the wrong side of variance in 2017. After leading the league in points per game in 2016 and scoring touchdowns on 64.6 percent of their red-zone opportunities, Atlanta dropped to 15th in PPG and 23rd in red-zone touchdown scoring. Their true value likely lies in the middle considering the continuity of the overall roster, thus a projected boost for scoring opportunities should be headed Atlanta's way in 2018. I'm taking advantage of that by securing what could be a top-six running back, Freeman, at RB11 pricing.
The Titans' willingness to invest heavily in the offensive line (take note, Seattle) has paid off handsomely to date. Spending first-round picks on tackles Taylor Lewan (2014 draft, No. 11 overall) and Jack Conklin (2016, No. 8 overall) has netted them two tackles that have graded out as top-16 options in the league in back-to-back seasons. Center Ben Jones is coming off a top-10 campaign as one of our highest-graded run-blockers. Free agent acquisition Lewis tied with new teammate Derrick Henry with 3.2 yards after contact per attempt last season. Both players are able to create yardage for themselves and should be in prime position to capitalize behind an offensive line that's capable of creating room for them as well. Our rankings have Lewis ahead of Henry, and given the current cost to acquire him (RB28), Lewis presents a tremendous value over Henry's inflated ADP (RB18).
Losing left tackle Nate Solder hurts, but after investing in Isaiah Wynn with a first-round pick the 2018 outlook isn't quite as gloomy. Wynn played tackle at Georgia, was announced as a tackle on draft night, but at 6-3, 313 pounds, he's prototypical guard size. Wherever he ends up on the line, he'll help bolster the line in both pass protection and run blocking. The rest of the line is anchored in the middle with both David Andrews and Shaq Mason, both ranking top-four among centers and guards last season. Trent Brown remains a bit of an enigma, but the unit as a whole looks to have a very promising 2018 season according to our run-blocking grades via Premium Stats:
One of my favorite parts of @PFF #premiumstats 2.0: Team run block grades. No surprises at the very top from last year, but ???? #49ershttps://t.co/OvZGirBFET pic.twitter.com/OzYXS7TOEj

— Jeff Ratcliffe (@JeffRatcliffe) July 31, 2018
Like the Titans' situation above, it makes sense to target the cheaper half in a committee with Burkhead (RB34) over Sony Michel (RB23). Burkhead offers immense value at current cost with the potential of jumping up into the next fantasy tier this year.
Running backs to be concerned about
There aren't many positive things to say when it comes to the Jets' offensive line in 2017. I think Renner stated it most succinctly when he said, "Wesley Johnson's 31.3 grade was one of the lowest we've ever given at the position." Kelvin Beachum was the lone bright spot by our numbers, but it wasn't due to effective run-blocking. He was the No. 63-graded run-blocker of qualifying tackles. Not great, Bob. Spencer Long comes from Washington to upgrade Johnson's spot at center, but this line will need to stay healthy and take a step forward if they want to provide Crowell and the rest of this backfield room to operate. Last year the Jets also sported our lowest overall defense grade among all 32 teams. A poor offensive line and negative game script is not an ideal combination for running back fantasy points.
Despite the offensive line ranking as a top-10 unit (No. 8), it's not one that we should necessarily be eager to invest in when it comes to the ground game. Last year's unit provided a dreadful 0.89 yards before contact for their backs. That was the second-worst rate in the league. Detroit has also ranked top-three in pass-play percentage and bottom-six in plays per game in back-to-back years. Not only does this offense lack high-volume potential with their snail-crawling pace, they're apt to lean on the pass far more than most teams. Do I even need to get into the volume concerns with both LeGarrette Blount and Theo Riddick?
First-round pick Frank Ragnow is a reason for optimism, but not a reason to justify drafting Johnson (RB30) ahead of someone like Burkhead (RB34).
No offensive line saw as steep of a drop in rankings over the course of this offseason than the Bills. They dropped from No. 7 down to No. 29 following the departures of Cordy Glenn, Richie Incognito, and Eric Wood. McCoy's tumultuous offseason has not been kind to the now-30-year-old running back. The Bills also lost dual-threat quarterback Tyrod Taylor, whose rushing ability and threat to take off with the ball on his own gave McCoy even more room to operate. The same can't be said for Josh Allen (4.75 speed compared to Taylor's 4.51). McCoy's recent off the field news is just one more reason to make drafters wary when it comes to this former perennial fantasy stud.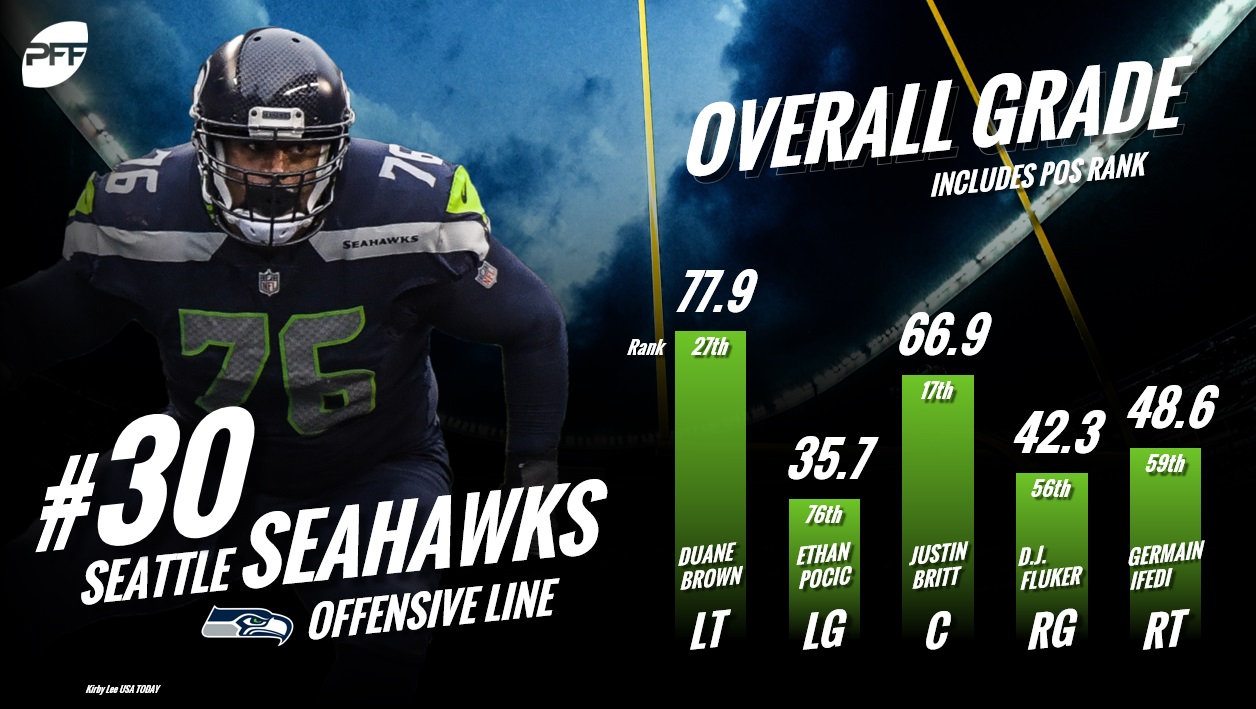 Despite the Seahawks investing a first-round pick in Penny, there's reason to be cautious when it comes to his fantasy outlook. Instead of using that draft capital on their offensive line, the Seahawks elected to take one of the most elusive running back prospects in this year's class. Penny will have his work cut out for him now running behind our third-lowest graded offensive line (No. 30). Seattle also ranked bottom-three in yards before contact last season, allowing just 0.98 yards per attempt. We'll see right away if that elusiveness translates to the NFL as defenders will surely be in the backfield early and often against Seattle this year.