PFF Special Offers
PFF offers special partnerships, promos, and coupon codes during select times throughout the year. This page includes our current offers.
---
PFF Offers and Promo Codes
PFF offers seasonal partner discounts and one-time coupons towards memberships or upgrades. See the links below for our current offers for PFF EDGE and PFF ELITE:

Use promo code MAY20 to save 20% on PFF EDGE & ELITE annual subscriptions.
Offer expires after 5/25/20.

PARTNER OFFERS: Note that our partner offers include affiliate links to products. We may receive a commission for purchases or registrations made through these links.
FREE YEAR OF PFF EDGE with FanDuel
New FanDuel users get a free PFF EDGE subscription when they deposit and play through a $10 deposit. Offer available only through this link.
– Get 30 days access to PFF EDGE immediately after deposit.
– Get an additional 11 months of PFF EDGE after playing a paid contest.
– Only NEW FanDuel users are eligible for the offer — users may only establish one account on FanDuel.

Upgrade Codes for Existing PFF Members
If you have EDGE MONTHLY:
Use promo code EDGE999 for $9.99 credit on EDGE or ELITE annual
If you have EDGE ANNUAL:
Use promo code ELITE65 for $65 credit on ELITE annual
If you have ELITE MONTHLY:
Use promo code ELITE3499 for $34.99 credit on EDGE or ELITE annual
To redeem coupons on pff.com, enter your promo code in the field at checkout.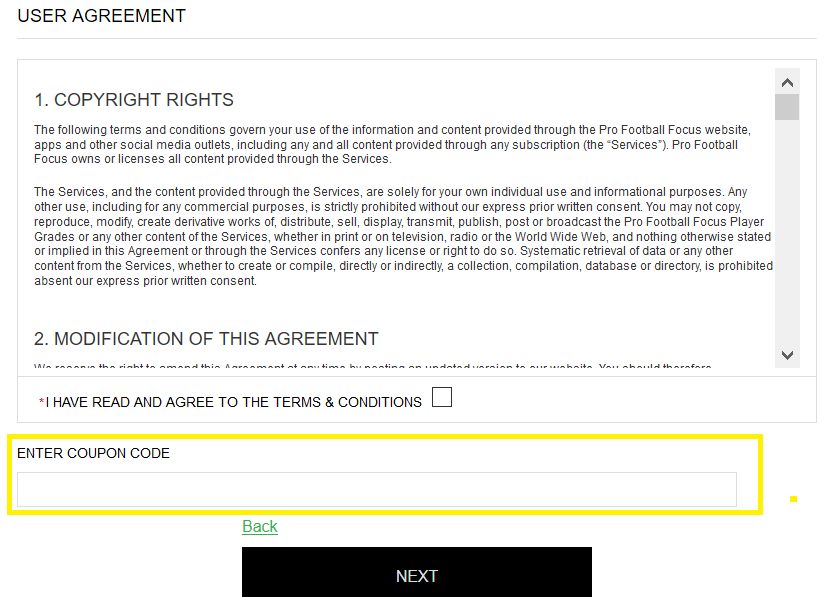 All promotions are void where prohibited. Purchase total must be equal to or greater than the promo code value. When you cancel/refund item, you forgo the savings allocated to that item. Coupons and promos have no cash value and may not be redeemed for cash. Please refer to the specific promotion details for code redemption dates and expiration.