There is no offseason in the NFL. All right, technically speaking there is an "offseason." But things move pretty quickly from the combine to free agency to the draft. And once we hit that point, it's fantasy football time all over again. Sure, fantasy drafts aren't for a couple months, but you're going to end up behind if you don't start prepping now. To help you with that, I put together my top 200 overall players in PPR scoring with team defenses and kickers included. If you want to see how my rankings compare to our other rankers, make sure you check our staff fantasy football rankings.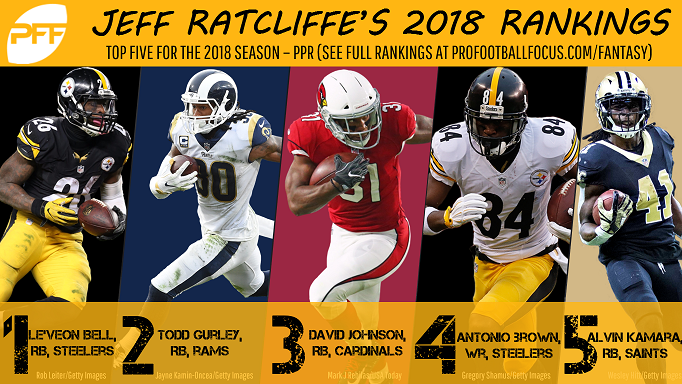 1. Le'Veon Bell, RB, PIT – Splitting hairs at the top spot, but Bell's volume give him the slight edge over Gurley for the top spot.
2. Todd Gurley II, RB, LAR – Expect some touchdown regression for Gurley, but he's still a fantastic fantasy option and worthy of the top overall selection.
3. David Johnson, RB, ARZ – Johnson returns from injury, but should see plenty of work as the Cards' primary offensive weapon this year.
4. Antonio Brown, WR, PIT – He's the greatest wideout of his generation and continues to pad his resume to be placed in the conversation of greatest of all time.
5. Alvin Kamara, RB, NO – Mark Ingram's suspension vaults Kamara up a few spots. Don't expect him to last much further that the middle of the first round.
6. Ezekiel Elliott, RB, DAL – This scoring format isn't ideal for Elliott, but he's still a strong option thanks to his heavy volume as a runner.
7. Saquon Barkley, RB, NYG – What's up, rook? Barkley is in a prime spot to produce with little competition for touches on the Giants' depth chart.
8. Dalvin Cook, RB, MIN – Cook got off to a hot start before the injury last season. Expect him to pick right up where he left off.
9. Kareem Hunt, RB, KC – We may see a slight reduction in Hunt's volume, but he remains a strong option in a very favorable offense.
10. DeAndre Hopkins, WR, HOU – With Deshaun Watson back under center, the sky is the limit for Hopkins' fantasy value this year.
11. Melvin Gordon, RB, LAC – He isn't the most efficient runner, but Gordon has almost no competition for touches in a strong offense.
12. Leonard Fournette, RB, JAX – Like Elliott, Fournette doesn't benefit from PPR scoring as much as some of the other top running backs, but his volume as a runner places him on the fringe of Round 1.
13. Julio Jones, WR, ATL – Sure, the touchdown productivity isn't where you want it to be, but Jones has been spectacularly efficient from a yardage standpoint over the last four seasons.
14. Michael Thomas, WR, NO – Thomas is coming off a 100-catch season and the scary thing is that there's still room to grow.
15. Odell Beckham Jr., WR, NYG – He has arguably the highest ceiling of any wideout, but the overall state of the Giants' offense gives Beckham a slightly lower floor than the top four wide receivers in these rankings.
16. Devonta Freeman, RB, ATL – Freeman is still splitting touches with Tevin Coleman, but his use in the red zone keeps in in the RB1 conversation.
17. Davante Adams, WR, GB – Only two wide receivers caught double-digit touchdowns last year. Adams was one of them.
18. Rob Gronkowski, TE, NE – When he's on the field, Gronk is the most dominant player at his respective position in the league.
19. A.J. Green, WR, CIN – Thought he's overshadowed by other names at the position, Green has been about as consistent as they come in his seven years in the league.
20. Keenan Allen, WR, LAC – Allen is coming off a massive 2017 campaign is primed for another 100-catch season.
21. Christian McCaffrey, RB, CAR – He may not see an increase in his workload as a runner, but McCaffrey led all running backs in targets last season and is a good bet to do so again.
22. Adam Thielen, WR, MIN – Thielen is coming off a 90-catch year where he put up nearly 1,300 yards, and he gets an upgrade at quarterback. Giddy up.
23. LeSean McCoy, RB, BUF – Some may have McCoy higher, but keep in mind that he's entering his age-30 season with declining efficiency numbers on a potentially bad offense.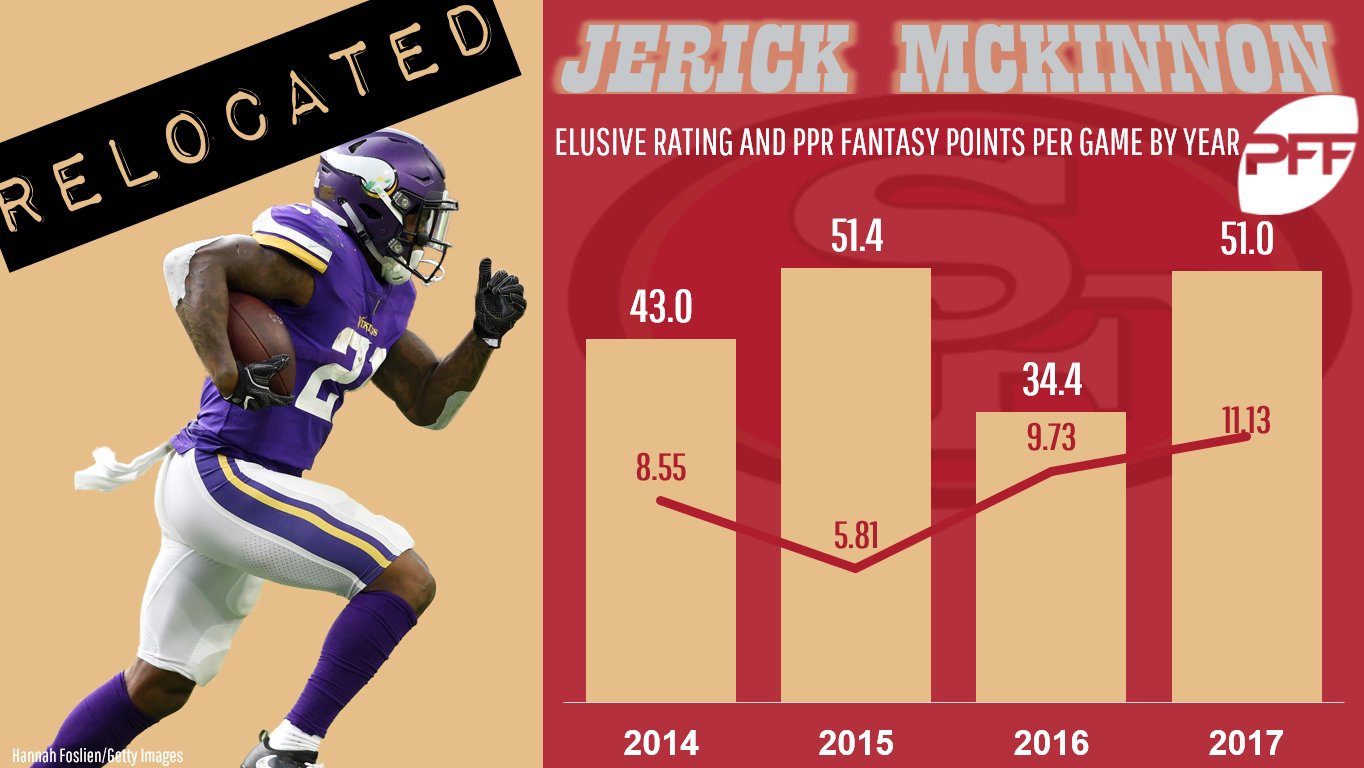 24. Jerick McKinnon, RB, SF – One of the top candidates for breakout fantasy option of the year, McKinnon is primed for a big role in Kyle Shanahan's offense.
25. T.Y. Hilton, WR, IND – This ranking comes with an asterisk. Hilton is a strong option if Andrew Luck is able to return.
26. Kenyan Drake, RB, MIA – Drake is coming off a strong 2017 campaign, but some questions exist as to how much volume he'll see this season.
27. Doug Baldwin, WR, SEA – He's been one of the top fantasy wideouts over the last three years and remains Russell Wilson's top receiving weapon.
28. Mike Evans, WR, TB – There's no denying Evans' upside, but his inconsistencies push him back to the third round of drafts.
29. Travis Kelce, TE, KC – Last year's No. 1 fantasy tight end has arguably a higher ceiling in 2018 with Pat Mahomes under center.
30. Joe Mixon, RB, CIN – The Bengals addressed their offensive line woes this offseason, and those moves could help propel Mixon to a breakout.
31. Zach Ertz, TE, PHI
32. Larry Fitzgerald, WR, ARZ
33. Stefon Diggs, WR, MIN
34. Tyreek Hill, WR, KC
35. Rashaad Penny, RB, SEA
36. Allen Robinson II, WR, CHI – Robinson landed in an ideal spot for volume as Mitchell Trubisky's clear No. 1 option.
37. Demaryius Thomas, WR, DEN
38. Alshon Jeffery, WR, PHI
39. Golden Tate, WR, DET
40. Alex Collins, RB, BAL
41. Jordan Howard, RB, CHI
42. Jay Ajayi, RB, PHI
43. Derrius Guice, RB, WAS – The rookie is slated for a two-down role in Washington, but Guice has the chops as a runner to still be an RB2 even without significant work as a receiver.
44. Amari Cooper, WR, OAK
45. Hunter Henry, TE, LAC
46. Lamar Miller, RB, HOU
47. JuJu Smith-Schuster, WR, PIT
48. Josh Gordon, WR, CLV
49. Marshawn Lynch, RB, OAK
50. Royce Freeman, RB, DEN – There's some chatter about Devontae Booker opening the season as the starter, but Freeman is the superior talent and is still the best bet to win the job in Denver.
51. Julian Edelman, WR, NE
52. Derrick Henry, RB, TEN
53. Emmanuel Sanders, WR, DEN
54. Jarvis Landry, WR, CLV
55. Marvin Jones Jr., WR, DET
56. Dion Lewis, RB, TEN
57. Delanie Walker, TE, TEN
58. Marlon Mack, RB, IND
59. Brandin Cooks, WR, LAR
60. Chris Thompson, RB, WAS
61. Pierre Garcon, WR, SF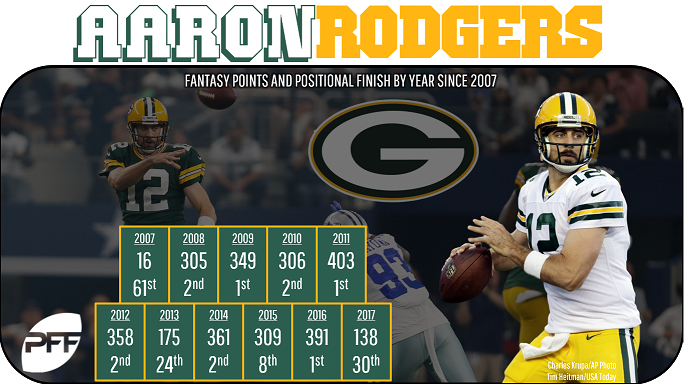 62. Aaron Rodgers, QB, GB – Will Rodgers fall all the way to the sixth round in drafts? No. But this is where the top quarterback should be valued this year.
63. Ronald Jones, RB, TB
64. Cam Newton, QB, CAR
65. Tom Brady, QB, NE
66. Mark Ingram, RB, NO
67. Sony Michel, RB, NE
68. Duke Johnson Jr., RB, CLV
69. Greg Olsen, TE, CAR
70. Michael Crabtree, WR, BAL
71. Tevin Coleman, RB, ATL
72. Isaiah Crowell, RB, NYJ
73. Russell Wilson, QB, SEA
74. Robert Woods, WR, LAR
75. Evan Engram, TE, NYG
76. Randall Cobb, WR, GB – Don't overlook the fact that Cobb is back as the No. 2 receiving option in Green Bay.
77. Corey Davis, WR, TEN
78. Kyle Rudolph, TE, MIN
79. DeVante Parker, WR, MIA
80. Chris Hogan, WR, NE
81. Jack Doyle, TE, IND
82. Cooper Kupp, WR, LAR
83. Sammy Watkins, WR, KC
84. Robby Anderson, WR, NYJ
85. Deshaun Watson, QB, HOU – The upside is undeniable, but be careful with Watson. We only have an extremely small sample size where he put up big numbers against mostly poor defenses.
86. Jordan Reed, TE, WAS
87. Jimmy Graham, TE, GB
88. Kirk Cousins, QB, MIN
89. Carson Wentz, QB, PHI
90. Tyler Eifert, TE, CIN
91. Ben Roethlisberger, QB, PIT
92. Jamison Crowder, WR, WAS
93. Devin Funchess, WR, CAR
94. Jamaal Williams, RB, GB
95. Sterling Shepard, WR, NYG – With Brandon Marshall out of the mix, Shepard figures to be more of a consistent option this year and is a sneaky middle-round pick.
96. Kenny Stills, WR, MIA
97. Tarik Cohen, RB, CHI
98. DeSean Jackson, WR, TB
99. Kelvin Benjamin, WR, BUF
100. Will Fuller V, WR, HOU
101. Matthew Stafford, QB, DET
102. Marqise Lee, WR, JAX
103. James White, RB, NE
104. Trey Burton, TE, CHI
105. Charles Clay, TE, BUF
106. Drew Brees, QB, NO
107. Kerryon Johnson, RB, DET
108. Andrew Luck, QB, IND – If we knew he was playing, Luck would be significantly higher in these rankings. However, the longer he doesn't throw, the more he slides.
109. Philip Rivers, QB, LAC
110. Rishard Matthews, WR, TEN
111. Devontae Booker, RB, DEN
112. Theo Riddick, RB, DET
113. Bilal Powell, RB, NYJ
114. Marquise Goodwin, WR, SF
115. Giovani Bernard, RB, CIN
116. Allen Hurns, WR, DAL
117. Nelson Agholor, WR, PHI
118. Jordy Nelson, WR, OAK – If you draft Nelson, remember that you're drafting the 2018 version who is entering his age-33 season and no longer has Aaron Rodgers as his quarterback.
119. Jameis Winston, QB, TB
120. Patrick Mahomes, QB, KC
121. Josh Doctson, WR, WAS
122. Alex Smith, QB, WAS
123. Mohamed Sanu, WR, ATL
124. C.J. Anderson, RB, CAR
125. Jimmy Garoppolo, QB, SF
126. Cameron Meredith, WR, NO
127. Kenneth Dixon, RB, BAL
128. Cameron Brate, TE, TB
129. Tyler Lockett, WR, SEA
130. Kenny Golladay, WR, DET – Golladay is dripping with upside, but he's likely to be an inconsistent fantasy option as the No. 3 receiver in Detroit.
131. Matt Ryan, QB, ATL
132. Nick Chubb, RB, CLV
133. David Njoku, TE, CLV
134. Jared Goff, QB, LAR
135. Dak Prescott, QB, DAL
136. Marcus Mariota, QB, TEN
137. D.J. Moore, WR, CAR
138. Austin Seferian-Jenkins, TE, JAX
139. Mitchell Trubisky, QB, CHI
140. John Brown, WR, BAL
141. Andy Dalton, QB, CIN
142. Jared Cook, TE, OAK
143. Donte Moncrief, WR, JAX – Moncrief is the No. 2 in Jacksonville, not Dede Westbrook. Don't let anyone tell you otherwise.
144. Albert Wilson, WR, MIA
145. Benjamin Watson, TE, NO
146. Blake Bortles, QB, JAX
147. Brandon LaFell, WR, CIN
148. Terrance Williams, WR, DAL
149. Ted Ginn Jr., WR, NO
150. George Kittle, TE, SF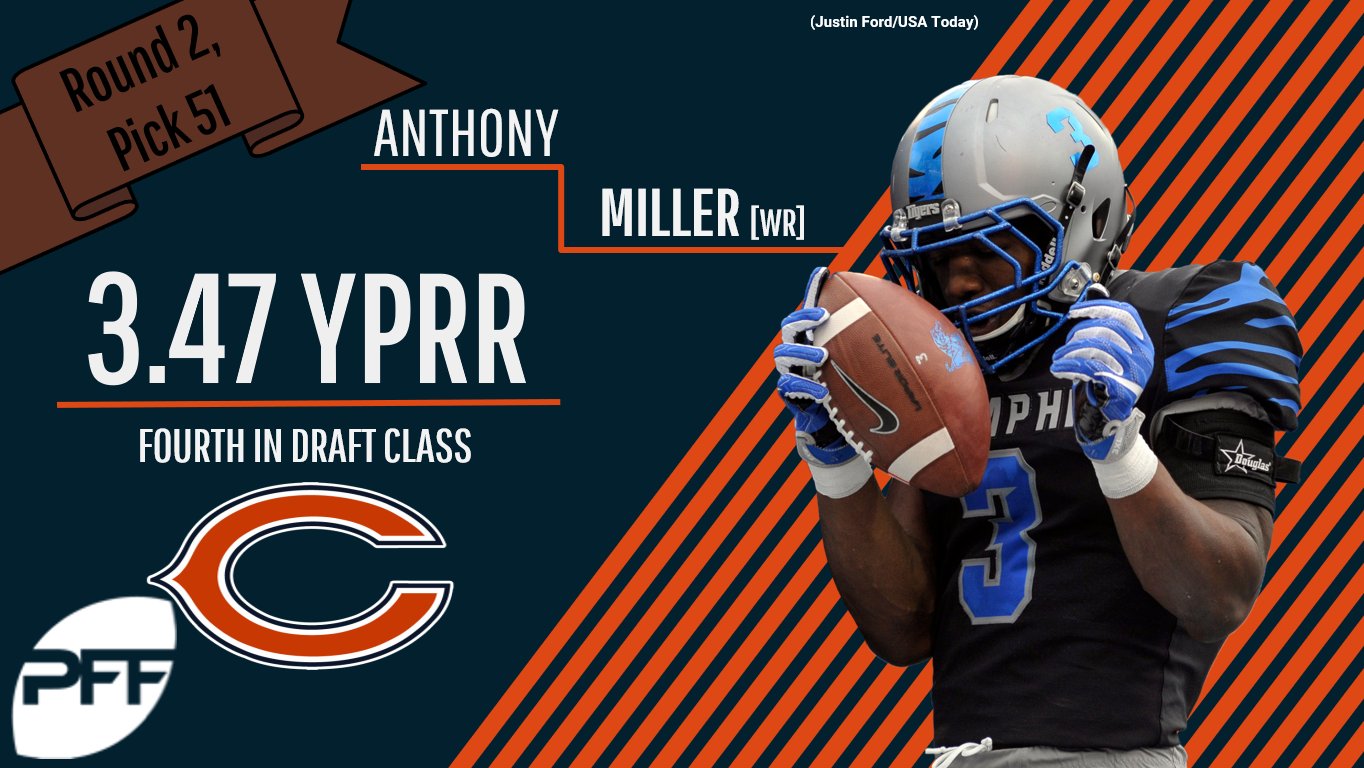 151. Anthony Miller, WR, CHI – The exciting rookie has a prime opportunity to step right in as the Bears' No. 2.
152. Aaron Jones, RB, GB
153. Terrelle Pryor, WR, NYJ
154. Rex Burkhead, RB, NE
155. Jaguars DST – There's no way they last this long, but this is the range where you should look to take the top fantasy defense. Any earlier and you're wasting value.
156. Latavius Murray, RB, MIN
157. Jermaine Kearse, WR, NYJ
158. Chester Rogers, WR, IND
159. Derek Carr, QB, OAK
160. Austin Hooper, TE, ATL
161. Austin Ekeler, RB, LAC
162. Vance McDonald, TE, PIT
163. Ryan Tannehill, QB, MIA
164. Case Keenum, QB, DEN
165. Martavis Bryant, WR, OAK – There's a lot to like about Bryant from an upside standpoint, but keep in mind that his target share could be somewhat small as the No. 3 in Oakland.
166. Eric Ebron, TE, IND
167. Calvin Ridley, WR, ATL
168. Frank Gore, RB, MIA
169. Ty Montgomery, RB, GB
170. Eagles DST – Pick 169 starts the 15th round of fantasy drafts, so this is the range where you should be looking to rank your defenses and kickers.
171. Rams DST
172. Vikings DST
173. Ravens DST
174. Texans DST
175. Stephen Gostkowski, K, NE
176. Justin Tucker, K, BAL
177. Chargers DST
178. Broncos DST
179. Panthers DST
180. Saints DST
181. Seahawks DST
182. Patriots DST
183. Wil Lutz, K, NO
184. Matt Bryant, K, ATL
185. Chris Boswell, K, PIT
186. Jake Elliott, K, PHI
187. Greg Zuerlein, K, LAR
188. Adam Vinatieri, K, IND
189. Daniel Carlson, K, MIN
190. Robbie Gould, K, SF
191. Matt Prater, K, DET
192. Harrison Butker, K, KC
193. Jordan Matthews, WR, NE
194. Zay Jones, WR, BUF
195. Michael Gallup, WR, DAL
196. Ricky Seals-Jones, TE, ARZ
197. Geronimo Allison, WR, GB
198. O.J. Howard, TE, TB
199. Eli Manning, QB, NYG
200. Mike Wallace, WR, PHI