When your pick comes up on draft day you will know the ADPs and hopefully have your tiers laid out as you see them, but you still have to determine which player to target at that spot. Will you go with safe and steady performer or will you shoot for the stars and chase the upside?
More often than not those owners that hit on the guys that break out and get good value on them wind up winning fantasy leagues.
We've already offered up some swing for the fences options at quarterback. Now let's take a look at fantasy running backs going outside of the top 10 at the position that based off their current ADP offer the most upside. Here's a tier-by-tier glance:
Rounds 2-3
Current ADP: 2.12 (RB13)
McKinnon has teased us with potential the past few years in Minnesota and now gets his shot to be an RB1 in an ascending 49ers' offense. He's a terrific pass-catcher out of the backfield as displayed by the 7.4 yards per catch and 76.7 catch rate he's turned in over the past three seasons.
Of all the running backs with at least 300 carries over the last two years, none averaged less than McKinnon did with his 3.59 yards per carry. However, Kyle Shanahan likes getting his backs involved in the passing attack and McKinnon certainly fits the bill.
San Francisco made him the fourth-highest-paid running back in the league this offseason when they signed him as a free agent and if his touches follow suit big things could be ahead.
Current ADP: 3.04 (RB16)
Mixon was disappointing during as a rookie largely because of playing behind one of the league's worst offensive lines. Early on the Bengals opted to start Jeremy Hill and that only slowed the youngster's development.
Once he finally got his chance he was limited down the stretch by an ankle injury and a concussion. Only two running backs with 170 or more rushing attempts had a worse yards-per-carry average than Mixon's 3.5 last season.
The Bengals appear to be poised to make Mixon their bell-cow running back in 2018 though and improved a bit up front. If he lives up to his pedigree Mixon could sneak into the top five at the position. He's a stellar value pick based off of his current price tag.
Entering Year 2 what do you think Joe Mixon's fantasy upside (PPR) is heading into your draft?

— Dan Clasgens (@DanClasgens) August 5, 2018
Rounds 4-6
Current ADP: 4.05 (RB20)
With reports of Chris Thompson not yet at 100 percent it's hard to imagine the Redskins leaning on him much outside of his passing-down work. Guice is off to a nice start in camp and drawing early praise for his passing protection which further strengthens his grip on the early-down workload.
Just because Thompson is the likely third-down back, don't mistake that for Guice isn't a capable pass-catcher. He has looked good throughout the offseason program for his work as a receiver and that will help in Jay Gruden's offense.
The offensive line is healthier this year and Guice's bruising style should fit well behind the unit. The Redskins got a draft day value when he slid after rubbing some teams the wrong way during the predraft process. Now it appears that fantasy owners may also get a value if his current ADP sticks.
Current ADP: 6.02 (RB26)
Lewis led all qualified backs with a 97 percent catch rate (caught 32 of 33 targets) to go along with a 73.2 elusive rating in 2017. He was also the only player with 200 or more rushing attempts not to have a fumble.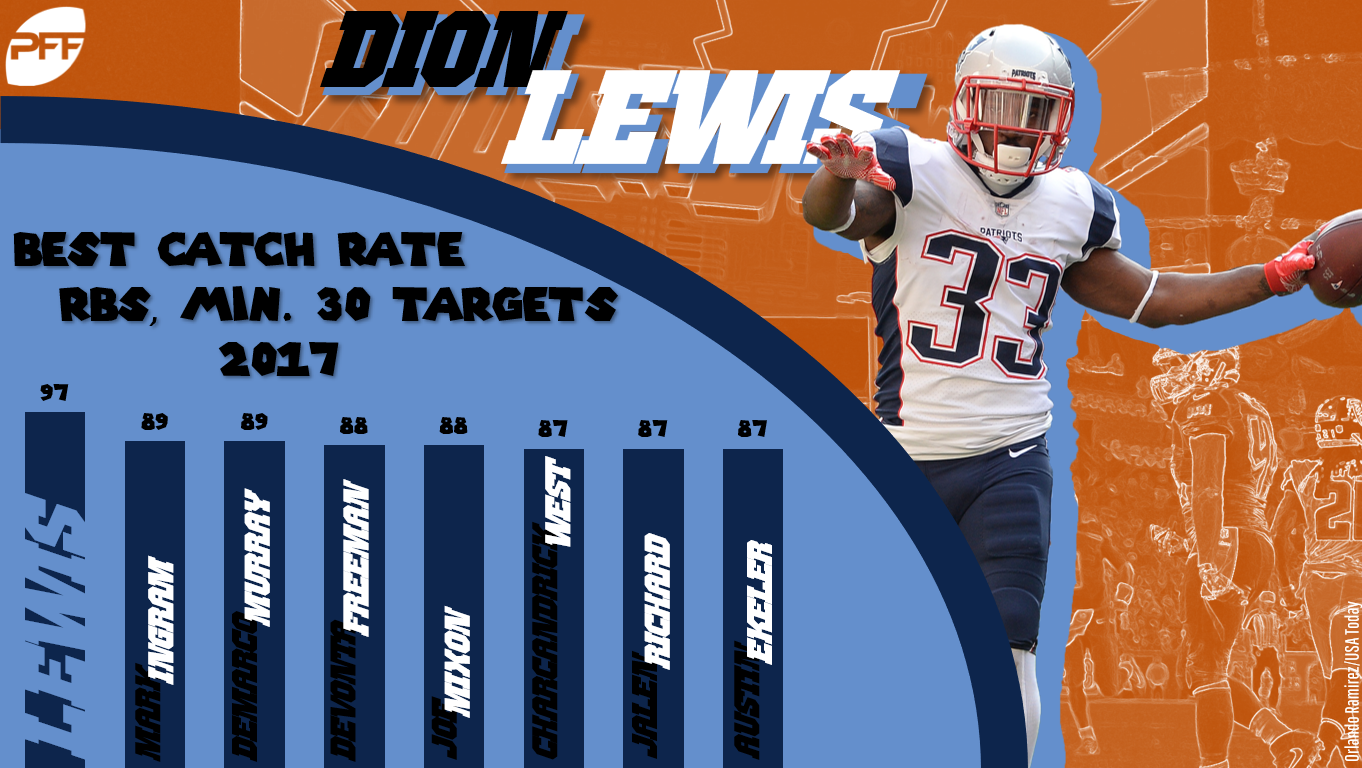 He had nine touchdowns over his 11 starts in final season as a Patriot while leading the league in rushing yards during the second half. From Weeks 13 through 17 he registered 100 touches for 525 total yards and five touchdowns.
All of that led to him getting a lucrative deal to head to Tennessee in free agency this offseason. New OC Matt LaFleur will utilize Lewis to his fullest potential. Derrick Henry is still likely to be the better fantasy producer between the two Titans' running backs, but Lewis offers better value three rounds later in drafts.
Rounds 7-10
Current ADP: 7.01 (RB29)
Being suspended for the season's first four games never does anything to help a player's fantasy value, and obviously Ingram is no exception. Add in the fact that the Saints also have a Week 6 bye and owners will be without Ingram mostly until mid-October.
Ingram is the only running back to finish as a top-12 running back in PPR fantasy points in each of the last three seasons though and fresh legs will be nice at that point of the season. He may not help owners much in September, but December is when it matters most.
With a current seventh-round ADP he's a steal and if he's entering the year as a RB3 on fantasy teams those owners will be in good shape, especially if the other two running backs drafted ahead of him have later bye weeks.
Current ADP: 8.05 (RB34)
In the wake of the news of Sony Michel's knee procedure keeping him out of the preseason, expect Burkhead's price to start to go up. He's always figured to have a role and now the veteran should get a slight bump based off his current spot atop the depth chart at running back.
Burkhead's versatility is a plus and is a big reason the Patriots coveted him in free agency a couple of years back to begin with. Burkhead averaged 26 yards on the ground and another 25 yards receiving with eight touchdowns over 10 games during his first season in New England.
His upside will be limited if Michel progresses as expected, but if the rookie flounders a bit or develops slowly, Burkhead's current outlook as a decent RB3/flex play weekly could see him rise up into the top 20 at the position fairly quickly.
Current ADP: 10.05 (RB40)
After being not being involved much during first three weeks of the season, Jones was forced into action due to injuries and responded in a big way. Only five running backs scored more fantasy points than Jones did Weeks 4-7 before he suffered an injury of his own.
He is suspended for the first two games for violating the league's substance abuse policy and that could really hurt his spot on the depth chart out of the gate. However, that same factor has also allowed him to now fall into the double-digit rounds of fantasy drafts.
Jones put freakish numbers at the combine and had six runs of 20 yards or more on just 81 rushing attempts as a rookie. He has the explosiveness to make a difference in fantasy leagues if he can work his way up the depth chart in Packers' high-powered offense.
Rounds 11 and later
Current ADP: 13.04 (RB49)
The Seahawks invested a first-round pick in Rashaad Penny and given the investment, it seems inevitable that Penny will eventually get a full look and if successful handed the job. However, that has not been the case early on as Carson is currently sitting atop the depth chart to start the preseason.
The second-year running back carried the ball 49 times for 208 yards and had seven catches for 59 yards and one touchdown in his first four games before suffering a season-ending injury in 2017. Carson came out of nowhere last year in camp and has been impressive early again this time around.
It definitely appears as if the rookie will need to earn the starting job in camp rather than just have it handed to him. Carson's current 13th-round ADP isn't going to last long.