(With attentions turning forward across fantasy football, this week is 2018 Storylines Week on PFF Fantasy, with an article a day highlighting what our writers think are the biggest fantasy storylines we'll see in the 2018 season.)
Today, we're capping off a great week of highlighting the biggest fantasy storylines as we turn the page to 2018 by taking deeper examination of the Oakland Raiders' hiring of Jon Gruden.
The luring of Gruden away from the Monday Night Football booth and back to the sidelines with a 10-year, $100 million contract was indisputably the biggest splash made during the offseason on the coaching front.
Gruden, who has hasn't coached since 2008 and is two decades removed from the last time he served as a coordinator, now becomes the face of the franchise as it braces for its move to Las Vegas in 2020. What will his arrival mean for the other face of the franchise, quarterback Derek Carr, and his favorite target, Amari Cooper?
Both Carr and Cooper were highly regarded fantasy assets entering last year and both proved to be major disappointments. The final 2017 ADP had Cooper being drafted as pick 2.09 (WR10) and Carr at 7.02 (QB6). Instead, they finished as WR35 and QB21 in PPR formats.
Derek Carr
Carr and the entire offense regressed a year ago. The signal-caller passed for just 3,496 yards and 22 scores while tossing 13 interceptions across 15 contests. That performance played a large role in Jack Del Rio's dismissal after the season.
Carr suffered three transverse process fractures in his back on October 1. Carr only missed one game due to the injury, but there's no doubt it played a role in his struggles. The veteran finished with his worst numbers since entering the league in 2014 as he only had three games with 300 yards or more passing and only threw for multiple scores in five of outings.
Carr gets the ball out of his hands fast, leading all starting quarterbacks with a release time of 2.16 seconds, but struggles when it comes to making big plays, as evidenced by his 2.9 percent big-time throw percentage.
The expectation is that Gruden will demand more of Carr and for his part the quarterback seems receptive to the criticism. If the relationship turns sour though don't be surprised to see the Raiders move on. Carr's record contract last offseason had most of the guaranteed money front loaded so the team could part ways after 2018 and only take a $7.5 million cap hit.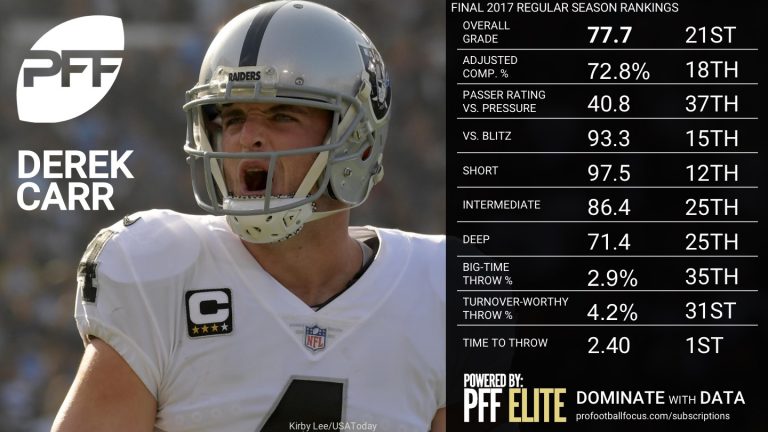 Amari Cooper
While the trend and narrative both suggest wide receivers break out around Year 3, Cooper actually took a step back in his third season. After back-to-back 1,000-yard campaigns, he finished with only 680 yards and 7 touchdowns on 48 catches in 2017. Cooper was tied for third among wide receivers with 10 drops and posted a dismal 53 percent catch rate on his 90 targets.
Add to that the fact that nearly half of his receiving yards came in two games and his subpar numbers get even less spectacular. In his other 12 games he played he failed to even reach 70 yards in a single contest. He failed to break even 10 yards four different times.
Cooper battled his way through injuries most of the season, including a high-ankle issue and a concussion late in the year that cost him two games. He did score in four of his last five contests though and he will still just be 24 when the 2018 season begins, making him a nice bounceback candidate with Gruden coming to town.
Gruden's track record
It remains to be seen how much Gruden can adapt after being away from coaching for a decade. The game has changed quite a bit in that time. His West Coast offensive roots will show and recently hired offensive coordinator Greg Olson knows the script.
During Gruden's stint as a head coach with the Raiders (1998-2001) and the Buccaneers (2002-08) his teams boasted a 56-to-44 pass-to-run ratio in their play-calling as a whole. Only three of his teams during that span finished inside the top 10 in scoring, which is the same number of his teams over that stretch that failed to finish inside the top 20 in putting points on the scoreboard — five of his teams finished in the middle of the pack, 10th-20th.
Gruden has never had a high-end quarterback, though. An aging Rich Gannon was the most successful passer to come out of any of those offenses and he enjoyed some stellar fantasy seasons during that span. There have, however, been some strong wide receiver performances under the coach. He's had a wideout break 1,000 yards 10 times in 11 seasons.
Despite having his teams average 24.5 running back carries per contest during the decade-long stretch, Gruden's teams only yielded two 1,000-yard rushers. He likes to have multiple weapons in his backfield involved, especially in the passing game. Nearly one third of his teams' receptions went to running backs.
This is a new day and there will certainly be some adjustments, but don't expect a major change of philosophy from Gruden in his return.
Conclusion
Gruden's arrival definitely has both Carr and Cooper's stock trending up, particularly when you consider how poorly they finished a year ago in fantasy points. Whether or not they'll be able to deliver on their perceived preseason 2017 value in 2018 with Gruden at the helm remains to be seen.
In a recent 12-team PPR 2018 fantasy mock draft done here by the PFF staff, Cooper was selected at pick 4.05 and Carr went off the board at 15.02. In the current 2018 PFF rankings Cooper is viewed as a back-end WR2 and Carr slides in just inside the top 20 fantasy quarterbacks. At those price points both players offer a fair amount of value and upside.
Still, neither player is worth last year's price tag even with the new coach. Carr has the chance to be a super quarterback for Gruden, but for fantasy owners his lack of rushing stats makes it very difficult for him to crack the top 10 at the position. That leaves the quarterback as a fantasy spot starter and a late-round QB2 stash.
Cooper has a better shot to give owners WR1 numbers than Carr does QB1 numbers. He still struggles to make plays consistently, but the Raider wideout is hands-down one of the more appealing WR2 options in his current draft tier.