Earlier this week, we examined the offseason moves that figure to be most helpful for fantasy purposes. Today, we're tackling the least helpful moves in the wake of the NFL draft and free agency.
If dynasty (or keeper) happens to be your forte, then you know all too well how offseason transactions can indirectly affect fantasy player values, both positively and negatively. The same goes for best-ball aficionados. Front offices have a way of throwing a wrench into the plans of carefully constructed rosters, and no matter how much logic or foresight we put into things as fantasy gamers, often there's little we can do but react.
Three's a crowd in the Browns' backfield
Just one day after Isaiah Crowell signed with the Jets, Cleveland went out and inked Carlos Hyde to a three-year deal in mid-March. At the time, the Browns' backfield was one in which we could reasonably project the workload split for fantasy purposes, despite the fact that Hyde and Duke Johnson both finished inside the top-12 fantasy running backs in PPR this past season. But then, Cleveland went and drafted former University of Georgia star Nick Chubb, and effectively threw a wrench in the works.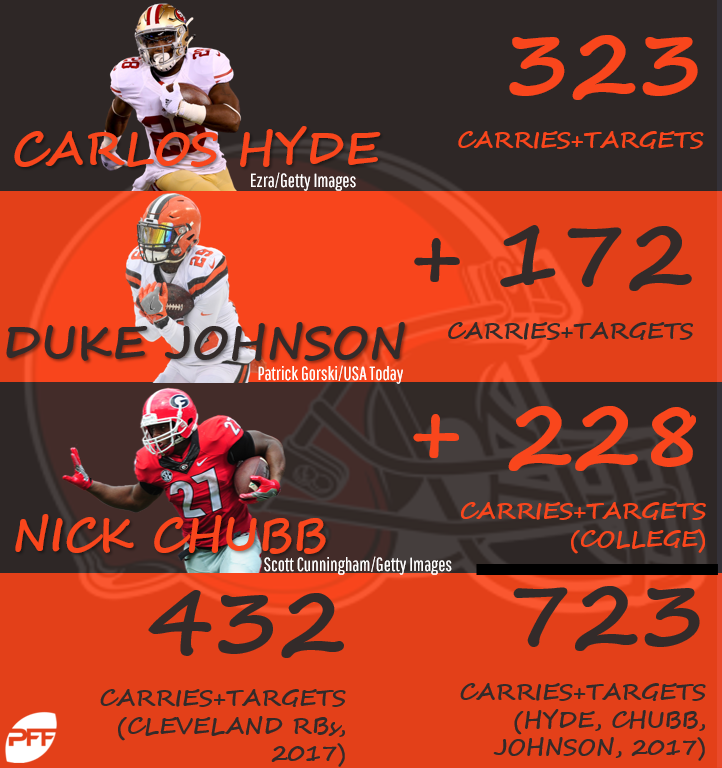 Already, beat writers are giving Chubb a legitimate chance to win the bulk of the early-down work. While Hyde's fantasy value hangs in the balance, it's worth noting that Chubb caught all of 13 passes over his final three seasons at Georgia. Of course, he's also no stranger to being a member of a committee, and a productive one at that. Chubb held a 223-156 edge in carries over former Bulldogs teammate Sony Michel last season, with both running for 1,250-plus yards. While Johnson's role is largely unchanged, Chubb (9.01 ADP) currently offers better value than Hyde (7.06) for fantasy drafters who remain unsure of whom to hitch their wagon.
Brandin Cooks joins his third team in three years
Conventional wisdom says that a 24-year-old coming off his third straight season with 1,000-plus receiving yards and seven-plus TDs is the type of player teams want around for a long time. When it comes to Cooks, however, those credentials apparently make him more appealing as a trade commodity.
Cooks previously made my list of players to avoid in the first five rounds of fantasy drafts, and that has little to do with the fact that he'll now be catching passes from Jared Goff instead of Tom Brady or Drew Brees. Despite playing a career-high 89.3 percent of the offensive snaps last year with New England, Cooks was targeted on 17.9 percent of his snaps in route (a personal three-year low) compared to 22.2 percent for new teammate Robert Woods. He also now goes from a Brady offense that was seventh in pass attempts, to a Todd Gurley-centered offense that was 24th in pass attempts.
To be clear, Dion Lewis' move from New England to Tennessee should work out just fine for Dion Lewis. Despite suiting up for all 16 games and posting career-highs in rushing attempts (180), yards (896) and TDs (six on the ground, three as a receiver), Lewis was on the field for only 36.8 percent of the snaps. That will change in Tennessee, especially with Lewis now earning top-10 running back money. Not only is Lewis a more capable receiver than new backfield mate Henry, 96 percent of his carries last season were on first or second down.
The Titans coaches have come right out and said that Henry and Lewis will split the workload. Of course, there will be LeGarrette Blount-like positive game scripts that call for Tennessee's offense to pound it in between the tackles and control the clock. But are those game scripts enough incentive to justify Henry's current PPR ADP as the RB17, ahead of more complete backs like Derrius Guice, Jay Ajayi, Kenyan Drake, or even Alex Collins? Heck, Lewis is being drafted almost a full two rounds later than Henry.
Buffalo's fantasy wasteland
Much like defensive coordinators around the league, fantasy owners won't be too preoccupied with any member of the Bills' offense outside of LeSean McCoy. They never really replaced former downfield threat Sammy Watkins, nor do they have a matchup problem in the slot like Jordan Matthews. No more Tyrod Taylor to keep the chains moving as a dual-threat. Unless rookie Josh Allen beats out AJ McCarron for the starting job (which is by no means out of the question), there's simply not much intrigue here for a team that finished fourth in rushing attempts in 2017.
McCarron has three career starts – all in 2015 – and will operate behind a rebuilt O-line. Zay Jones made more headlines for being naked and bloody one night during the offseason than anything he did on the field as a rookie. Kelvin Benjamin was on pace for 100-plus targets and nearly 1,000 yards with Carolina before his midseason trade to Buffalo, where he averaged 36 yards in six games. If anything, his current ADP as the WR48 offers some late-round value as a bye week fill-in, but little beyond that.
Is Jimmy Graham's stock truly upgraded in Green Bay?
Aaron Rodgers has been saying all the right things about new teammate Graham. And Rodgers is certainly in the market for a new BFF after Jordy Nelson was unceremoniously shown the door. While Graham's addition no doubt helps Rodgers, I'm not sold that it actually helps Graham. Yes, he was criminally underused in Seattle, averaging less than six targets per game over his three-year stint.
However, it is also going to be tough for Graham to repeat his league-high 27 red-zone targets now in Green Bay, where there has not been a top-five fantasy tight end since Jermichael Finley in 2011. Then, there is the matter of Graham's 54.1 PFF grade, easily the worst of his career. And while the 10 TDs are encouraging, his 520 yards were far and away the fewest of any full season in his career. Whether that was attributed mostly to Seattle's offense as a whole, to Graham's age-31 abilities, or perhaps even to his 2015 knee injury, is debatable. At the moment, it costs a fifth-round pick in 12-team drafts to find out.
Tyreek Hill no longer trustworthy as a WR1
In 2017, Hill ranked seventh among all wideouts with 0.46 fantasy points per opportunity. In 2016, Hill's average of 0.71 PPO not only led all wideouts, it was the top mark of any rookie receiver in the past decade. Over the course of his first two seasons, Hill has been historically efficient, finishing in the top-six in yards per route run both years. He's also benefited from the type of usage that will be tough to come by now that he'll be sharing those opportunities with Sammy Watkins.
Hill was targeted on 20.2 percent of his snaps in route in 2017, the sixth-highest rate among qualified WRs. As a rookie in 2016, his 31.2-percent target rate ranked fifth. Regardless of Watkins' injury history, there's no denying he'll be the most skilled WR to have shared the field with Hill in Kansas City. Also of note, Watkins did not drop a single one of his 39 catchable targets this past season. After lining up almost exclusively as the X receiver, or split end, Watkins has been lining up all over the place in Andy Reid's West Coast offense. All things considered, Hill is looking more like a fantasy WR2 who is currently being drafted as a back-end WR1.