In the middle of the 2017 season, I had an actual debate with one of my friends: Should he start Drew Brees or Case Keenum? I said Brees, he said Keenum (he was right).
This same friend ended up making it to the championship game, where he ended up starting Blake Bortles instead of Brees. (Again, right move on his part.)
Starting Keenum and Bortles over Brees … and being right? Is this the world we live in now?
It was the world we lived in for 2017 — but if you ask me, Brees is far from done. In fact, he's one of my top 2018 bounceback candidates.
2017 was a clear outlier for Brees
Not much needs to be said about Brees' consistent fantasy dominance over the past 10-plus years. Just check out his yearly fantasy finishes among quarterbacks in the PFF era (2007-2017):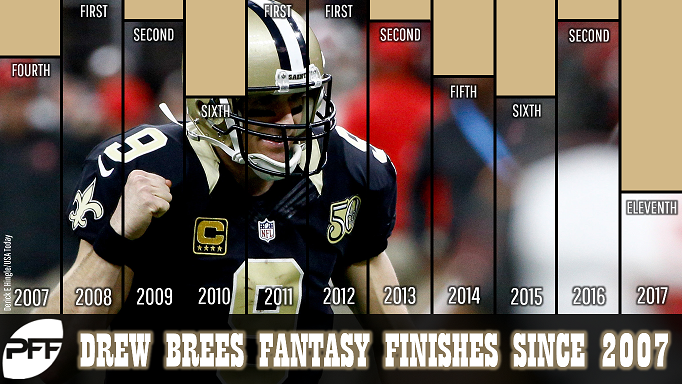 Prior to 2017, Brees finished outside of the top-five just twice in this span (2010 and 2015, when he finished sixth). He wasn't even that bad in 2017, finishing as the overall QB11.
You don't need a whole article telling you Brees has been good — that much is obvious. But we do have to establish the historical context for a Brees bounce-back season. Graphing it out shows you just how much of an outlier 2017 was.
The PFF Fantasy rankers have Brees as the consensus No. 7 heading into 2018
As of this writing, the PFF Fantasy rankers have Brees slotted in at No. 7 for next season (based on consensus).
Daniel Kelley (No. 4) has Brees the highest, while Jeff Ratcliffe (No. 10) has Brees ranked lowest. I have him at No. 6, as does Scott Barrett. Dan Clasgens ranks Brees at No. 8.
Across the board, every one of us expects Brees to rebound. Some, like Kelley, expect him to return to his usual form, while others expect him to return to his previous "floor" — as a top-six fantasy quarterback.
Why will 2018 be different than 2017?
It might not be too different, actually. There was only about a 20-point difference between Brees (QB11 with 271 points) and Matthew Stafford (QB6 with 294 points). Brees wouldn't need to go crazy to be a top-six fantasy quarterback again. Three extra touchdowns and 200 extra yards could do the trick.
Brees attempted 536 passes last year, his fewest attempts since 2009 (514) and more than 100 attempts below his 2007-2016 average (640).
This decrease in volume — a direct result of Alvin Kamara's (and Mark Ingram's) record-setting efficiency — led to Brees throwing for "only" 4,334 yards, which was below his 2007-2016 average of 4,935.
Volume was down, but efficiency was, for the most part, not. In fact, Brees was at or near his career best in some areas.
Brees threw for 8.1 yards per attempt, which was far above his 7.7-yard average from the preceding 10 years. In fact, the 8.1 YPA was his third-best performance in the 2007-2017 range.
He was accurate on 80.7 percent of his passes, which was actually tops among all years in the PFF era. Brees, probably the most accurate quarterback in NFL history, had his most accurate season last year. So, yeah, he's still good.
From a straight-up efficiency standpoint — fantasy points per dropback — Brees was on par with previous seasons. He scored 0.48 PPDB last year, just below his 2007-2016 average of 0.50. (He's been between 0.46-0.50 for the past four seasons.)
The only efficiency category in which Brees trailed his PFF-era average was in attempts per touchdown. He threw a touchdown once ever 23.3 attempts last season, his lowest mark of the PFF era. His average from 2007-2016 was 17.8.
If Brees averaged a touchdown once ever 17.8 attempts last year, he would have tossed 30 touchdowns — not 23. That alone would have given him an additional 28 fantasy points last year, good for a QB6 finish.
On the whole, Brees is most certainly due for some positive regression in 2018. His YPA and accuracy — Brees' bread and butter — remain elite, and he really only suffered from poor touchdown efficiency (a notoriously fickle stat) and a backfield that scored touchdowns at an unsustainable rate.
Look for Brees to be among the top six quarterbacks again in 2018.
Here are a few other quarterbacks primed to rebound in 2018:
Ryan was the overall QB14 last year, one year after finishing as the overall QB3. Ryan was hit with steep negative touchdown regression last year, throwing for just 20 after lighting up the league with 38 scores last year. With the addition of first-round wideout Calvin Ridley, Ryan's supporting cast has improved this year.
Carr finished as the overall QB21 last year, a devastating performance as many had him pegged as a top-10 — or even top-five — fantasy option heading into 2017. Jordy Nelson is a good red-zone threat and Amari Cooper is better than everyone pretends. Jon Gruden is the unknown variable here. Carr isn't a sure bet to rebound in 2018, but he's one of the leading candidates. His 2016 season was fantastic, after all.
Last year's QB23, Geno Smith's backup (once) will be back under center for the Giants in 2018. Leading into the new year, the only analogy I have for Manning is to liken him to a frail 95-year-old man driving a Ferrari. Odell Beckham Jr. healthy again! Sterling Shepard had his breakout season! Evan Engram is the best young tight end in the league! Saquon Barkley can do everything! Manning can't not rebound with that supporting cast, even if he himself isn't all that good anymore.
Prescott was the overall QB9 last year — not bad — but he was a pretty extreme disappointment on the whole. It was more of a consistency thing. He had fewer than 200 passing yards in eight of 16 games last year, and he failed to throw a touchdown in 6 of his last 10 games. Dallas' passing offense is atrocious, but Ezekiel Elliott isn't facing suspension this year and it's hard to imagine Prescott having such long dry spells again.