Putting together a fantasy football streaming defense/special teams article while heading into the third preseason game is a bit tricky to say the least. With just over two weeks of NFL action, teams have tended to play a vanilla type of scheme and utilize many players that will have trouble making the 53-man roster.
An obvious way to try and get a handle on things is to look back at the 2017 season and try to analyze whether the top-scoring defenses can turn in a repeat performance. That scenario can be clouded by player movement and possible scheme changes. Before we get ahead of ourselves, let's look at the current ADP of the top-five DST units according to MFL. These would be units that the argument could be made would be held on to as a weekly starting DST.
The top five DST are Jacksonville, Los Angeles Rams, Minnesota, Philadelphia and the Los Angeles Chargers. It's not surprising that four of the five were top-10 DSTs last year, with three actually finishing in the top-five. The exception is the Vikings' DST that finished 13th in scoring last season. On a side note, none of the top-five DST by ADP heading into the 2017 season finished in the top-five and only two have done so over the last three seasons. To make a long story short (too late) it's safe to say that using ADP to draft a DST can be a crapshoot at best.
So what is the best strategy to utilize when looking to stream DST heading into the season? Let's take a look at some possible strategies and some DST flying under the radar that could bring surprising production.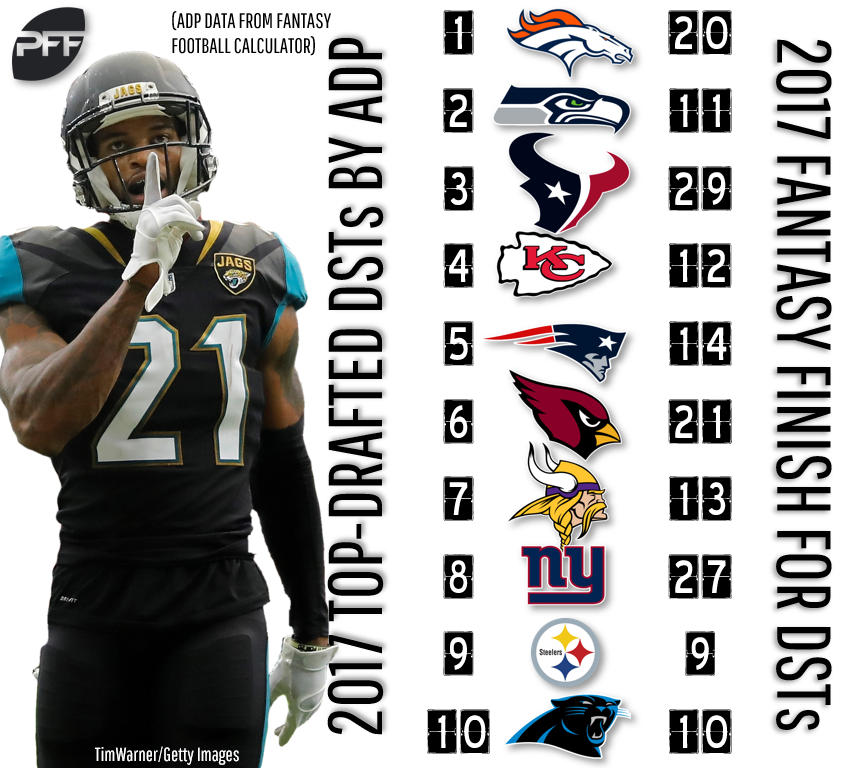 Early in the season
There is an element of flying blind as the season kicks off as we've yet to really see which defenses will dominate and which may fall off from previous production. It's advisable to chase offenses that allowed a lot of fantasy points to opposing DST in the previous season especially if they haven't significantly improved their rosters. Another path to success is to stream a DST against teams that choose to start a rookie at quarterback. Let's take a look at a few DST that could come out of the gate quickly.
Weeks 1-2 (vs. Tampa Bay, vs. Cleveland)
The Saints were quietly a top-10 fantasy unit last season that amassed over 40 sacks and totaled the third-highest interceptions total with 20. They'll open up at home against a Tampa Bay offense that will be led by Ryan Fitzpatrick as Jameis Winston serves his suspension. In his last 36 games, Fitzpatrick has thrown 35 interceptions and lost three fumbles and Tampa allowed six sacks to New Orleans in their two meetings last season. In Week 2 the Saints host the Cleveland Browns, who were among the league leaders in allowing fantasy points to opposing DST last season.
Weeks 1-2 (vs. Buffalo, at Cincinnati)
One way or another the Ravens will be kicking off the 2018 season facing an unknown commodity at quarterback for the Buffalo Bills. It's either going to be rookie Josh Allen, former Bengals back up AJ McCarron or Nathan Peterman (yes, five-interceptions-in-Week-11-last-year Peterman). We like the Ravens' chances in the Week 2 match up against division-rival Cincinnati after the Bengals eliminated Baltimore from a playoff berth with a late touchdown in the final game last year. When the two teams met early in the 2017 season, the Ravens shut out the Bengals, racking up five sacks and forcing five turnovers.
Weeks 3-5 (at Detroit, vs. Miami, vs. Indianapolis)
Why not roll with a defense facing three offenses that finished in the top-10 in allowing fantasy points to opposing DST in 2017? The Colts may have Andrew Luck back under center, but he will be playing behind an offensive line that allowed a league high 56 sacks. The Lions allowed 47 sacks in 2017 and the Dolphins turned the ball over 28 times while allowing four defensive touchdowns. The Patriots could enjoy a nice stretch of fantasy production during these weeks.
Middle of the season
There will be a clearer view of which DST to stream as we hit the midpoint of the season. Which offenses are turning the ball over and/or allowing the most sacks will be revealed as well as which defenses have emerged as dominant. It's difficult this early to really get a grip on who to stream but let's dust off the crystal ball and take a crack at it.
Weeks 8-10 (vs. Denver, at Cleveland, vs. Arizona)
Let's just say that I'm not the biggest believer in Case Keenum playing behind an offensive line that allowed 52 sacks last season. A pressured Keenum can be a turnover producer and the Chiefs got to the Broncos' quarterbacks eight times in their two games last season. There's the real possibility that by the time the Chiefs head to Cleveland that the Browns will have turned over the offense to rookie Baker Mayfield and as I stated earlier we like defenses against rookie quarterbacks. The same scenario is in effect regarding the Cardinals as Sam Bradford's injury history suggests he won't be on the field in Week 10 and rookie Josh Rosen could be starting.
Late in the season
By this point in the season we'll really have narrowed down the DST options as it will be really clear which teams are playing well and which teams have struggled. With it being late August now, let's just say that predicting how teams will look in late December is definitely a "pick and hope" strategy. Instead let's go with a strategy that I have had a bit of success with in the past late in the season and chase some bad-weather opportunities.
Weeks 15-17 (at Chicago, at NY Jets, vs. Detroit)
The possibility for wintry weather works in the Packers' favor down the stretch and the matchups are favorable. The Bears offense may improve under new head coach Matt Nagy, but I still believe Mitchell Trubisky has a lot to prove. A healthy Clay Matthews will be tough to stop especially if the weather turns ugly. The Jets will have likely turned the ball over to rookie Sam Darnold — I've beaten the rookie QB thing to death already. If the game has any playoff implications the Packers tend to make a habit of beating up on the Lions in Week 17 especially outdoors.