Earlier this week, we looked at the projected 2018 strength of schedule for fantasy running backs, outside wide receivers, and slot wide receivers. Today, we're concluding our series by looking at the strength of schedule for each team's tight ends.
With every article ever written on strength of schedule, one must always start with the following caveat: There's a lot of variance in this data. So much changes year-to-year and team-to-team. A defense's weakness last season may now be its strength after free agency and draft acquisitions. Or, perhaps that defense's vulnerability was the result of a defensive scheme that no longer exists following a coaching change. Still, with these caveats in mind, strength of schedule is something I spend a good deal of time on each season.
My methodology for this exercise was simple. I looked at the 2018 schedule for each team and replaced each opponent with their 2017 fantasy-point-per-game average allowed to opposing tight ends. This should paint a decent picture of the season as a whole, a team's fantasy postseason schedule, and weeks to stream or target players in trade.
Here's how these schedules look in 2018 (from easiest to toughest):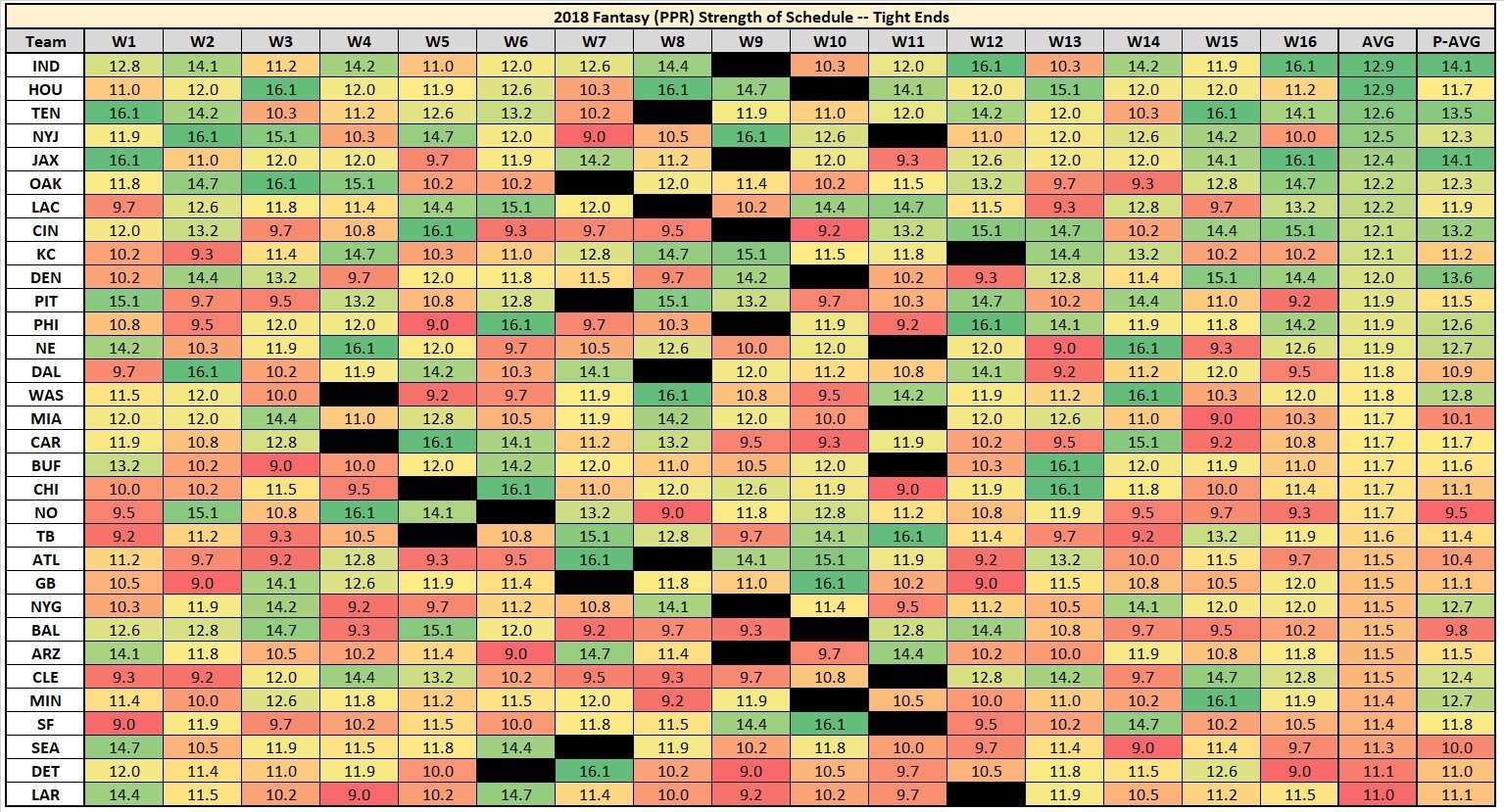 Here is how each schedule has improved in contrast to 2017.
There aren't very many fantasy-relevant tight ends in the league, so I decided to just highlight the schedules for teams I felt were most relevant. For instance, I didn't think players like Levine Toilolo/Luke Willson and Jordan Leggett/Clive Walford were worthy of a deeper dive, despite having notably strong or weak schedules. So, here's who stood out to me.
Soft schedules
Indianapolis Colts – The Colts have our best schedule and fifth-most-improved schedule this year. If Andrew Luck returns for Week 1, this should mean better efficiency for Jack Doyle. If he does not, volume should still be good. Over the past two seasons, Jacoby Brissett targeted tight ends at the third-highest-rate in the league. This was true in Brissett's final year of college as well, when his leading receiver was tight end Jaylen Samuels, who had 31 more receptions and four more receiving touchdowns than the next-closest receiver.
For reasons outlined here, Doyle was my favorite tight end sleeper last season, and he paid dividends, finishing fifth at the position in fantasy points per game. Unfortunately, it looks like Indianapolis is eager to turn this into a committee after signing Eric Ebron. Since Ebron is such a liability as a blocker, it's clear he was signed for pass-game purposes and will be competing with Doyle for targets. Outside of the Aaron Hernandez-era Patriots, a team's second tight end has never finished higher than TE18 for fantasy over the past decade. As it stands, neither is a compelling value at current ADP (TE14 and TE15).
Tennessee Titans – The Titans have our third-easiest schedule this season, which makes Delanie Walker's ADP (TE8) look all the more absurd. Walker has finished sixth, sixth, third, and seventh in fantasy points per game over the past four seasons and has led the team in targets in every year over this stretch. Obviously, he seems like a safe bet to beat ADP. Walker was also our fourth-highest-graded tight end last season and ranks fourth-best in yards per route run over the past two years, so it doesn't appear as though he's slowing down despite his advanced age (33).
Jacksonville Jaguars – The Jaguars have our fifth-best strength of schedule for tight ends. This should make matters easier for Austin Seferian-Jenkins, who signed a two-year, $10 million contract with the Jaguars this offseason. However, my expectations aren't very high. Seferian-Jenkins has reached 70 yards just once in his 38-game career. No Jaguars tight end has finished better than 18th at the position in fantasy points per game since 2010. Still, he has the draft pedigree (38th overall pick in 2014), is young (25 years old), and finally seems to be past the off-the-field issues that may have hampered his production in earlier years. At ADP (TE18), he's a fine pick, but not one I'm terribly excited about, and especially if Jacksonville drafts a wide receiver early like many expect.
Carolina Panthers – Carolina has our third-most-improved tight end schedule in 2018 (worth approximately 0.79 more fantasy points per game than their 2017 schedule). This should bode well for Greg Olsen, if he doesn't leave football to take the Monday Night Football job Jon Gruden has recently vacated. He auditioned for that role in March, and, per Joe Person, has said it's a viable option unless he gets a contract extension. Olsen's foot injury is supposedly fully healed, after it caused him to miss nine games last season. Olsen was held without a score and with under 30 total yards in six of seven games last season but was far more productive over the prior few seasons. Olsen ranks first in fantasy points and targets over the prior three seasons combined, and third and first on a per-game basis over this stretch. Although he carries retirement risk, is 33 years old, is coming off an injury-plagued and woefully inefficient season, his current ADP (TE5) is a spot lower than where I have him ranked (TE4).
Tough schedules
Kansas City Chiefs – Kansas City has our least-improved strength of schedule for fantasy tight ends. Certainly, this is a small concern for Travis Kelce, as is the new quarterback under center, and increased competition for targets after signing Sammy Watkins to the fourth-biggest per-year deal among all wide receivers. However, as we outlined here, Kelce is awesome, and none of these factors have me moving him down my rankings. He's finished second in fantasy points per game in each of the past two seasons, has an ADP of TE2, and is the No. 2 tight end in my rankings.
Los Angeles Chargers – The Chargers have our second-least-improved schedule in 2018, and it looks to get even tougher with in-division rival Eric Berry returning from injury. Whatever, YOLO as the kids say (are the kids still saying this?), it's too late – I'm already all-in on Hunter Henry in 2018. Since entering the league, Henry has hit at least 70 receiving yards or scored a touchdown in 17 of his 25 targeted games (68 percent). For perspective, that's better than Rob Gronkowski over the same timeframe. He also ranked behind only Gronkowski in PFF grade last season. Over the past two seasons he ranks first in fantasy points per target, second in yards per target, and third in yards per route run. He did this while drawing just 44 percent of his team's tight end targets, to currently-a-free-agent Antonio Gates' 54 percent. After finishing seventh at the position in fantasy points per game last season, Henry feels like a safe bet to beat ADP (TE6) with more volume next year.
San Francisco 49ers – The 49ers have our fourth-toughest strength of schedule in 2018. George Kittle ranked 21st in fantasy points per game across 15 games last season, which might not seem too impressive, but it certainly is for a rookie. His 106.5 fantasy points in 2017 is the 34th-most by a rookie tight end all time, and his volume was even better, ranking 18th in receptions. He also performed much better after Jimmy Garoppolo took over as the starting quarterback (as did the entire team), ranking 10th at the position in fantasy points over the final five weeks of the season. We liked Kittle coming out of college, ranking him as the fourth-best prospect in what is supposedly a historic tight end class. Despite the tough schedule, but considering the quarterback-upgrade and the fact that tight ends typically make a massive fantasy improvement in year two he's a great dynasty stash. Still, his redraft ADP (TE13) is a little too high for my liking.
Minnesota Vikings – The Vikings have our fifth-toughest tight end schedule in 2018, but I'm still excited about Kyle Rudolph's fantasy prospects in 2018. Up until an ankle injury suffered in Week 14, Rudolph averaged 11.2 fantasy points per game and 5.8 targets per game. If over a full season, this would have ranked sixth- and seventh-best respectively. In the season previous, he ranked second in total fantasy points and total targets. There's little risk and a lot of upside at his current ADP (TE8).