We're coming down the home stretch of the fantasy football draft season, so it's time for another update to our overall PPR rankings for 2018. You can use these rankings to put the finishing touches on your draft board. Remember to also check out our tiers for quarterback, running back, wide receiver, and tight end.
(UPDATED Aug. 21)
1. Le'Veon Bell (RB1) – We're splitting hairs between the top two options this year, but Bell is coming off a massive 400-touch season and should continue to see loads of volume.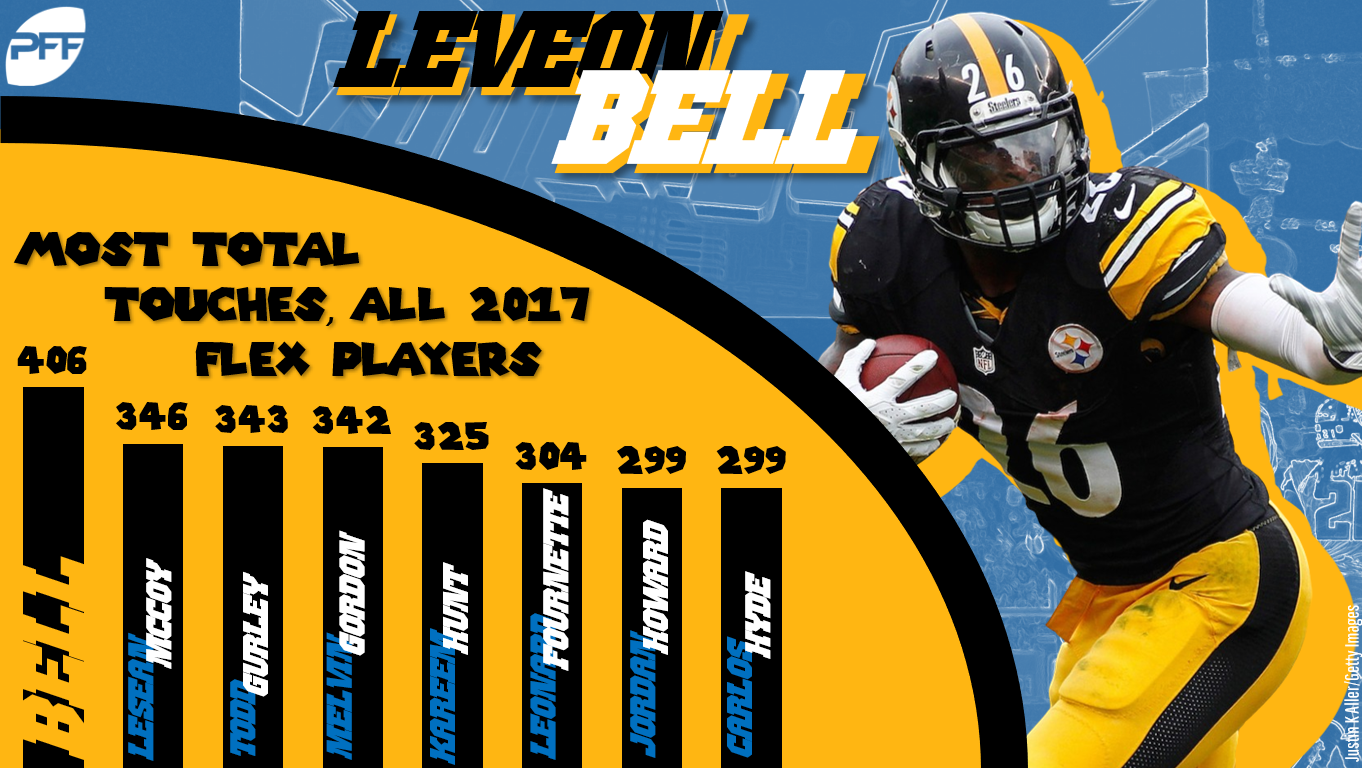 2. Todd Gurley (RB2) – Gurley rebounded in a big way, but don't expect him to find the end zone 19 times again this season.
3. David Johnson (RB3) – Johnson returns from injury but should see plenty of work as the Cards' primary offensive weapon this year.
4. Ezekiel Elliott (RB4) – This scoring format isn't ideal for Elliott, but he's still a strong option thanks to his heavy volume as a runner.
5. Antonio Brown (WR1) – He's the greatest wideout of his generation and continues to pad his resume to be placed in the conversation of greatest of all time.
6. Alvin Kamara (RB5) – Mark Ingram's suspension vaults Kamara up a few spots. Don't expect him to last much further that the middle of the first round.
7. Saquon Barkley (RB6) – He nearly broke the Internet with his first preseason carry and is in a prime spot to produce with little competition for touches on the Giants' depth chart.
8. DeAndre Hopkins (WR2) – With Deshaun Watson back under center, the sky is the limit for Hopkins' fantasy value this year.
9. Melvin Gordon (RB7) – He isn't the most efficient runner, but Gordon has almost no competition for touches in a strong offense.
10. Julio Jones (WR3) – Sure, the touchdown productivity isn't where you want it to be, but Jones has been spectacularly efficient from a yardage standpoint over the last four seasons.
11. Odell Beckham Jr. (WR4) – He has arguably the highest ceiling of any wideout, but there are still some concerns about the overall state of the Giants' offense following a down year for the team.
12. Kareem Hunt (RB8) – We may see a slight reduction in Hunt's volume, but he remains a strong option in a very favorable offense.
13. Leonard Fournette (RB9) – Like Elliott, Fournette doesn't benefit from PPR scoring as much as some of the other top running backs, but his volume as a runner places him on the fringe of Round 1.
14. Michael Thomas (WR5) – Thomas is coming off a 100-catch season and the scary thing is that there's still room to grow.
15. Dalvin Cook (RB10) – Cook got off to a hot start before the injury last season. Expect him to pick right up where he left off.
16. Keenan Allen (WR6) – Allen had a massive 2017 campaign is primed for another 100-catch season.
17. Christian McCaffrey (RB11) – McCaffrey led all running backs in targets last season, and there's a chance he sees an increased workload as a runner.
18. Devonta Freeman (RB12) – Freeman is still splitting touches with Tevin Coleman, but his use in the red zone keeps in in the RB1 conversation.
19. A.J. Green (WR7) – Thought he's overshadowed by other names at the position, Green has been about as consistent as they come in his seven years in the league.
20. Rob Gronkowski (TE1) – When he's on the field, Gronk is the most dominant player at his respective position in the league.
21. Davante Adams (WR8) – Only two wide receivers caught double-digit touchdowns last year. Adams was one of them.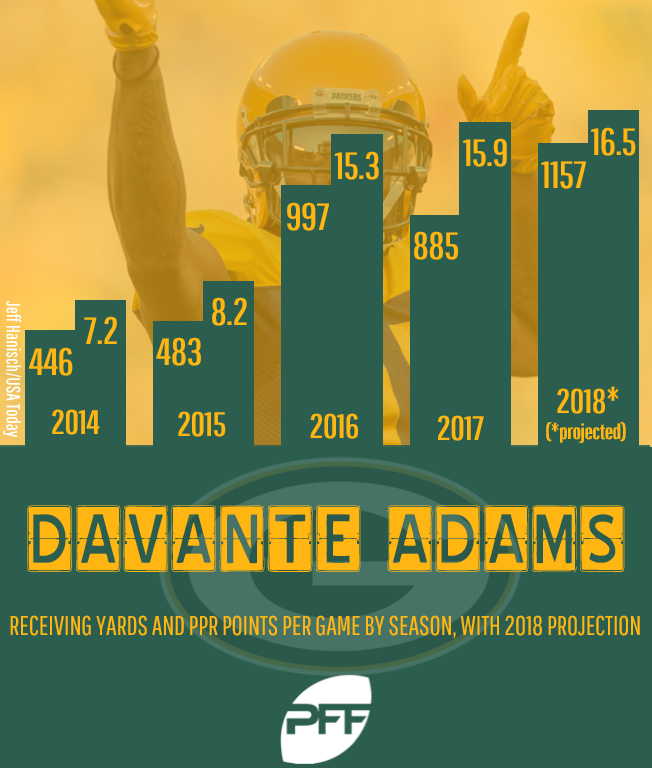 22. Travis Kelce (TE2) – Last year's No. 1 fantasy tight end has arguably a higher ceiling in 2018 with Patrick Mahomes under center.
23. Mike Evans (WR9) – There's no denying Evans' upside, but his inconsistencies could push him back to the third round of drafts.
24. Jerick McKinnon (RB13) – He's banged up in camp, but still is poised to touch the ball a ton in a favorable offense.
25. Adam Thielen (WR10) – Thielen is coming off a 90-catch year where he put up nearly 1,300 yards, and he gets an upgrade at quarterback. Giddy up.
26. Zach Ertz (TE3) – Tight end is so thin this year that it makes sense to grab one of the big three before the end of the third round.
27. T.Y. Hilton (WR11) – With Andrew Luck on the field, Hilton has been a borderline elite WR1, and signs point to Luck being fully healthy to start the season.
28. Larry Fitzgerald (WR12) – He's up there in age, but Fitzgerald has three straight 100-catch seasons.
29. Joe Mixon (RB14) – Mixon got off to a hot start in the preseason and poised for a breakout year with an upgraded offensive line in Cincinnati.
30. Doug Baldwin (WR13) – He's banged up in training camp, but Baldwin should be ready to roll by the start of the season.
31. Stefon Diggs (WR14)
32. Tyreek Hill (WR15)
33. LeSean McCoy (RB15)
34. Allen Robinson (WR16)
35. Golden Tate (WR17)
36. Amari Cooper (WR18)
37. Kenyan Drake (RB16)
38. Demaryius Thomas (WR19)
39. Alex Collins (RB17)
40. Jarvis Landry (WR20)
41. Jay Ajayi (RB18)
42. JuJu Smith-Schuster (WR21)
43. Marvin Jones Jr. (WR22)
44. Jordan Howard (RB19) – Yes, he has back-to-back 1,000-yard rushing seasons, but be careful to not overvalue Howard.
45. Lamar Miller (RB20)
46. Mark Ingram II (RB21)
47. Aaron Rodgers (QB1)
48. Josh Gordon (WR23) – We're moving Gordon back up after the upside wide receiver reported to Browns camp. Keep in mind that he's yet to be cleared to practice.
49. Derrick Henry (RB22)
50. Brandin Cooks (WR24)
51. Tom Brady (QB2)
52. Russell Wilson (QB3)
53. Royce Freeman (RB23) – The rookie running back has been impressive in the preseason and is a sneaky bet to break out this year.
54. Michael Crabtree (WR25)
55. Alshon Jeffery (WR26)
56. Cam Newton (QB4)
57. Chris Hogan (WR27)
58. Emmanuel Sanders (WR28)
59. Greg Olsen (TE4)
60. Dion Lewis (RB24)
61. Delanie Walker (TE5) – Sure, he only scored three touchdowns last year, but Walker has been extremely productive in his time with the Titans.
62. Randall Cobb (WR29)
63. Evan Engram (TE6)
64. Robert Woods (WR30)
65. Chris Thompson (RB25)
66. Corey Davis (WR31)
67. Rex Burkhead (RB26)
68. Sammy Watkins (WR32)
69. Jimmy Graham (TE7)
70. Robby Anderson (WR33)
71. Carson Wentz (QB5)
72. Tevin Coleman (RB27)
73. Jamison Crowder (WR34)
74. Marquise Goodwin (WR35)
75. Kirk Cousins (QB6)
76. Kyle Rudolph (TE8)
77. Pierre Garcon (WR36)
78. Marshawn Lynch (RB28) – The Raiders run game is a mess to decipher for fantasy purposes, so it's best to not overvalue Lynch in drafts.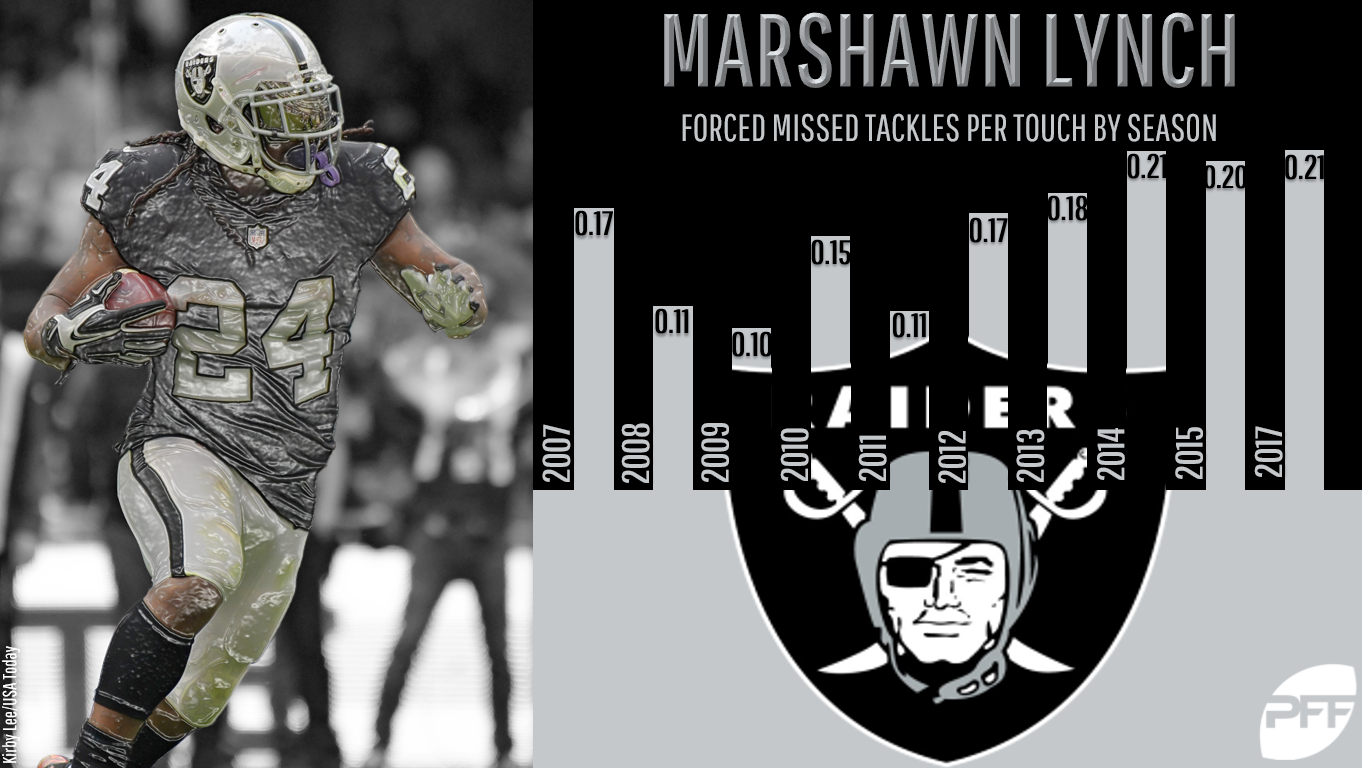 79. Devin Funchess (WR37)
80. Jack Doyle (TE9)
81. Deshaun Watson (QB7)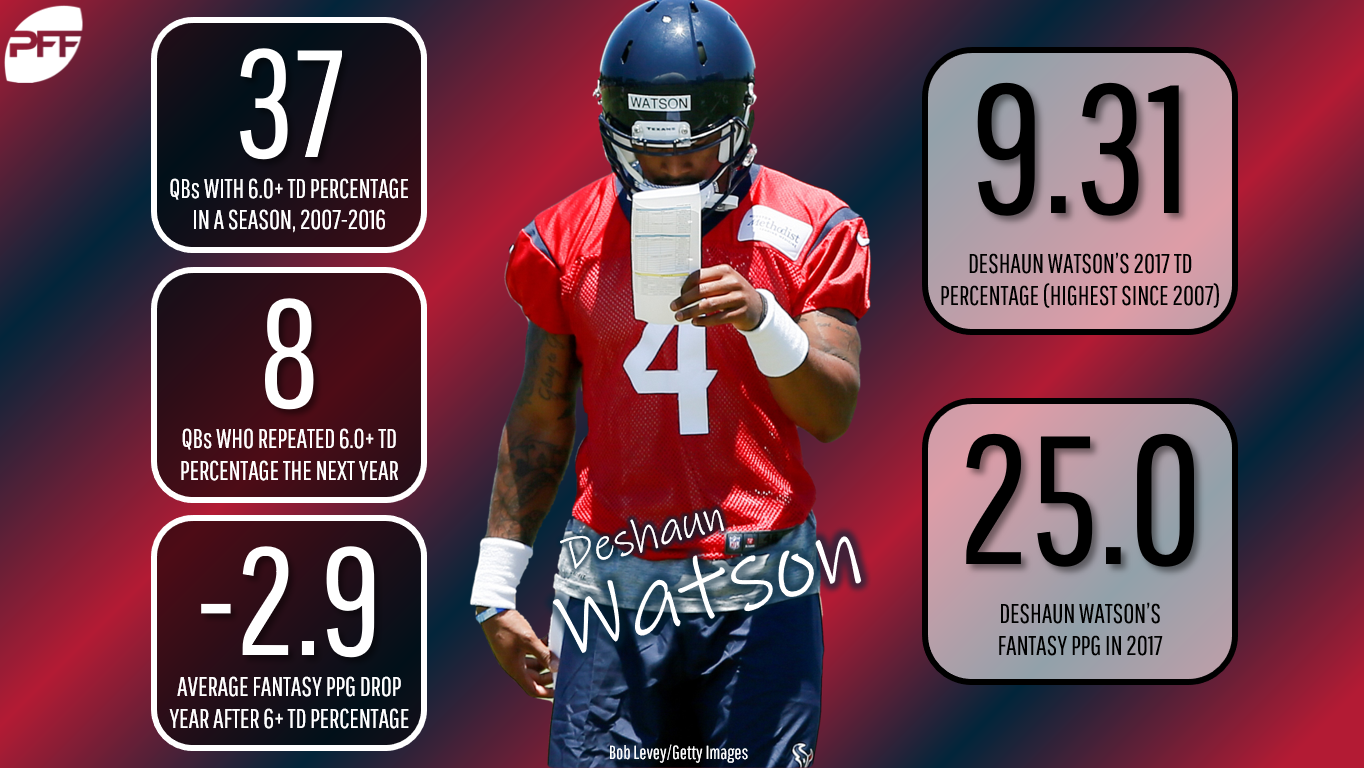 82. Tarik Cohen (RB29)
83. Kelvin Benjamin (WR38)
84. Duke Johnson Jr. (RB30)
85. Will Fuller V (WR39)
86. Rashaad Penny (RB31)
87. Cooper Kupp (WR40)
88. Sony Michel (RB32) – He's missing time in camp due to injury, but Michel has a lot of talent and still should be a factor at some point in 2018.
89. Ben Roethlisberger (QB8)
90. Sterling Shepard (WR41)
91. Julian Edelman (WR42)
92. Kenny Stills (WR43)
93. Andrew Luck (QB9)
94. Jordy Nelson (WR44)
95. Marlon Mack (RB33)
96. Nelson Agholor (WR45)
97. Jordan Reed (TE10)
98. DeVante Parker (WR46) – Parker's preseason injury moves Kenny Stills to the preferred fantasy wide receiver in Miami.
99. Isaiah Crowell (RB34)
100. Marqise Lee (WR47)
101. Allen Hurns (WR48)
102. Kerryon Johnson (RB35)
103. Matthew Stafford (QB10)
104. Ronald Jones (RB36)
105. Drew Brees (QB11)
106. Trey Burton (TE11) – He's this year's best bet to break out at tight end.
107. Cameron Meredith (WR49)
108. James White (RB37)
109. Philip Rivers (QB12)
110. Jamaal Williams (RB38)
111. Giovani Bernard (RB39)
112. Jimmy Garoppolo (QB13)
113. Rishard Matthews (WR50)
114. David Njoku (TE12)
115. Patrick Mahomes (QB14) – He showed in the preseason that his arm is the real deal, but buyer beware that it could be a bumpy ride in Mahomes' first season as a full-time starter.
116. Mohamed Sanu (WR51)
117. Matt Ryan (QB15)
118. Jared Goff (QB16)
119. Alex Smith (QB17)
120. Tyler Lockett (WR52)
121. Carlos Hyde (RB40)
122. D.J. Moore (WR53)
123. Devontae Booker (RB41)
124. Marcus Mariota (QB18)
125. George Kittle (TE13)
126. Chris Carson (RB42) – Carson looks like he'll be the early-season lead back in Seattle, but he's a risky fantasy pick with Rashaad Penny in the mix.
127. Dak Prescott (QB19)
128. Kenny Golladay (WR54)
129. Tyler Eifert (TE14)
130. Paul Richardson (WR55),
131. Mitchell Trubisky (QB20)
132. Charles Clay (TE15)
133. Anthony Miller (WR56) – The exciting rookie is poised to have a big role in the Bears' offense this season.
134. Calvin Ridley (WR57)
135. Jared Cook (TE16)
136. Theo Riddick (RB43)
137. Austin Seferian-Jenkins (TE17)
138. Chris Godwin (WR58)
139. Andy Dalton (QB21)
140. Eric Ebron (TE18)
141. John Brown (WR59)
142. Ty Montgomery (RB44) – Green Bay will likely use all three of their backs this year, but Montgomery projects to be the primary pass-catcher.
143. Cameron Brate (TE19)
144. Michael Gallup (WR60)
145. O.J. Howard (TE20)
146. Josh Doctson (WR61)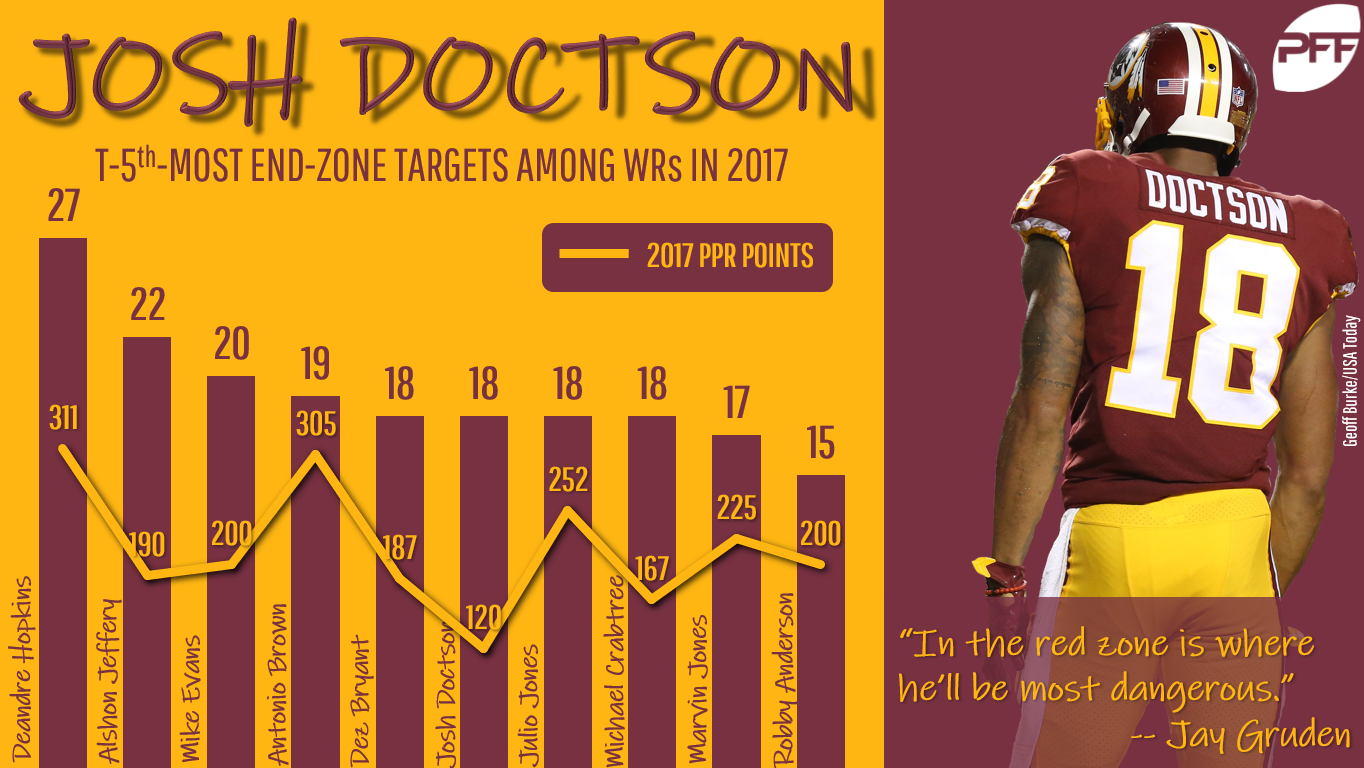 147. DeSean Jackson (WR62)
148. Mike Gesicki (TE21)
149. Blake Bortles (QB22)
150. Adrian Peterson (RB45) – The veteran only barely makes the list after signing with the Redskins. Fantasy championships typically aren't one on the backs of over-the-hill running backs.