Take a glance across the early 2018 PFF rankings and you'll find only a few differences at who each of our analysts have atop the various positions.
There are a handful of favorites to be the top producer at their respective position, but there are some longshots too. Over the next few weeks we will be looking at some players that have a strong chance at coming out on top by position.
We will start at quarterback where last year wasn't great for production. Only 12 passers reached the 250-point plateau in 2017, the lowest number in five years. Let's take a look at some potential QB1 candidates for 2018 and along with my opening odds.
The chalk
Odds: 5/2
Before seeing his 2017 derailed with a broken collarbone, Rodgers finished as fantasy's top quarterback only twice since taking over as a starter in 2008 but ended as one of the top two at the position seven times in nine seasons.
Rodgers is the favorite to lead the position because he offers an extremely high ceiling, but also possesses as high a floor as any signal-caller. He has 38 or more TD passes in four of his last five seasons where he missed a game or fewer while delivering at least 4,295 passing yards and 257 rushing yards in each of those campaigns. Durability and age though keep his odds modest.
Odds: 4/1
Wilson outscored the next-closest quarterback by nearly three fantasy points per game last season. He was all Seattle had offensively, becoming the first player in league history to account for 100 percent of a team's passing yards and at least 30 percent of the team's rushing yards. The Seahawks invested a first-round pick on running back Rashaad Penny in the hopes of having someone else serve as the lead rusher.
Durability and consistency work in Wilson's favor. During his six seasons as a pro he has never missed a game and has finished no worse than 11th in fantasy scoring. A decline in rushing attempts along with playing a poor offensive line and some tough divisional matchups are the primary concerns.
Odds: 6/1
Brady defied the odds once again by leading the league with 4,577 passing yards a year ago. He averaged over 19 fantasy points per game, something no quarterback over 40 had ever accomplished. Now a year older, can the GOAT continue to beat Father Time? It's hard to envision a 41-year-old finishing as QB1 in fantasy, but if anyone could Brady is the guy.
Brady boasted a league-best 96.6 passer rating under pressure in 2017 and remains a top-tier fantasy asset. The Patriots have enough weapons in the fold at wide receiver to remain a potent passing attack and he gets an extra boost from having a stable of great pass-catching running backs and Rob Gronkowski to throw to.
Value plays
Odds: 7/1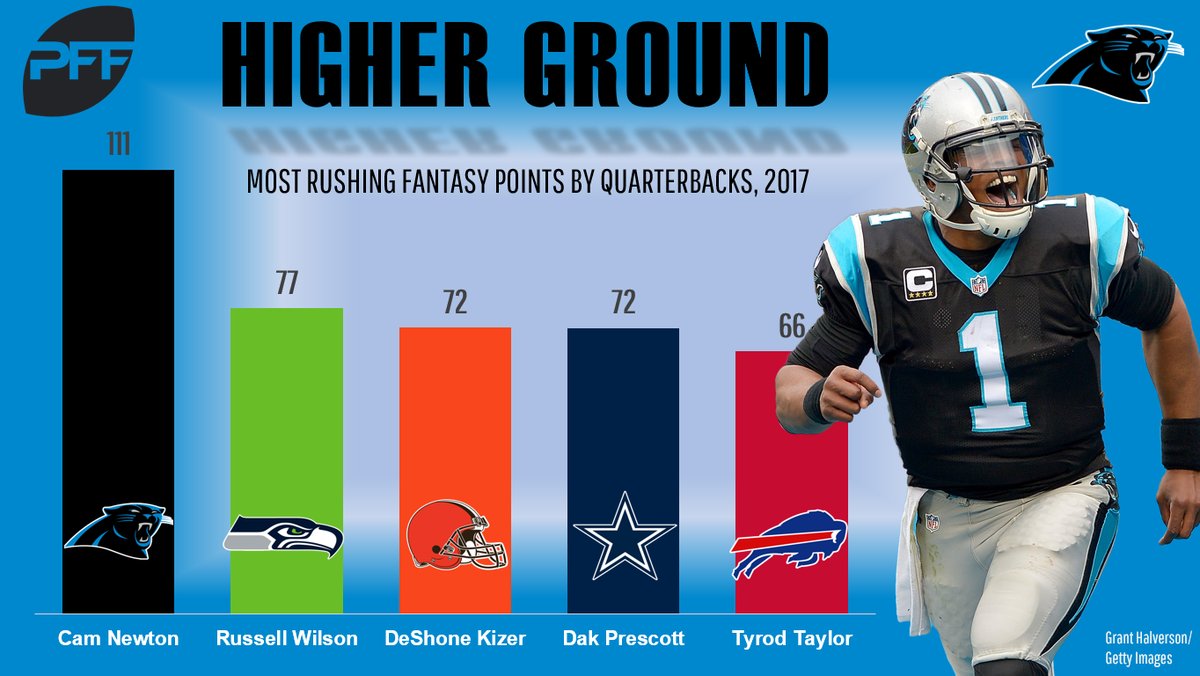 Leading the league in rushing yards at quarterback almost always translates into fantasy success, resulting in top-10 finishes at the position eight times over the past decade. Newton led all quarterbacks with 754 rushing yards in 2017. Despite head coach Ron Rivera insisting he would run less, the Panther finished with the second-most rushing attempts by a quarterback in the Super Bowl era.
Newton has finished as a top-four fantasy quarterback in five of his seven seasons as a pro. He has eclipsed 30 fantasy points in game 18 times in his career, which is the most in the NFL during that span. He's a bit lower in the rankings, but Newton might be the best value play on the board here.
Odds: 8/1
When Watson went down with his ACL injury, he was leading all quarterbacks in both fantasy points per game (25.0) and fantasy points per dropback (0.73). The 168.9 fantasy points were the most by a quarterback through their first seven career contests.
Assuming he's fully recovered from his injury, the sky could be the limit for Watson in the season ahead. However, the hype train is rolling fast. Given his small-sample size, regression feels inevitable. We've likely seen his ceiling, but without knowing his floor it's hard to know where in between is right now. I am optimistic about his 2018 outlook, but that optimism doesn't match the perception of the majority.
Which of these quarterbacks has the best chance to lead the position in fantasy points in 2018?

— Dan Clasgens (@DanClasgens) May 13, 2018
Odds: 12/1
Cousins finished fifth in fantasy scoring among quarterback during his final campaign in Washington. He's one of just three quarterbacks, joining Drew Brees and Matthew Stafford, to finish inside the top 10 in each of the last three seasons.
Now in Minnesota, Cousins is on a better team and surrounded by a whole arsenal of weapons. However, he's no longer playing in Jay Gruden's pass-happy offense. With Dalvin Cook and a top-ranked defense the Vikings won't need him to throw 37-plus times per game which is something he did eight times a year ago. The veteran will be hard-pressed to crack the top three, but with two top-15 wide receivers the tools are in place to surprise.
If things break right
Odds: 14/1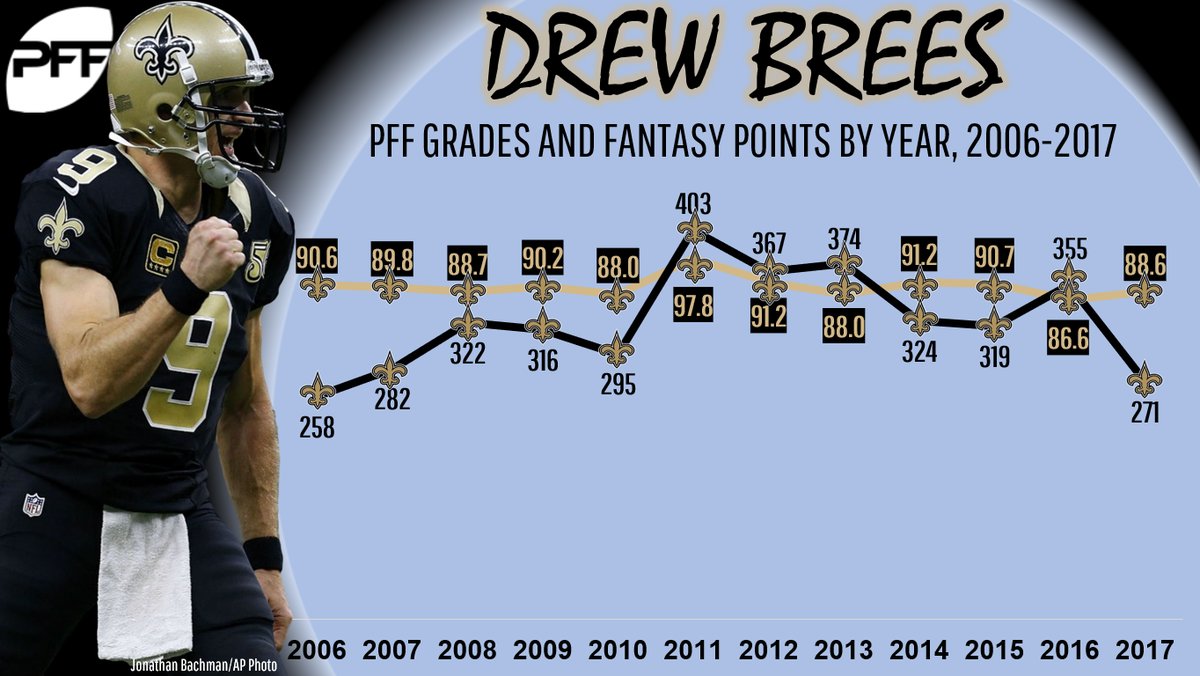 The Saints defied odds last season by having two elite fantasy RB1s in the same backfield. That led to Brees seeing his fantasy production plummet. He threw for his fewest passing yards (4,334) and passing touchdowns (23) since joining the Saints in 2006.
With Mark Ingram suspended for the first four games, the Saints will likely count on Brees more right out of the gate. Plus, with Alvin Kamara as the centerpiece, a short pass could be even more lethal than a run. New Orleans also added some more wide receivers, headlined by free agent Cameron Meredith and rookie Tre'Quan Smith. It would take a big bounce back for Brees to hit here, but despite his declining skill set his environment is still very good.
Odds: 16/1
The Eagles are going to take their time with Wentz as he recovers from his late-season ACL injury. That's easy to do when your backup won the Super Bowl MVP award. With the danger of Nick Foles starting the year under center in Philadelphia, Wentz's stock is starting to drop a bit.
Wentz has a bright future and he put it on full display during his own MVP run last year. From Weeks 5 to 14 last year only Wilson scored more fantasy points and no quarterback had more than his 0.64 fantasy points per dropback. If that version of Wentz shows up again and plays a full season this wager could pay off, but that is a big if.
The long shot
Odds: 75/1
Looking outside the top 10 if a dart needs throwing, Goff becomes an appealing option. The Rams went from a league-worst 14.0 points per game in 2016 to a league-best 29.3 last year in the first season under new head coach Sean McVay.
Goff did a complete 180 under McVay's tutelage as he passed for 3,809 yards and 28 touchdowns, completing 62.1 percent of his passes. It was giant leap forward from what we saw from him during his rookie campaign a year earlier. With another year in the system and the addition of Brandin Cooks, another step forward may be possible.