Following the NFL draft, we are officially in what I like to call startup season. New dynasty leagues are being formed every day, and each league has its own set of unique rules and challenges for you to overcome as an owner. If you're entering your first superflex league, you'll soon find out that this type of format returns prominence to the quarterback position.
For those unfamiliar, superflex refers to an additional flex spot that allows you to use either a QB/RB/WR/TE in that slot. It changes the whole dynamic of the draft, with quarterbacks surging in value. QB2s (QB13-QB24) often far outscore traditional flex points accrued from an RB3/WR4. Simply put, if you're playing in a superflex league, you should be rostering a quarterback in that spot.
PPR Fantasy Points per Game
Position
QB2 Avg
RB3 Avg
WR4 Avg
TE2 Avg
2015
17.3
11.4
11.5
9.5
2016
16.0
11.3
11.8
9.6
2017
15.2
10.4
10.6
7.9
Comparing quarterbacks who finished in fantasy scoring ranked 13th to 24th versus RB25-36, WR37-48, and TE13-24, we can see that there really is a seismic shift in fantasy points accrued. Quarterbacks generally far outscore other positions on a regular basis and I'd rather start Alex Smith over Isaiah Crowell any day of the week.
While the table above is a bit of a crass generalization, you get the point I'm trying to convey. Quarterbacks should be flexed in superflex leagues. How does that translate to a startup dynasty draft? Quarterbacks vault up the draft board and are no longer just an afterthought. Like most things in fantasy football, there are several strategies in play that you can utilize to your advantage. Let's go over the top ones.
Early-round drafting
This style of drafting aggressively targets quarterbacks early in your draft, typically netting you two quarterbacks in your first three rounds. Sure, starting a lineup with Aaron Rodgers and Russell Wilson can give you peace of mind, but what's the opportunity cost? Is it worth netting two high-end caliber quarterbacks and foregoing top-12 running backs and wide receivers?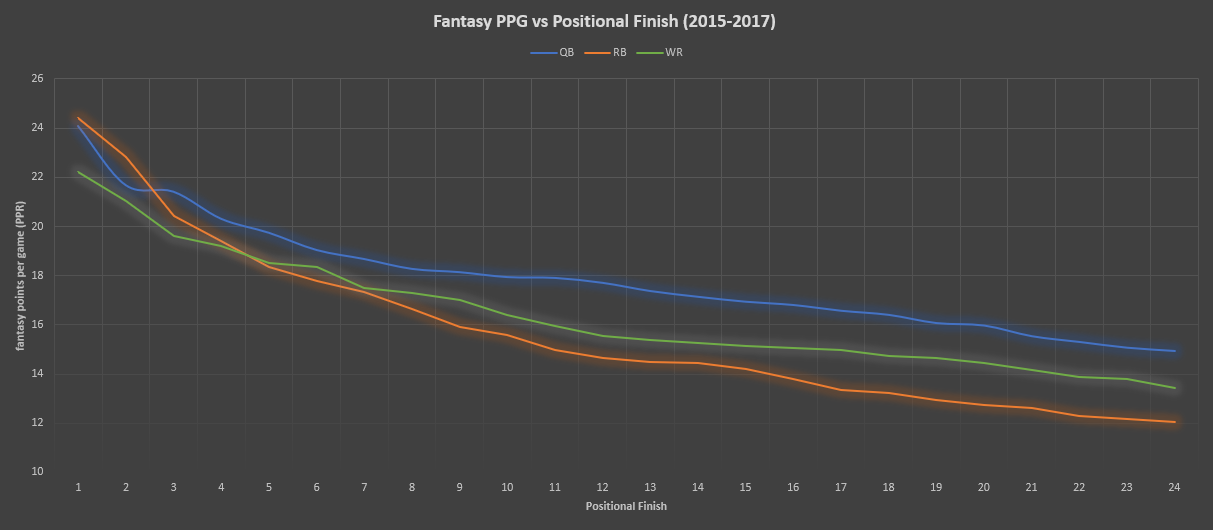 You can see from the graph above that the dropoff in quarterbacks is far less steep when compared to top-tier running backs and wide receivers over the past three years. There's a much higher discrepancy in fantasy scoring between the RB6 and RB12 (3.1 PPG) compared to the QB6 and QB12 (1.3 PPG). Double-dipping with two early quarterbacks may seem like a positional advantage, but the relative cost you're giving up when foregoing a top-end running back or wide receiver doesn't really make it worth it.
Studs-n-duds drafting
The Studs-n-duds method focuses on taking one quarterback early in your draft and waiting until much later to draft your second one. This strategy allows you to net one of the top quarterbacks without missing out on the top-end running backs and wide receivers.
The luxury of drafting with this strategy allows you to wait quite a while for your second quarterback while hammering the key positions of running back and wide receiver. As previously noted in the graph above, the dropoff in significant contributors at the running back and wide receiver position is stark in contrast to quarterbacks. Late secondary quarterbacks (QB25 and later) can be had in the much later rounds of your draft and still give you nearly the same amount of fantasy points as those taken earlier.
The difference between last year's QB18 and QB24 was just 1.5 fantasy points per game. QB25 and QB30 was the exact same differential. There truly is a minute difference here when stretched over a season, further providing reason for you to load up at other positions and take your second quarterback later in the draft — preferably a high-upside quarterback you believe in.
This is personally my preferred method as it lets me set up my squad for both the long-run and a chance at competing in Year 1. Here's how I started a few recent Superflex mocks and real drafts over the past month:
I chose these examples as they varied in both where my first draft pick was allocated and where I ended up taking a quarterback. No matter where you are picking in your draft, there are plenty of ways to walk out of the first three rounds with a stud quarterback and two top-shelf starters. In each one of these leagues, I waited quite a while before selecting my superflex option to pair with my starter. I'm still quite confident that the rest of my squad is strong enough to allow me to trot out a combination of Rodgers and Andy Dalton (League 1), Newton and Case Keenum (League 2), and Watson and Alex Smith (League 3) with confidence.
Late-round drafting
The LRQB method continues to be an effective way to draft in leagues where you start just one quarterback, but is it a viable one to pursue in superflex?
In short, yes. You can come away with a star-studded RB/WR/TE group at the beginning of the draft before taking late-round quarterbacks. However, most of these late-round options are being taken late for a reason. They're either a matchup-dependent quarterback, have another quarterback they're battling with for starting time, or they're on their last legs and retirement is just around the corner. No matter the reason, if you're foregoing early quarterbacks, it's best to just take a shotgun approach and select several in this area and play the matchups. We've already discussed how little difference there is over a year-long tenure, so playing the best matchup possible from among three to four quarterbacks would be the recommended approach.
Current late-round dynasty quarterbacks should make this a rather easy task to complete. Current ADP has Ben Roethlisberger, Alex Smith, Blake Bortles, Tyrod Taylor, and Eli Manning all going beyond QB24. If you elect to wait on the quarterback position, you can still put together a superflex QB Frankenstein by mixing and matching your late-round selection on a per-matchup basis.
There are two important things that I'd recommend when prepping for your superflex startup draft. The first would be to create a personalized rankings sheet catered to your league's scoring system. Feel free to use PFF's rankings as a guide but adjust to your own preferences and adapt to your league's scoring. It's your roster after all. You should build a roster that you enjoy working with and believe in. The second suggestion is to enter the draft with a willingness to be flexible. If there's a run on early quarterbacks, zig when the crowd zags and load up on stud running backs and wide receivers. You can find plenty of value later in the draft without sacrificing those valuable early picks on mediocre quarterbacks. Grab yourself another potential WR2 and take a quarterback later in the draft without mitigating upside.