The NFL draft is coming up later this month. As such, much of April will be spent looking at this year's crop of prospects and rightfully so.
But before we find out where some in the Class of 2018 are going to land, we are going to spend some time each Tuesday this month taking a look back at the Class of 2017 to see what we can expect from these players in the season ahead in fantasy.
Let's start the series by looking at some sophomore signal-callers. Over the years we've witnessed some big-time performances by quarterbacks during their second season, including the near-MVP run turned in by Carson Wentz last season in Philadelphia.
While there is some intrigue around 2018's rookie QB class, last year's batch of quarterbacks offer some upside as well:
2017 finish: QB26 | 2018 PFF rank: QB7
Before sustaining a devastating knee injury, Watson had a string of performances that were like none we have ever seen for a rookie quarterback. His 168.9 fantasy points were the most by a quarterback through their first seven career games. It also marked the 10th-most fantasy points through seven games by any quarterback at any point of their career.
When Watson tore his ACL he was leading all quarterbacks in both fantasy points per game (25.0) and fantasy points per dropback (0.73, 19.5 percent higher than the next quarterback on the list).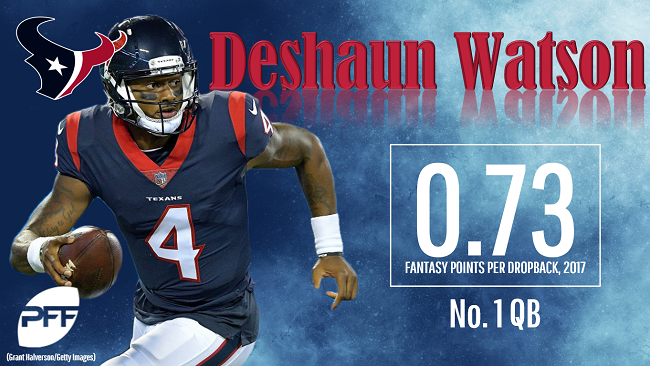 If you spread his 27.3 average fantasy points out over 16 games, Watson would have finished with the highest-scoring single-season mark in the history of the game. His ability to do damage on the ground and to move around in pocket to buy time for his targets to get down the field has been a challenge for opposing defenses.
Watson is reportedly ahead of schedule and the expectation is that he'll be a full go by Week 1. If his health cooperates, the Texan will be a hot commodity. It will be hard for him to match last year's success, but Watson offers top-five potential.
2017 finish: QB53 | 2018 PFF rank: QB17
The Chiefs saw enough from Mahomes during his first year in Kansas City that they felt comfortable trading Alex Smith to Washington and handing over the offense to the player they drafted with the 10th overall pick a year ago.
Mahomes entered the league raw after turning pro following his junior season at Texas Tech. Andy Reid sat him all year, before giving him the starting nod in Week 17. While his stat line that day wasn't anything to write home about, Mahomes had his skill sets on full display.
He has a cannon arm and the ability to drive the ball down the field. That will work well with speedsters Tyreek Hill and the newly signed Sammy Watkins. The youngster also has the ability to pile up some stats as a rusher and that elevates his fantasy ceiling.
Considering Smith finished inside the top five in fantasy a year ago at quarterback in this system and with these weapons, Mahomes offers sneaky top-10 potential at the position if things break right. His stock is on the rise and fantasy owners are already taking notice, so he could come with a hefty price tag by time August rolls around.
Where do you think Patrick Mahomes will finish among QBs in fantasy points in 2018?

— Dan Clasgens (@DanClasgens) March 31, 2018
2017 finish: QB28 | 2018 PFF rank: QB24
Trubisky posted some pedestrian runners as a rookie, eclipsing 193 passing yards in just three of his 12 starts. He was surrounded by one of the worst supporting casts in the league in the passing game, yet he showed a few flashes during 2017.
He's a good bet to take a big step forward in Matt Nagy's offense and the team is committed to him for the long term. The new head coach is expected to be more aggressive in his play calling and attack things downfield in the passing game and that will favor Trubisky.
The young quarterback was already a big winner this offseason with the changes on the coaching staff and took another step forward in free agency. Adding in a pair of weapons like Allen Robinson and Trey Burton is a big boost to Trubiksy's value both now and in the future.
It's hard to envision Trubisky taking a big enough leap to get into the QB1 conversation in 2018, but he's definitely on the rise in dynasty formats and a good bet to be a solid back-end QB2 in deeper leagues and two-QB setups.
2017 finish: QB23| 2018 PFF rank: QB37
Even though he was the fourth quarterback drafted, the Browns wasted no time throwing Kizer to the wolves as he made the Week 1 start against the Steelers. He was picked off a league-high 22 times and only completed 54 percent of his passes.
After acquiring Tyrod Taylor, Cleveland dealt Kizer to the Packers. He now likely slides in as Aaron Rodgers' primary backup after Brett Hundley disappointed in relief a year ago. Rodgers will be a good mentor for the young quarterback and if the veteran sustains another injury Kizer would be in a much better spot.
His ability to run the ball makes him a fantasy commodity if he ever gets back on the field. Kizer rushed for 419 yards and five touchdowns on 77 carries. He got better as the year progressed and scored over 20 fantasy points in four of his final seven starts in 2017. Still, playing behind Rodgers his fantasy outlook remains dim.
2017 finish: QB50 | 2018 PFF rank: QB40
Despite being in the Wild Card hunt, Buffalo opted to bench Taylor and give Peterman the start in Week 11 in Los Angeles against the Chargers. The rookie responded by throwing five interceptions on just 14 pass attempts and was benched before halftime.
The fifth-round pick got some spot action after the brutal debut but didn't do much more to impress. He finished the regular season with 259 yards, two touchdowns, and five interceptions on 24-of-49 passing.
Taylor was dealt to the Browns, but the Bills signed AJ McCarron in free agency and he is likely to open camp atop the depth chart. The team will also likely address the position in the draft. Peterman may not get another crack and even if he does he's not worth holding onto even in the deepest of dynasty leagues.