Even though rankings and expectations can change for individual players seemingly overnight, for the most part, fantasy footballers do a good job of knowing and understanding a reasonable range of outcomes any given player can produce.
Except for the yo-yo players.
You know, the guys that put up top-three numbers one year and become a first-round fantasy pick the next, only to finish outside of the top-20 at their respective position. And we aren't talking about players that get injured. We're talking about players that are great one year, and simply decent the next, only to be great again the year after that (they'll only be great when you don't own them — let's be honest).
To help you at least try to get some of these yo-yo players right for 2018, we'll go over a list of fantasy's biggest rollercoaster players — and what you can expect from them in 2018.
More often than not, Newton is a truly elite fantasy quarterback with five top-five finishes to his name (out of seven years). But over the last five years, he has been just about a literal yo-yo from a fantasy perspective, finishing fourth, 16th, first, 16th, and second in fantasy points.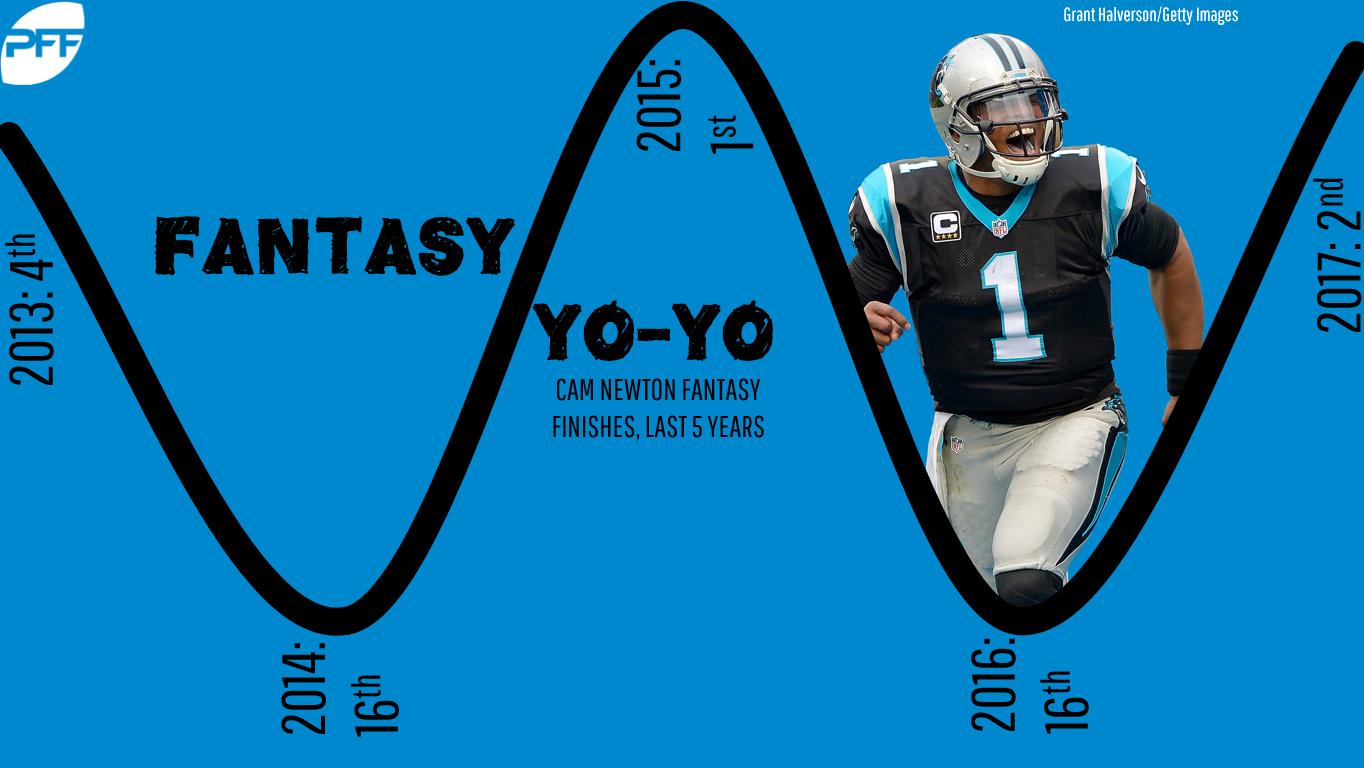 The biggest question mark for Newton heading into 2018 is how new offensive coordinator Norv Turner will run the offense. Any decline in Newton's designed rushes — a category he led all quarterbacks in by almost a factor of four last year — would have a huge negative impact on Newton's overall fantasy production. Unfortunately, Turner hasn't worked with a rushing quarterback recently, so we don't have much to go on in that arena. (Based on comments Turner has made, though, it seems likely that rushing will remain a big part of Newton's game.)
Every PFF ranker has Newton pegged as a top-five guy for 2018, which means there are no real concerns about Newton's ability to stay near the top. One major reason why you can expect Newton to stop the yo-yo in 2018: His supporting cast is vastly improved. Christian McCaffrey enters Year 2, Greg Olsen returns from injury, and D.J. Moore joins the wideout corps as a first-round pick.
Additionally, the team is replacing touchdown vulture Jonathan Stewart with the not-as-good-at-the-goal-line C.J. Anderson.
I didn't just make that last part up, and I do think it's important. Anderson scored on 18.2 percent of his rushes from inside the 5 last year. Stewart's touchdown rate on runs inside the 5 was 31.3 percent. Newton's touchdown rate on such runs was 60 percent. I'm not convinced Anderson outright replaces Stewart in this offense, which could result in even more goal-line carries for Newton.
In his four years in the league, Evans has produced fantasy finishes (PPR format) of 13th, 22nd, third, and 17th. It's hard to believe Evans has only one "WR1" campaign to his name, compared to three "WR2" seasons, but it's the truth.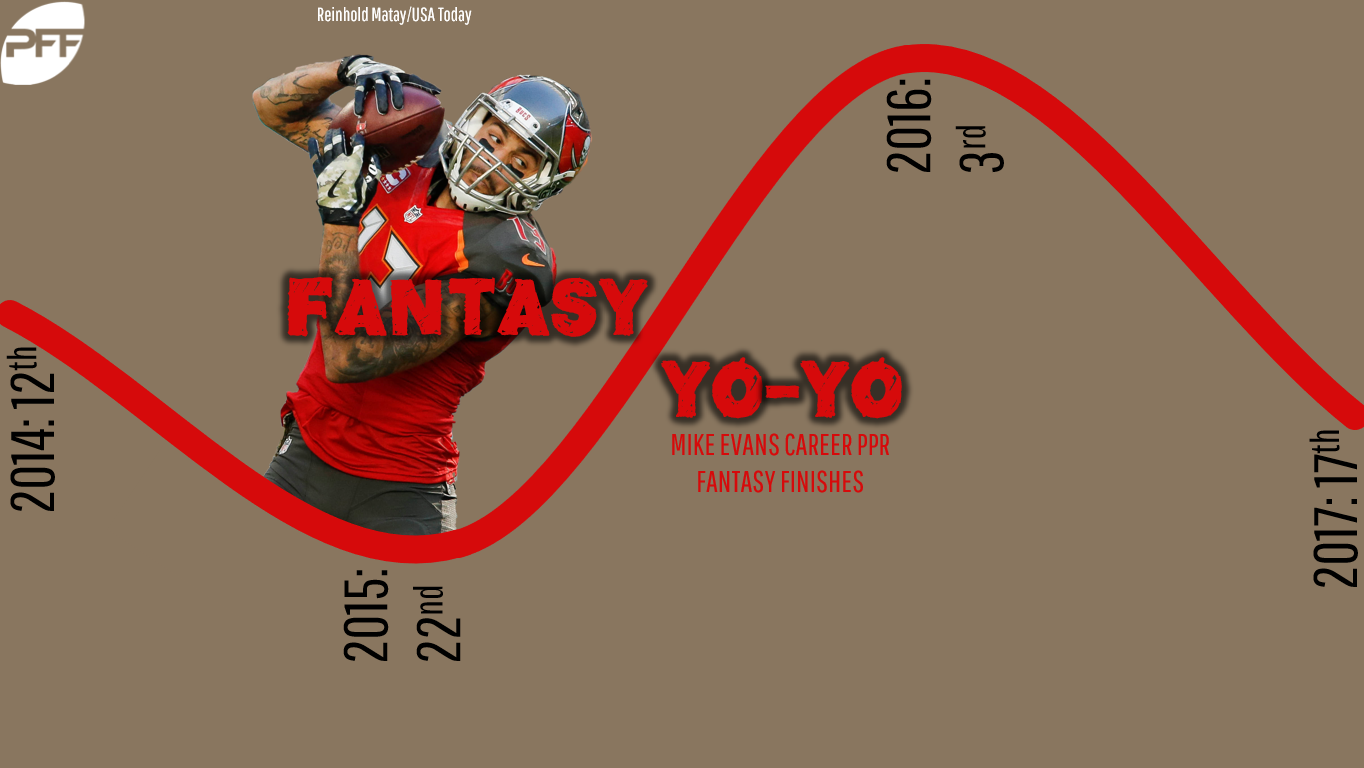 The PFF Fantasy crew, collectively, has Evans ranked at No. 9 for 2018, and every ranker has him in the top 12, which means we do expect him to add another "fantasy WR1" season to his resume.
Why the expected turnaround? Evans saw 19 targets while standing in the end zone last year, but he scored on only five of those passes (26.3 percent). The league average on end-zone targets in 37 percent, and it's reasonable to think Evans — who stands at 6-5 and does have two 12-touchdown seasons to his name already — should be able to perform at least at league average levels when it comes to end-zone opportunities.
A potential looming suspension for starting quarterback Jameis Winston appears bad for Evans, but Ryan Fitzpatrick is a capable backup. In fact, it might actually be a good thing for Evans, as odd as that is. Fitzpatrick passed 30-plus times in a game with Evans active three times last year; in those three games, Evans averaged 10 targets and just under 90 yards a game.
Gurley, fantasy's No. 1 running back from 2017 and our consensus No. 2 for 2018, has fit the yo-yo mold over his first three years. Gurley was a top-five running back in standard leagues as a rookie (in just 13 games) before a sophomore slump that saw him rank 19th in standard and 15th in PPR.
Gurley was prematurely given the bust label last offseason, and his ADP from last season (2.07) now seems like a joke.
His first three years have truly been up-and-down, and the odd thing is, there really weren't many great excuses for his bad 2016 campaign. "Jeff Fisher was the coach" is everyone's go-to punchline — and that certainly played a role — but across the board, Gurley just wasn't good as a sophomore.
The big turnaround for Gurley: He's now a true dual-threat player, which is exactly what you need to get to (and stay at) the top of the fantasy football running back mountain.
Gurley's 64 receptions were fifth-most among all running backs last year, trailing only Le'Veon Bell, Alvin Kamara, Christian McCaffrey, and Duke Johnson. His 788 receiving yards trailed only Kamara, and his six receiving touchdowns paced the position. Don't expect him to yo-yo again this year.
Ryan was always a good — but not great — QB1 option in fantasy. But over the past three seasons, he has produced finishes of 18th, third, and 14th. In other words, he's been yo-yo'ing all over the place.
Ryan's supporting cast for 2018 remains largely same — with some improvements. Julio Jones and Devonta Freeman will remain the focal points of the offense, and even the complementary pieces in Mohamed Sanu and Tevin Coleman remain in town. The team also added a first-round wideout in Calvin Ridley in this year's draft, and Austin Hooper — still only 23 — is entering Year 3.
The quarterback position is loaded for fantasy purposes this year, and if you like waiting at the position, Ryan is an excellent choice. He's a candidate to yo-yo back up the rankings.
In his three years in the league, Cooper has finished 21st overall, 15th overall, and 35th overall — all the while flashing a ceiling as high as anyone's and a floor that's just as low as his ceiling is high.
Anyone who thinks they know exactly what they are getting with Cooper in 2018 is lying. Jon Gruden, who hasn't coached in 10 years, is now running the show in Oakland; Derek Carr, who performed at near-MVP levels in 2016 before doing his best Joe Flacco impression in 2017, remains a mystery; Michael Crabtree, who stole a boatload of end-zone targets from Cooper (but actually caught them), is no longer in town; Jordy Nelson, an even better end-zone threat than Crabtree, joined the team. The list goes on.
Of the five yo-yo players highlighted in this piece, Cooper has the deepest valleys and the highest peaks. Cooper possesses top-10 upside — and he's certainly better than the 35th-overall performance he put up last year — but the reality is that he'll probably end up somewhere in between, in the 20ish range.