Do not make a single pick in any of your fantasy football drafts before exploring PFF's 2021 Fantasy Football Draft Kit. Listed below are links to every article, tool and chart PFF has to offer that will best prepare you for your fantasy football draft. This will be updated regularly between now and Week 1 of the 2021 NFL season.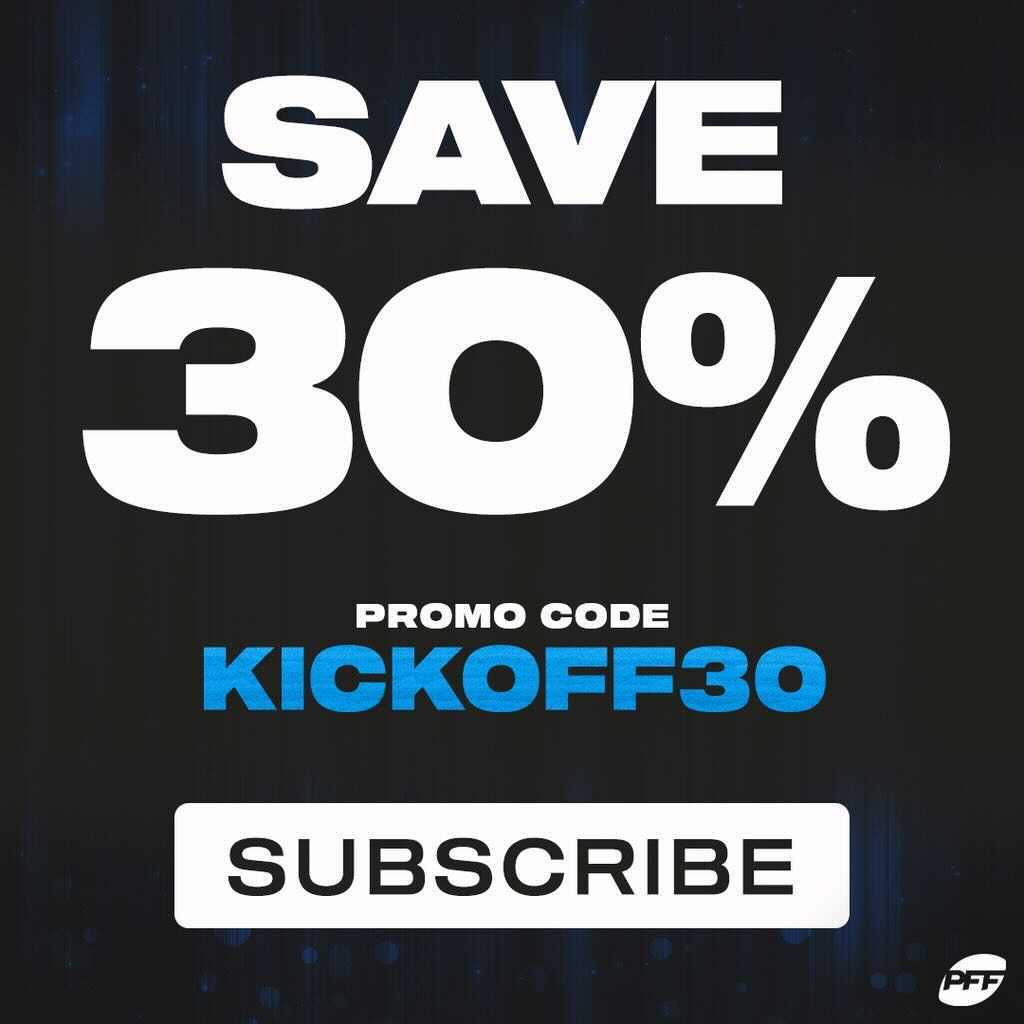 PPR Rankings
0.5 PPR Rankings
Non-PPR Rankings
2QB PPR Rankings
Best Ball Rankings
Dynasty Rankings
Keeper Value Chart
IDP Rankings

All of PFF's fantasy football analysts will have their 2021 fantasy football rankings tiers for all skill positions (QB, RB, WR & TE) linked here before the start of the 2021 NFL season.
PPR Projections
0.5 PPR Projections
Non-PPR Projections
2QB PPR Projections
Best Ball Projections
Dynasty Projections
IDP Projections
All EDGE and ELITE subscribers can create custom cheat sheets for their fantasy football drafts. PFF's 2021 Fantasy Football Draft Guide and the custom cheat sheets are the one-two punch you need to win draft day in your fantasy football leagues. 
Printable Fantasy Football Cheat Sheets by Ranker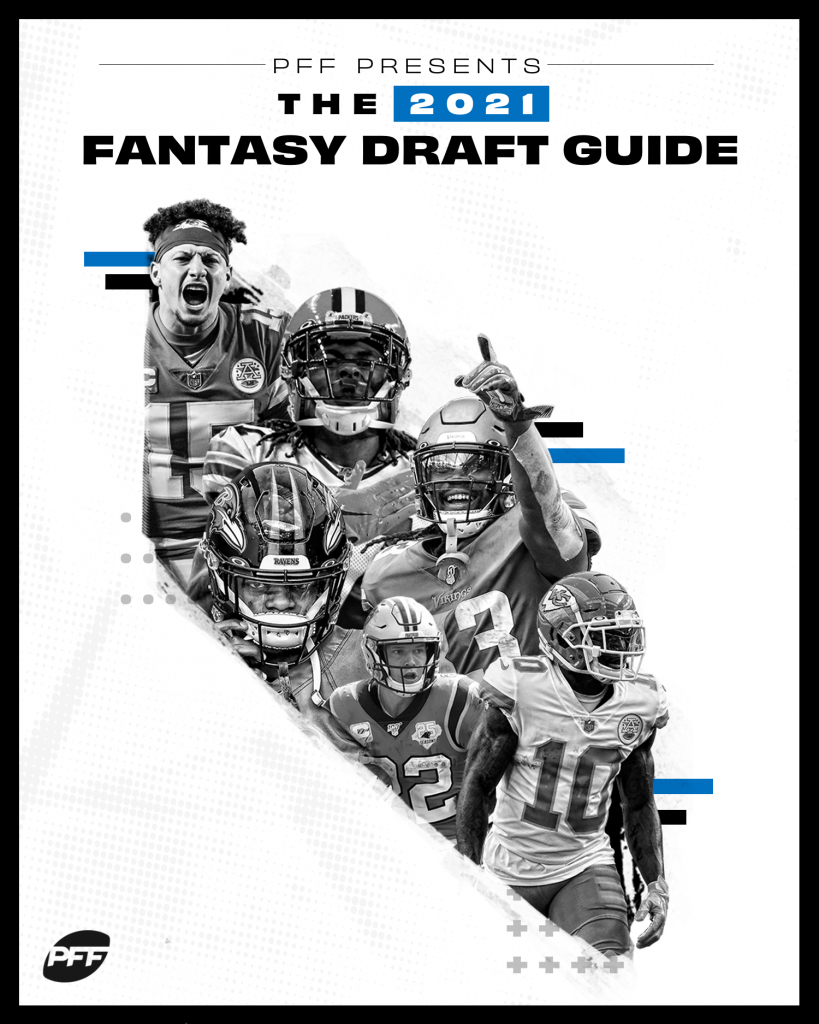 EDGE and ELITE subscribers have access to PFF's 2021 Fantasy Football Draft Guide, which includes all the information necessary for you to DOMINATE your fantasy football draft.
The DraftMaster tool allows you to import your league settings to gain access to customized rankings, tiered cheat sheets and auction prices. Within the DraftMaster tool, you can also run an interactive mock draft with round-by-round suggestions to help you pick the best available players in real-time based on your team needs and league settings.
PFF's Fantasy Strength of Schedule (SoS) metric provides a league-wide, season-long view of opponent matchups for each fantasy position. PFF's version of SoS is the ONLY one available on the market that factors in PFF Player Grades into its methodology to improve its predictive value. This is especially important early in the season to account for roster turnover from the previous year and handling substitutes for injuries week-to-week.
NFC South
New Orleans Saints
Tampa Bay Buccaneers
Carolina Panthers
Atlanta Falcons
AFC South
Tennessee Titans
Houston Texans
Jacksonville Jaguars
Indianapolis Colts
NFC West
San Francisco 49ers
Seattle Seahawks
Los Angeles Rams
Arizona Cardinals
AFC West
Kansas City Chiefs
Denver Broncos
Los Angeles Chargers
Las Vegas Raiders
NFC EAST
New York Giants
Dallas Cowboys
Washington Football Team
Philadelphia Eagles
AFC East
Miami Dolphins
New York Jets
New England Patriots
Buffalo Bills
NFC North
Green Bay Packers
Chicago Bears
Minnesota Vikings
Detroit Lions
AFC North
Pittsburgh Steelers 
Baltimore Ravens 
Cincinnati Bengals 
Cleveland Browns
AJ. Dillon, Green Bay Packers
J.K. Dobbins, Baltimore Ravens
Cam Akers, Los Angeles Rams
Clyde Edwards-Helaire, Kansas City Chiefs
Jonathan Taylor, Indianapolis Colts
D'Andre Swift, Detroit Lions
Antonio Gibson, Washington Football Team
Zack Moss, Buffalo Bills
Miles Sanders, Philadelphia Eagles
Darrell Henderson, Los Angeles Rams
Josh Jacobs, Las Vegas Raiders
David Montgomery, Chicago Bears
Devin Singletary, Buffalo Bills
Gabriel Davis, Buffalo Bills
Bryan Edwards, Las Vegas Raiders
Van Jefferson, Los Angeles Rams
Chase Claypool, Pittsburgh Steelers
K.J. Hamler, Denver Broncos
Tee Higgins, Cincinnati Bengals
Brandon Aiyuk, San Francisco 49ers
Justin Jefferson, Minnesota Vikings
Jalen Reagor, Philadelphia Eagles
CeeDee Lamb, Dallas Cowboys
Jerry Jeudy, Denver Broncos
Henry Ruggs III, Las Vegas Raiders
PFF is excited to introduce the PFF Fantasy Football Podcast with Ian Hartitz, a brand-new podcast set to cover all things fantasy football.
---
PFF Articles By Author
NFL Week 1 DFS Cheat Sheet: All contests
The perfect 2021 fantasy football draft strategy round by round 3.0
NFL Week 1 Fantasy Football Waiver Wire Targets: All league sizes & scoring types
Top fades in fantasy football rankings vs. ADP
2021 Fantasy Football Draft Strategy: How to take advantage of early season strength of schedule
Click here for more of Andrew Erickson's fantasy analysis…
---
Fantasy Football: Top smash plays, upgrades and fades for Week 1
McFarland: Week 1 Fantasy Football Rankings and Tiers
Fantasy Football: Five players to trade for before NFL Week 1
Five fantasy football waiver wire pickups before Week 1
My Guys: Dwain McFarland's top targets in 2021 fantasy football drafts
Click here for more of Dwain McFarland's fantasy analysis…
---
Biggest fantasy football mismatches in Week 1
Fantasy Football: Taking stock of every NFL team's backfield situation ahead of Week 1
Fantasy Football: Week 1 Quarterback Superlatives
Hartitz: Favorite pick in 2021 fantasy football drafts by round
Projecting 2021 fantasy football performance for all 32 NFL passing offenses
100 Fantasy Football Questions in 100 Days
Click here for more of Ian Hartitz's fantasy analysis…
---
NFL Week 1 DFS tournament picks
My Guys: Jarad Evans' top targets in 2021 fantasy football drafts
Fantasy Football: Breaking down NFL wide receivers projected for over 1,000 receiving yards in 2021
Evans: Top-250 PPR Fantasy Football Rankings
Biggest fantasy football takeaways for every team from 2021 NFL training camp
Click here for more of Jared Evans's fantasy analysis…
---
My Guys: Jon Macri's top IDP targets in 2021 fantasy football drafts
IDP Fantasy Football Spotlight: AFC South
IDP Fantasy Football Spotlight: NFC South
IDP Fantasy Football Spotlight: AFC North
IDP Fantasy Football Spotlight: NFC North
Click here for more of Jonathon Macri's fantasy analysis…
---
Fantasy Football: Rostership report and pivot plays from the highest-owned DFS targets in Week 1
NFL Week 1 Fantasy Football Superflex Rankings
Fantasy Football Strength of Schedule Analysis: Wide Receivers
Fantasy Football Strength of Schedule Analysis: Running Backs
Fantasy Football Strength of Schedule Analysis: Quarterbacks
Click here for more of Kent Weyrauch's fantasy analysis…
---
Players to avoid for every round in 2021 fantasy football drafts
Players to target for every round in 2021 fantasy football drafts
Fantasy Football: 3 late-round quarterbacks with league-winning potential
Most undervalued quarterbacks according to the 2021 PFF fantasy football projections
Most undervalued wide receivers according to the 2021 PFF fantasy projections
Most undervalued running backs according to the 2021 PFF fantasy projections
Click here for more of Kevin Cole's fantasy analysis…
---
Key NFL Week 1 matchups to leverage in fantasy football start/sit decisions
My Guys: Nathan Jahnke's top targets in 2021 fantasy football drafts
Fantasy Football Week 1: 5 to Waiver Wire Add, 5 to Cut, 5 to Sell High, 5 to Buy Low
Jahnke: Five Potential League Winners for the 2021 Fantasy Football Season
Fantasy Football: 5 bold predictions for 2021
Click here for more of Nathan Jahnke's fantasy analysis…
---
Fantasy Football: Best and worst DFS targets in Week 1
Fantasy Football 2021: 5 WR/CB matchups to target and 5 to avoid in Week 1
NFL Week 1 Fantasy Football Stock Up, Stock Down Report: Josh Jacobs, Amari Cooper and more
Top-five 2021 fantasy football offense rankings: Kansas City Chiefs, Patrick Mahomes unsurprisingly lead the way
NFL timeshares to watch for 2021 fantasy football
Click here for more of Sosa Kremenjas' fantasy analysis…