Top-end fantasy football options abound in the middle of the first round of fantasy drafts, offering any number of paths to a 2021 best ball title. 
Let's dive into the routes available from the 1.08 draft slot and discover the possibilities of building a superior best ball team to those drafting with a selection inside the top seven. Drafting at the 1.08 creates an easy path to stack the Cleveland Browns, Pittsburgh Steelers, Chicago Bears and Tampa Bay Buccaneers — setting the stage for a championship run.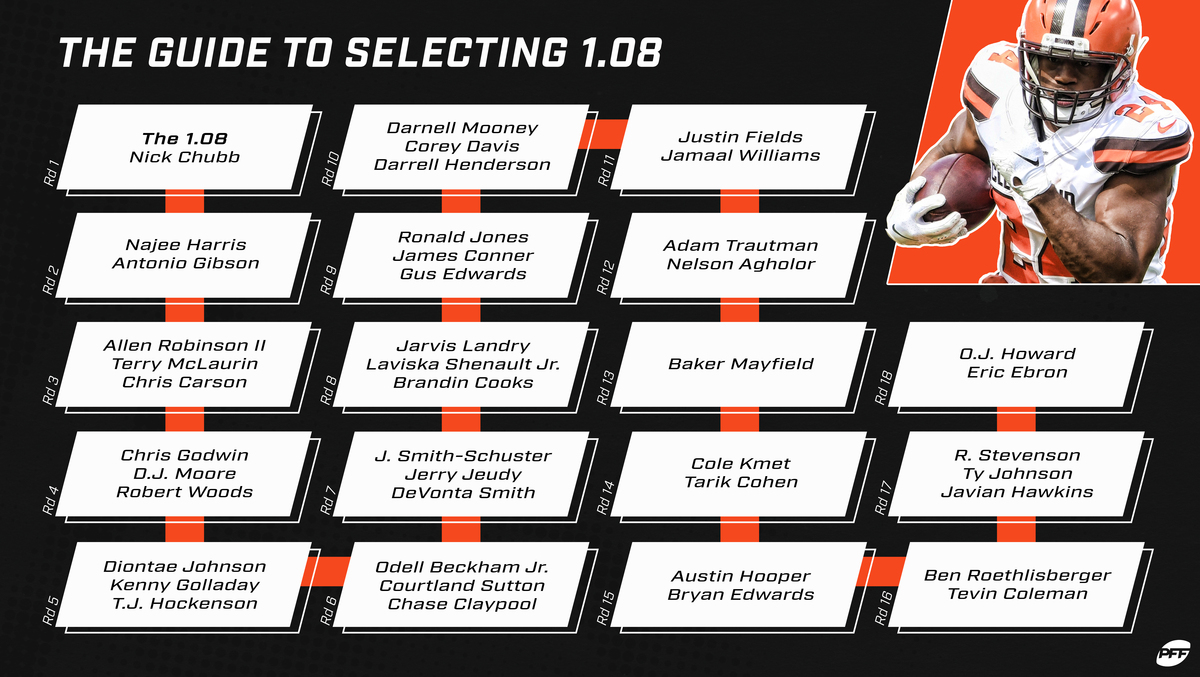 Editor's Note: Dive into PFF's 2021 Best Ball DraftKit for everything you need to win it all at the end of the year!
1.08: RB TIER 2
With the eighth overall selection in hand, non-running backs like Tyreek Hill and Travis Kelce enter the conversation as legitimate targets in the latter half of the first round. But in fantasy football, acquiring stud running backs is essential to creating a league-winning roster. That makes the NFL's best pure rusher, Nick Chubb, the primary target at the 1.08.
Chubb is the definition of efficient — he finished second in the NFL in fantasy points per snap (0.51) last season. It's a credit to Chubb's immense talent that he can produce high-end fantasy numbers without the same type of workload other running backs garner. He never played more than 62% of his team's offensive snaps last season. 
Running behind PFF's No. 1 offensive line, rest assured that monster numbers are coming even without 20-plus touches per game. 
2.05: RB TIER 2/3, WR TIER 1
The days of lounging by the pool and conveniently drafting Najee Harris in Round 3 of best ball drafts are long gone. The Pittsburgh Steelers rookie running back has skyrocketed up draft boards into the middle of the second round because of his projected bell-cow role. PFF's fantasy projections have Harris slated to see nearly 17 touches per game (eighth).
Volume is more important to a running back's success than efficiency, which is why Harris will rise above any problems created by the Steelers' 29th-ranked offensive line unit. 
His pass-catching upside also gives his fantasy value a massive boost — he was third in the country at his position in catches last season. The immobile, 39-year-old Ben Roethlisberger won't be taking off scrambling anytime soon, so expect Harris to be involved throughout the season catching balls out of the backfield. 
Did we just become best friends?

Yep.@_BigBen7 | @ohthatsNajee22 pic.twitter.com/gw01T5Si5v

— Pittsburgh Steelers (@steelers) May 26, 2021
Free for 7-days. Subscribe to continue reading and unlock
All premium content with the best insights + analysis in the game
NFL Draft Guide, Big Board + Mock Draft Sim
Fantasy Draft Kit and Nathan Jahnke's award winning rankings
Bet smarter with PFF player mismatches and expert betting insights
NFL and CFB player grades and premium stats
Unlock all PFF data trusted by all 32 NFL teams
Already have a subscription? Log In