The "Greatest Show on Surf" has returned to Los Angeles with an upgrade at the quarterback position. The Rams paid a significant price in draft capital to switch from Jared Goff to a more aggressive downfield passer in Matthew Stafford. The hope is that Stafford's vertical aptitude will unlock the full potential of Sean McVay's offense, one that already features plenty of big-time playmakers. 
Editor's Note: PFF's 2021 Fantasy Football Draft Guide and 2021 Fantasy Football Cheat Sheets are LIVE!
The wide receiving corps are shaping up to be values at the position, while second-year running back Cam Akers is one of fantasy's most-likely young backs to make the leap to elite status. 
Subscribe to
2021 Team Preview
L.A. is betting on Stafford turning back the clock to 2019 when he was an elite fantasy producer until an injury ended his season around the halfway mark. He ranked sixth in fantasy points per game (21.6), first in big-time throw rate, first in touchdowns from a clean pocket and first in aDOT (11.4).
Stafford's success came in his first season under offensive coordinator Darrell Bevell thanks in part to his tendency to push the ball downfield. Even without Bevell, expect Stafford to deliver the deep-ball threat — a trait that Goff did not provide.
Since the start of the 2019 season, Stafford ranks second in pass-play percentage over 20 yards (17%) and in aDOT (10.7), while Goff ranks 31st (9%) in pass-play percentage over 20 yards and 52nd out of 60 qualifying quarterbacks in aDOT (7.5).
On 20-plus yard passes over the past two seasons, Stafford has a 93.0 PFF passing grade (1,869 yards, 13 TD, 6 INT, 13.0 YPA, 98.1 rating). Goff sits at just 77.6 (1,011 yards, 4 TD, 6 INT, 9.3 YPA, 55.0 rating).
Bank on McVay to embrace Stafford's ability to throw the ball vertically — that's what he did with Goff when the offense was first coined the "Greatest Show on Surf" from 2017-2018. Goff owned an impressive 94.1 PFF passing grade on 20-plus yard throws (ninth) and a deep-ball rate of 12%. 
Aside from downfield throws, McVay also trusted Goff to throw into the end zone; the young QB finished 11th in end-zone pass attempts. But the Rams offense ranked 31st in end-zone passes last season. That won't be the case with Stafford, who finished last year seventh in end-zone pass attempts.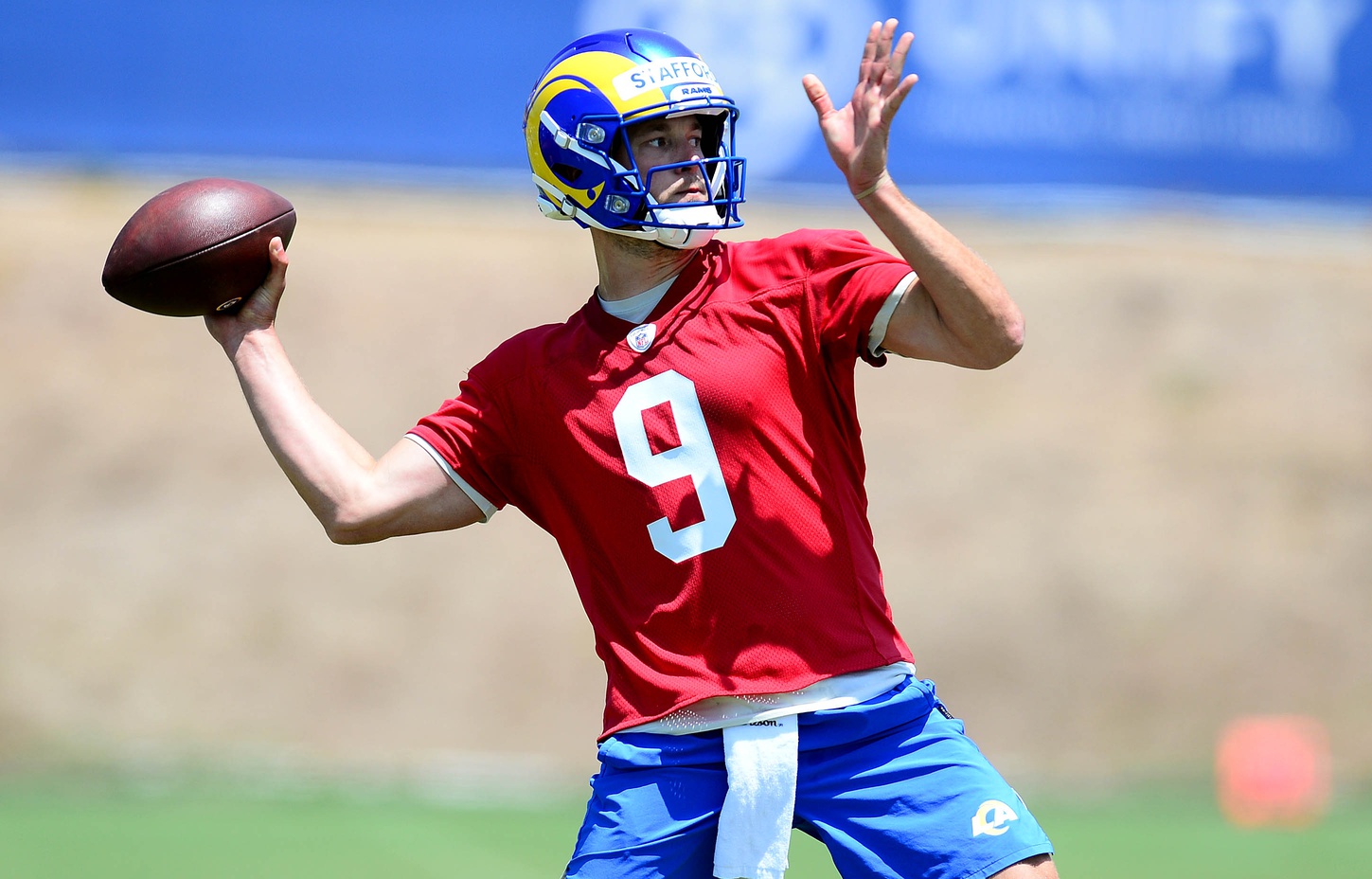 This newfound trust in the quarterback position projects extremely favorably for the Rams' top two wide receivers, Robert Woods and Cooper Kupp. Their fantasy ceilings have increased dramatically with a surplus of high-value targets on the horizon. The days of Woods and Kupp being viewed as only safe-floor options are long gone. They're going to be dangerous this year.
Woods only saw five end-zone targets and ranked outside the top 45 in team air-yards share last season. Yet the perennially underrated receiver finished the 2020 season as the WR12 overall in fantasy points and the WR18 in fantasy points per game. While Woods' ADP (WR19) seems like his absolute floor given his three consecutive top-22 fantasy finishes since 2018, there's nowhere to go but up with his new quarterback.
The same goes for Kupp, who led the team in yards per route run (1.89), PFF receiving grade (77.0) and target rate per route run (23%) in 2020. Let's not forget that last time Kupp saw a spike in touchdowns (10 in 2019), he finished as the WR4 overall. He's already a prime candidate for positive touchdown regression as one of just two receivers to finish with at least 950 receiving yards and score less than four touchdowns.
The only real concern for this Rams passing offense is that it could start slow out of the gates. They'll see the third-most difficult schedule for quarterbacks and fourth-toughest for wide receivers over their first three games. The schedule is also the second-most difficult for running backs. 
Still, with playmakers as far as the eye can see, Stafford should undoubtedly finish as a low-end QB1 for fantasy football, especially with the Rams' defense likely to regress from its top-tier status. The defensive line remains elite, but they have lost key pieces to their secondary (John Johnson III, Troy Hill) and linebacker unit (Cory Littleton). That will force Los Angeles to score more points on offense. 
A small step back on defense will ensure that the Rams offense continues to rank just above average in total passing attempts after averaging 40 per game over the past three seasons. They've also ranked seventh in pass-play rate within a neutral game script (63%), suggesting that this team is pass-first. That might sound perplexing considering the Rams' overall pass-play rate ranked 25th in 2020 (58%) and 20th (62%) over the two previous seasons.
They have shown an affinity to run the ball, but those numbers don't tell the entire story. The Rams wait to garner a lead first (by way of the pass) before unleashing their rushing attack. When leading by at least seven points, they ran the ball at the third-highest clip (63.3%) in 2020. With a more competent quarterback under center, expect this rate to fall slightly more in line with their average from the past two seasons (53%, 11th), solidifying them as one of the more balanced NFL offenses.
The Rams' 10.5 projected win total (tied for fourth in the NFL) suggests plenty of positive game scripts are on the way, which will be ideal for future workhorse running back Cam Akers. 
Breakouts
Subscribe to PFF Edge to continue reading
Already have a subscription? Sign In