NFL depth charts are always in a state of flux due to transactions, injuries, performance and, at times, questionable coaching decisions. The running back position can be especially tough to stay on top of, as an overwhelming majority of offenses have replaced a single three-down back with committees of various shapes and sizes.
What follows is a breakdown of each team's backfield in order to better determine:
Offenses featuring a single workhorse

Fantasy-friendly committee backfields

Situations fantasy football owners should avoid

Teams that are most open for a rookie back to thrive in 2020

---
Click here for more PFF tools:
PFF Fantasy Draft Kit | PFF Betting Dashboard | PFF Fantasy Rankings
PFF Fantasy Projections | NFL Premium Stats | Win Totals Tracker
---
This isn't a full depth-chart listing — I'm not concerned about special teams running backs or guys who might not even make the roster come September. Rather, the goal here is to get an early idea of the league's various committee situations in an effort to see both undervalued situations as well as teams that could theoretically enable a highly productive rookie running back.
Each back's projected snap rate is listed next to his name in parenthesis. This doesn't mean every 60% back is created equal, but it's a good start since, you know, players have to be on the field in order to touch the ball.
JUMP TO A TEAM:
ARZ | ATL | BLT | BUF | CAR | CIN | CHI | CLE | DEN | DAL | DET | GB | HOU | IND | JAX | KC | LVR | LAC | LAR | MIA | MIN | NE | NO | NYG | NYJ | PHI | PIT | SF | SEA | TB | TEN | WFT
1. Chase Edmonds (60%)
2. James Conner (40%)
The Cardinals haven't shied away from using Edmonds in a featured role in the past when the likes of David Johnson and Kenyan Drake missed time. The results have largely been fantastic: Edmonds ripped off weekly PPR RB1, RB5, RB14, RB19, RB21, RB30, RB40 and RB54 finishes in his eight career games with at least 50% of the offense's snaps. There's not much doubt Edmonds *can* function on all three downs; the bigger question is whether or not that sort of role will be afforded to him with new competition in town.
Enter Conner, who reunites with former running backs coach James Saxton. Many have essentially written off Conner as too injury prone over the years, but he managed to play 13 games in 2020 with two of his missed appearances due to COVID-19.
Injuries aside, it's unlikely Conner is ever blessed with the sort of every-down role he had in 2018 again. Still, he's been an excellent goal-line back throughout his career:
PFF rushing grade inside the 5-yard line: 77.3 (No. 1 among 38 running backs with at least 15 goal line carries since 2017)

TD conversion rate: 55% (No. 4)

First down or touchdown rate: 62% (No. 1)
Note: Edmonds has just one career carry inside the 5-yard line. Having a dual-threat quarterback like Kyler Murray can sometimes limit these sorts of opportunities, although that didn't stop Drake from being one of just three players with at least 20 goal line rush attempts last season.
There's also a chance Edmonds' cozy receiving role is reduced. Last season, only Alvin Kamara, J.D. McKissic and Nyheim Hines racked up more fantasy points than Edmonds from purely receiving production; it sure looks like Rondale Moore might scoop up a decent chunk of Edmonds' target share based on his preseason usage.
Edmonds out-snapped Conner 7-3 with the starters in Week 2 of the preseason; I expect him to be the 1.A in this two back committee. Overall, Edmonds is my PPR RB23 and Conner my RB39. I haven't been getting too much of Edmonds due to his placement in the dreaded "RB dead zone," while Conner is a perfectly solid "flex with benefits" option for those going with more of a "zero-RB" or "anchor-RB" draft strategy.
1. Mike Davis (60%)
2. Qadree Ollison (30%)
3. Caleb Huntley (10%)
Davis' lack of preseason snaps is good in terms of his potential to lead this backfield from Day 1, but it's also bad in terms of our ability to distinguish just how far ahead he is from the team's other backs. This could be quite the fantasy-friendly role if the Falcons decide to utilize Davis like they did Todd Gurley during the first half of 2020. Overall, only Derrick Henry, Ezekiel Elliott and Josh Jacobs had more touches than Gurley before the Falcons' Week 10 bye.
Spare me the idea that Davis is anything other than a quality NFL back: The man averaged more yards per carry than Christian McCaffrey and broke tackles more often than anybody other than Nick Chubb in 2020.
People forget Mike Davis is legit goodpic.twitter.com/RpgwOfE8iF

— Ian Hartitz (@Ihartitz) March 23, 2021
It wouldn't be surprising if Davis is featured above the 60% mark I'm projecting; there's just more uncertainty inside of this backfield than most. For that reason, Davis comes in as my PPR RB22 and is someone I'm generally fading in favor of higher-ranked wide receivers if available.
Neither Ollison nor Huntley are guaranteed to have usable backup roles and shouldn't be considered as realistic fantasy assets at the moment.
Gus Edwards

(60%)

Justice Hill

(20%) and/or

Ty'Son Williams

(20%)
J.K. Dobbins (ACL) will miss the entire season. Pain. Before the injury my conclusion to this backfield was the following:
"Dobbins might be a special enough talent to make the most out of this unideal workload; there are many more RBs with a more fantasy-friendly touch ceiling ahead of 2021. He's my RB19 and that honestly feels a little steep. Edwards comes in as my RB38 in the 'flex with benefits' tier, although it'd be more of a 1.A/1.B situation between Gus and Hill as opposed to a complete takeover should Dobbins miss any time."
Dobbins and Gus produced 11 total top-24 finishes last season, but just two top-12 weeks. This is the sort of underwhelming ceiling that we're chasing in Baltimore. Credit to Ingram for functioning as the season-long PPR RB11 in 2019; just realize it took a combined 15 rushing and receiving TDs to get there inside of a much better overall offense than what we saw in 2020.
As much as dual-threat QBs can help the efficiency of their offense's rushing attack thanks to defenders needing to account for an extra number in the run game; generally they don't produce fantasy-friendly RBs due to their tendency to 1) scramble instead of checking the ball down, and 2) take off on their own near the goal line.
Yes, Edwards should see a plenty solid boost in volume with Dobbins sidelined. Also yes, we have two years of evidence that the Ravens' single goal in life isn't to feature the artist known as 'Bus'. The Ravens actually turned their backfield over to both Lamar Jackson and Edwards for the final seven games of 2018; Gus worked as the PPR RB18 down the stretch and averaged 17.5 carries per game while clearing the 50% snap threshold on just two occasions. Unfortunately, this didn't lead to him getting the full-time job, as Ingram and Dobbins were added to the picture in 2019 and 2020.
This latter point is my biggest issue with confidently projecting Edwards for a season-long masterpiece: Baltimore has consistently spelled him with Hill when Ingram and Dobbins have been sidelined. Last time this happened was Week 12, 2020 when Gus handled nine touches on a 51% snap rate; Hill had 11 touches on a 49% snap rate.
The Ravens did hand Edwards a significant three-year, $12.4 million deal this offseason. And it's easy to see why! Gus is good.
Most yards per rush among RBs with 300+ carries since 2018:

1. Nick Chubb (5.23)
2. Gus Edwards (5.2) ???? pic.twitter.com/zGwTKtaG8e

— Ian Hartitz (@Ihartitz) April 24, 2021
However, fantasy football is a game built on chasing opportunity, and Edwards will have to get by on extreme scoring efficiency to make up for his utter lack of a receiving floor. For this reason, he comes in as my PPR RB27 in the same tier as Raheem Mostert, Josh Jacobs, Damien Harris, Trey Sermon and Darrell Henderson. Each back in this tier has a path to 1,000 yards and double-digit scores; just realize Edwards is the only one expected to share the bulk of the rushing workload with not one, but two additional parties. The Ravens' highly efficient and high-scoring offense could certainly make this role a fantasy-friendly one for Edwards; I'll still take my chances with guys like Chase Edmonds, Mike Davis, Javonte Williams and (especially) James Robinson as well as David Montgomery thanks to their superior chances to fully take over their respective backfield.
Hill and Williams seem locked into a battle for No. 2 duties; neither looks like a front-runner to be fully featured as the 1.B behind Edwards. It seems inevitable that another back is added to this group; part of that feeling is baked into my ranks. Ultimately, I'm fine passing on both of Edwards' backups; another injury to the top of the Ravens' depth chart would likely just lead to an even more muddled committee.
1. Devin Singletary (50%) and Zack Moss (50%)
Moss seemed to be on the verge of taking control of this backfield, but a hamstring injury during camp derailed those plans. Now, things seem to be trending toward another evenly split committee.
This isn't great. The Bills haven't enabled anything resembling a high-end running back since Josh Allen took over under center in 2018.
2018:

LeSean McCoy

PPR RB39 (14 games),

Chris Ivory

RB65 (13 games)

2019: Singletary RB33 (12 games),

Frank Gore

RB50 (16 games)

2020: Singletary RB32 (16 games), Moss RB48 (13 games)
Both Moss and Singletary seem to be talented enough to return RB2 value with a featured workload; it just seems unlikely either sees 15-plus touches with any level of consistency as long as Allen is throwing and running to his heart's desire. The Bills certainly have 258 million reasons to potentially limit Allen's robust goal-line usage, but even those extra opportunities could be undone by Matt Breida if the offense decides to add another back to the committee.
Moss was my favorite late-round RB at the start of the offseason, but his chances of fully pulling away from Singletary seem far simmer in present day. I'm still in on Moss as my RB30, well ahead of Singletary (RB46), because at least the former back has a chance to take over at some point; the Bills simply elevated T.J. Yeldon to the active roster to pair with Singletary every time one of Moss or Frank Gore has been injured over the years.
Drafting Moss might make your league-mates ironically congratulate your pick; just realize the Bills' lead running back is being priced closer to this floor than ceiling for the first time in the Allen era.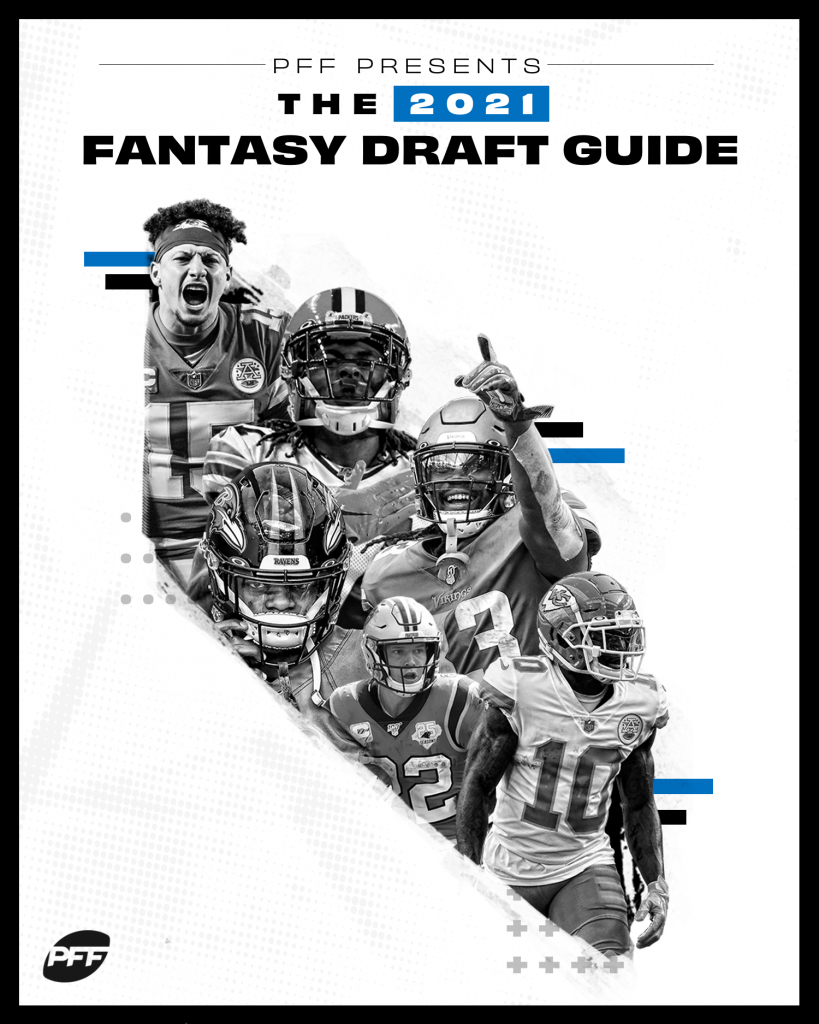 1. Christian McCaffrey (95%)
2. Chuba Hubbard (5%)
The 2020 version of CMC actually averaged more PPR points per game (30.1) than the 2019 edition (29.5). All in all, McCaffrey is responsible for two of the top six highest-scoring campaigns on a per-game basis among all RBs in NFL history. The reality that the Panthers 1) gave him an absurd 97% snap rate in Week 1, and 2) allowed Mike Davis to walk in free agency, paints the picture of McCaffrey continuing to get all the touches he can handle in 2021.
Running backs who catch passes are the closest thing fantasy football has to a cheat code — CMC does this more frequently than any other back in NFL history. He's again the easy fantasy football 1.01 selection in formats of all shapes and sizes.
One of my 20 takeaways from Week 2 of the preseason revolved around Hubbard's status as a handcuff to buy in fantasy land. Overall, Hubbard has played on a whopping 27 of 28 first-team snaps through the first two weeks of the preseason. I had concerns about Hubbard's pass-down ability when breaking down the top handcuffs prior to the preseason, but the Panthers clearly don't share these worries. The latter point is all that matters in fantasy land, so Hubbard deserves to be treated as one of fantasy's top six handcuffs. The only pure backup running backs (excluding guys like A.J. Dillon and Kareem Hunt) I'd definitely take ahead of Hubbard in fantasy land at the moment are Tony Pollard and Alexander Mattison.
1. David Montgomery (70%)
2. Damien Williams (30%)
Montgomery was never considered a bad receiver, but his services largely weren't needed in 2019 due to the presence of pint-sized target hog Tarik Cohen. Cohen's ACL tear early in 2020 led to Montgomery being rather force fed the ball in the passing game: Only Alvin Kamara, J.D. McKissic, Nyheim Hines and Chase Edmonds scored more PPR points from purely receiving production than Montgomery last season.
Unfortunately, Montgomery's status as one of just eight running backs with more than 60 targets on the season will almost certainly change in 2021 *if* Cohen returns to good health with any sort of urgency. This isn't the case at the moment, but there are two main reasons to suggest Cohen will slide back into his role as the offense's primary pass-down back once healthy:
Money talks, and Cohen is the league's 10th-highest paid running back in terms of total contract value. I don't get it, either. His three-year, $17.25 million contract extension in 2020 locks him in through 2023. The Bears could save up to $4 million with a well-time cut in 2022, but he's not going anywhere at the moment.

Nagy fed Cohen one of the league's largest receiving roles during the 2018-2019 seasons. Overall, only

Christian McCaffrey

(257 targets),

James White

(206) and

Alvin Kamara

(193) racked up more total pass-game opportunities than Cohen (189). Hell,

Saquon Barkley

(183) is the only other back above 160. The list of running backs with more targets than Cohen as their quarterback's first read shrinks to just CMC and White.
It looks more likely than not that Cohen isn't ready for Week 1, but the team's new third wheel makes things difficult for Montgomery. Last season, Montgomery's primary competition was converted WR/GOAT kick returner Cordarrelle Patterson; now he'll share the running back room with a man who racked up 133 total yards and a pair of scores in the f*cking Super Bowl the last time he took the field.
Montgomery is my PPR RB17 and someone I don't consider to be squarely in the "RB dead zone." He's still not one of the 14 running backs I'd take inside of the first three rounds of a fantasy draft, but the path to success is clear. Here's to hoping Montgomery is given the sort of high-end workload he proved he could handle during the second half of 2020.
Williams is a fine late-round flyer, but the presence of Cohen and lack of familiarity with the offense makes it tough to truly treat him as a real handcuff or "flex with benefits." He's my RB65 and not someone you need to draft; just pay attention to the Week 1 snap rates, and maybe he'll earn priority waiver wire consideration.
Subscribe to PFF Edge to continue reading
Already have a subscription? Sign In