The Seattle Seahawks started off as a fantasy dream last season: an explosive, pass-heavy offense paired with a horrible defense. Russell Wilson posted 30 fantasy points per game with five top-five weekly finishes over the first half. 
Editor's Note: PFF's 2021 Fantasy Football Draft Guide and 2021 Fantasy Football Cheat Sheets are LIVE!
But things went south quickly as Seattle pulled the reins back on the passing attack over the second half, leading to a pedestrian 17.6 fantasy points per game and zero top-five finishes. The team's neutral game script pass-play rate fell from first (73%) to seventh (65%). Seattle's overall pass rate decreased from fifth (67%) to 12th (63%). 
But not all hope is lost for this offense to return to an elite level in 2021, based on its offseason moves. The team moved on from offensive coordinator Brian Schottenheimer in favor of hiring ex-Los Angeles Rams passing game coordinator Shane Waldron, who just might inject life back into an offense boasting plenty of firepower. 
Subscribe to
2021 Team Preview
Waldron is sure to shake things up in his first season in Seattle, and news out of camp has so far been positive for the team's offense. Pete Carroll said Waldron is emphasizing tempo this offseason as he installs the new offense. Last season, Wilson led the NFL in passer rating from the no-huddle (123.8). 
But the bigger emphasis on the heightened tempo will be centered around the overall speed of the game plan — calling plays and getting to the line quickly to put more pressure on the defense. And that's not just coach speak.
During Waldron's stint in L.A. from 2018-2020, the Rams offense ranked second in overall plays per game (67), sixth in rushes per game (27) and 15th in passes per game (40). The passing rate matched what Seattle did in the second half of last season (40, 15th overall), but the rushes differed drastically. Seattle averaged just 22 rushes per game in 2020 (28th).
The rushing attempts are inevitably going to rise, which might sound like a death sentence for the 2021 "Let Russ Cook" movement. But, as noted, the overall number of plays this offense is going to run will increase, meaning more rushes won't come at the expense of pass attempts. 
A heavier run approach won't nuke Wilson's fantasy value, as there will be games when Seattle won't have a choice but to unleash its uber-efficient quarterback. The team's poor defense — PFF's 26th-ranked secondary and 29th-ranked defensive line ahead of 2021 — doesn't project to slow anyone down anytime soon, forcing the Seahawks' hand on offense like during the first half of last season. 
Shootouts are going to create plenty of spike-week situations for Wilson and No. 1 wide receiver D.K. Metcalf. Through the first 12 weeks, Metcalf averaged 19.6 fantasy points per game (third-most) and led the NFL in receiving yards (1,039).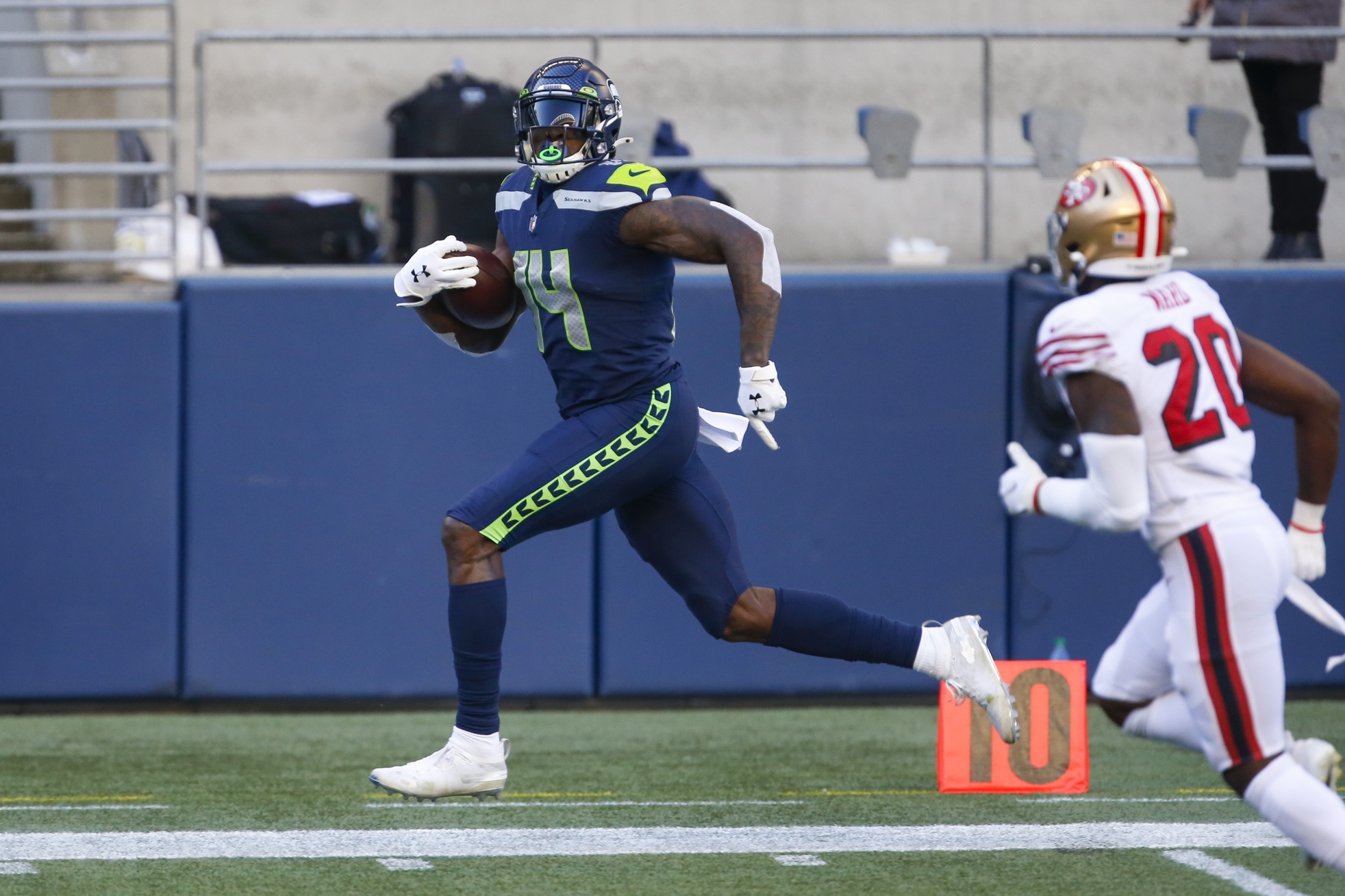 Metcalf won't command an insane number of targets playing in an offense that projects to be average in total passing attempts, but relying on sheer volume has never been his game. The gargantuan playmaker engulfs high-value targets that allow him to post gaudy fantasy numbers. Finishing second in air yards and fourth in 20-plus yard targets will make up the difference in any average-volume passing attack.
That's the reality with Seattle — they won't be a top-five offense in terms of raw pass attempts. But that hardly precludes Wilson from offering top-five fantasy QB upside. 
In 2019, Seattle ranked 24th in pass attempts per game, and the Seahawks QB finished as the QB4 overall. His affinity to attack downfield and into the end zone leads to fantasy production. He ranks first in end-zone throws (120) and second in 20-plus yard pass attempts (153) since 2019. Wilson's PFF passing grades on downfield attempts (99.9) and end-zone throws (92.8) both rank first. 
Those are better indicators of his true potential in 2021 than a broad look at how much Seattle will look to throw. Average passing volume will be more than enough for Wilson and company to deliver in fantasy football behind an underrated offensive line unit.
The bigger concern is the early-season schedule, as it does not bode well for fantasy-friendly environments. No quarterback faces a more difficult series of opposing pass defenses than Wilson through the first five weeks of the season. The Seattle pass offense might be on preheat until mid-October. Considering a brand new offense is being implemented, a slow start out of the gate shouldn't be super surprising. 
Values
Subscribe to PFF Edge to continue reading
Already have a subscription? Sign In