The No. 3 pick in 2021 best ball drafts is the perfect spot to secure one of the top three workhorse running backs. It also offers a number of different directions with the second-round pick. 
This article is part of PFF's inaugural Best Ball DraftKit, where we're focusing on providing readers with go-to draft guides based on draft slot in upcoming best ball drafts. This way, we have a plan of attack as soon as we're on the clock. We'll identify player targets and team stacks based on real-life ADP, while letting our opponents frantically search draft boards once the action commences. 
Subscribe to
The ideal stacks that open up at 1.03 are the Minnesota Vikings and Cincinnati Bengals. Joe Burrow might be slightly over-drafted coming off of his ACL tear, but the Cincinnati offense could have the biggest jump in the league from last year's passing EPA to this year. 
Without further ado, here is the 2021 guide to selecting from the highly coveted 1.03 slot.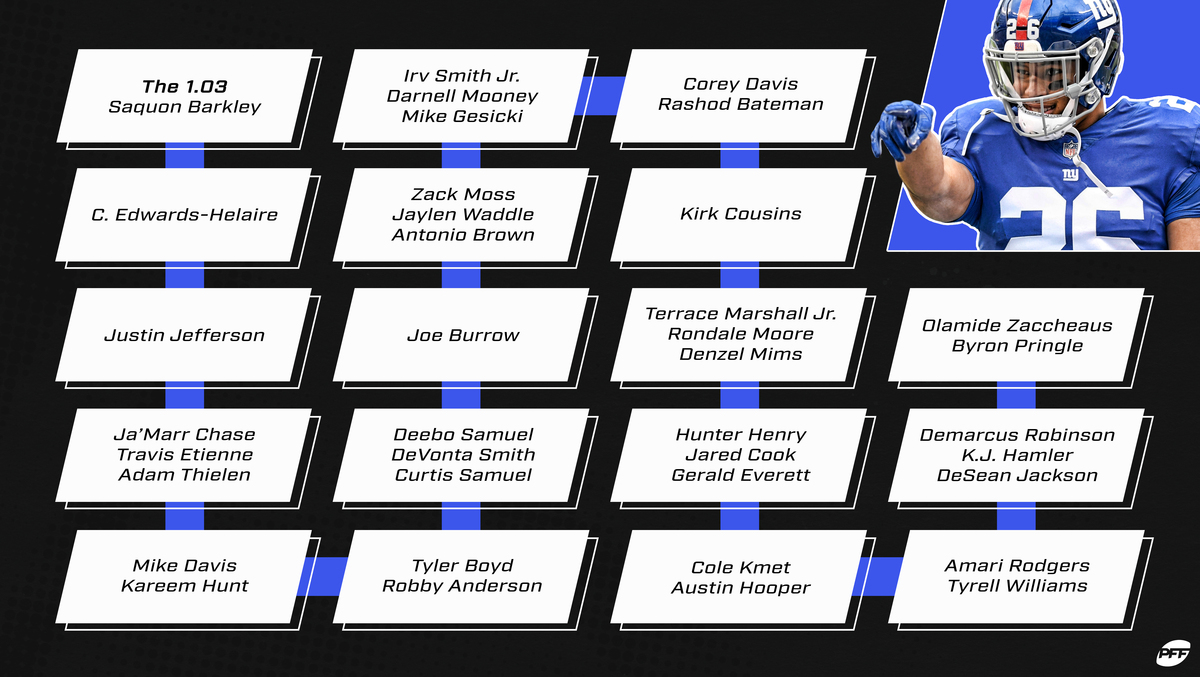 Editor's Note: Dive into PFF's 2021 Best Ball DraftKit for everything you need to win it all at the end of the year!
Saquon is locked in as the third-best option as we head into the dog days of summer. Questions start at Pick 3, but things get progressively more concerning after Barkley is off the board.
Some will cite recent injury history as reason for not selecting Barkley here, but there are few options with as many locked-in touches as the former No. 2 overall pick when healthy. There is risk associated with every pick, but swinging on Barkley and hitting is the cleanest path to the top of your best ball league.
Other options at this spot don't offer the same type of upside as a healthy Barkley for 17 games. In an offense that should be vastly improved, Barkley will remain the focal point and could easily end up as the top scoring fantasy option in 2021. 
Taking care of the running back position as early as possible is my preferred approach in best ball. Edwards-Helaire had a less than impressive rookie campaign, which has resulted in a lower ADP than his rookie season.
The workhorse-type usage existed for Edwards-Helaire, however, as he was a top-10 running back in expected fantasy points before missing Week 13 with an illness. He failed to fully make use of this opportunity, posting 10.5 fewer fantasy points than expected. With a revamped Chiefs offensive line, he should have a much easier time finding space as a part of the NFL's best offense, according to our opponent-adjusted grades.
Subscribe to PFF Edge to continue reading
Already have a subscription? Sign In