Workhorse running backs are locked into the top half of the first round of 2021 fantasy football drafts, with things going a number of ways after the first five selections. The back-end of the first round offers the opportunity to select value that has dropped from their expected ADP.  
Being close to the bookend has numerous advantages heading into the 2021 season, which is why selecting at the 1.09 should be the preferred spot, especially for those focusing on a zero running back approach. 
The ideal stacks that open up at 1.09 are the Pittsburgh Steelers and Green Bay Packers. 
Let's dive into the best approach for UnderDog best ball drafts from this draft position.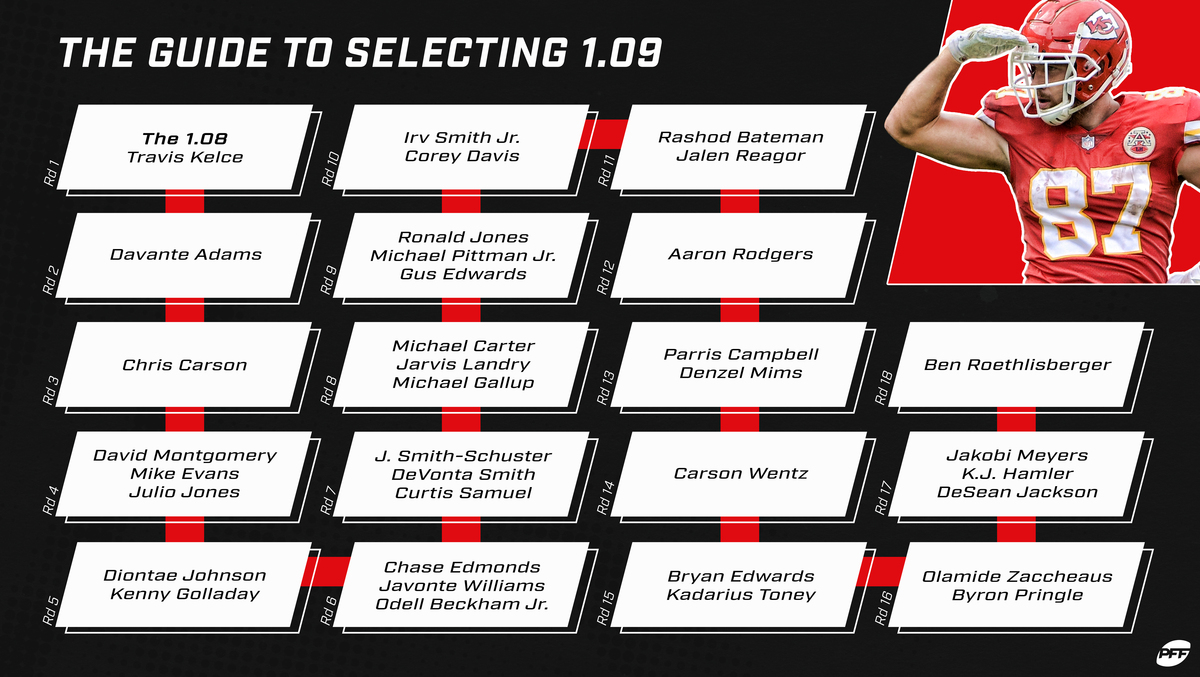 Editor's Note: Dive into PFF's 2021 Best Ball DraftKit for everything you need to win it all at the end of the year!
There is no easier way to gain an edge in best ball drafts than selecting Kelce in the back-end of the first round. Based on our latest fantasy projections, Kelce is projected to outscore the 15th-ranked tight end (Irv Smith Jr.) by 9.4 fantasy points per game. 
Running backs have a similar premium based on position value, with Christian McCaffrey expected to score 9.9 more fantasy points per game than the 30th-ranked player at the position (Leonard Fournette). The issue is that all of the premium running backs are already off the board at pick nine.  
Kelce had a top-three tight end performance in 53% of games last year. If Kelce exceeds his fantasy projections and the rest of the position falls off a cliff like it did last year, then the majority of teams that advance are likely to have the top tight end on their roster. 
Numerous risks need to hit to come close to winning a contest with more than 155,000 entries. There isn't a bigger risk at the top of the draft then selecting Adams midway through the second round. If Aaron Rodgers was locked into the starting quarterback role, then Adams' ADP would be a top-10 pick. Jordan Love taking the snaps in Green Bay would result in Adams' ADP dropping to the third round. This early in the offseason seems like the perfect spot to roll the dice and select Adams at the midway point of the second round. 
Subscribe to PFF Edge to continue reading
Already have a subscription? Sign In