Only 16 wide receivers exceeded 1,000 receiving yards last season, a sharp decline from the 25 who topped the benchmark in 2019 (most since 2001). Expect this number to bounce back up in 2021, especially with a 17th game added to the NFL schedule.
Who will be the wide receivers to rack up 1,000 yards in 2021?
PFF's data science team built a machine-learning algorithm utilizing PFF's exclusive player data to create season-long fantasy football projections. The model projects a whopping 29 wide receivers to surpass 1,000 receiving yards in 2021.
Let's analyze all 29 and consider their chances of joining the 1,000-yard club this season.
Locks for 1,000 receiving yards
The following 10 wide receivers are truly elite fantasy options and virtual locks to reach 1,000 receiving yards. Each player in this tier is the undisputed No. 1 option in their passing offense.
Ridley essentially broke our projection model, as his receiving projection is a ridiculous 135 yards higher than anyone else. He is a true superstar ready to step into Julio Jones' shoes as the Falcons' alpha wide receiver.
Atlanta's new alpha averaged 11 targets and 19.8 fantasy points per game without Jones last season, which extrapolates to an absurd 187 targets over 17 games. Ridley is the favorite to lead all NFL players in targets.
Hill is a top-three wide receiver in both fantasy football and real life. He saw a career-high 131 targets last season and is the focal point of an offense with the NFL's best quarterback and play-caller. Etch his 1,000 receiving yards in stone.
Adams posted true video-game numbers as the alpha for the MVP version of Aaron Rodgers — 92.0 PFF grade (first), 115 catches (second), 1,374 yards (fourth) and an astounding 18 touchdowns (first). He is the best wide receiver in the NFL and an easy lock for 1,000 yards.
It is scary to think about Year 2 for Jefferson after he set a new rookie receiving record with 1,400 receiving yards. His reaching 1,500-plus yards is certainly not out of the question.
The NFL's leading receiver from last year now has a real offseason and training camp to further develop his connection with Josh Allen. Diggs is the No. 1 receiver on one of the most pass-heavy offenses in the NFL and a legitimate contender to repeat as the league's receiving champion — a feat that has not happened since Calvin Johnson in 2011-2012.
Hopkins was a monster in his first season in the desert — 115 catches (second), 1,407 yards (second) and six touchdowns. "Nuk" is in the midst of a four-year streak of 1,000-plus receiving yards, and nothing suggests he won't make it five in a row in 2021.
No human on Earth is physically capable of shutting down Metcalf in one-on-one coverage. He is a certified freak at 6-foot-4 and 229 pounds with 4.3-second speed. If the Seahawks let Russell Wilson cook, Metcalf will blow through 1,000 yards.
It is always AJB WR1 season. He averaged a ridiculous 2.7 yards per route run last season (third), and his efficiency may climb even higher with Jones attracting the opposing defense's attention. One-hundred-fifty targets are now a pipe dream, but lock Brown into strong WR1 production with overall No. 1 wide receiver upside should anything happen to Jones.
McLaurin is ready for a Year 3 leap into superstardom. He will experience a massive quarterback upgrade with Ryan Fitzpatrick, who is no stranger to leading wide receivers to 1,000-yard seasons.
Allen Robinson finally has a quarterback! He balled out last year (88.4 PFF grade, fifth) despite catching passes from Nick Foles and Mitchell Trubisky. Robinson was a target hog last year (150 targets, third) and should reprise that same alpha role in 2021. Now add Justin Fields to the picture, and the ceiling becomes the roof.
Should surpass 1,000 receiving yards
The following 11 wide receivers are strong bets to exceed 1,000 receiving yards in 2021.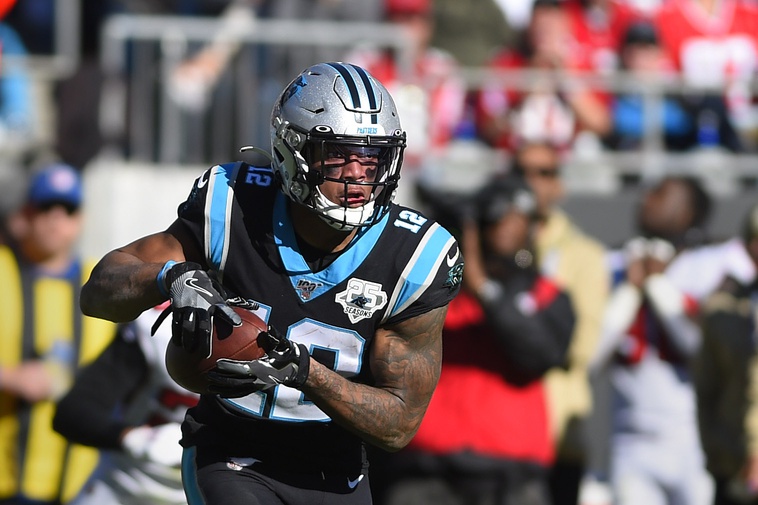 Moore is on a two-year streak of 1,000 receiving yards and should make it three straight in 2021. The 24-year-old playmaker is due for a massive breakout campaign, and 2021 could be his season with Year 2 of Joe Brady calling plays and improved quarterback play from Sam Darnold.
Cooper probably belongs in the lock tier considering Dak Prescott averaged 371 passing yards per game prior to his injury last season. The star Cowboys receiver was averaging 84.8 yards per game over that same stretch and should blow past the 1,000-yard mark in 2021. Monitor the target distribution between Cooper, CeeDee Lamb and Michael Gallup, as this is a talented but crowded offense.
Higgins will be the breakout wide receiver of 2021. He is tearing up training camp and is the favorite to emerge as Joe Burrow's WR1. Burrow led the entire NFL in dropbacks prior to his injury last season — volume will carry Higgins to a dominant fantasy season.
Godwin suffered through an injury-plagued 2020, but he still boasts extraordinary talent that carried him to 1,333 yards and a 90.7 PFF grade (first among wide receivers) back in 2019. Target competition is Godwin's primary roadblock to 1,000 receiving yards.
Evans has topped 1,000 yards in all seven of his career NFL seasons — the only player to achieve that feat in NFL history. He is very likely to beat this mark for an impressive eighth straight year. However, remember that it took a Herculean 181-yard effort in Week 16 to get him over the hump last season. There are a lot of mouths to feed in the explosive Tampa Bay offense.
Lamb is probably going to be a top-10 wide receiver this season. He has been a walking highlight reel during Cowboys training camp.
THIS ANGLE OF THE CEEDEE LAMB CATCH ????

(via @dallascowboys)pic.twitter.com/9kWcWt07WQ

— PFF Fantasy Football (@PFF_Fantasy) July 28, 2021
His ADP is spiking at the highest rate in fantasy football as fantasy managers line up to draft this future superstar. Like Cooper, Lamb probably belongs in the lock tier to achieve his first career 1,000-yard season.
The 2020 Tyler Lockett experience was a rollercoaster, but he managed a very respectable 100-1,054-10 receiving line. Expect him to find more consistency this season and top 1,000 yards for the third straight year, as there is minimal competition for targets outside of Metcalf and Lockett.
The Rams' passing offense should be significantly improved with Matthew Stafford under center. Kupp missed the 1,000-yard mark by just 26 in 2020, and he now has Stafford and an extra game to get him back over that hump. He is one of the NFL's premier slot receivers and will be a primary chain mover for Los Angeles this season.
Jones forms the NFL's best duo with Brown in Tennessee. The future Hall of Famer joins one of the best offenses in the league and should see soft coverages with the defense also worried about Brown and Derrick Henry. If Jones can stay healthy, he will easily eclipse 1,000 yards for the eighth time in his career.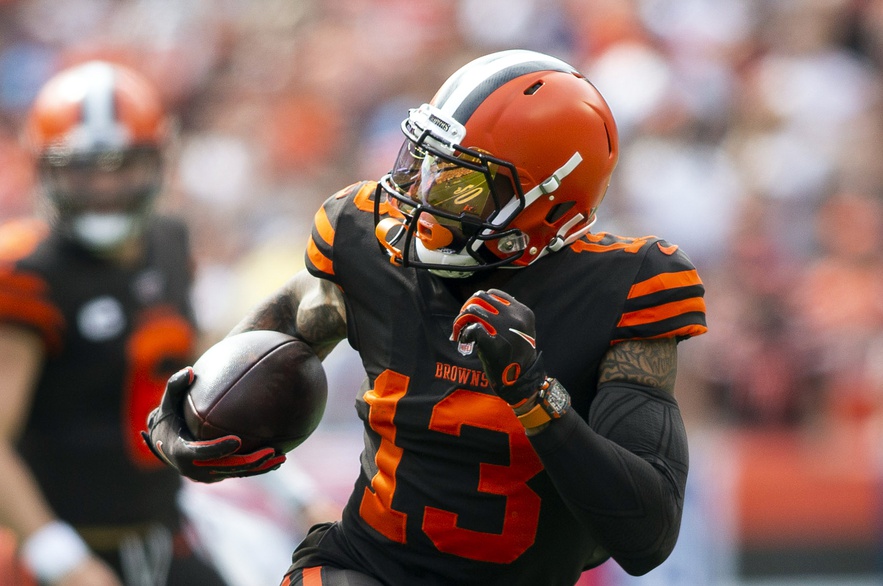 2021 will be the year known as "OBJ comeback season." He is still one of the most skilled playmakers in the league, boasting the athleticism to take any five-yard slant to the house. The Browns need a healthy OBJ to level up this offense to the elite tier. It should happen in 2021.
Allen snapped a three-year streak of 1,000 yards by tallying only 992 last year. He failed to hit the 1,000-yard barrier because he was dinged up for three games with a back injury. Assuming health, Allen is essentially a lock for 1,000 yards as the No. 1 receiver on a leveled-up Chargers offense that is ready to make the leap into the elite tier.
Risk to fall below 1,000 yards
The following eight wide receivers are at risk of falling below 1,000 receiving yards in 2021 despite their impressive projections.
Golladay lost his 2020 season to injury, so let's just pretend it never happened.
The former Lions stud broke out in 2019 with a 65-1,190-11 receiving line while catching passes from David Blough and Jeff Driskel for half a season. He should develop a quick connection with Daniel Jones and elevate the young signal-caller's game.
Keep an eye on the status of Golladay's hamstring. Soft-tissue injuries can sometimes linger, and we do not want to see him re-aggravate this injury closer to the start of the season.
Thielen has not registered 1,000 receiving yards since his career-best 1,373-yard season back in 2018. His overall WR10 fantasy finish in 2020 was buoyed by 14 touchdowns, not the 925 receiving yards.
The veteran Vikings receiver has ceded the No. 1 receiving option to the uber-talented Jefferson. Will there be enough passing volume in this run-centric Minnesota offense to support two 1,000-yard wide receivers?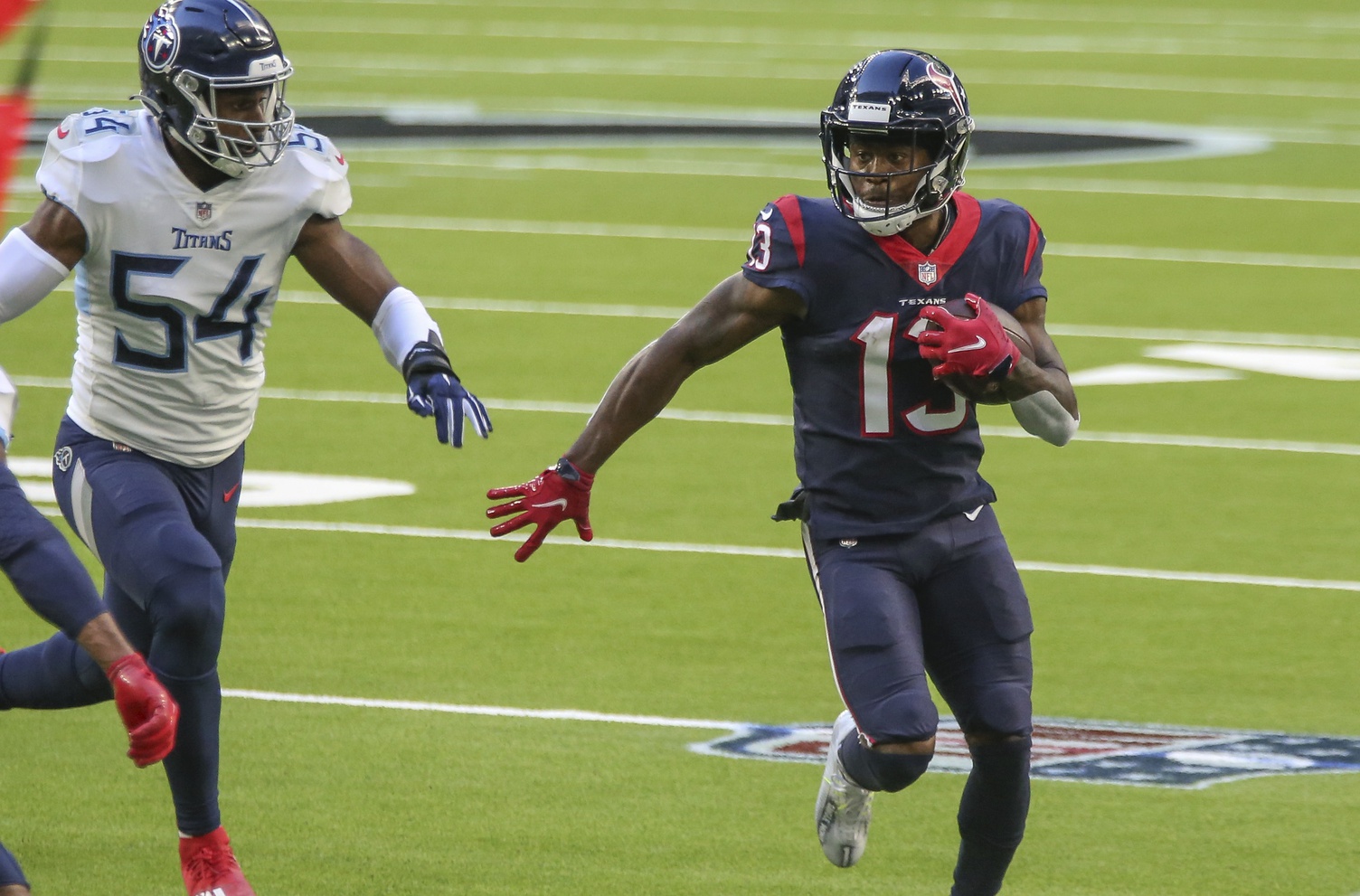 Cooks is the only established offensive weapon on a Texans team with the lowest projected win total in the entire NFL at a measly four games. There will be plenty of garbage time fantasy points to go around in Houston.
However, can a combination of Tyrod Taylor and Davis Mills support a 1,000-yard pass catcher? The tanking Texans might also deal Cooks to a contender with a more crowded receiving corps during the season.
Chase is arguably the most talented wide receiver prospect to enter the NFL in the past decade. He joins a high-powered passing offense with an ascending quarterback, so there is a lot to like about his 2021 situation.
However, there are two red flags that could force him into a slow start. The former LSU megastar opted out of last season and has not played a real down of NFL football since the 2019 college football championship. Further, the Bengals' passing attack is very crowded with Tee Higgins and Tyler Boyd commanding significant volume. There simply may not be enough meat on the bone for all three to top 1,000 yards.
Williams has exceeded 1,000 yards in just one of his four career seasons — he tallied 1,001 receiving yards in 2019. Expectations are sky-high entering 2021 with a fully loaded offense and Justin Herbert at the helm. Even Williams himself wants you to draft him:
Step 1: Draft Mike Williams

Step 2: Win your fantasy league ????

????️ @darealmike_dub pic.twitter.com/rL6ro3dMTG

— PFF Fantasy Football (@PFF_Fantasy) July 25, 2021
Health remains the biggest question mark for the oft-injured Williams. He should crack the 1,000-yard barrier if he plays a full season.
Landry is one of the NFL's most underrated wide receivers. However, he has registered 1,000 receiving yards in only one of his three seasons in Cleveland. Landry's path to 1,000 yards requires the Browns' offense takes a major step forward in 2021 with an ascending Baker Mayfield leaping into top-10 quarterback territory.
Anderson starred in his first season in Carolina, recording a 95-1,096-3 receiving line. However, somebody is going to get squeezed out of targets by Christian McCaffrey's return and the presence of hotshot rookie Terrace Marshall Jr. D.J. Moore beat Anderson in receiving yards in 2020, and I am betting on him to repeat that feat in 2021.
Jeudy is already one of the best route-runners in the league and is primed for a major leap in Year 2. The talented receiver needs to shore up his hands — those 12 drops last season (second-most) are unacceptable for a player of Jeudy's caliber. He knows it, too, and is consistently putting in double-time with the jugs machine at practice.
Additionally, there are major questions at quarterback in Denver. Maybe the team figure it out, or maybe not.