The Tampa Bay Buccaneers are bringing the whole crew back for another run at the Super Bowl. With all 11 starters returning, it's tough to imagine this offense operating much differently than last season. 
That's exactly what fantasy gamers want, because no team accumulated more fantasy points and expected fantasy points from their running backs, wide receivers and tight ends than the 2020 Bucs. Having the G.O.A.T under center makes a huge difference.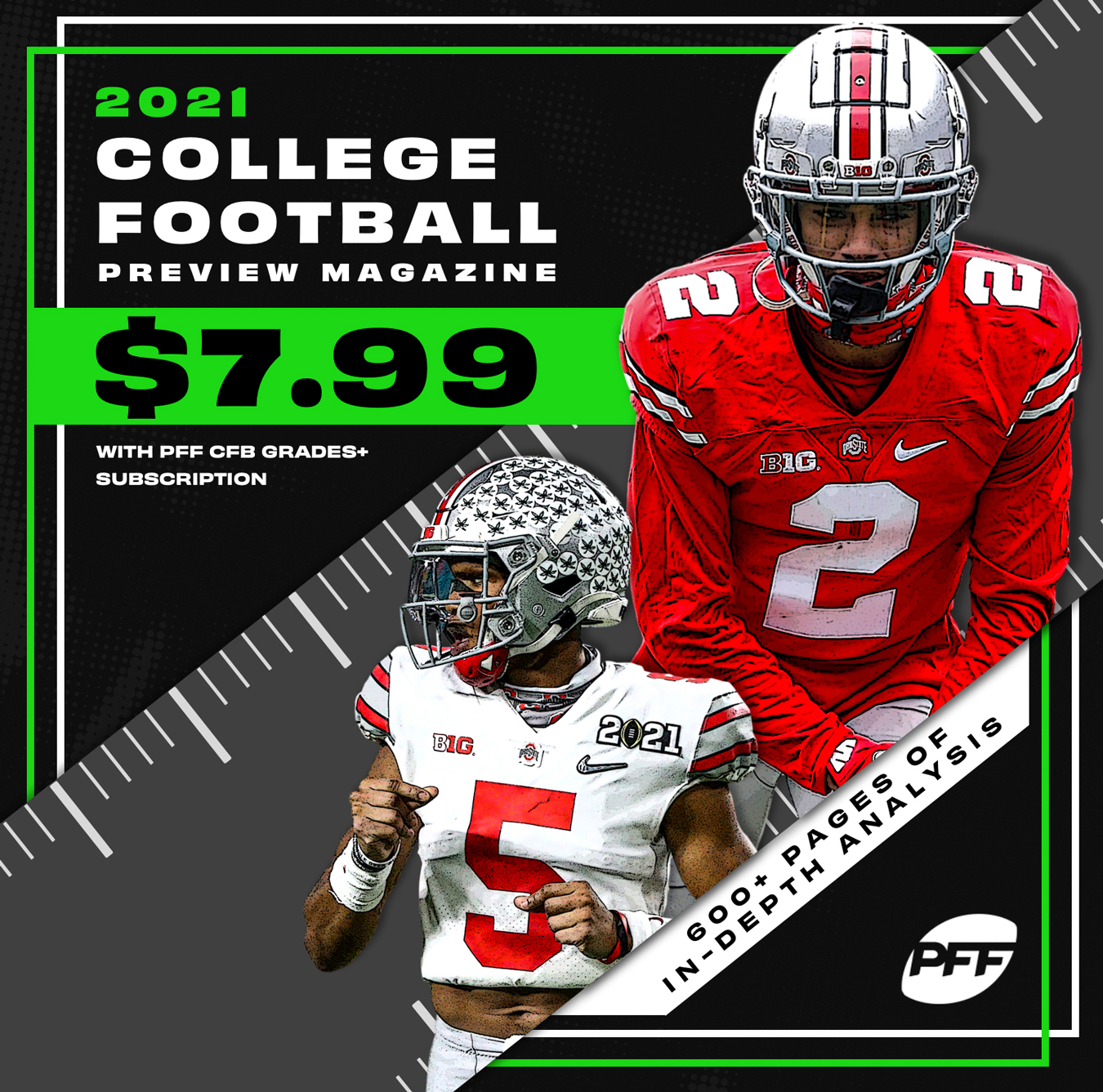 2021 Team Preview
Tom Brady will continue to follow Bruce Arians' "No risk it, no biscuit" aggressive downfield philosophy after finishing 2020 second in deep-ball yards (20-plus air yards), third in deep-ball pass rate (15%) and fifth in PFF deep-ball passing grade (95.3). 
Brady will also get the benefit of a full non-COVID offseason with Arians and his talented corps of pass-catchers. As 2020 progressed, Brady's fantasy production increased as he became more comfortable with the system and chemistry developed with his receivers.
Before the bye week (Weeks 1-12), Brady averaged a modest 21.0 fantasy points per game (ninth) — right in line with expectation. Over the final eight weeks (including postseason), Brady's fantasy points per game increased to 23.2 — seventh in the league — and his output was nearly three full points per game above expectation. 
Fantasy gamers can expect Brady to repeat top-12 fantasy QB numbers because of his elite supporting cast and the offense's heavy reliance on passing volume. Tampa is one of only two teams whose quarterback has reached 600 passing attempts (Matt Ryan, Atlanta Falcons) in back-to-back seasons. That shouldn't change with the return of head coach/offensive coordinator combo Bruce Arians and Byron Leftwich. 
PFF's fantasy projections suggest the same, as Brady is forecasted for 627 attempts — No. 1 in the league. The sheer passing volume will help Brady make up for a lack of rushing upside while also providing a ton of value to his wide receivers. 
Values
Chris Godwin seems like the better bet to pay off his ADP (WR18) than Mike Evans (WR15). When the two shared the field in 2020, Godwin commanded a higher target share (20% versus 17%), scored more fantasy points (14.8 versus 13.2) and totaled more receptions (81 versus 57). 
Godwin also has a secure role as the team's slot receiver (64% in 2020), which ensures that he will be in a position to succeed. He ranks second in PFF grade (95.9), third in yards per reception (14.8) and third in yards per route run (5.01) from the slot since 2019.
Brady was PFF's third-highest-graded quarterback targeting the slot (93.0) in 2020. Godwin is a solid value as a fourth-round selection.
Still, Godwin's price still can't beat that of Antonio Brown, who is unequivocally one of the best values in fantasy football drafts. 
Brown was shockingly efficient despite joining the Bucs in Week 9, leading the team in threat rate (25%, 14th overall), PFF receiving grade (82.6) and fantasy points per snap (0.36). During the final four weeks, Brown's threat rate (30%) and PFF grade (88.5) both ranked No. 4 overall. 
A.B.'s fantasy output in 11 games earned WR31 status on a points-per-game basis — a far cry from his current ADP of WR43. Off-field antics aside, that's way too late.
The Bucs' target distribution was virtually flat across the board, which suggests that Brown is potentially the sneakiest value. Godwin and Evans are being drafted close to each other in the fourth round, with Brown going outside the top 80.
Brown's aDOT (9.5 — lowest since rookie year) does create some concern that he won't be a massive big-play receiver. But even if his path to success is based more on volume, he's part of an offense that is a near-lock to finish at least top-five in passing attempts. 
Overvalued
Volume is the main cause for concern for Mike Evans at his WR15 ADP. Based on his target share with Godwin healthy last season (17%) and with Brown added to the mix, it's hard to see Evans commanding a huge chunk of looks amid a crowded offense. His 13.2 fantasy points per game (33rd) with Godwin active in 2020 don't paint a pretty picture for his 2021 outlook. 
A vast majority of Evans' high-end fantasy production in came in four games to start the season when Godwin was out with injuries. During that stretch, Evans averaged 20.1 fantasy points per game and 16.1 expected fantasy points per game while commanding a 22% target share.
Those numbers are going to be tough to repeat.
Evans' fantasy production was also closely tied to high-value targets, which helped him overcome low-target weeks. He could potentially repeat those efforts in 2021, but wide receivers selected this high should have locked-and-loaded reliable target shares. With Evans' targets unlikely to increase and his efficiency basically maxed out, his current WR15 ADP is his fantasy ceiling. 
Even with all opportunities Evans gained from Godwin missing games and Brown joining the team midseason, he still only finished as the WR16 in fantasy points per game. 
if all you want is a WR with a 17% target share with double-digit TD upside at value…

don't draft Mike Evans in Round 3/4 ????

draft Chase Claypool in Round 6/7 ????

— Andrew Erickson™ (@AndrewErickson_) June 24, 2021
Busts
Leonard Fournette's transformation into "Playoff Lenny" down the stretch was remarkable. Fournette averaged 21.7 fantasy points on 20.5 touches and 5.3 targets per game from the Wild Card Round through Super Bowl Sunday. 
Still, his overly impressive playoff performance is overshadowing the fact that he was horrible during the regular season. Fournette averaged 12.2 fantasy points per game (29th) and was inferior to Ronald Jones II as a rusher. 
Fournette averaged 3.8 yards per attempt (45th) while Jones averaged 5.1. RoJo was also PFF's fifth-highest-graded running back (82.8), ranking fifth in yards after contact per attempt (3.6), fourth overall in rushing yards (900) and 13th in fantasy points scored (190.3) during Weeks 1-14, before injuries and COVID forced the team to entrust Fournette with the lead role. 
The majority of the ex-Jaguar's fantasy points came from receiving production — 54 receptions, 67 targets — but his pass-catching role is in question with the team's addition of Giovani Bernard. 
Joe Mixon-stans are all too familiar with Bernard — he tends to limit starting running back fantasy production due to his skills as a receiver and as pass-blocker. Bernard finished last season as the third-highest-graded pass-blocking running back. Fournette finished 41st out of 42 qualifying RBs. This team will have little patience for anyone allowing its 43-year-old (44 during the season) QB to be hit.
Fournette's chances to lead this backfield in touches don't look as clear-cut as the ADP would suggest, which is why he's a major candidate to bust in 2021. Just draft Jones instead.
Sleepers
O.J. Howard is the perfect tight end to target in the last round of drafts because of his extremely high upside. People forget that he ranked third in yards per route run (2.39) and was the Buccaneers' most-targeted tight end before his injury in Week 4.
Howard has plenty of proven talent — he was PFF's second-highest-graded tight end in 2018 — and is just one Rob Gronkowski injury away from earning an even bigger role in the Bucs' passing attack.
Gronk's 16 regular-season starts last year represent only the second time he has stayed healthy for an entire season during his nine-year career. 
Giovani Bernard is a sneaky favorite to win pass-catching duties in the Bucs' backfield, which makes him extremely enticing for fantasy purposes. A Tampa Bay RB posted a top-30 PPR performance 15 times last year, and the Buccaneers finished fourth in targets to the running back position. There's fantasy value to be had in this ambiguous backfield, and chasing the cheapest/most overlooked option offers an excellent buy-low opportunity.
Plus, Bernard possesses underrated three-down potential should Leonard Fournette and/or Ronald Jones falter. In eight games without Joe Mixon when Bernard saw at least a 40% snap share, he averaged 14.5 fantasy points, 17.6 opportunities and 4.3 targets per game last year. 
Bernard is the perfect sleeper with standalone value and the potential for a larger role.
Tyler Johnson didn't grade particularly well in his first season, but that wasn't enough to keep him outside the top-20 second-year wide receiver rankings. He posted the team's highest passer rating when targeted (142.4) and stepped up big in a spot start Week 5, catching four of five targets for 61 yards filling in for Chris Godwin. 
Johnson also flashed in the postseason with an insane grab on a back-shoulder pass against the New Orleans Saints. Some view him as only a slot receiver, but Johnson has shown he can win on the outside at the NFL level.
Lack of opportunity is Johnson's biggest hurdle, which is why he falls into the sleeper category rather than breakout. Tampa is just so stacked with playmakers that it's for Johnson to carve out a role. Still, what he showed his rookie year suggests that if he is called upon in Year 2, he will be ready to deliver. 
Johnson also contributes on special teams, so he should remain active on game day. 
#TampaBayBuccaneers wide receiver Tyler Johnson submitting his application as the best real-life No. 4 WR on an NFL depth chart pic.twitter.com/d5McsLARI0

— Andrew Erickson™ (@AndrewErickson_) June 21, 2021
Scotty Miller deserves an honorable mention as well, as he has legitimate shot to see an expanded role with an injury ahead of him on the depth chart. Miller produced when Tampa receivers were banged up last season. In five games with at least five targets, the underrated wideout averaged 14.7 points per game.