Fantasy football rankings are nice, but they sometimes aren't necessarily the most helpful tool for doing a little something the cool kids like to call winning. Median projections become the main tool for lining up each individual player, which can lead to minus-expected value scenarios where those not willing to stray from their faithful ranks fail to capitalize on a better choice now available because of how their specific draft played out.
Additionally, it's simply wishful thinking to expect to rank hundreds of footballers with pin-point accuracy: Coaches will hold back promising rookies, injuries will take away some of our favorites talents and even people paid to write about the game like myself will inevitably miss on more than a few players ahead of any season.
It's with this in mind that I present to you my 2021 fantasy football tiers for best ball. The general scoring I had in mind was half-point PPR in typical one-QB, non-TE premium formats. Players in the tiers are listed in order of who I would prefer first; just realize their standing in the same group reflects the reality that I'm not overly confident in picking one over the other.
Editor's Note: Check out more 2021 best ball rankings broken down by either round or positional group by PFF analysts Andrew Erickson, Nathan Jahnke, Jarad Evans, Ben Brown and Kevin Cole.
Jump to a position group
---
Quarterback
Tier 1: We have recent proof of overall QB1 ability
Mahomes is responsible for two of the NFL's seven highest-scoring seasons in terms of fantasy points per game. Don't let a Super Bowl loss distract from the fact that we still saw plenty of greatness from the game's best QB at the moment.
Sheesh pic.twitter.com/odikw7lDu9

— Ian Hartitz (@Ihartitz) February 8, 2021
Allen is the reigning overall QB1 in fantasy land. It's tough to lay out a real argument for why he'll regress other than because his overall performance was that good last year (and thus hard to repeat); the Bills again boast a loaded receiving core after replacing John Brown with (still good) Emmanuel Sanders. I have my doubts that Allen will score at least eight times on the ground per season forever, but for now, he remains one of the league's most high-volume passers and rushers alike. 
Murray was the QB1 and owner of the highest fantasy points per game mark *ever* in Weeks 1-11 before suffering a shoulder injury that limited his game-changing rushing volume moving forward. I wish A.J. Green wasn't going to be starting for this offense and also have my doubts that fake sharp Kliff Kingsbury properly deploys Rondale Moore. With that said: Rushing upside is a cheat code in fantasy land, and Murray was on pace to function as the most productive rusher the position has ever seen in a single season before getting banged up.
Small sample size be damned: Prescott's average of 26.9 fantasy points per game in 2020 trails only 2019 Jackson (27.7) on the all-time single-season leaderboard at the position. The same weapons are back, as is the team's likely porous defense. Better health for both Prescott and across the offensive line could result in an even scarier offense in 2021 that should once again find itself in comeback mode plenty.
Credit to the Ravens for drafting Jackson a pair of receivers, although excuse me for wishing the free agency splash would have consisted of more than Sammy Watkins. Alas, Jackson should be locked in as a top-five fantasy option after his "disappointing" QB10 finish from last season. No QB averaged more fantasy points per game than Jackson during the 2019-2020 seasons, and we should expect the passing to at least somewhat improve with better O-line health and the team's aforementioned upgrades at receiver.
Tier 2: True top-10 fantasy QBs
Remember the timeline I laid out in Weeks 1-11 last season when Kyler was averaging the most fantasy points per game among all QBs in NFL history? Well, Wilson was good for second in that same span. The Seahawks can talk all they want about wanting to run the ball more; one look at their defense should lead to the conclusion that Russ will have to cook plenty again in 2021. All in all, Wilson has finished as fantasy QB6, QB3, QB9, QB1, QB10, QB3, QB3, QB8 and QB9 since entering the league in 2012.
The Chargers' stud rising second-year QB joins Russ, Kyler, Dak, Cam Newton, Andrew Luck and Robert Griffin as the only rookie QB1s since 2010. The Chargers seemingly dominated the draft — there are playmakers everywhere in this offense. Don't discount the 2021 version of Herbert being even better than what we saw last year.
A-aron's future remains a bit up in the air at the moment, but for now, we'll assume that he'll be playing professional football in 2021. I'd honestly probably not change his tier ranking regardless of where he lands; it's not like the Packers have surrounded him with more than one true high-end receiver over the past three or so seasons. Rodgers was literally the best version of himself that we've ever seen in 2020. Pay attention to the ongoing reports about his future, but don't expect Father Time to come knocking for at least another few years.
We saw four starts from Hurts in 2020:
Fantasy QB11: 167 pass yards, 1 TD with an 18-106-0 rushing line against the Saints.

Fantasy QB1: 338 pass yards, 3 TD with an 11-63-1 rushing line against the Cardinals.

Fantasy QB12: 342 pass yards 1 TD, 2 INT with a 9-69-0 rushing line against the Cowboys.

Fantasy QB20: 72 pass yards, 0 TD, 1 INT with an 8-34-2 rushing line against Washington.
His 16-game rushing pace of 184 rush attempts would be good for the highest mark from a QB in NFL history. I won't argue with anyone who points out he's not the most-polished passer just yet, although 1) he'll benefit from a healthier offensive line, 2) DeVonta Smith is now in town, and 3) the rising second-year QB has at least proven capable of putting up large passing totals already.
Tier 3: Mix of upside with a demonstrated floor
Burrow led the NFL in dropbacks prior to getting hurt and was the fantasy QB14 for his troubles. The addition of Ja'Marr Chase and (hopeful) progression across the offensive line makes the 2019 Heisman winner worthy of the Year 2 hype, particularly from a pure volume perspective since the Bengals defense figures to again be meh.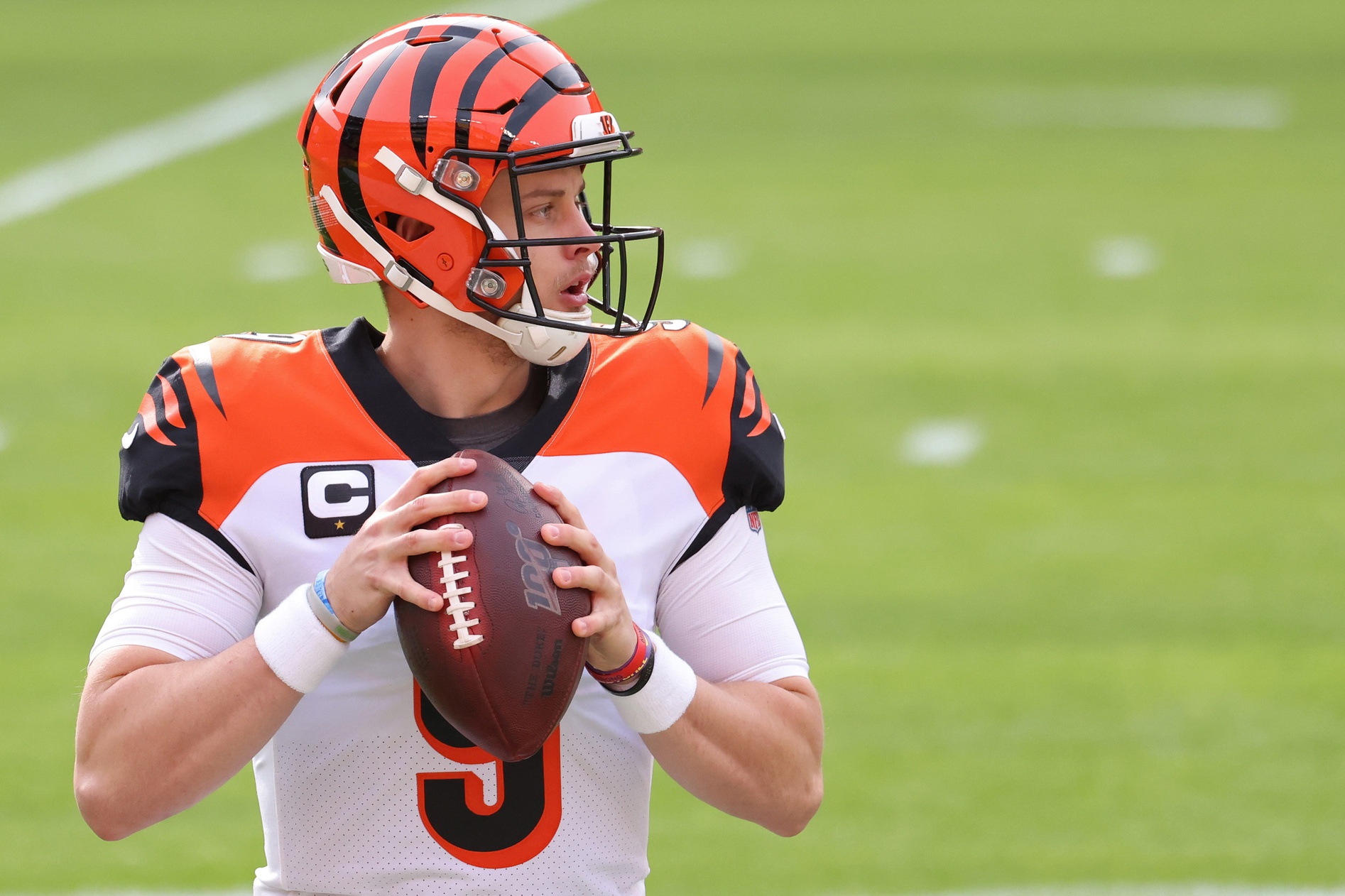 TB12's arm looked great throughout 2020; the midseason deep-ball issues were always more of a timing problem than noodle-arm experience. A drop-off has to come eventually (right?), but I wouldn't bet on it happening in a major way this season with the entire offense back together. There isn't a better WR room in the league, while getting a healthier O.J. Howard plus true scat back in Giovani Bernard could further make life a living hell for opposing defenses.
The artist known as TanneThrill was the QB7 last season thanks in large part to continued high-end efficiency. Offensive coordinator Arthur Smith took his talents to Atlanta, although the expectation is that TE coach Todd Downing will run a similar offense. It's unfortunate that the team didn't do more to replace Corey Davis and Adam Humphries; then again, more condensed targets for A.J. Brown should be good for the fantasy business of everyone involved. Much like Russ and the Seahawks: Don't expect the Titans to be able to run the ball as much as they'd like due to the likelihood that their defense isn't very good.
Stafford averaged the fourth-most fantasy points per game among QBs in 2019 before getting injured. Last season's overall QB15 finish wasn't exactly what most investors were hoping for, but it's hard to be too tough on Stafford considering he only got five games from No. 1 WR Kenny Golladay. The Rams offer upwards of six more-than-solid talents at WR and TE to go along with Sean McVay's pristine play-calling; I'm buying a career resurgence from one of the NFL's most gifted pure throwers of the football.
Matthew Stafford has completed a league-high 11 passes thrown at least 50 yards in the air since entering the NFL in 2009. No other QB has more than 8 (PFF) pic.twitter.com/ZHOhR8RjcQ

— Ian Hartitz (@Ihartitz) February 1, 2021
More play-action for Ryan under new head coach Arthur Smith is expected and will be welcomed. The team's decision to invest in Kyle Pitts instead of a young QB calms concerns over Ryan's immediate future; the 36-year-old should have every opportunity in the world to improve upon last season's QB15 finish in fantasy points per game. With that said: I'll likely be out of the Ryan business in fantasy land if the Falcons do the unthinkable and trade Julio Jones.
Mayfield's bounce-back 2020 campaign was better in real life than in fantasy; his 15.48 fantasy points per game just barely beat out the likes of Mitch Trubisky (15.37) and Philip Rivers (15). Of course, Mayfield dealt with three consecutive games in absolutely horrific weather conditions, finished the season hot with two more than solid playoff performances and will benefit from getting a true No. 1 WR in Odell Beckham back in the offense. Yes, people: The Browns are better with OBJ than without. Mayfield targeted his first read on just 58% of his dropbacks in 22 games with Beckham over the past two seasons compared to 63% without. Only Aaron Rodgers posted a better PFF passing grade than Mayfield when targeting the first read after Week 7. It's tough to stop Mayfield when he identifies an open receiver in rhythm; just realize the best version of this Browns offense would consist of this mindset *with* a coverage-shifting talent like Beckham making things even easier for the passing game's complementary other options. Throw in the potential for more volume in the second year in Kevin Stefanski's offense, and I'm buying Baker's career resurgence.
Tier 4: I could talk you into this man being a QB1
I've already broken down my top-five rookie QBs at length. Ultimately, I'm confident enough in Fields and Lance offering premium rushing upside that I'll take them over Trevor Lawrence or Zach Wilson and their more locked-in 17 starts. T-Law wins out over Wilson to me thanks to the reality that at this moment in time I believe the Jaguars have the vastly superior NFL QB.
The artist known as Fitzmagic has been nothing other than a stud fantasy QB over the past three seasons:
2018: fantasy QB1 in Weeks 1-3 while Jameis Winston was suspended
2019: QB2 in Weeks 7-17 upon taking over full-time from Josh Rosen

2020: QB8 in Weeks 1-6 before "losing" his job to Tua
On the latter point: Fitz outplayed Tua for the entirety of the 2021 season. Credit to the Dolphins for attempting to see what they had with their first-round pick; just realize it wasn't his own performance that kept the veteran gunslinger on the sideline. Coach Ron Rivera made some headlines by not naming Fitz the starter, but the Football Team's decision to not add a QB in the draft makes him the heavy favorite over the likes of Taylor Heinicke, Kyle Allen and Steven Montez. Throw in the reality that this passing game is overflowing with talent from the likes of Terry McLaurin, Curtis Samuel, Dyami Brown as well as Logan Thomas, and it's easy to crown Fitz as one of 2021's prime late-round QB options.
Tier 5: Realistic path to success, but hardly a foolproof investment
I'm terrified that Jameis loses all kinds of work in the red zone to Taysom Hill. The Saints also didn't do a good job adding any sort of new talent at receiver throughout the offseason. I remember the good days of 2019, too; just realize we might not see the same sort of high-volume gunslinger in 2020.
The Vikings figure to have a slightly more improved defense than either the Titans or Seahawks can boast; for this reason, I'm lower on Kirk Cousins overcoming his run-first offense compared to Ryan Tannehill and Russell Wilson. There's an argument that we should like Cousins more in fantasy considering how high most are on Justin Jefferson, Adam Thielen, Dalvin Cook and Irv Smith; unfortunately, the utter lack of a rushing floor these days makes him a QB2 I'd rather not bet too heavily on.
Tua will actually get to play with something resembling a high-end WR room in 2021. This is exciting!
(Tua Tagovailoa didn't get a lot of help as a rookie) pic.twitter.com/vO9UE0pY45

— Ian Hartitz (@Ihartitz) February 9, 2021
However, the rushing floor isn't much (under 15 yards in six of nine starts) and we could see Tua used as more of a game-manager considering the Dolphins' stout defense and very real playoff aspirations. Expect efficiency to boom with Will Fuller and Jaylen Waddle now in town; just realize there might not be enough week-to-week volume for a big ceiling to appear.
There isn't a stat that exists that will tell you Darnold has been anything other than a bad QB since entering the NFL in 2018. Of course, he's now surrounded with (by far) the best weapons of his career and should benefit mightily from Joe Brady's play-calling witchcraft. Here's the thing: Teddy Bridgewater only worked as the QB23 in fantasy points per game despite having these same advantages in 2020, and he had a better previous track record. Maybe Darnold (24 in June) figures it out; I'm not willing to part with more than a late-round pick to find out.
Wilson has the tools and opportunity to be great. The real allure of targeting Wilson is in best ball, as it's tough to find a cheaper overall stack than him, Corey Davis, Denzel Mims, and, hell, even Chris Herndon. In fantasy football we want to target players that are being priced closer to their floor than ceiling; that's pretty much the state of the entire Jets offense at the moment. Look, I'm not thrilled about buying into this offense either, but again: It's so cheap that a few darts are warranted.
Somehow Jones accounted for just 12 total TDs in 14 games last season. His rushing floor was largely the only thing that made him a viable streaming QB for the first half of the year. Improved passing efficiency should be expected with Kenny Golladay and Kadarius Toney now in town; the problem is that Jason Garrett remains the play-caller. Throw in the likelihood that this offense gets back to revolving around Saquon Barkley, and it's really not a passing game worth targeting outside of contrarian best-ball situations.
Wentz finds himself back with Frank Reich on a great overall Colts roster, although the lack of proven options at WR and TE are concerning. There's a scenario where Parris Campbell stays healthy, Michael Pittman takes a Year 2 leap and T.Y. Hilton proves to not be washed; even then we'd need to see Wentz not function as one of the league's bottom-five QBs like he did in 2020.
Big Ben was the QB13 in fantasy points per game last season despite largely being written off as done ahead of 2020. His absurd 501 yard, 4 TD and 4 INT performance on 68 pass attempts in the Steelers' Wild Card loss to the Browns demonstrates the potential reality that he's still capable of putting up numbers, even if they aren't accompanied by as many wins as we're used to seeing. The offense figures to try and run the ball a bit more often with Najee Harris now in town, and obviously Ben isn't offering a rushing floor these days. I wouldn't call Roethlisberger dust just yet, but it also wouldn't be surprising if 2020 was the beginning of the end, not something more.
Carr truly played some fantastic football for large portions of 2020, and the Raiders defense figures to once again be trash. We saw him make the most out of this good-not-great group of skill-position players last season; I'm less confident in an encore performance now that the Raiders don't boast a top-five highest-paid offensive line for the first time since before 2015.
There's potential for Goff to put up numbers on a bad Lions team simply by necessity. Of course, we have nowhere near the same sort of faith in play-calling and receiver talent that used to be in play in L.A. It's usually a good idea to put the bottle down after you start talking yourself too much into Goff; find another late-round QB.
Honorable mention
Cam Newton has far more talented receivers at his disposal in 2021. Improved passing efficiency, combined with more of the same in the rushing department, could make Newton a borderline fantasy QB1 for however long he can hold on to the job. The problem: New England didn't draft Mac Jones in the first round to sit on the bench. Jones doesn't project as a fantasy-friendly signal-caller as a rookie; I'm inclined to fade this situation aside from potentially streaming Cam. … Everything went right for Jimmy Garoppolo in 2019; he was the QB23 in fantasy points per game. Statue QBs in run-first offenses don't work in fantasy football, people. … I'm as big of a Drew Lock apologist that you'll find, but his demonstrated lack of upside in fantasy land, combined with the potential for Teddy Bridgewater to outright win the job, has me fading the Denver QB position. Of course, the Broncos do boast a talented crop of skill-position options that could be put to great use if a certain reigning MVP gets traded into town. … Taysom Hill would be in our QB2 tier if announced the starter; reports have indicated Jameis is the favorite throughout the offseason. Obviously, Hill doesn't resemble a competent NFL QB; just realize the man ripped off fantasy QB3, QB13, QB8 and QB10 finishes in his four starts last season. … It's unclear how many starts Andy Dalton will see; you don't want him on your fantasy squad anyway. Spare me his career Pro Bowl appearances; that award died to me the day Trevor Siemian *declined* an invitation. … Tyrod Taylor is in a QB competition with Davis Mills and Ryan Finley; none figure to offer anything resembling a fantasy floor in probably the league's most talentless offense. Perhaps it's a good time to buy low on Deshaun Watson in dynasty, but the situation remains incredibly murky. The likelihood that Watson misses a significant chunk of 2021 is enough for me to fade him at cost for the time being.
---
Running Back
Tier 1: Undisputed workhorses
The 2020 version of CMC actually averaged more PPR points per game (30.1) than the 2019 edition (29.5). All in all, McCaffrey is responsible for two of the top six highest-scoring campaigns on a per-game basis among all RBs in NFL history. The reality that the Panthers 1) gave him an absurd 97% snap rate in Week 1, and 2) allowed Mike Davis to walk in free agency, paints the picture of McCaffrey continuing to get all the touches he can handle in 2021.
Cook is also already established on first-team all-volume, racking up 356 touches in just 14 games last season. He's posted 40-305-2, 53-519-0 and 44-361-1 receiving lines over the past three years; it'd make sense if this part of his game continues to become more enhanced as time goes on. The Vikings' undisputed featured back scored and/or surpassed 100 yards in all but one game last season; Cook deserves to be fantasy's consensus No. 2 RB behind what should be an improved offensive line.
Friends don't let friends forget that Barkley is one of the league's single-best players with the ball in his hands when healthy.
Remember that Saquon Barkley guypic.twitter.com/QZ2lQc58KS

— Ian Hartitz (@Ihartitz) April 1, 2021
Similar to CMC, we unfortunately don't have much 2020 data to work with when projecting out Barkley. Also similar to CMC, at least we saw the Giants give him an elite 87% snap rate in Week 1, even though the Giants trailed by multiple scores throughout the second half. I believe at full health Barkley is the NFL's best RB, and his total touch workload should rival anyone's.
Henry ran for 2,027 yards and scored 17 TDs in 2020. Somehow, this only comes out to the 64th-best season among all RBs in NFL history in full PPR scoring. Seriously people: Awarding equal points for catching the ball and gaining 10 yards is a flaw in the beautiful game we call fantasy football. We're going off half-point PPR in this piece, so I'm fine still taking Henry among fantasy's top four backs; just realize dual-threat RBs that also catch passes join mobile QBs as the closest thing our game has to a cheat code.
Tier 2: It's firmly RB1 szn
The 2020 season was a bad year for the artist known as Zeke. Things started out fine enough in fantasy land, as he was the PPR RB3 in Weeks 1-5 with Dak Prescott under center. Afterward, we saw Zeke struggle to provide any sort of explosiveness to the Cowboys' suddenly middling offense. Note that this offensive line was largely a walking graveyard all season, and Zeke still racked up at least 15 touches in all but three games. Yes, Tony Pollard is objectively a stud. Also yes, the Cowboys still have millions of reasons to feed Zeke for at least two more years before they can rid themselves of one of the league's worst contracts. Last year was the worst possible scenario for Elliott in terms of both his own performance and the health of teammates; he was still the PPR RB9 when it was all said and done. Follow the volume and take the discount.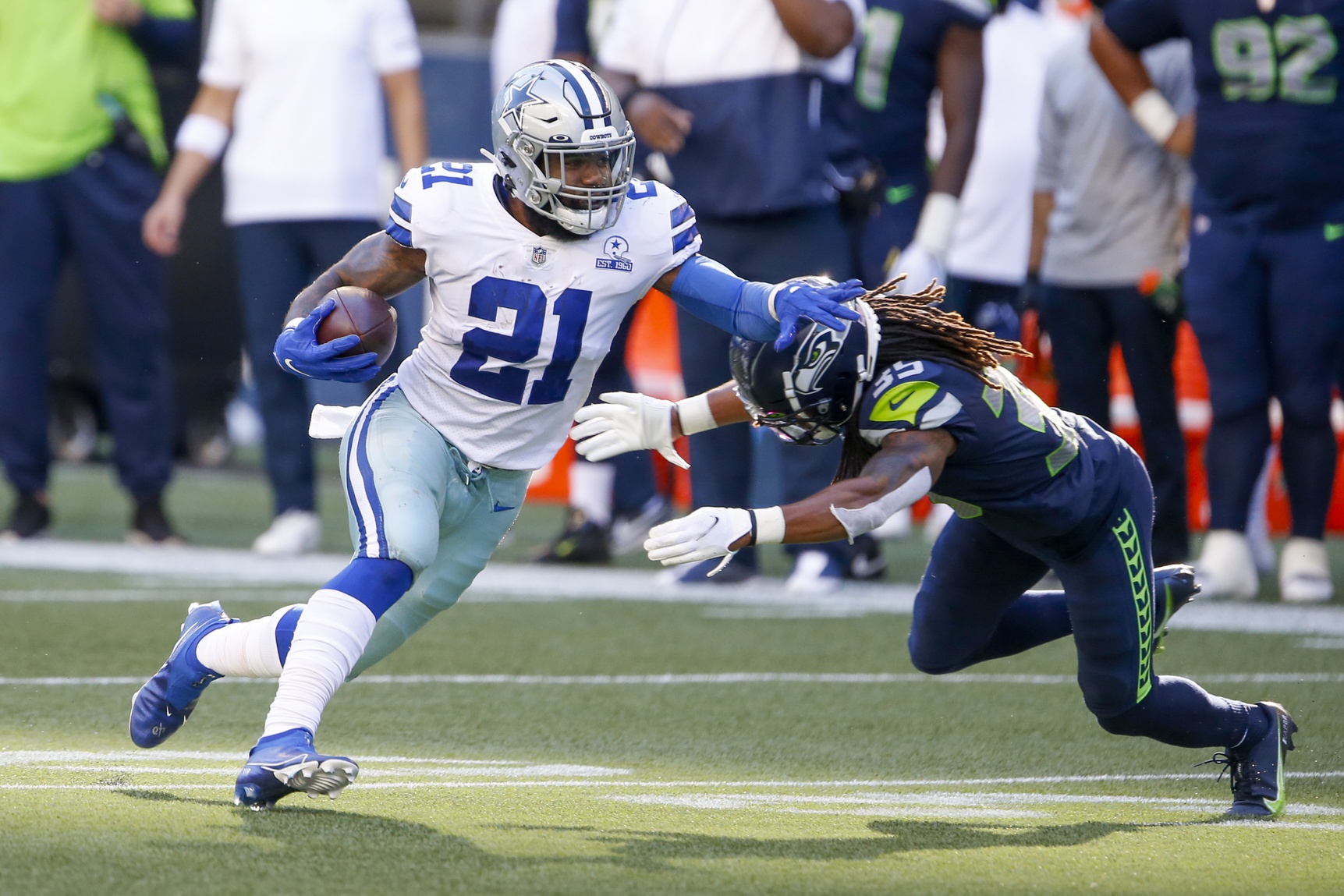 The issue for Ekeler ahead of 2020 was the potential for life with Tyrod Taylor to result in far fewer targets than we saw in 2019. There was also plenty of uncertainty around how the offense would look with Justin Herbert under center. Well, now we know the Chargers look fantastic with Herbert at QB, and it's time to get all aboard the Ekeler RB1 train. The man that played in 46 of 48 potential games from 2017-2019 unfortunately missed six contests in 2020, but Ekeler does deserve credit for scoring the sixth-most PPR points at the position down the stretch after returning in Week 12. Throw in the reality that the Chargers offense is now being run by the Saints' former QB coach, and it's fair to wonder if 2021 Ekeler is the man that most hope Alvin Kamara will still be in his post-Brees career.
It remains to be seen how this Aaron Rodgers saga will play out; obviously, Jones would slide down this list a bit if the Packers are suddenly without the reigning league MVP. Still, the departure of Jamaal Williams quietly opens up plenty of additional pass-down work considering Jones' backup averaged 39 targets per season over the past four years. It'd be borderline malpractice for A.J. Dillon to continue to ride the bench, although we did see the Packers give Williams elite 89% and 85% snap rates when Jones missed two weeks last season. Basically, Jones should either 1) have his usual fantasy-friendly role that has consistently produced RB1 finishes, but with more pass-down work than usual, or 2) a newfound workhorse role that could produce an overall RB1 finish. He's worth a top-five pick to find out.
And now we get to Kamara, who is the reigning, defending, undisputed RB1 of the world. The problem: No more Drew Brees could mean that Kamara's typical cheat code-esque allotment of targets could be in jeopardy. We should also probably not expect a league-high 21 trips to the end zone again because 1) that's really hard to do one time, let alone twice, and 2) the Saints offense figures to regress in the scoring department at least a bit. Kamara posted 0-0-0, 1-(-)2-0, 2-9-0 and 7-44-0 receiving lines in four starts with Taysom Hill last season. We should be rooting for Jameis Winston to win the job; even then it's not a given that his typical high-aDOT style will enable Kamara to similar heights. Gun to my head: Kamara catches at least 70 passes anyway because Sean Payton is smart and there really isn't anybody other than Michael Thomas who deserves that large of a pass-game role anyway; this is just less of a sure thing than in past years and because of that we should approach with a bit more caution.
Nick Chubb is stupid good at the game known as American football. He tied Derrick Henry for the most games last season (7) with at least 10 carries and an average of five yards per rush despite missing four contests. Trailing only Henry in both PFF rushing grade and yards after contact per rush since entering the league, Chubb is on the shortlist of the league's very best players with the ball in their hands. Kareem Hunt certainly lowers the overall ceiling, but Chubb still had a 16-game pace of more than 275 touches in 2020, and the potential for Hunt to miss time would make Chubb a no doubt (wait for it) league winner. The Browns return PFF's first-ever offensive line to finish a season No. 1 in pass- and run-blocking; Chubb is more proven, in a better offense and a superior real-life talent to every RB in our next tier.
Tier 3: With some luck these dudes could bounce up two tiers
It took the Rams a bit before featuring their 2020 second-round pick, but by December Akers was *the* RB in Los Angeles. Overall, he racked up 22, 31, 16, 25, 30 and 19 touches in his final six games, with Darrell Henderson being active for all but the latter three affairs. Malcolm Brown is gone; we might see the Rams get back to being a one-RB offense now that they have a back capable of rising to the occasion. Sean McVay played his featured RB1 (usually Todd Gurley) on at least 60% of the offense's snaps in 48 of 52 games from 2017-2019; I'm betting on 2020's committee situation being more of a blip on the radar than a sign of things to come.
Cam Akers 2021 RB1 szn pic.twitter.com/kUT37LDglN

— Ian Hartitz (@Ihartitz) January 25, 2021
Nobody had more total touches than Mixon before he was injured six games into 2020. Yes, Mixon wasn't exactly making the best use out of these opportunities from an efficiency standpoint. Also yes, he was still the PPR RB9 during this stretch. Now Giovani Bernard is in Tampa Bay, and Bengals OC Brian Callahan has made his intentions clear by stating: "I don't want Joe Mixon to leave the field and I think he's up for that." Last season marked the first time in Mixon's career that he didn't play at least 14 games. He finished 2018 and 2019 as the PPR RB10 and RB13; I don't understand the public's general hesitation with trusting Mixon on what figures to be the best offense of his career. The offensive line isn't great, but volume matters so much more than our perceived idea of which fronts will be good/bad ahead of next season. Note that PFF's bottom-five offensive lines in run-blocking grade produce as many top-24 PPR RBs (4) as the top-five units (4).
Nothing was more frustrating for Gibson fantasy investors than watching J.D. McKissic see a never-ending supply of targets with captain checkdown Alex Smith under center in 2020. The good news is that 1) Gibson remains the Football Team's lead back, 2) Smith has been replaced by Ryan Fitzpatrick, and 3) Washington did nothing to suggest that this committee will grow to three. The best-case scenario for Gibson is that McKissic either misses time or hits the bench and we see the D.C. version of CMC. The worst-case scenario is a similar workload to last season, which was still enough to produce a PPR RB13 finish in just 14 games. This offense is ascending, and we could see plenty of games with a positive game script considering the likelihood that this defense remains lethal. Short of injury or suspension, it's tough to see Gibson busting in a major way in 2021.
Taylor is an objectively great real-life RB; I'm not as convinced as most that this will translate into top-five fantasy production. The most glaring problem is overall usage: Taylor played fewer than 60% of the offense's snaps in all but three games last season. He racked up at least 15 touches in 10 games, including each of his final seven contests, but it's hard not to notice that he wasn't exactly plowing over the league's best defenses on his way to raking over down the stretch. All in all, Taylor gained over 100 total yards against the Vikings, Bengals, Packers, Texans, Raiders and Jaguars. Credit to JT for showing better hands than most gave him credit for throughout the season, but expect the backfield's overall target share to 1) continue to go primarily to Nyheim Hines, and 2) be reduced overall with Carson Wentz now under center. Best-case scenario: Taylor serves as the bell-cow back behind the Colts' beastly offensive line and challenges for the rushing title. Worst-case scenario: We see another *three* back committee with a combination of Jordan Wilkins and Marlon Mack *again* combining for triple-digit touches.
CEH finished 2020 as the PPR RB21, totaling 1,100 yards in 13 games of action. I understand this wasn't enough to meet his lofty pre-draft expectations; just realize Edwards-Helaire was hardly a liability as far as real-life football was concerned. It's concerning that he split so much time with Darrel Williams and Le'Veon Bell down the stretch, although the Chiefs' decision to only re-sign Darrel and not invest more in the backfield reflects the probable reality that we see Edwards-Helaire leaned on even more in 2021. Andy Reid historically produces a fantasy-friendly RB1; don't expect this year's version of CEH to be much different.
Harris continues to climb up my ranks by the week. He looks like the next great Steelers RB and is set up for one of the league's potential larger workloads from day one. Would it be better if the Steelers had a great offensive line? Absolutely, but Harris has the look of someone that will vie for 300-plus touches immediately, and that's simply too much of a fantasy-friendly role for us to consider fading.
On the one hand, Swift doesn't figure to lose 156 carries to Adrian Peterson in 2021. On the other, the organization's decision to sign Jamaal Williams means another committee of sorts should be on the way. Look for Swift to be the primary pass-down back; he's too good to keep on the sideline when the intention is to, you know, gain yards. Theoretically Swift could be a more fantasy-friendly version of what we saw from James Robinson last year: workhorse back on an awful team that makes up for a lack of high-end scoring with volume. It's tempting to drop Swift into Tier 4, but I'm enough of a fan of his talent and (especially) pass-down ability to take the risk as a mid-tier RB2. Here's to hoping Swift becomes one of few RBs that actually see more reps in the slot after their coach talked about doing so in the offseason.
Let's go through what has happened to Carson over the past 12 months:
Carson functions as the PPR RB5 in Weeks 1-5 before getting injured.

Carson finishes the season as the PPR RB12 in Weeks 12-17 after returning from injury.

The Seahawks re-signed Carson.

The Seahawks decided to let Carlos Hyde take his talents elsewhere.
The Seahawks declined Rashaad Penny's fifth-year option.

The coaching staff has (unfortunately) continued to bark about wanting to run the ball as much as possible.
I have my doubts that this defense is average enough for the Seahawks to pretend like they want to be a run-first offense; either way, Carson is set up as the primary back in a perennial top-10 scoring offense. Injuries have impacted Carson over the past three seasons; he's still managed to play in 41 of 48 regular-season games since 2018.
Tier 4: There's upside, but with notable risk
Our next two rookie backs were tied for me post-draft, but there's enough smoke in regard to Etienne's fantasy-friendly Percy Harvin-esque role for me to give him the nod. This doesn't mean Williams is in a bad spot. He's seemingly set up for a two-back committee with Melvin Gordon, while Etienne could split time with James Robinson and Carlos Hyde at least for a bit. Etienne can and should emerge as the Jaguars' three-down back before too long. My primary concern is that 1) I don't really trust whatever it is that Urban Meyer is doing with the Jaguars' offense, and 2) there simply isn't a track record of a RB spending equal time in the slot as well as in the backfield. Maybe Etienne is the one of one that makes Meyer's vision come to fruition, but I'm not willing to bet too heavily on that occurring (hence tier four).
This breakdown will be far easier to handle if Gordon ends up missing time following a late-season DUI charge. Williams broke more tackles than any other back in college football last season, while Etienne showed off more polish as a receiver than we'd seen in 2017-2019. For now, I'm riding with the back seemingly set to see five-plus targets per game without much of an issue.
Dobbins joins Jamaal Charles, Alvin Kamara, Adrian Peterson and C.J. Spiller as the only RBs to average at least 6.0 yards per carry in a single season since 2010 (min. 100 carries). The key problems with expecting more than RB2-level production from Dobbins are 1) Gus Edwards is back and should see relatively equal work on the ground, and 2) Lamar Jackson figures to continue to command triple-digit rush attempts while not making a habit of checking the ball down. As much as dual-threat QBs can help their RB's rushing efficiency; generally we don't want to chase fantasy RBs attached to mobile signal-callers. Dobbins might be a special enough talent to make the most out of this unideal workload; just realize there are many more RBs with a more fantasy-friendly touch ceiling ahead of 2021.
Davis made life bearable for Christian McCaffrey investors if they were lucky enough to properly handcuff the reigning 2019 fantasy MVP. All the sixth-year journeyman RB did in 15 games of action is rack up 1,015 total yards from scrimmage with eight trips to the end zone. Davis achieved all of this in style, leaving countless defenders grasping for air along the way.
People forget Mike Davis is legit goodpic.twitter.com/RpgwOfE8iF

— Ian Hartitz (@Ihartitz) March 23, 2021
In Weeks 1-16, only Dalvin Cook (78), Derrick Henry (67) and David Montgomery (67) racked up more total forced missed tackles than Davis (65). Only Nick Chubb (0.31) had a higher rate of broken tackles per touch than Davis (0.29) among 65 players with 100 total touches. Davis finished 2020 as the overall PPR RB12 and now finds himself on another depth chart that should afford him a true three-down role. Perhaps the likes of Cordarrelle Patterson or Qadree Ollison force their way into a committee, but I wouldn't count on it. Fire up Davis, like Gaskin, as a rock-solid RB2 that is currently being priced far cheaper in fantasy land.
We saw Gaskin for 10 games in 2020, and he commanded double-digit touches along with a 60%-plus snap rate in each. All in all, Gaskin functioned as the RB12 in PPR points per game, posting season-long 142-584-3 rushing and 41-388-2 receiving lines along the way. The latter point is great news for Gaskin's fantasy floor in case the Dolphins' reigning 30th-ranked offensive line in run-blocking grade fails to improve in a meaningful way. The only offseason additions to the room are 1) seventh-rounder Gerrid Doaks, and 2) ex-Rams veteran Malcolm Brown. Neither appears to present any sort of meaningful competition for the starting job. It's not a guarantee that Gaskin will possess the same role with a new play-caller, although it seems likely considering co-offensive coordinators Eric Studesville and George Godsey were the RB and QB coach last season.
Edmonds is the expected starter in Arizona after Kenyan Drake took his talents to Las Vegas; just realize James Conner will steal early-down work, and we could see Rondale Moore get some of the backfield's targets. I like Edmonds; treat him as more of a low-end RB2 as opposed to borderline RB1. This is particularly true when considering the aforementioned negative impact that mobile QBs can have on their offense's RB1.
Sanders is someone that I haven't made a habit of trying to scoop up in fantasy land this year. The main issue is expected volume: Sanders has already had a hard enough time breaking fully away from the likes of Boston Scott and Jordan Howard over the past two seasons, now he'll have to deal with Kerryon Johnson and Kenneth Gainwell in a brand new offense. Don't get me wrong: Sanders can and should be the Eagles' lead back; I'd just expect that role to produce a touch total far closer to 200 than 300. Throw in the reality that we don't exactly know if Jalen Hurts can lead a high-end scoring offense, and Sanders is an easy fade for me unless he slides into borderline RB2 range.
Hunt remains the NFL's No. 1 RB handcuff that isn't actually a handcuff because he performs just fine as a RB2. It'd be great to see even more true receiver usage, but either way, we're looking at a back expected to command more than 200 touches in an ascending offense featuring the league's single-best offensive line. Hunt will be a weekly RB2 or flex option if Chubb is healthy; he'll be a top-five RB if the Browns' starter is forced to miss time, as he was in Weeks 4-8 of last season (PPR RB7).
Montgomery won my award for best fantasy comeback of 2020. He improved from 13.2 PPR points per game in Weeks 1-8 to 21.9 in Weeks 9-16, joining Alvin Kamara and Dalvin Cook as the league's only RBs to average at least 20 PPR points per contest during the second half of the season. The problem: Tarik Cohen is back and figures to at least see a decent portion of the 97.5 targets per season he commanded from 2018-2019. Additionally, Damien Williams has entered the picture for whatever reason, and the selection of Justin Fields could result in fewer overall carries and targets for everyone involved. Here's to hoping the Bears give Montgomery the same workhorse role he finished 2021 with, but I wouldn't count on it.
Honorable mention
We're a couple of paragraphs of coach speak away from Michael Carter earning a spot in one of these tiers. We know the Jets' backfield is ripe for the taking, the question is whether or not 1) Carter can rise to the top after garnering meh fourth-round draft capital, and 2) if this offense is even planning on giving one single back a workhorse-esque role. I'm all for finding out in the later middle rounds; let's just not get crazy at the moment. … Raheem Mostert was someone who I was far more in on before Kyle Shanahan and company felt good enough about Trey Sermon to spend a third-round pick to acquire his services. I'd expect Mostert to start the year as the starter, but at least a two-back committee looms. Throw in the reality that Trey Lance's dual-threat tendencies will further lower the overall touches available to this backfield, and I'm more inclined to treat Mostert and Sermon as zero-RB targets than players worthy of an early-round pick. … Offseason coach speak seems to indicate Kenyan Drake will have a larger role than either DeAndre Washington or Devontae Booker did while backing up Josh Jacobs. We'll also probably continue to see Jalen Richard steal pass-down work. Throw in an offensive line expected to take a step back, and it's a situation I'd simply rather not be a part of.  I understand I'm lower on Jacobs than most, but we haven't seen much reason for optimism from the end of 2020 through the offseason. I'll pass on anyone involved in this descending backfield, even if I maintain Jacobs is one of the better real-life backs with the ball in his hands. … Zack Moss and Devin Singletary are sneaky big winners from the draft; both are more than solid zero-RB candidates, particularly if Josh Allen chills the hell out on his constant quests to score himself inside the 10-yard line. Give me Moss over Singletary, but the difference in their respective ADPs make both solid investments. … Melvin Gordon is the 2021 version of 2020 Leonard Fournette for me: An RB who didn't exactly impress last season and is now on the final year of a deal with an organization he isn't exactly on great terms with. It remains to be seen if any sort of discipline will be tossed Gordon's way in regard to his late-season DUI charge. … Ronald Jones would be my bet to put up the most production in Tampa Bay; the problem is Giovani Bernard and maybe even Ke'Shawn Vaughn will likely steal the majority of the pass-game work. Both RoJo and Fournette are capable of sporadic RB2 performances with 12-15 touches; just don't expect as much of a floor without the targets this time around. … I like James Robinson, you like James Robinson: Now we know Urban Meyer isn't particularly fond of James Robinson. Give it up people: There's no need to draft the Jaguars' early-down No. 2 RB with a non-double-digit round pick. … A.J. Dillon joins Kenyan Drake, Nyheim Hines and Gus Edwards as decent standalone RBs that likely will continue to work as part of a committee even if their team's starter goes down. … Tony Pollard, Latavius Murray, Alexander Mattison, Jamaal Williams, Chuba Hubbard and Darrell Henderson stand out as RBs with potentially less standalone value than the previous group, but we'd be talking about potential RB1s if their respective starters miss time. … J.D. McKissic, James White and Tarik Cohen are solid high-floor options in full-PPR leagues, just realize we won't see anything resembling a legit rushing workload for these pint-sized scatbacks. … Don't draft anyone involved in this Texans offense if you don't have to. … There could be some early-down work afforded to the likes of Rashaad Penny, James Conner, Marlon Mack, Sony Michel as well as Justin Jackson or Joshua Kelley; I'm just not lining up to take any of them due to their respective injury and/or committee red flags.
---
Wide Receiver
Tier 1: Huge target projections for Grade-A ballers (5)
Adams racked up 176 targets in 16 games last season (including playoffs). There's a chance that with better overall health he flirts with a target total beginning with a two, and we already know that few mortals are in Adams' league when it comes to pure route-running ability. The Packers' undisputed No. 1 WR outscored last season's PPR WR2 Tyreek Hill by a whopping 4.36 additional fantasy points per game. Even a nightmare scenario where Aaron Rodgers takes his talents elsewhere wouldn't necessarily sink Adams considering he functioned as the PPR WR12 in Weeks 6-14 in 2017 when forced to play with Brett Hundley while Rodgers was sidelined.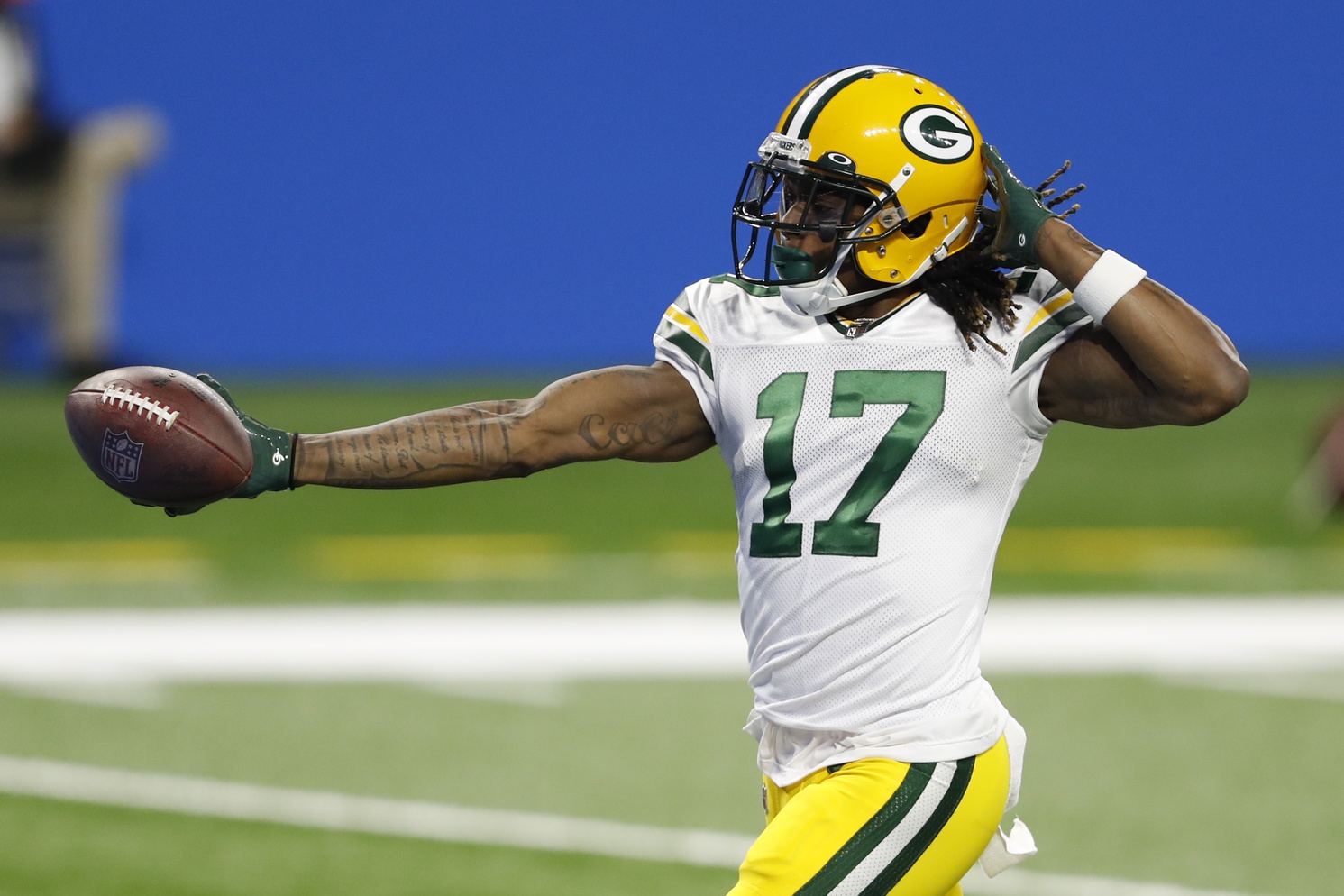 Next season will be AJB *the* WR1 szn if Adams does unfortunately lose his stud QB. You won't find two passing games more concentrated around their No. 1 WRs than Green Bay and Tennessee; the latter added even less competition during the 2020 offseason. Brown turns 24 in June, yet has already established himself as one of the position's best with top-four marks in both yards per route run (2.66) and PFF receiving grade (91) since entering the league in 2019. AJB has posted 10-151-1, 8-114-1, 7-112-1, 4-101-1, 6-83-1 and 7-82-1 receiving lines in six career games with more than eight targets; it's scary to think of what's he's capable of achieving with the sort of legit No. 1 WR workload that is on the way in 2021.
Only Adams (22) and Michael Thomas (19.9) have averaged more PPR points per game than Hill (19.8) since Patrick Mahomes took over under center in 2018. The presence of Travis Kelce is the only reason why the artist known as Tyfreak isn't guaranteed for 150-plus targets; just realize we have more than enough examples of 1) Hill offering special big-play ability, and 2) Mahomes being a god, to feel fine about the slightly reduced volume relative to other top receivers. Don't be surprised if the Chiefs try to get Hill more involved as a rusher after largely declining to invest any real sort of resources into the position this offseason.
Tyreek Hill is the best running back on the Chiefs pic.twitter.com/c8PKJ50DO9

— Ian Hartitz (@Ihartitz) January 19, 2021
Nobody had more targets than Diggs (162) in 2020. The floor was the roof for him throughout the year; only Adams (10), DeAndre Hopkins (8) and Hill (7) had more weeks as a top-12 WR. Diggs caught at least six passes in all but one game last season; his "worst" fantasy performances were going 4-49-1 against the Rams and 7-39-0 against the Chargers. The reality that Diggs generally went about his business with style reflected the reality that he's one of the game's best at his position; treat him as such in fantasy land with another 150-plus targets from Josh Allen inbound.
Hopkins shocked the world with his absurd Hail Mary catch over three Bills defenders, but otherwise seemed to almost put up a "quiet" 115-1,407-6 campaign. The potential for positive TD regression in his second season with Kyler Murray is easy to get behind, while the floor is already sky high. Nuk had at least 10 targets in nine games last season — tied for the fourth-highest mark in the league. I'm skeptical that fake sharp Kliff Kingsbury finds a way to heavily utilize A.J. Green or pint-sized playmaker Rondale Moore; look for Hopkins to again push for the league lead in basically every receiving category. 
Tier 2: Overall WR1 outcome still a possibility (3)
I understand not naming Thomas as the single-best WR in the league, but the slander thrown his way has been ridiculous for the better part of the last 12 months. Most critics lob out the criticism of "slant boy" like it's Thomas' problem that he's been so dominant with a specific route. First of all, Thomas possesses a far wider route tree than most Twitter trolls would expect. Second of all, we've seen him forced to play with late-career Drew Brees, Taysom Hill and Teddy Bridgewater: three signal-callers with objectively below-average arm talent (at this stage in the former's career). When asked to win downfield, Thomas has, catching 33 of 36 (92%) catchable targets thrown at least 20 yards downfield since entering the league in 2016 — the fourth-highest mark among 64 qualified receivers. The man has posted a 16-game pace of 128-1589-5 in nine games without Brees over the past two seasons; buy the healthy version of Thomas in fantasy leagues of all shapes and sizes in 2021. The only reason why he isn't in Tier 1 for me is the faint possibility that Hill winds up being the Saints' starting QB.
We've only really seen Metcalf "shut down" on one occasion: his 3-21-0 line on nine targets against the 49ers in Week 17. Note that the extra attention he received that afternoon was likely an aftereffect of his 12-161-2 performance against the Seahawks' NFC West rival back in Week 8. Sure, previous matchups against Patrick Peterson and Jalen Ramsey didn't produce huge box score tallies, but he also wasn't afforded more than five targets most of those games: Don't confuse Russell Wilson's tendency to not target elite corners (in this life or the last) with Metcalf having trouble defeating them. We saw the likes of Stephon Gilmore (4-92-1), Tre'Davious White (7-109-1) and Darius Slay (10-177-0) all fail in attempting to contain Metcalf; his combination of size and speed makes him more or less matchup proof. The Seahawks can talk all they want about wanting to run the ball more, but at the end of the day their defense might not be good enough to dictate the game's pace. Equipped with a future Hall of Fame QB and middling target competition, expect Metcalf to once again see upwards of 125 targets, which is a scary proposition for defenders of all shapes and sizes.
???????????? pic.twitter.com/BUyxuLhL3V

— Ian Hartitz (@Ihartitz) May 10, 2021
Allen was largely written off as too injury prone to draft after playing in just nine games during the 2015-2016 seasons. All he's done since is rip off 102-1393-6, 97-1196-6, 104-1199-6 and 100-992-8 receiving lines while missing just two combined games. Allen did average a career-low 9.9 yards per reception with Justin Herbert in 2020, although his corresponding career-high 10.5 targets per game were more than enough to still make him a fantasy stud. It's also worth noting that Allen had 1) eight targets in Week 1 with Tyrod Taylor under center, 2) two targets in Week 5 after being forced to exit with an injury 12 snaps into the game, and 3) three targets in Week 15 after suffering an injury 24 snaps into the game. There's no question Allen has the talent, QB and volume to be a top-five fantasy receiver; the only reason why he isn't higher is due to his demonstrated relatively lower yardage and TD ceilings compared to his fellow WR1 peers.
Tier 3: Alpha receivers, even if there might be two of them in the same offense (8)
Jefferson didn't just have an exceptional rookie season in 2020; he established himself as a legit top-10 WR regardless of age. Overall, only Davante Adams (2.96) averaged more yards per route run than Jefferson (2.66). The reality that he did so while consistently displaying nuanced route-running ability is even more impressive; Jefferson deserves to be a top-two fantasy WR in dynasty formats of all shapes and sizes. The only reason I have him lower here is due to the potential for him again to see a target total closer to 125 than 150. Kirk Cousins does a good job focusing target share on Jefferson and Adam Thielen; the problem is that, as opposed to the Seahawks and Titans, I expect the Vikings to boast an improved defense next season and thus be able to run the ball more than they did in 2020. Remember: Stefon freaking Diggs only saw 94 targets in 2019 despite Thielen only playing 10 games. Expect Jefferson to remain a top-10 real-life receiver; I'm just concerned about his chances of vaulting into the top-five in fantasy land in the immediate future.
The artist known as McLaurin F1 has ripped off 58-919-7 and 87-1118-4 receiving lines to start his career despite catching passes from a mix of Dwayne Haskins, Kyle Allen, Alex Smith, Case Keenum, Colt McCoy and Taylor Heinicke. Sheesh. Ryan Fitzpatrick is objectively the best QB of McLaurin's career, and he has a history of enabling high-end fantasy WR1s. Overall, Fitzpatrick's No. 1 WR has posted target totals of 128, 128, 137, 134, 141, 146, 148 and 173 in his eight seasons with double-digit starts. We should probably expect the target total to be on the lower side of those numbers considering the presence of Curtis Samuel, Dyami Brown and the Football Team's loaded defense, but make no mistake about it people: McLaurin F1 WR1 szn is alive and well; treat him as such in fantasy drafts this instant.
Cooper (WR8) and Lamb (WR11) were both among the top-12 PPR producers at their position with Dak Prescott under center in Weeks 1-5 last season. With all due respect to Michael Gallup (WR33): it's clear Prescott prioritizes his $100 million man as well as the team's overqualified slot. This offense scored 17, 40, 31, 38 and 37 points in Prescott's five starts; there's more than enough pass-game volume to go around for two fantasy WR1s. Over the past 10 years, there have been 14 instances of a pair of WRs on the same team finishing as top-12 PPR performers; I'm betting on Cooper and Lamb becoming the 15th such duo in 2021.
Ridley broke out in a major way in 2020, converting 143 targets into a 90-1374-9 receiving line. Yes, he benefited from Julio Jones missing seven games and being limited by injuries in two others. Also yes, Ridley posted 9-130-2, 7-109-2, 6-61-1, 5-69-1 and 5-108-0 receiving lines in five games that both Ridley and Jones played at least 50% of the offense's snaps. We largely saw Julio maintain his dominance when healthy: only Davante Adams (2.96), Justin Jefferson (2.66) and A.J. Brown (2.65) averaged more yards per route run than Jones among 84 WRs with at least 50 targets. Father time is undefeated, and Jones turned 32 in February, but I'm fine treating both receivers as borderline WR1s in an offense that has proven plenty capable of enabling multiple high-end fantasy options in the passing game. Note that Ridley wouldn't lose much (if any) fantasy steam if the unthinkable happens and Jones is traded. Having to deal with Jones adjusting to a new QB wouldn't be ideal, although there are a handful of ideal landing spots (Green Bay, Tennessee, Las Vegas, New Orleans) that wouldn't impact his standing, either.
There was a scenario where Johnson would be up a tier if JuJu Smith-Schuster had signed elsewhere. Either way: Diontae deserves to be treated as a borderline WR1 thanks to volume and demonstrated baller ability.
Ballerpic.twitter.com/0R6iLcYVuI

— Ian Hartitz (@Ihartitz) March 24, 2021
Yes, Johnson needs to not drop the ball as much. Also yes, there's a long list of great receivers that also have a double-digit drop campaign on their record. In fantasy land we don't lose points for drops, and using the metric as a raw total tends to highlight receivers that get open more so than players that absolutely suck at catching. Ultimately, Johnson had at least 10 targets in all but one of his 12 games not impacted by injury with Ben Roethlisberger under center; targeting playmakers with high-end volume is good for the fantasy business.
A-Rob is back in an offense that has afforded him more than 150 targets in each of the past two seasons. We know Robinson is a special receiver capable of making the most out of a bad situation; the question is whether he can continue to function as a high-end fantasy receiver with 1) Andy Dalton, or 2) rookie-year version of Justin Fields, under center. I realize A-Rob has been just fine throughout his collegiate and professional career despite having to deal with the likes of Christian Hackenberg, Matt McGloin, Blake Bortles, Chad Henne, Chase Daniel, Mitchell Trubisky, Chase Daniel and Nick Foles, but we've even seen the likes of DeAndre Hopkins succumb to especially poor QB play before (see: Osweiler, Brock). I'm betting on Robinson not suffering too much; he's inside my top-16 WRs after all. Still, there's only so much one receiver can take when it comes to a constant carousel; I'd prefer to target my WR1s and high-end WR2s from more proven high-end offenses when possible.
Tier 4: Unfortunate volume and/or QB concerns are the only reason they're this low (13)
Lockett had about the "worst" 100-1054-10 season in recent memory. Yes, he finished as the overall WR8 and WR12 in PPR points per game. Also yes, he had as many weekly finishes inside the top 12 WRs (5) as he did outside the top 60. The poor performances in December have hurt over the past two seasons, but let's not act like the man isn't a great football player. Lockett has missed just one game since entering the league in 2015 and has ripped off 57-965-10, 82-1,057-8 and 100-1,054-10 receiving lines over the past three years, functioning as one of the position's most efficient talents along the way. His recent four-year, $69.2 million contract extension reinforces the reality that he's still very much in line for triple-digit targets from Russell Wilson. Russ has cooked enough to throw at least 30 TDs in five of the last six seasons. Obviously, D.K. Metcalf will get his, but the discrepancy in ADP between the Seahawks' undisputed top two WRs is unwarranted — particularly in best-ball formats that allow us to not sweat the inevitable down weeks as much.
Evans and Godwin are both real-life No. 1 WRs that unfortunately should be treated as WR2s in fantasy land due to volume concerns. Evans had more games with fewer than five targets in 2020 (7) as he did in 2014-2019 combined (5), and Godwin had at least eight targets in just six games in 2020 after having 10 such contests last season in two fewer games. We have a 12-game sample of Tom Brady with each of the top-three receivers in the lineup; each of Godwin (113), Evans (112) and Antonio Brown (99) had good-not-great 16-game target paces. All three receivers have a fighter's chance at scoring double-digit TDs; just realize the additions of O.J. Howard and Giovani Bernard could further lower the weekly target ceiling for every WR involved. Look no further than the Super Bowl for an example of what this offense can do when able to get everyone involved alongside an elite defensive effort: Evans (1-31-0), Godwin (2-9-0) and Brown (5-22-1) combined for just 11 targets. The floor for each is more than solid inside of an offense expected to finish among the league's top-five scoring units; that doesn't mean each receiver won't have more disappointing weeks than the public might realize.
The Rams have a bevy of options at No. 3 WR between Van Jefferson, DeSean Jackson and Tutu Atwell, but Woods and Kupp are again expected to work as the offense's top-two target hogs. This has produced large roles for both the artist known as Bobby Trees (130, 139 and 129 targets since 2018) and Kupp (55 in 8 games, 134 and 124), although it's worth noting Woods has had a commanding 60-10 lead in rush attempts during this span. The presence of Matthew Stafford, combined with their newfound source of field-stretching receivers in D-Jax and Atwell, could feasibly increase both receivers' efficiency. I'm not overly optimistic about the Rams needing to participate in weekly shootouts with their defense likely (again) being excellent, but at least we know Sean McVay has historically been just fine with producing multiple fantasy-relevant receivers.
Joe Burrow led the NFL in pass attempts before getting injured as a rookie. If any offense is capable of enabling three top-24 PPR WRs, it might as well be this one. I'm buying Chase's rookie year ceiling being the roof; it's tough to pass on him if he's as good of a prospect as most think, and he's fully expected to see A.J. Green's departed 104 targets. Throw in the past LSU connection with Burrow, and I'm willing to ride with Chase as the Bengals' WR1 in fantasy land. Of course, Higgins and Boyd shouldn't be too far behind. The former rising second-year receiver impressed throughout 2020 and might just be the favorite to (again) lead this offense in receiving scores, while the latter has posted consistent 76-1028-7, 90-1046-5 and 79-841-4 receiving lines over the past three seasons. I'm buying basically anybody involved in this ascending offense; most are still being priced closer to their median outcome as opposed to their ceiling in fantasy land.
Yes, Smith doesn't possess the sort of size that we would prefer. Also yes, he possesses every notable on-field skill that an elite WR should have. Obviously playing in an offense that sets up Smith for extra success with pre-snap motion and slot usage would be preferred; just realize the Heisman Trophy-winner might just be the sort of blue-chip talent that winds up being the exception to the rule. Jalen Hurts threw for over 300 yards in two of his four starts from last season; he's hardly incapable as a passer. Smith projects to immediately lead this offense in targets, and that total has the potential to be quite high if Hurts decides to lean on his former teammate far more than anyone else.
Somehow still just 24 years old, Moore has posted back-to-back 87-1175-4 and 66-1193-4 receiving lines despite having to deal with the likes of Kyle Allen and Teddy Bridgewater. Seriously, Moore joined Jerry Jeudy as my top two most unlucky receivers from 2020 based on their plethora of uncatchable targets. Unfortunately, it's far from a given that this metric will improve for Moore in 2021 with Sam Darnold under center. At the end of the day, DJM has at least already proven capable of clearing the century mark in this offense despite mediocre QB performance, and the potential for more snaps in the slot could better accentuate his rare after-the-catch ability. An elite QB and more condensed target share would push Moore into WR1 territory, but I'm still fine going after him as a borderline WR2 thanks to the reality that play-caller Joe Brady knows it's in the team's best interests to get this man the ball.
Thielen joins Lockett as another technically No. 2 WR that was a WR1 in fantasy land last season. It only took Thielen 108 targets to rack up 74 receptions for 925 yards and 14 (!!!) scores. He'll turn 31 in August, and it'd make sense if those TDs are more evenly spread out between him and Jefferson this time around, but Kirk Cousins' longtime stud receiver remains set up for triple-digit targets after the team largely declined to invest any serious resources into their WR room. This offense should continue to run through Dalvin Cook; just realize Cousins has averaged 30.3 passing TDs during his three seasons in Minnesota, and Thielen remains the favorite to lead the way in receiving scores. Look for Jefferson to win out over Thielen a bit more in 2021 than he did in 2020; it still wouldn't be surprising for both Vikings WRs to finish among the position's top-24 producers.
Golladay looked like his usual self when healthy in 2020, generally skying above whichever poor defender happened to be nearby in order to make another spectacular catch. All in all, he posted 6-57-1, 4-62-1, 4-105-0 and 6-114-0 in his only four healthy games despite never getting more than eight targets in any individual contest. Now the Giants have 72 million reasons to feed the 27-year-old talent all the targets he can handle. Concerns over Golladay's separation ability are probably overblown considering his demonstrated high-end contested-catch ability. Overall, he joins Michael Thomas, Chris Godwin and Stefon Diggs as the only wide receivers to catch at least 60% of their contested targets since 2017 among 81 qualified players. Nobody has a higher PFF receiving grade than Golladay (96.8) on contested targets since he entered the league. It's more likely Daniel Jones is bad than good, and I don't love chasing anybody involved with Jason Garrett, but Golladay is the sort of talent that might be capable of outperforming recent high-priced WR additions.
Let's get one thing clear: OBJ was anything but washed during the year 2020.
Hot take: the @Browns are better with Odell Beckham Jr. than without pic.twitter.com/cBpYExkfQQ

— Ian Hartitz (@Ihartitz) February 3, 2021
Unfortunately, Beckham was limited to just seven games after tearing his ACL on his second snap of Week 7. Previously, he was on pace for an underwhelming 107 targets, but I'm buying the idea that Baker Mayfield will be pressed into a larger role in his second year inside of Kevin Stefanski's offense after finishing the season strong. Ideally we get the patient version of Mayfield alongside the healthy version of his No. 1 WR. We've seen Mayfield target his first read on just 58% of his dropbacks in 22 games with Beckham over the past two seasons compared to 63% without. Only Aaron Rodgers posted a better PFF passing grade than Mayfield when targeting the first read after Week 7. It's tough to stop Mayfield when he identifies an open receiver in rhythm; just realize the best version of this Browns offense would consist of this mindset *with* a coverage-shifting talent like Beckham making things even easier for the passing game's complementary options. I don't blame folks for prioritizing other receivers in this range; just realize the best version of the OBJ-Baker partnership remains capable of producing fantasy WR1 results.
Tier 5: It's unfortunate there's only one football to go around (12)
We didn't see much of Sutton in 2020, although he did manage to make his presence felt during his 31 total snaps. Obviously, it'd be easier to feel better about Sutton in fantasy land if he 1) had a more stable QB, and 2) wasn't coming off a torn ACL, but this might represent an opportunity to get one of the game's more talented receivers at a steep discount. Recall: Sutton converted 124 targets into a 72-1112-6 receiving line with Joe Flacco, Drew Lock and Brandon Allen throwing him the ball; it can't really get much worse. There's certainly a chance that having the likes of Jerry Jeudy, K.J. Hamler, Noah Fant and even Tim Patrick condenses the target share of everyone involved; I'm still willing to pounce on Sutton a bit before his ADP in the hopes of catching his *true* breakout campaign. Everyone involved in the Broncos offense would skyrocket up this list if the league's reigning MVP happens to find his way to Denver.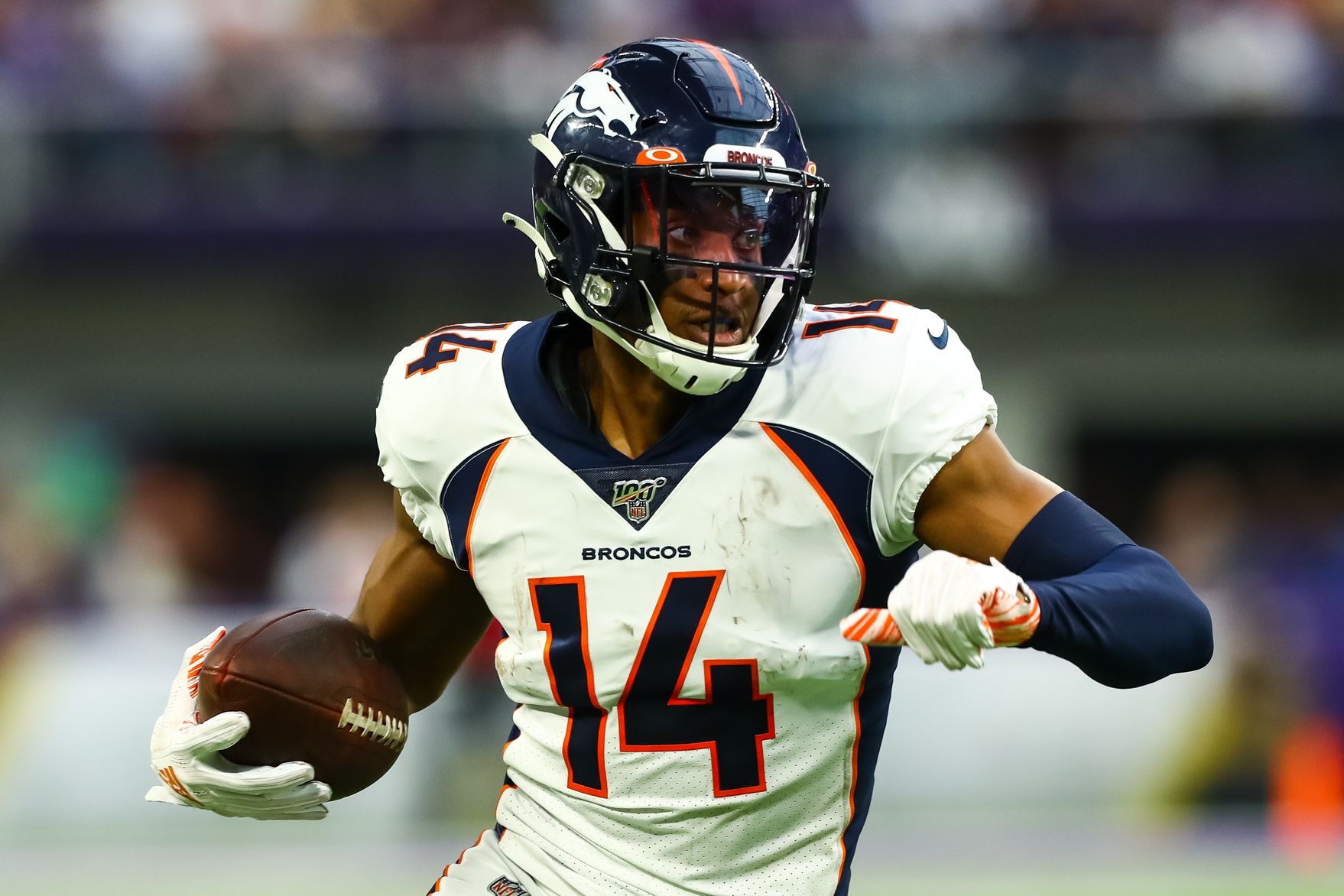 Anderson actually played more in the slot than Moore last season; there's a perfectly real scenario where the ex-Jets talent once again emerges as Sam Darnold's No. 1 WR. We shall see. The connection was largely flawed by a constant dose of poorly thrown deep balls in New York, while the reinsertion of Christian McCaffrey into this offense could soak up a lot of Anderson's underneath work. Ultimately, I agree with the sentiment that Moore should be projected higher than Anderson, but their present disparity in ADP has me scooping up far more of the latter WR in best-ball land.
The 49ers utilized Aiyuk as more of their true No. 1 WR compared to Samuel in terms of general usage. Aiyuk made a habit of making plays all over the field while lined up everywhere, while Samuel wound up with more yards after the catch than total receiving yards due to his RB-esque route tree. Both should be capable of returning borderline WR2 production as long as Jimmy G remains under center, but the potential for Trey Lance to lead more of a run-first offense is burdensome. Throw in the likelihood that George Kittle leads the way in total targets, and I'm a bit lower on both WRs in fantasy land than I would be if asked to be a general manager for a day in real life.
Samuel projects to have a more smooth transition to a new offense than most free agent signees considering his most-diverse usage came in 2019 with ex-Panthers QB coach, now-Washington OC Scott Turner in charge. The biggest perceived knock against Samuel is that he's not a downfield threat. Well, 2019 film says he wasn't the problem, and his status as 2020's No. 1 receiver in passer rate when targeted at least 20 yards downfield should dispel the silly idea that Samuel isn't capable of doing anything a WR (or RB) is asked to do. The reality that Terry McLaurin is fully expected to work as the offense's No. 1 pass-game option slightly lowers Samuels' ceiling; just realize he's capable of big things as Ryan Fitzpatrick's No. 2 WR, particularly if we see an additional ~20 rush attempts handed to the millennial version of Percy Harvin.
Both Chark and Shenault are back atop the Jaguars' pecking order at WR, yet they have the league's second-most available targets thanks to the departures of guys like Chris Conley and Keelan Cole. Murmurs from Urban Meyer that a Percy Harvin-esque role could be on the way for Travis Etienne, not Viska, are undoubtedly concerning, although even in this scenario we'd be looking at potentially triple-digit targets for the talented second-year playmaker. Chark can and should be considered the passing game's No. 1 option; just realize there might be enough volume for more than one more than solid fantasy option if 1) Trevor Lawrence is anywhere near as good as many think he is, and 2) the Jaguars defense remains piss poor.
You might not like AB's actions off the field in recent history, but he still managed to return to the field in 2020 and work as the WR23 in PPR points per game despite at times functioning as the third fiddle behind Mike Evans and Chris Godwin. This might continue, and we could see Brown be the odd man out when the offense wants to get Scotty Miller or Tyler Johnson some reps. Still, AB remains tight with the one person whose opinion truly matters: Tom Brady. Much like Evans and Godwin, I'm hesitant in crowning any of the Bucs WRs as more than low-end WR2 plays due to the likelihood that nobody commands a target share of even 20%. However, the present disparity in ADP between Evans (WR16), Godwin (WR18) and Brown (WR47) makes the latter the easy value and a priority in the later rounds.
Good things happen when Waddle touches the football, and it's easy to envision him working as former teammate Tua Tagovailoa's No. 1 receiver from the get go. Of course, Fuller is hardly a slouch in his own right and has the sort of field-stretching speed that can immediately elevate an entire offense. Deshaun Watson has averaged 8.8 yards per attempt vs. 7.6 and 26.1 fantasy points per game vs. 23.1 with Fuller compared to without since 2017, while DeAndre Hopkins was also far better in the fantasy points (20.3 vs. 18.9) and TDs (0.81 vs. 0.43) per game departments with the Texans' speedster even though he had more targets per game without. Perhaps DeVante Parker winds up leading the way, although we've ultimately only seen him put together any sort of prolonged excellence with notable DGAF-gunslinger Ryan Fitzpatrick under center. I question the true ceiling for anyone in this somewhat crowded, potentially low-volume passing game, but both Waddle and Fuller might be special enough talents at the position to make the most out of their (hopeful) low-end triple-digit target totals.
Last season each of Juju (PPR WR16), Diontae Johnson (WR21) and Claypool (WR23) finished as top-24 options at the position. Reasons why we aren't expecting this to happen again include 1) Johnson emerging as more of the true No. 1 option with better health/hands, 2) some of JuJu's underneath targets being cycled to Najee Harris, and 3) James Washington continuing to at least take away some of Claypool's snaps/targets. I'm team Claypool over team JuJu for the simple fact that JuJu hasn't resembled the same dynamic YAC monster we saw in 2017-2018 for quite some time now; either way, we shouldn't necessarily have the highest of expectations for anyone not getting absolutely force fed the ball in this likely descending offense.
Tier 6: It probably won't be anything too special, but you could imagine (14)
Gallup is a value purely from the reality that he was the PPR WR33 with Dak Prescott under center in Weeks 1-5 last season. He also made more than a few great plays with the team's various backup QBs, cementing himself as one of those boom-or-bust WR3s that are (wait for it) better in best ball. The Cowboys might have other players that they'll prioritize more than Gallup; just realize this defense (again) looks awful, and the offense (again) looks damn good.
Yes, the Agholor crying baby memes are funny. Also yes, he was nothing short of great for most of 2021. The Patriots could feasibly utilize more of a pass-first offense once Mac Jones inevitably takes over for Cam Newton. Even if the transition takes longer than expected, Agholor is the clear-cut No. 1 WR in an offense that was dying to get any sort of high-level play from this position in 2020.
The most unlucky wide receiver of 2020 was Jerry Jeudy. He didn't help his own case at times with drops, but too often his pristine route-running ability was wasted by erratic passes and/or bad decision-making under center. It remains to be seen whether or not Drew Lock will again be the starter in Denver next season. Improvement could always come; just be careful before criticizing Jeudy if issues continue and the counting statistics we know he's capable of achieving fail to come to fruition again in 2021.
Jerry Jeudy route running already on god mode pic.twitter.com/fXCNDF57nq

— Ian Hartitz (@Ihartitz) April 15, 2021
Davis finally put together the sort of high-efficiency season in 2020 most hoped would be an annual occasion back when the Titans used the No. 5 overall pick in the 2017 draft to acquire his services. Fine, Davis' 65-984-4 receiving line wasn't all that impressive on the surface, but only Davante Adams (2.96), George Kittle (2.84), Justin Jefferson (2.66), A.J. Brown (2.65) and Julio Jones (2.6) averaged more yards per route run than Davis (2.58) among everyone with at least 50 targets. The Jets offense is wide open with a wide range of both good and bad outcomes; good thing Davis is being priced far closer to this floor than ceiling at the moment.
Williams is one of the league's more accomplished WRs that has never touched triple-digit targets. This didn't stop him from racking up 10 scores in 2018, or from clearing the century mark in 2019, although we did see a general step back in both departments in 2020. Fear not my fellow Williams truthers: The Chargers' decision to pick up his fifth-year option reinforces the reality that he's the favorite to function as Justin Herbert's No. 2 pass-game option.
Beasley finished 2020 as the PPR WR32 despite playing through a small issue (broken fibula) during the team's final four games. Don't let Beasley's status as a small slot receiver make you think he doesn't possess boom potential in fantasy land: Only Calvin Ridley (8), Davante Adams (7), Stefon Diggs (7), DeAndre Hopkins (7), Justin Jefferson (7) and Travis Kelce (6) had more games with at least 100 receiving yards than Beasley (5) last season. Look for another more than stellar performance in 2021 with another triple-digit target workload on the way.
Cooks could rise, or fall even further, with news on the Deshaun Watson front. Assuming the Texans' franchise QB misses at least a decent portion of the 2021 season, it's hard to get behind Cooks all that much. The inverse of Allen Robinson and Andre Johnson, Cooks has played with Drew Brees, Tom Brady, Jared Goff and Watson during his seven-year career. HIs worst season by far came in 2019 (42-583-2) with the Rams, perhaps not coincidentally coinciding with the worst QB play of his career. I see the potential for Cooks to beat his ADP thanks to good, old fashioned, pure volume; that doesn't mean you should go out of your way to get anyone involved with this likely dumpster fire of an offense.
Landry is someone that I'm always too low on, although I agree with the general sentiment that he's an odd fit in Kevin Stefanski's offense. Expect the YAC specialist to still see his fair share of underneath looks, but the fantasy-friendly deep balls and red-zone opportunities will likely go through OBJ, as they did in Weeks 1-6 last season. Perhaps Landry continues to outperform his ADP, but getting just 101 targets and finishing as the PPR WR36 in a best-case scenario year without Beckham doesn't strike me as a campaign worth following up on.
The Lions offer more available targets than anybody based on roster turnover. Right now, their top-five WRs under contract are Breshad Perriman, Tyrell Williams, Kalif Raymond, Quintez Cephus and Victor Bolden. Look for St. Brown to immediately slide into the slot, where he could function as Jared Goff's new-look version of Cooper Kupp. This isn't to suggest that St. Brown is anywhere near ready to resemble a player of Kupp's caliber from Day 1; this is purely a play on potential volume. I wouldn't rank St. Brown inside of my top five rookie dynasty receivers, but there simply wasn't a better situation for any first-year pass-catcher to land in terms of raw pass-game opportunity.
I mentioned my reasoning for projecting Parker lower than Waddle or Fuller in the previous tier; that doesn't mean the Dolphins' biggest option on the outside couldn't mess around and still lead the team in receiving and/or scores. It's true we've only seen Parker put together a great season-long stretch once, but man that 72-1202-9 receiving line in 2019 was a helluva drug.
The artist known as Hollywood Brown ended 2020 on an absolute tear, posting 4-85-1, 5-39-1, 2-50-1, 6-98-0, 4-25-1, 5-41-2, 7-109-0 and 4-87-0 receiving lines from Week 12 through the Divisional Round. The problem: Few fantasy investors benefited from this late-season surge after witnessing Brown (and most of the Ravens' passing game) largely do nothing during the first 11 weeks of the season. There's more competition for targets than ever with Rashod Bateman, Tylan Wallace and Sammy Watkins now in town; Brown will need to start posting some larger boom performances to make up for a potentially lower floor moving forward.
None of Hilton (93 targets), Pittman (61) or Zach Pascal (71) managed to gain control of the Colts' passing game last season. Each is back, along with a potentially healthy version of Parris Campbell. The more concerning factor could be a rather large reduction in QB efficiency. I don't blame the Colts for chasing the potential of Carson Wentz regaining his 2017 MVP-level form; just realize he was objectively a significantly worse QB than Philip Rivers in every meaningful statistic last season. This offense also enjoys getting its RBs and TEs plenty involved; I've only found myself targeting Pittman at cost throughout the offseason.
Shepard was shaping up to be a far bigger value in fantasy land before the Giants brought in Kenny Golladay and spent a first round pick on KaDarius Toney. Still, he should be considered the favorite to finish second on the offense in targets back from the friendly confines of the slot, where he's been most productive throughout his career. I don't blame folks for not chasing anyone involved in this Jason Garrett-led offense; just realize few things are more certain than Shepard getting six targets a game, and that's not expected to change in 2021.
Tier 7: So you're telling me there's a chance (13)
Perriman has largely played great football with each of the Browns, Buccaneers and Jets since leaving the Ravens; it wouldn't be surprising if he sees triple-digit targets and leads the Lions in receiving, although it also wouldn't be shocking if he emerges as more of a complementary field-stretching option.
Hardman has largely done nothing except make the most out of his opportunities over the years; he ranks third in yards per target among all WRs with at least 100 targets since 2019. Somehow it's not a guarantee he'll play ahead of Demarcus Robinson and/or Byron Pringle, but a truther can dream (especially with Sammy Watkins gone).
Nobody expected Nelson Agholor to overtake Ruggs as the Raiders' No. 1 WR in 2020, but here we are. I'm fine buying Ruggs at a steep discount to last season because of the reality that we never saw him truly struggle; the man just never had a game with more than even five targets to work with. This passing game will still go through Darren Waller first and foremost, but I like Ruggs' chances of beating out Bryan Edwards and John Brown for the No. 2 leader.
There's a non-zero chance that the Ole Miss product emerges as the best receiver on the Jets early in 2021. The great thing about the Jets offense at the moment is that everyone is priced far closer to their floor than ceiling. This makes them a great best-ball stack in the later rounds; using a pick on Moore presents great upside and low risk at his current reduced ADP, even if expecting a lot from anybody involved in this Jets offense is probably wishful thinking. Ditto for Mims, but I believe Moore to be the better prospect. Reagor could potentially lead this wide-open Eagles offense in targets. I believe that honor will go to DeVonta Smith, or even Dallas Goedert, before Reagor, but you could imagine, and that's a lot more than most receivers in this range can attest to.
Crowder is seemingly on his way out of New York considering 1) the team can save $10.4 million by releasing him whenever, and 2) they already drafted his replacement in Moore. Of course, signing with a slot-needy team such as the Titans could immediately elevate him back into the WR3 conversation.
Mooney was good enough as a rookie to make some pretty great corners look pretty bad on occasion, although poor QB play was routinely a factor. There isn't really any meaningful newfound WR competition, although Mooney will likely continue to be more of a boom-or-bust WR4 at best with Tarik Cohen likely soaking up plenty of underneath looks.
Collins is my No. 6 rookie WR; there's next to zero competition for targets in this offense behind Brandin Cooks, obvious QB concerns aside. Collins has a potentially fantasy-friendly combination of size and contested-catch ability; he could be a huge value if his agility drills are any indication that we'll see improved route-running skills in an actual NFL offense.
Perhaps Bateman is the No. 1 WR that Lamar Jackson has been missing. Look for the rookie to be a better real life talent than fantasy performer, at least in Year 1. Hollywood is expected to see most of the deep ball looks, and Mark Andrews the red-zone opportunities; there's only so much we can expect from the passing game of the league's most run-heavy offense.
The answer to which Cardinals WR to target behind DeAndre Hopkins is probable just: no. Kirk seems like the safer bet to start in three-WR sets over Moore, although Andy Isabella also looms, and we really have no idea what Kliff Kingsbury is thinking, or if his actions are even worth pursuing in fantasy land. 
Jones is on my ageist list of players not to draft. This isn't to suggest that I'm fading every 31-year-old WR in fantasy land; Jones just had the look of a receiver past his prime in 2021 that only put up numbers because his passing game didn't have anywhere else to go with the ball. It'd be silly for him to take any sort of meaningful targets away from the Jaguars' incumbent top two receivers or their electric first-round RB. Of course, Urban Meyer seems to make a more perplexing decision by the day, so maybe I'm wrong and Jones winds up as one of Trevor Lawrence's top two targets.
Tier eight: No, you're drunk (13)
Smith is tentatively the Saints' No. 2 WR and should be considered the favorite to finish third in targets behind Michael Thomas and Alvin Kamara. Here's to hoping Jameis wins the job.
Reynolds was one of the sneakier winners from the draft; he might just be the Titans' No. 2 pass-game option. It remains to be seen if that role will be worth a damn, or if AJB simply gets fed every target he can handle.
I'd feel a lot better about Toney making things happen if Jason Garrett wasn't (again) the man in charge of orchestrating the league's reigning 31st-ranked scoring offense. 
It might not happen overnight, but I'm guessing by Week 10 we'll rather have Rodgers than Lazard in fantasy land. Whether or not either will be worth starting is up for debate; give me MVS and his best-ball friendly weekly boom-or-bust potential.
Miller was one of my favorite best-ball picks before AB re-signed with the Bucs. The overqualified No. 4 WR should still post a few boom performances anyway.
Davis is the favorite to work ahead of Emmanuel Sanders in three-WR sets, but the Bills use enough four-WR sets that each receiver could ultimately cancel each other out as far as fantasy is concerned. 
Smokey Brown starting over Henry Ruggs wouldn't be the craziest decision made in Jon Gruden's second tenure with the Raiders, but I think common sense will prevail and the 12th overall pick from the 2020 draft leads the WR room in targets.
Health has been tough to come by for Campbell; here's to hoping it was more fluky injuries than a sign of things to come in 2019-2020. Either way, the Colts offer a low-ceiling and crowded passing game most likely to produce zero high-end fantasy WRs.
Hamler flashed toward the end of 2020 and possesses some game-changing speed; if only he wasn't expected to function as the No. 4 pass-game option with either the drug that is Drew Lock or check-down Teddy under center.
Both Palmer and Brown project as hopeful No. 3 field-stretching options in their respectfully solid passing attacks; just realize hoping for anything resembling consistent high-end play is probably a pipe dream for 2020.
Honorable mention
Additional projected starters in three-WR sets that weren't listed include Russell Gage, A.J. Green, Randall Cobb, Hunter Renfrow, Jakobi Meyers, Sammy Watkins, Rashard Higgins, Tyrell Williams, Zach Pascal and Greg Ward among others; there are simply too many age, health and/or volume concerns to feel at all comfortable with selecting these players with anything resembling a middle-round pick. … My fingers have been crossed for three years straight that Jalen Hurd gets a chance to fulfill his prophecy as Kyle Shanahan's most-versatile weapon yet; I've thought of worse last-round best-ball picks. … Terrace Marshall is a rookie that I don't expect much from in 2021 due to his status as the offense's No. 4 pass-game option, but in dynasty land I'd be willing to rank him higher than some of the rookies I have listed in the tiers. … The top-three No. 4 WRs in the NFL are Tim Patrick, Auden Tate and James Washington. Does this mean anything in fantasy land? Not really. … Perhaps one of Van Jefferson, DeSean Jackson or Tutu Atwell cement themselves as the offense's No. 3 WR; I'm inclined to believe they rotate the trio. … It'd make sense if Darius Slayton is the odd man out in three-WR sets sooner rather than later in the big apple. … Maybe now is the time to buy the post hype dip on Bryan Edwards; just realize everything behind Darren Waller is a mystery in Las Vegas.
---
Tight End
Tier 1: The reigning, defending, undisputed fantasy football TE champion of the world (1)
The PPR TE1 has been Kelce for not one, not two, not three, not four, but five consecutive seasons. Some people seem to get off on attempting to criticize Kelce by calling him a wide receiver; all you're saying is that the man is relatively underpaid. Whatever you want to call Patrick Mahomes' BFF: Kelce is just about impossible for any mere mortal to deal with.
The fact Travis Kelce can make true No. 1 corners look this silly is absolute madnesspic.twitter.com/q3qlvxih5M

— Ian Hartitz (@Ihartitz) January 29, 2021
One of the best to play the position, Kelce didn't look any worse off in 2020 in terms of athleticism or after-the-catch ability. Even once he does, it's easy to imagine the 31-year-old veteran aging just about as gracefully as possible with Mahomes under center. Continue to fire up Kelce as fantasy's clear-cut TE1; he's a dark horse to lead the entire NFL in receiving yards on an annual basis.
Tier 2: Absolute ballers that work as their offense's No. 1 pass-game option (2)
Waller has posted 90-1145-3 and 107-1196-9 receiving lines over the past two seasons; he's once again locked in as the Raiders' undisputed No. 1 pass-catcher. We saw the true potential of his powers from Week 13-on last season, when he posted 13-200-3, 7-75-0, 9-150-1, 5-112-0 and 9-117-1 receiving lines. Like Kelce and Kittle: Waller is a No. 1 pass-game option that we happen to call a tight end. The only reason he's not a tier above is due to my concern that the Raiders' revamped offensive line takes a step back, leading to regression from Derek Carr following last year's career-best campaign (seriously).
The only human being that averaged more yards per route run than Kittle (2.84) last season was Davante Adams (2.96). The 2021 TE3 in PPR points per game, Kittle would probably have my vote ahead of Kelce as the league's best overall player at the position if we could convince god to turn off injuries. Alas, the real world isn't so fine, and we also have to deal with Kittle continuing to 1) operate in a run-first offense, and 2) lose target share to Deebo Samuel and Brandon Aiyuk. If there's a TE that is capable of making the most out of somewhat reduced targets, it's Kittle; unfortunately, this volume concern is the only thing holding him back from leaping into the upper tier.
Tier 3: The ceiling is the roof (4)
Hockenson finished 2020 as the overall PPR TE5; he missed a TE3 finish by a whopping 1.4 points. He might very well experience some regression in the efficiency department, but there's potential for well over triple-digit targets in an offense that is replacing the most total pass-game volume in the league. Look no further than Tyler Higbee's overall TE1 fantasy finish during the final five weeks of 2019 to catch a glimpse of what Hockenson's upside could be as this passing game's No. 1 option. Hockenson isn't in a higher tier because it's not a given he'll see a major boom in targets inside of this brand new offense; that doesn't mean that scenario doesn't remain the most likely outcome.
Pitts is a unicorn, and we like unicorns in fantasy land. PFF has never given a college pass-catcher a higher single-season grade than 2020 Pitts (96.2). Pitts is closer to a modern-day receiver than yesterday's tight end. Today's brand of football has embraced the passing game and hybrid players more than ever before; any coach that doesn't think they can find a way to get high-end production out of Pitts because he doesn't fit into their "system" should be publicly chastised to no end. Don't be surprised if his rookie year numbers more closely resemble the sort of receivers he's being drafted next to as opposed to past first-year tight ends. The Falcons might boast a crowded offense with Julio Jones and Calvin Ridley likely leading the way in targets, but this is hardly Matt Ryan's first rodeo when it comes to enabling multiple fantasy-relevant receivers alongside a baller tight end.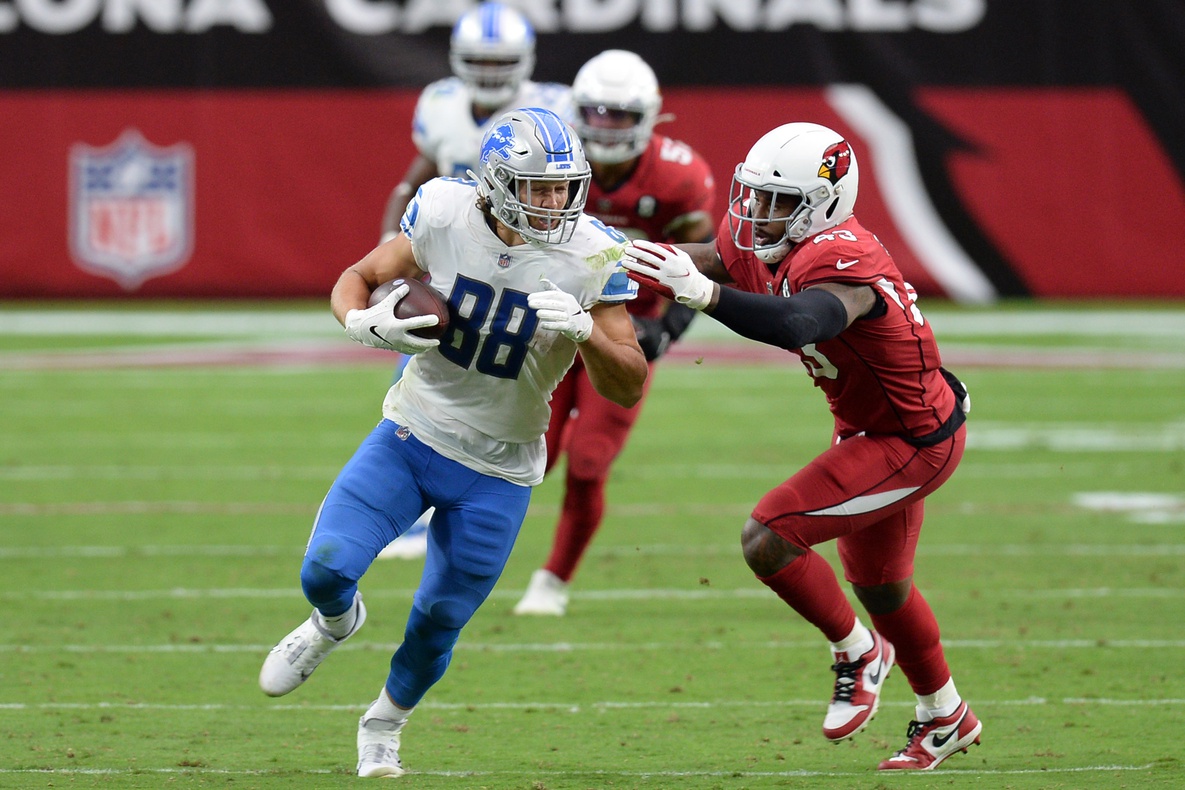 Lost in the frustration regarding Lamar Jackson's 2020 regression as a passer was the reality that Andrews didn't exactly offer his usual goodness either. Career-low marks in yards per reception (12.1) and yards per target (8) could be pinned on Jackson, although his putrid 3.2 yards after the catch per reception pales in comparison to both 2019 (4.5) and 2018 (5.8) despite boasting a negligible difference in average target depth. Credit to Andrews for pulling in 17 scores over the past two seasons, but the Ravens' general reluctance with playing him for even 60% of the offense's snaps is concerning when expecting him to continue to overcome this run-first offense that has now added several new pass-catchers at WR. I've typically been attempting to come away with one of the class' top five TEs and am otherwise happy to not reach on anyone that doesn't really have triple-digit targets in their potential range of outcomes.
I will happily boost Goedert ahead of Andrews if/when Zach Ertz is no longer employed by the Eagles. Somehow the rising fourth-year TE posted career-best marks in yards per reception (11.4), yards per target (8.1) and yards per game (47.6) alike in 2020 despite dealing with the train wreck that was Carson Wentz.
Tier 4: You could imagine how a TE1 finish comes to fruition (7)
Fant was playing at less than 100% seemingly every week of 2020 and had to deal with plenty of inconsistency under center. That didn't stop him from putting up a rather stellar 62-673-3 receiving line, good for an overall PPR TE8 finish. Fant is tied with George Kittle for the most yards after the catch per reception over the past two seasons among 46 tight ends with at least 50 targets over the past two seasons; the 23-year-old talent has largely made the most out of his opportunities. There isn't a guarantee that the Broncos' underwhelming, yet crowded, passing game feeds Fant enough targets to improve upon last season's top-eight finish; just realize he's the sort of rising stud worth betting on entering year three.
We saw what Higbee is capable of achieving as the offense's featured No. 1 TE back during the final five weeks of 2019 when he ripped off 7-107-1, 7-116-0, 12-111-0, 9-104-0 and 8-84-1 receiving lines to close the season. This coincided with Gerald Everett (now a member of the Seahawks) being sidelined. The general rule of thumb is that players earn targets, but at a minimum, we should give Higbee some slack considering he had at least eight targets in his aforementioned five-game stretch compared to *one* contest with that many pass-game opportunities in his other 79 career games. Obviously, this passing game will flow through Robert Woods and Cooper Kupp more than Higbee, but don't let last season's disappointing fantasy campaign distract from the fact that Matthew Stafford's undisputed TE1 is set up better than ever to rack up scores and targets alike in 2021.
Thomas finished 2020 with exactly as many fantasy points as Tonyan. It seems rather unlikely the (have you heard?) former QB sees 110 targets again in 2021, but the potential for his efficiency to skyrocket with Ryan Fitzpatrick under center can't be overlooked. Terry McLaurin and Curtis Samuel should be projected to see more total pass-game opportunities than Thomas, although it would hardly be surprising if he manages to lead the offense in receiving scores. I understand selling high on Thomas in dynasty land (he turns 30 in July), but at least for 2021: Don't expect his standing as a fantasy TE1 to go anywhere.
Smith stands 6-foot-2, weighs 242-pounds and ran the 40-yard dash in 4.63 seconds. Credit to him for boasting the blocking ability to function as a true inline TE, but we're truly looking at a talented receiver regardless of what his positional designation says. By the way: Smith is somehow still only 22 years of age. Last season Smith posted 4-63-1, 3-37-0, 6-53-2 and 2-30-0 receiving lines in four games with Kyle Rudolph sidelined. Note Smith was returning from injury himself but was handed 82%, 88% and 79% snap rates in his final three games. Similar to Higbee: We shouldn't expect Irv to rise to the top of his passing game's pecking order, but his proven high-end ability, combined with a more than solid QB, should produce anyone's idea of a fantasy TE1 now that the starting job is his and his alone.
Trautman started to already take over from Jared Cook toward the end of 2020, flashing some borderline erotic route-running ability along the way.
Okay Adam Trautman okaypic.twitter.com/TclMWcM27k

— Ian Hartitz (@Ihartitz) May 12, 2021
The Saints' 2020 third-round pick only posted a season-long 15-171-1 line, but it's impressive that this total came on just 16 targets. PFF's single-highest-graded run-blocking TE from a season ago, Trautman has a chance to rarely leave the field in an offense that has plenty of available targets even after Michael Thomas and Alvin Kamara get their hefty doses. I understand we're taking a bit of a leap of faith with Firkser and Trautman by placing them in this tier; I'm higher on them than most and want to prioritize them as my top late-round options at the position at their still depressed average draft positions.
The Titans declined to add any sort of real competition to replace Jonnu Smith, meaning Firkser is locked in as Ryan Tannehill's No. 1 TE. The 26-year-old has posted 8-113-1, 5-51-0 and 3-19-0 receiving lines in his only three career games with more than five targets and finds himself in an offense completely devoid of target competition outside of A.J. Brown. The risk with Firkser is that he might not be a complete enough TE to stay on the field all the time; he's only played more than 50% of the offense's snaps in two of 47 career games. Still, the opportunity available from the loss of the Titans' No. 2, No. 3 and No. 5 target getters from a season ago is too much to pass up in fantasy land, particularly with Firkser having already demonstrated some solid chemistry with the artist known as Ryan TanneThrill.
Tonyan is the only player with more TDs than incompletions on a 50-plus target workload since the metric began being tracked in 1992. And he was +6 in this TDs vs. incompletions metric. Madness. Obviously, we're not dealing with a prodigy here in terms of contested-catch or YAC ability, but Tonyan's already established high-end rapport with Aaron Rodgers makes up for any sort of negatives he offers as an athlete. It's incredibly likely Tonyan regresses next season because who the hell could be this efficient again; the more important matter is that he remains locked in as Rodgers' No. 1 TE for however long the reigning MVP continues to call Green Bay home. That's enough for me to crown the reigning PPR TE3 as a top talent worth pursuing in 2021.
Tier 5: Expect success, but not consistently (9)
The talent part of the equation isn't an issue with Gesicki; the question is whether or not he'll still be afforded the 1) big slot role now that Jaylen Waddle, Will Fuller and DeVante Parker seem cemented in three-WR sets, and 2) sort of contested catch opportunities that he regularly made a living on with Ryan Fitzpatrick under center.
The only pairs of teammates at TE that have both finished as top-12 PPR options in the same season since 2010 are Rob Gronkowski and Aaron Hernandez in 2011 as well as Zach Ertz and Dallas Goedert in 2019. Both Henry and Jonnu are objectively great players, and maybe the Patriots' passing game takes a big step forward with either 1) an improvement from Cam Newton, or 2) Mac Jones; I'm just not willing to take the leap of faith with either player as long as they're being priced so closer to their ceiling.
Just about nothing went right for Engram last season, and now there's more competition for targets than ever with Kenny Golladay and Kadarius Toney in town. You'd like to think the 2021 version of Engram could potentially more closely resemble his 2017-2019 self as opposed to what we saw in 2020, but it's a leap of faith in an offense with an unproven QB and proven-meh play-caller.
Give Russell Wilson a single featured TE over the course of a season and I'd be confident in projecting that player for double-digit scores; we just don't know if this opportunity will be afforded to Everett. He's certainly my pick for the most receiving-friendly TE on the Seahawks' roster, but the likes of Will Dissly and Colby Parkinson could make this an annoying three-player committee. Historically we're better off fading free agency signings at the TE position in fantasy land; just realize Everett has flashed the sort of high-upside ability to warrant some exposure in case a high-volume role comes to fruition.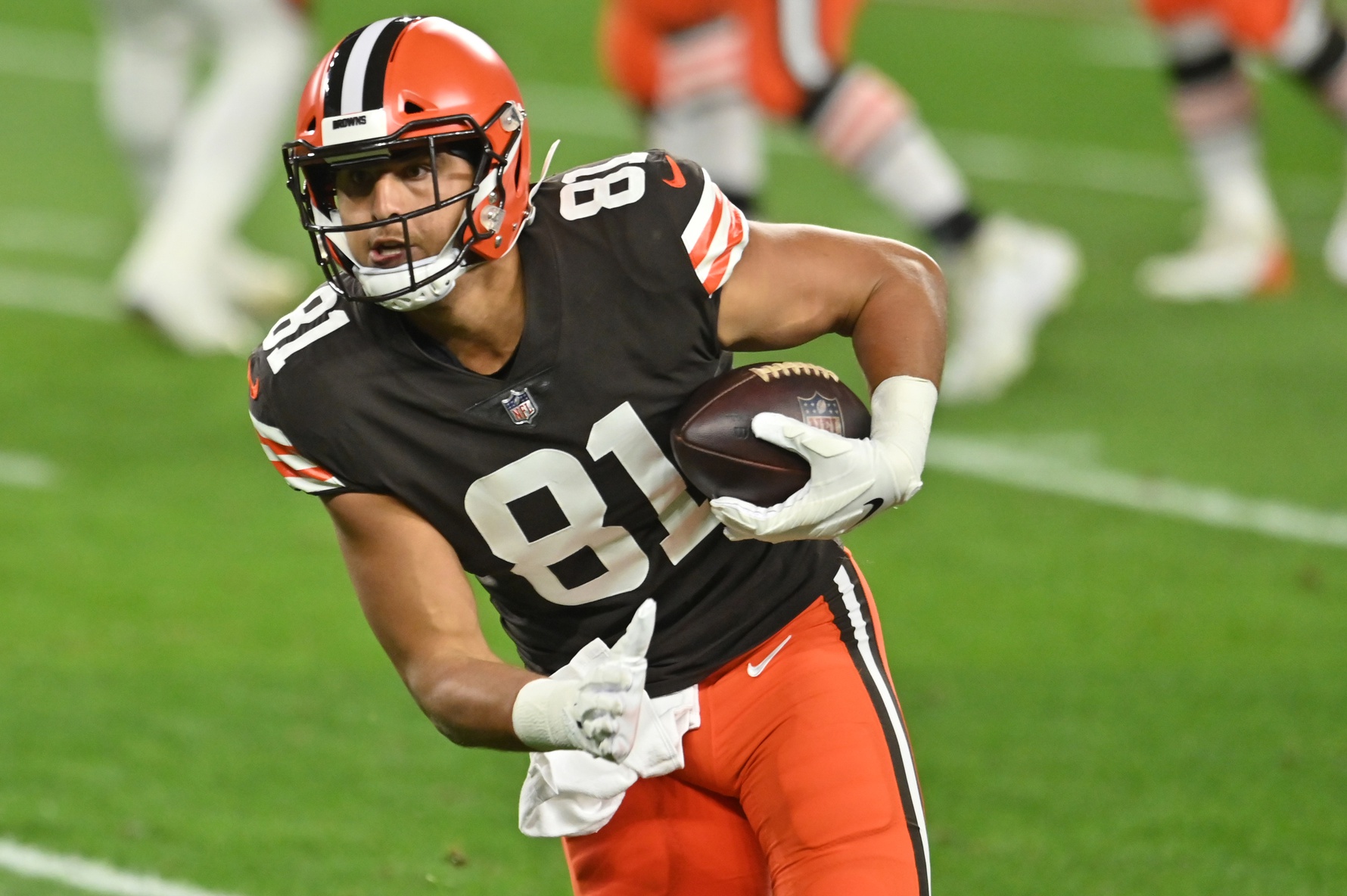 Hooper has proven capable of making the most out of his targets over the years; the problem is that the Browns regularly split up his snaps between Harrison Bryant and David Njoku. Last season's 16-game pace of 86 targets isn't too far removed from what Hooper finished with in 2019 (97) during his breakout fantasy campaign, and it'd make sense if he experiences some positive TD regression if the good version of Baker Mayfield is alive and well in 2021. Ultimately, I'd rather not go out of my way to target the likely No. 3 or No. 4 pass-game option in a run-first offense.
Friendly reminder the Bears gave Jimmy Graham a no-trade clause. They can save $7 million against the cap if they release Graham at some point, although this isn't a situation where we should be waiting until June 1; the Bears have simply decided against doing so thus far. Graham wasn't totally washed in 2020; he's still capable of making a circus catch or two in the red zone and is big enough to post up pretty much any defender. His release would vault Kmet into the low-end of our previous tier alongside Firker and Trautman; until then, don't expect either TE to have enough targets to consistently ball out in 2021.
Credit to Rob Gronkowski on getting healthier enough down the stretch to ball out in the Super Bowl and post an overall PPR TE9 finish. Perhaps the Buccaneers are happy to keep him as their undisputed starter, but this wasn't the case to start last season. Howard played in four games last season before suffering a torn ACL. The Buccaneers utilized the following usage at tight end:
Howard: 18 targets, 11 receptions-146 yards-2 TD

Gronkowski: 14 targets, 9-88-0

Cameron Brate: 2 targets, 1-3-1
It's not like Gronk was eased back into action coming back from retirement; he played at least 69% of the offense's snaps in each of Weeks 1-4 and 92 snaps more than Howard. Still, it was clear Tom Brady enjoyed targeting his speedy big-bodied TE down the field. The 2017 first-round pick worked as the PPR TE17 during the first four games of last season and relegated Brate to a bench role for the first time in his career.
The most likely answer to Gronk vs. Howard is probably, like in New England, no, but both are worthy of late-round darts due to their respective proven potential to ball the hell out with a featured role.
Tier 6: Have five drinks, give me a call, and have an open mind (1)
I'm one of the bigger Herndon apologists you'll find, so take this with a grain of salt. My reasoning for targeting the Jets TE in fantasy drafts of all shapes and sizes last year was as follows:
"Herndon joins Mark Andrews, Rob Gronkowski, Hunter Henry, Heath Miller, Aaron Hernandez, Noah Fant, Jordan Reed, Zach Ertz and George Kittle as the only rookie TEs to average at least 8.0 yards per target since 2000. Ryan Griffin was fine in relief of Herndon in 2019, but it's not like the Jets' talented third-year TE lost his job. Herndon was simply suspended and then injured before even having a chance to show what he could do. Last season's goose egg has left a sour taste in the mouths of Herndon's ex-fantasy investors, leading to his currently depressed ADP.
Drafting for value in the late rounds to beat an ADP by a round or two is pointless; take the guy with a real chance to post top-five production at the position if he's available. There's a low floor for Herndon in 2020 — and he's currently being priced at it. Don't be afraid to scoop up one of the game's talented young TEs who just so happens to be inside of one of the league's most-barren passing attacks."
All of that reasoning still applies in the year 2021, and now Herndon is even cheaper than before. The favorite to be the next great post-Gase breakout, Herndon remains undervalued in fantasy land thanks to his status as a starting TE that has demonstrated the ability to play a high level (even if it was back in 2018).
Honorable mention
Blake Jarwin and C.J. Uzomah started 2020 with fantasy-friendly roles as the Cowboys and Bengals starting TE; it just remains to be seen if they'll still maintain full-time workloads after Dalton Schultz and Drew Sample played fine enough in their absence. I'm expecting something more resembling a committee at TE in both offenses that figure to focus the heavy majority of their target share at WR anyway. … Zach Ertz is expected to get traded at some point. Even if he lands in a good situation, I have a hard time expecting much from the 30-year-old veteran after witnessing by far the worst season of his career in 2020. Here's to hoping Ertz at least winds up without an Eagle on his helmet so that Dallas Goedert TE1 szn can finally commence. … Dawson Knox has a great catch or block almost every game in between a drop or miscue. It'd make sense if his play evens out in his third year; just realize there are a lot of mouths to feed in this (incredibly productive) Bills passing game. … Jared Cook is the man with the Chargers, although Donald Parham will also seemingly be involved. Ultimately, Cook looked worse enough athletically in 2020 for me to fade him even at cost, while Parham likely won't see enough target share to really be a worthwhile fantasy investment. … Eric Ebron was a far more enticing late-round TE option before the Steelers drafted Pat Freiermuth. The general rule of thumb in fantasy is to fade two-TE systems. … Mo Alie-Cox is seemingly the Colts' No. 1 receiving TE after they chose to not bring back Trey Burton. We'll still see plenty of Jack Doyle, and fourth-round pick Kylen Granson is more of a receiver than tight end, but at the moment I'd project MAC to be Carson Wentz's most-targeted TE, which has historically been good for the fantasy business.