Fantasy drafters began the summer vastly overrating the Philadelphia Eagles. The offense performed well below expectation last season, finishing second-worst in fantasy points scored under expectation when combining running back, wide receiver and tight end production. That group is being drafted in the middle of the pack in collective Underdog ADP despite a 27th-ranked mean fantasy projection.
The Eagles' overall outlook doesn't improve when factoring in their fifth-worst forecasted win total, either.
Editor's Note: PFF's 2021 Fantasy Football Draft Guide and 2021 Fantasy Football Cheat Sheets are LIVE!
Teams that win more games score more fantasy points. Seventy percent of teams that ranked in the top 10 in fantasy points scored collectively by running backs, wide receivers and tight ends finished with at least 11 wins in 2020. Philly's current win total sits at 6.5 wins in a 17-game season.
2021 Team Preview 
There is too much faith being put into an Eagles offense that will look drastically different with new head coach Nick Sirianni calling the shots. Steering away from an Eagles offense that finished 30th in PFF grade last year is the right move, but there's no guarantee the change will instantly turn the Eagles into a fantasy-friendly offense.
Sirianni spent his last three seasons as the offensive coordinator for the Indianapolis Colts under Frank Reich, and those teams were led by the running game. They ranked 12th in neutral game script run rate (43%) and ninth in run rate on early downs (46%). Their overall tempo was fast (eighth in total plays per game), but the pace was predicated on rushing (seventh in rushes per game) over the passing game (20th in passes per game).
When the team did pass, it targeted the short-to-intermediate level (21st in aDOT). The Colts ranked 25th in pass-play rate on throws over 20-plus air yards. Last year, Siranni's Colts dialed-up screen plays at the fourth-highest rate. As a result, Indianapolis finished fourth in the league in yards after the catch. 
Siranni's coaching tendencies suggest that the 2021 Eagles will be a run-oriented offense with a short-to-intermediate passing game. This should greatly benefit projected starting quarterback Jalen Hurts.
The Eagles' mobile QB was a fantasy superstar from Weeks 14-16, averaging nearly 27 fantasy points per game — third in the league. The majority of Hurts' fantasy scoring came from his astounding numbers as a rusher: He averaged 79.3 rushing yards and 12.6 rushes per game.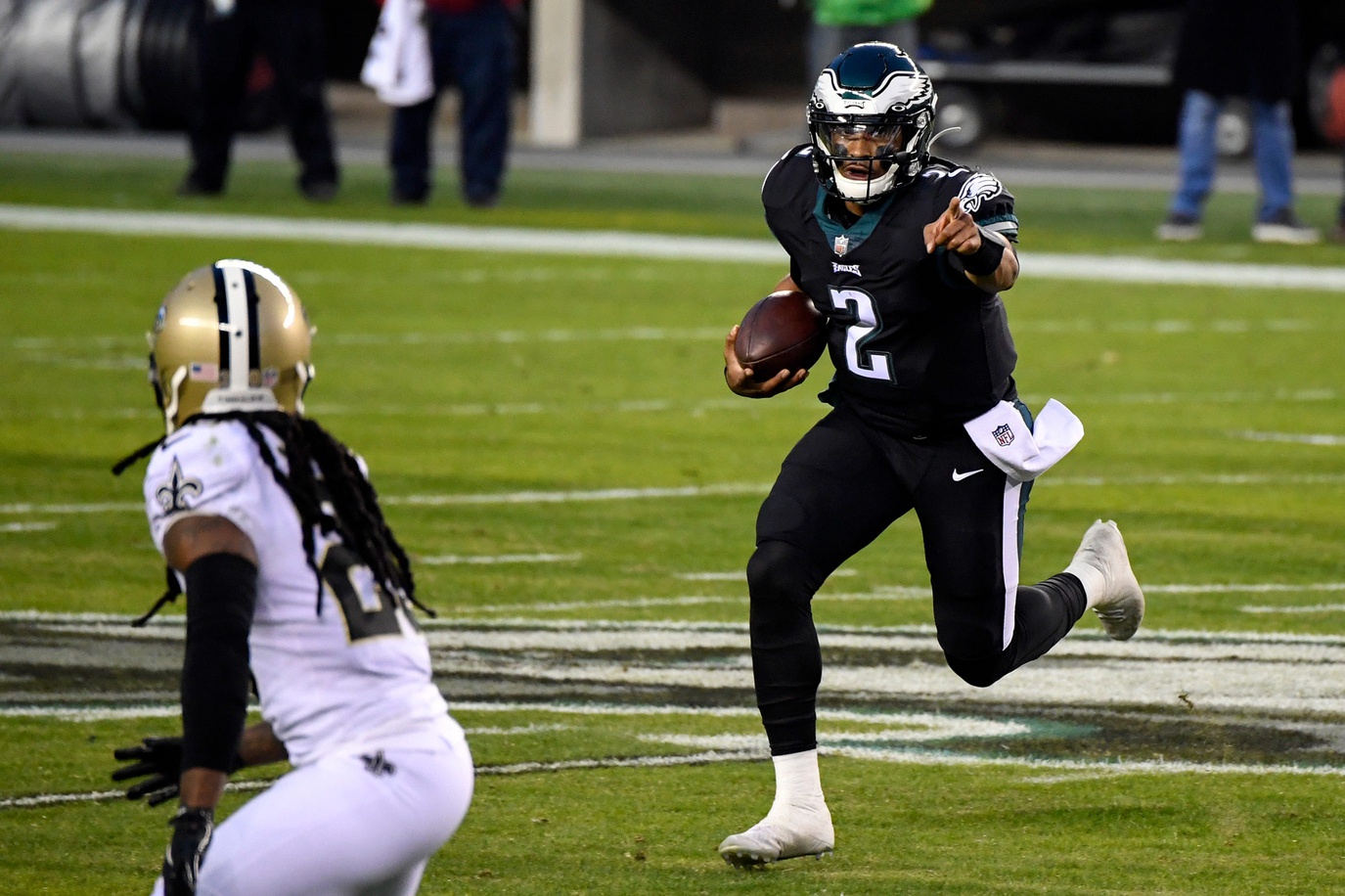 Indy's run-first approach should ensure that Hurts' rushing production continues in 2021, which all but guarantees rather gaudy fantasy numbers. Hurts' rushing alone produced enough points to rank top eight at the QB position. 
The bigger question is whether Hurts can develop as a passer in Year 2, as his accuracy woes from last season are extremely concerning. His 52% adjusted completion percentage ranked dead last among 41 qualifiers.
Hurts' biggest struggle was completing passes in the short range (0-9 yards). His 65% adjusted completion percentage on short throws ranked last out of 44 QBs and was 10 percentage points lower than the next-worst quarterback.  
The silver lining is that Hurts did post league-average accuracy numbers at the intermediate level (10-19 yards), so he's not completely out of place in Siranni's offense. Hurts was also throwing outside the numbers at a 78% clip, which was highest in the league — and these throws are harder to complete.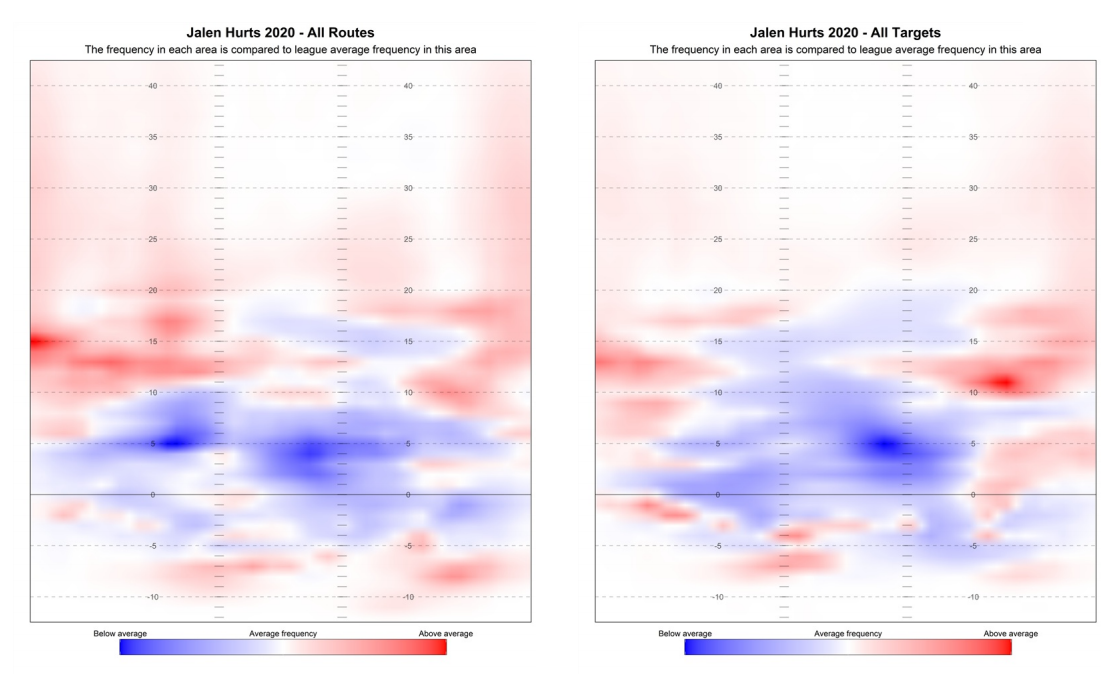 That won't be the case in 2021. Last year, Colts QB Philip Rivers heavily targeted the middle of the field, finishing third in completions between the numbers.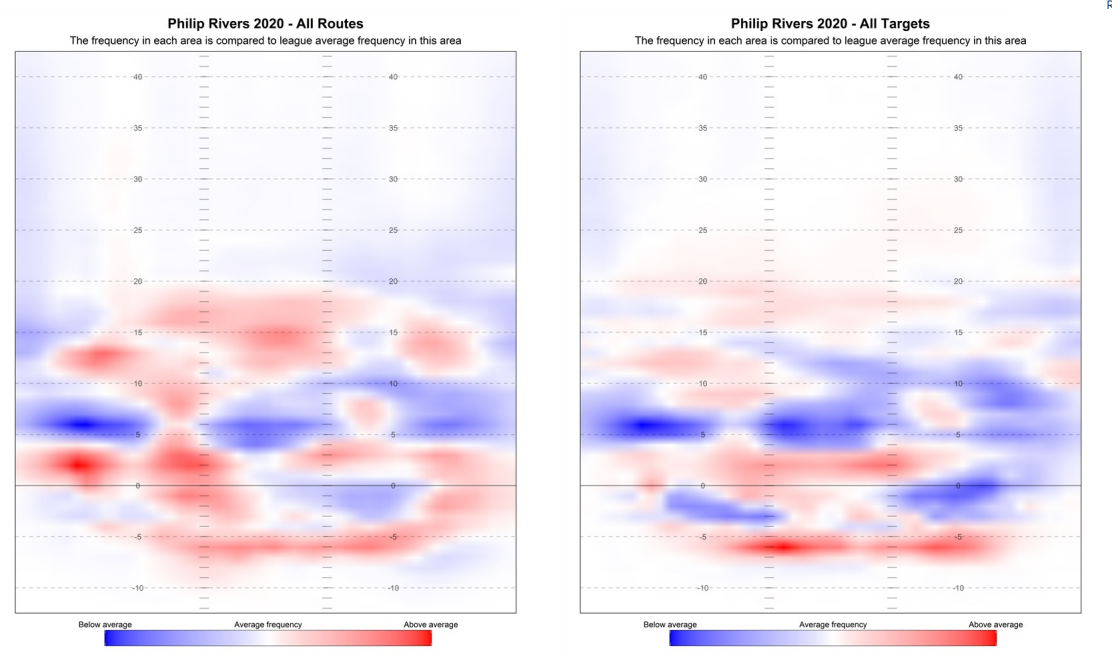 There are components to Siranni's offense that should make life smoother for Hurts in his second season. But if all else fails, fantasy football drafters can find hope in the team's major upgrade at the receiver position via first-rounder DeVonta Smith. Hurts' receivers were rarely open last year, as he owned the lowest percentage of throws delivered to open receivers (54%).
With Smith added to the wide receiver room, a full offseason entrenched as the starting quarterback and the healthy return of PFF's 13th-ranked offense line, Hurts could emerge as an elite fantasy quarterback option in 2021.
His ADP (QB8, 93 overall) has fallen significantly because of rumors suggesting Deshaun Watson might be traded to the Eagles, but that's just making Hurts an even better draft day value. 
BREAKOUTS
Subscribe to PFF Edge to continue reading
Already have a subscription? Sign In