Minnesota Vikings head coach Mike Zimmer famously said before the start of the 2020 season, "I've never had a bad defense." But his track record of elite defensive efficiency came to a screeching halt, as the personnel overhaul was too much for the head coach to overcome.
As a result, the Vikings earned PFF's sixth-worst grade on defense (53.4) while finishing 28th in average yards per play allowed (6.1) and 29th in points allowed. Before 2021, Zimmer never had a Vikings' defense rank worse than 11th in points allowed.
Editor's Note: PFF's 2021 Fantasy Football Draft Guide and 2021 Fantasy Football Cheat Sheets are LIVE!
But Zimmer's loss on defense led to a substantial gain for the offense. Forced to be more aggressive, Minnesota ranked seventh in overall offensive PFF grade (84.3), fourth in average yards per play (6.2) and sixth in points scored. The team finished fourth in total expected fantasy points collectively between their running backs, wide receivers and tight ends.
2020 was the perfect storm in Minnesota for fantasy football — but drafters need to brace themselves for the reality that a newly revamped 2021 Vikings defense might make it difficult for Kirk Cousins and company to put on an elite encore.
Subscribe to
2021 TEAM PREVIEW
With the offseason additions/returns of Danielle Hunter, Anthony Barr, Eric Kendricks, Michael Pierce, Patrick Peterson and Bashaud Breeland, Minnesota boasts PFF's 14th-ranked defensive line, 16th-ranked secondary  and third-ranked linebacker unit. The offense simply isn't going to be forced to do nearly as much.
And it's unfortunate because when Minnesota entrusted Cousins to put points on the scoreboard — he delivered.
Cousins finished last season as the QB12 in fantasy points per game (19.0) and QB11 in PFF passing grade (80.4). His 35 passing touchdowns (6.8% touchdown rate) were a career-high, but 89% of Cousins' passing touchdowns last season came with the team trailing by three or more points.
Throwing touchdowns at a career-high rate does not forecast that more scores through the air are coming. Rather, it's more indicative that touchdown regression will be quickly approaching, as his passing touchdown percentage is likely to fall closer back to his career average (5.2%).
Cousins also falls victim to the team's tortoise-level projected pace of play and their extreme run-to-pass ratio. Last season, the Vikings ranked 19th (64) in plays per game — 28th in passes, eighth in rushes. That hardly sounds impressive, but when compared to 2019 (27th, 61 plays per game), the 2020 Vikings offense was humming at sonic speed.
The pace is going to decrease in 2021, with Minnesota's stout defense enabling them to dictate game flow. And when the Vikings are imposing their will, it will surely be through the run game. Overall, their run rate ranked sixth (44%) in 2020. In neutral game script conditions, it ranked third (50%).
Don't get carried away investing in the Vikings passing offense's ancillary pieces praying for a breakout because there's just not enough volume to go around.
Minnesota was just one of four teams last season to have two receivers command nearly half of their team total targets (Justin Jefferson – 26%, Adam Thielen – 23%), and that doesn't project to change drastically with K.J. Osborn, Ihmir Smith-Marsette, Dan Chisena, Chad Beebe, Dede Westbrook, Whop Philyor and Warren Jackson rounding out the Vikings' receiving corps.
The offense is going to be centered around Dalvin Cook, which is why he needs to be the No.2 overall player selected across all fantasy formats sans 2QB/Superflex.
Cook finished the 2020 season third in fantasy points (24.1), second in expected fantasy points (21.0) and first in touches per game (25.4).
He is going to get fed and could stumble into even more rushing touchdown production because the immediate repercussion from the offense's passing touchdowns decreasing could lead to the team's rushing touchdowns increasing.
But Cook is hardly the only Minnesota Viking that fantasy football drafters should have higher expectations for. Justin Jefferson is primed to continue his ascent to absolute stardom after a historic rookie campaign last season.
VALUES
Last year, the 22-year-old rookie compiled 1,400 receiving yards (third among all WRs), earned a 90.5 PFF receiving grade (second) and averaged an absurd 2.66 yards per route run (second). He set the record for most rookie receiving yards in the Super Bowl era and earned the highest PFF receiving grade versus man coverage since 2014.
Jefferson didn't even see starter snaps until Week 3 but became an immediate fantasy force. He averaged 18.4 fantasy points per game, fifth-best at the position.
He and Thielen became one of the league's best WR tandems, and by the end of the season, Jefferson had emerged as the team's true alpha. From Weeks 13-17, Jefferson commanded a 30% target share — a slight boost from his 25% target share in Weeks 3-11.
Meanwhile, Thielen's target share plummeted from 28% to 19% during the team's final five games, and his stranglehold on the Vikings' end-zone target share also waned. It fell from a whopping 62% to 35% as Jefferson's spiked.
There should be zero concern about who the No. 1 receiver in Minnesota is heading into 2021. Jefferson is the guy, and his fantasy ceiling is sky-high. He was one of just two rookie receivers last season (along with Darnell Mooney) to catch at least two passes in every game he played.
Everything out of training camp prior to his shoulder injury was also fantastic. Reports claimed he looked even more explosive and nobody on the Vikings defense could cover him.
Jefferson is a locked-and-loaded fantasy WR1, and he's arguably a value at his WR8 ADP on Underdog. He was a top-five producer as a rookie, so just imagine how excellent he can be in Year 2.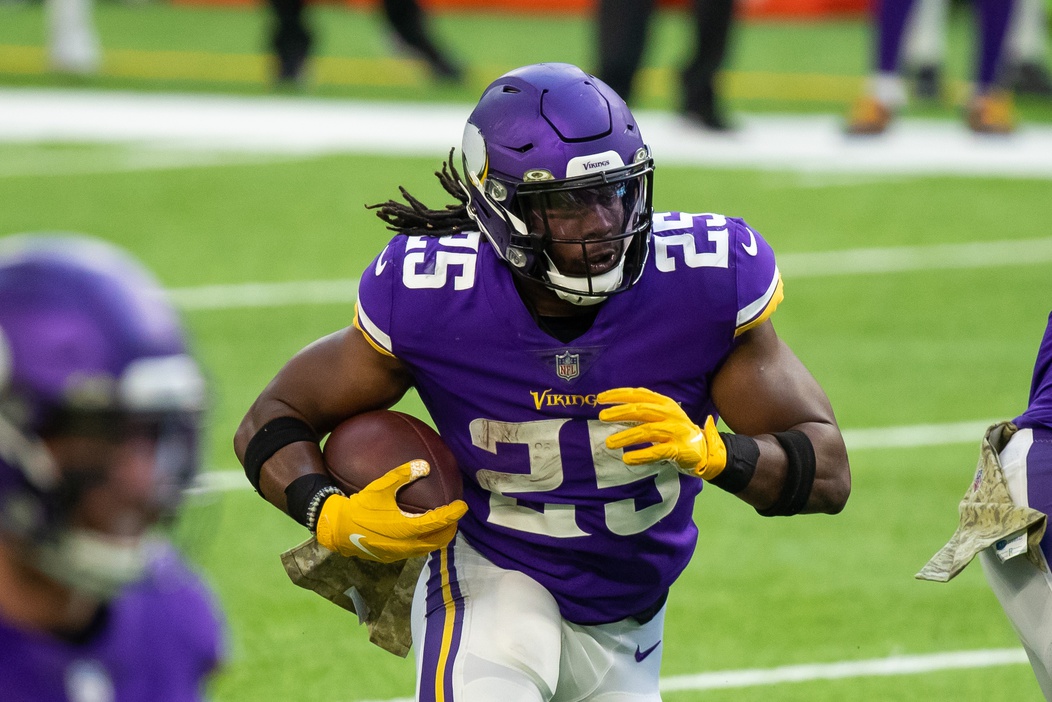 Mattison doesn't have a standalone value with Cook healthy, but the Vikings star running back misses games every single season. There are going to be games where Mattison is thrust into action as the team's starter on early downs because he is the immediate backup to Cook.
Last year, Mattison played in two games as the starter. Against the Atlanta Falcons, he flopped hard, as Minnesota fell behind quickly, leading to Ameer Abdullah replacing Mattison on passing downs as the team played catch-up. He scored just four fantasy points.
But Mattison redeemed himself in Week 17 after basically everybody had written him off. On a 62% snap share, Mattison compiled 24 touches for 145 yards from scrimmage and two touchdowns — an elite 29.5 fantasy-point performance.
The Vikings' No. 2 running back is one of the better fantasy backups to draft, and Mattison is going late enough where he is worth stashing. At RB47, he's far cheaper than the other highly-touted handcuffs Tony Pollard (RB37) and Latavius Murray (RB41). Just don't necessarily expect him to break out anytime soon unless Cook misses an extended period of time. Running back breakouts tend to come more often from ambiguous backfields, not as a direct result of someone benefitting from an injury.
BUSTS
Fantasy football doesn't have to be complicated. And neither does fading Thielen, who failed to finish as a top-20 fantasy wide receiver in over half of his games last season.
Thielen should be viewed as the clear-cut No. 2 pass-catching option on an offense that finished third in neutral game script run rate (50%) in 2020. Passing volume isn't going to be there, and there's no way Thielen keeps Jefferson from eating into his targets.
Thielen's target share plummeted from 28% to 19% during the team's final five games, and his stranglehold on the Vikings' end-zone target share also waned. It fell from a whopping 62% to 35% as Jefferson's spiked.
The end-zone target share dip is a massive blow for Thielen's fantasy value in 2021 — that's how he scored the majority of his fantasy points. Cousins targeted Thielen like a mad man in the end zone with 25 end-zone looks, a mark that ranked No. 1 in the NFL. The raw total is impressive, but it doesn't compare to Thielen's overall 49% end-zone target share — nearly half of Cousins' end-zone throws were to Thielen.
But therein lies the problem — Cousins' career-high touchdown rate is going to regress. Thielen looks like the most likely candidate to feel the brunt of his quarterback's fall off, especially with little passing volume to fall back on.
SLEEPERS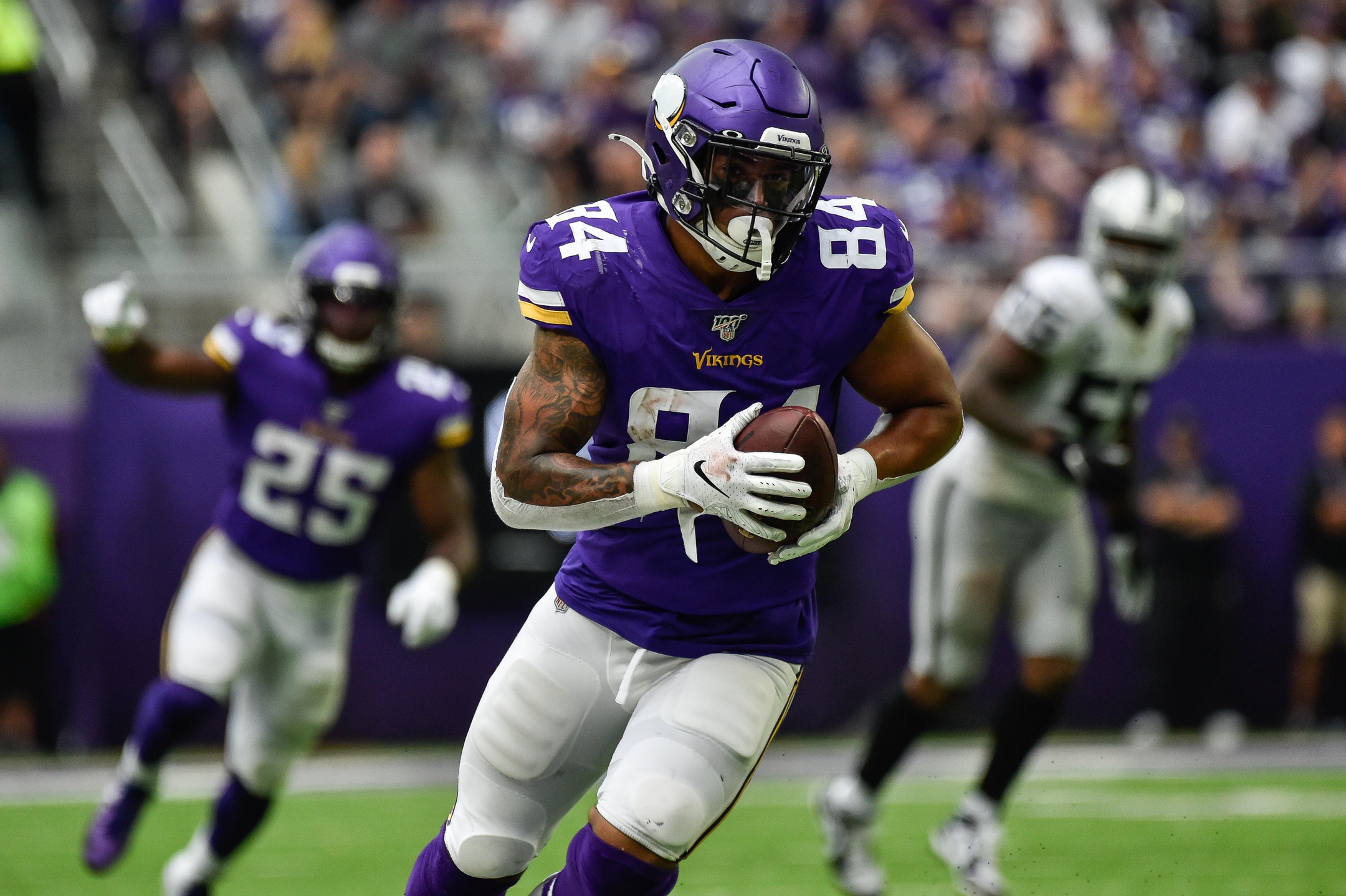 Smith looks to take over TE1 duties with Kyle Rudolph out of the picture, which bodes well for his fantasy production. In the final four games without Rudolph toward the end of the season, Smith ranked eighth in fantasy points per game (12.8).
Specifically, Smith's role as a receiver increased dramatically — he ran 118 routes over this stretch (29.5 per game, eighth-most), which was drastically higher than his 18 routes run per game over his first nine games.
It appeared that Smith was about to become the league's next breakout tight end, but his head coach had other ideas. He spoke to reporters and said he doesn't expect ISJ to have a bigger role in 2021 despite the Rudolph loss. He instead highlighted 2018 fifth-rounder Tyler Conklin as the tight end slated for a bigger role in 2021.
During the final four weeks of the 2020 season, Conklin posted nearly identical receiving production to Smith:
Vikings tight end receiving numbers (2020 season, Weeks 14-17)
| | | | | | | |
| --- | --- | --- | --- | --- | --- | --- |
| Player | Routes Run | Rec. | Tgts. | TDs | Rec. Yds | Yds Per Route Run |
| Tyler Conklin | 136 | 15 | 20 | 1 | 168 | 1.58 |
| Irv Smith Jr. | 133 | 15 | 20 | 3 | 183 | 1.55 |
The situation significantly dampens Smith's upside, but he still deserves sleeper status recognition because his talent is so apparent. The third-year tight end took a massive leap forward in 2020, finishing 12th in PFF receiving grade (75.4) and seventh in yards per reception (12.2).
The Vikings' wide receiver depth chart is bare-bones behind the dynamic duo of Jefferson and Thielen. Smith-Marsette could quickly find himself as the No. 3 WR option, which is more than enough justification to select the fifth-round rookie with an 18th-round pick.
It might take a Thielen or Jefferson injury for ISM to see the field, but rest assured that fantasy production would follow. Ancillary Vikings wide receivers Chad Beebe (16.3) and Olabisi Johson (16.4) posted season-highs in fantasy points during the only game Thielen missed last season (Week 12).
Anticipate the same, if not more, from ISM in an expanded role. His above-average athleticism and route-running prowess offer way more upside than any other ancillary receiver on the roster. Just be aware that an injury is essential because no team utilizes 11 personnel (three wide receiver sets) less in the league (27.5% in 2020).
The only player who could give Smith-Marsette a run for his money would be Dede Westbrook. His pedigree — 66 receptions and 650 receiving yards in 2018 and 2019 — makes him the most established receiver behind Thielen/Jefferson. His potential just depends on how healthy he is coming off the ACL injury.