Strength of schedule is often viewed as a power ranking of a team's schedules based on its opponents' prior-year record, but this method is not very predictive of a team's true strength of schedule (SoS). PFF harnesses the power of our grading system and its year-over-year predictability to produce an easily digestible SoS tool. The PFF Strength of Schedule Tool uses current rosters to provide a more insightful look at fantasy football matchups for the coming season.
This is the first in a series of articles breaking down strength of schedule by position. We start with quarterbacks, where three late-round fantasy picks currently face the easiest 2021 schedules. 
Note: The values found in the live tool are subject to change, since they're based on current rosters and can be affected by injuries, opt-outs and trades. The values in this article will not be updated after publication.

---
Click here for more PFF tools:
Fantasy Draft Kit | PFF Betting Dashboard | PFF Fantasy Rankings
PFF Fantasy Projections | NFL Premium Stats | Win Totals Tracker
---
TOP 3 OVERALL SCHEDULES

After a vicious camp battle, Denver named Bridgewater its starter for the 2021 season. Drew Lock impressed in his preseason action, but that wasn't considered reliable enough by the Denver coaching staff.
Bridgewater currently holds some sneaky value in superflex leagues. Last season from Weeks 2-10, he notched five multi-touchdown games and ranked among the top-12 fantasy quarterbacks five times. Additionally, Teddy Two Gloves scored five times on the ground himself last season — tied for seventh-most in the league among QBs.
Denver's receiving corps of Courtland Sutton, Jerry Jeudy, K.J. Hamler and Noah Fant is arguably among the best in the league. This is Bridgewater's last chance to make his case as an NFL starter.
Speaking of newly named starters, Winston checks in with the second-most favorable schedule for quarterbacks. Not many stayed true to "Team Taysom" after Winston looked the part of a true NFL starter in the preseason.
The last full season of Winston was highlighted by 5,109 passing yards, 33 passing touchdowns and 30 interceptions. Those interceptions might appear daunting, but worry not — PFF's Tej Seth found that Winston's interceptions were mostly low expected points situations.
jameis winston's interception numbers are misleading because he usually throws interceptions in low expected points situations anyways (i.e. 3rd and long, not in scoring position, etc.) #nflverse pic.twitter.com/H0ocG20Yk9

— Tej Seth (@tejfbanalytics) August 27, 2021
Winston never threw more than 18 interceptions or posted an interception rate higher than 3.7% outside of 2019. Under Sean Payton, with a strong team around him and an easy-looking schedule, Winston should be considered a top-15 fantasy quarterback.
It's true Ryan has the third-easiest schedule, but he still doesn't jump out as a good value in drafts right now. With higher-upside guys like Tua Tagovailoa, Baker Mayfield and Winston all going in the same range, it's tough to side with Ryan.
With Julio Jones gone, new top wideout Calvin Ridley and rookie Kyle Pitts are essentially the only significant pass-catchers on the team. They could have some early season struggles, not to mention their first two matchups are tough. Keep an eye on this offense progressing as the season continues, though, as the Falcons draw a light schedule in the middle of the season. Ryan is likely a streamer at best.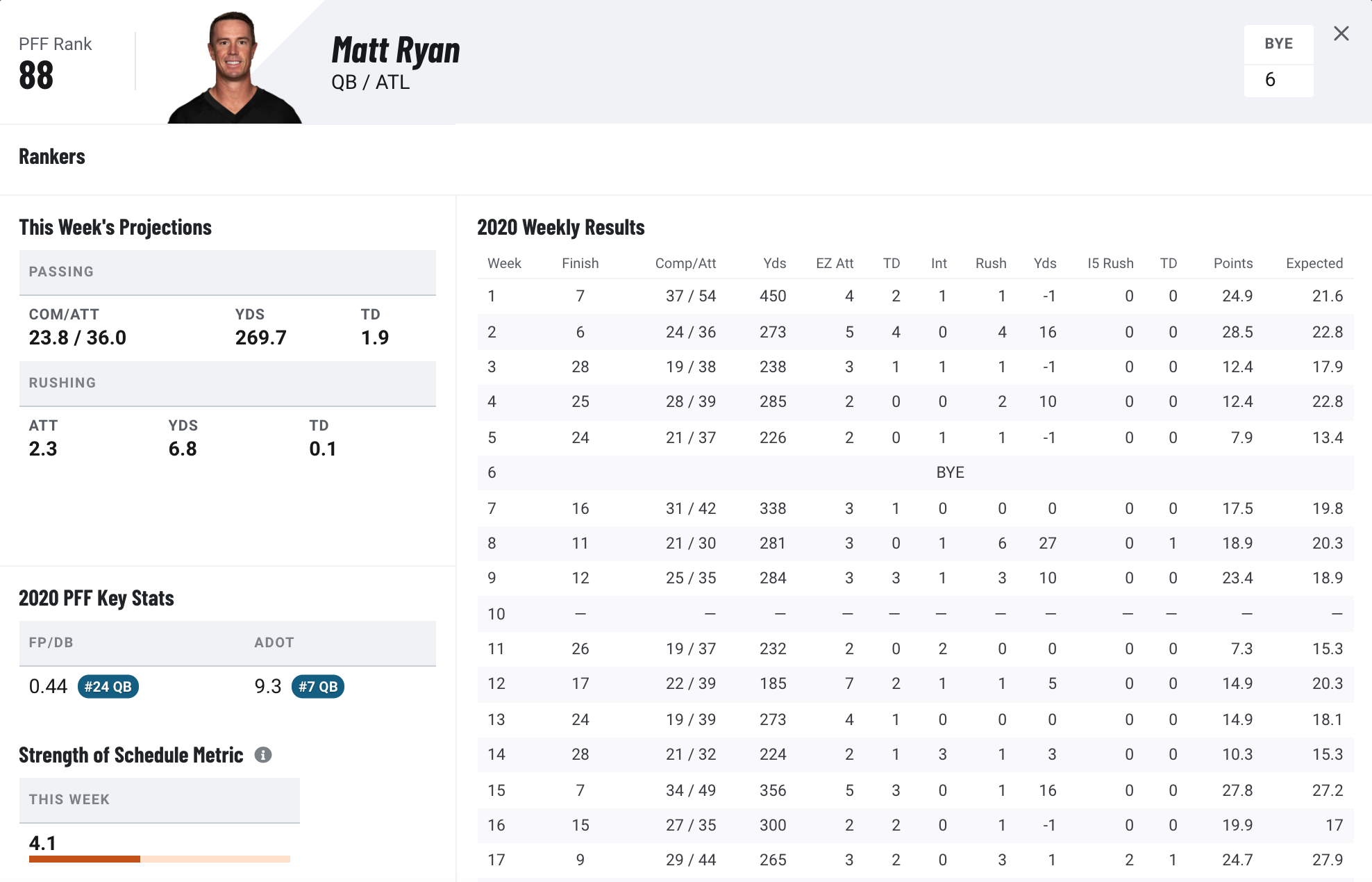 BOTTOM 3 OVERALL SCHEDULES
Subscribe to PFF Edge to continue reading
Already have a subscription? Sign In