The NFL is a matchup-driven league. Offensive coordinators are always looking to scheme their playmakers into one-on-one situations against a defender, while defensive coordinators will attempt to do anything in their power to upset the timing and rhythm of the opposing QB.
Despite the obvious impact that defenses have on opposing offenses, fantasy players and fans alike are often left with one-way metrics to describe offenses and defenses that they are then forced to compare against each other in an attempt to identify mismatches.

---
Click here for more PFF tools:
Fantasy Draft Kit | PFF Betting Dashboard | PFF Fantasy Rankings
PFF Fantasy Projections | NFL Premium Stats | Win Totals Tracker
---
The goal here is to provide easy-to-decipher charts and notes to define each week's key matchups and advantages on both sides of the ball in:
Explosive Plays

Pace

Pressure

Yards Before Contact

Passing Game

EPA
The following charts display matchup-specific information meant to highlight the largest mismatches in these ever-important facets of football to ultimately gain actionable betting and fantasy takeaways. And, of course, to have fun.
Note: This data is based on what happened in 2020. There are obviously plenty of limitations to this due to roster turnover; key discrepancies will be highlighted in the ensuing paragraphs and the metrics will get stronger as the season continues.
Explosive Plays
Big plays make the football world go round. Matchups between explosive offenses and leaky defenses are exactly what we're looking for when compiling game stacks in DFS, or when betting an over.
Explosive Pass Rate: The sum of an offense's rate of 20-plus yard completions per pass attempt and the opposing defense's rate of 20-plus yard completions allowed per pass attempt. A higher percentage is better for offenses (blue  is good, red is bad).
Explosive Run Rate: The sum of an offense's rate of 15-plus yard gains per rush attempt and the opposing defense's rate of 15-plus yard runs allowed per rush attempt. A higher percentage is better for offenses (blue  is good, red is bad).
Mismatch Manifesto Week 1: combined explosive play rate.

Higher or lower % = large or small combined sum of the pass/rush big-play rate from the matchup's offense and defense (blue = good, red = bad)

Big pass play: 20+ yds
Big run play: 15+

All data from 2020, PFF pic.twitter.com/lSMYVBtC6k

— Ian Hartitz (@Ihartitz) September 8, 2021
These offenses breed explosive plays: Only the Houston Texans, Tampa Bay Buccaneers, Minnesota Vikings and Buffalo Bills posted an explosive pass-play rate of at least 10% this season. Of course, the Texans will almost assuredly not be rejoining this group anytime soon as long as Deshaun Watson isn't expected to play.
The Vikings passing game might wake up and choose violence: Kirk Cousins and company are set up well against a Bengals secondary that will be without longtime No. 1 CB William Jackson (now with Washington) along with Trae Waynes (hamstring). Get used to seeing Cousins on this list: His first seven matchups in 2021 are the following:
Only Aaron Rodgers (12) had more games with at least three passing touchdowns than Cousins (8) last season. Don't let an annoying offseason distract from the fact that Cousins is one of the league's more underrated throwers of the football; he could put up monster numbers in Week 1 if the Bengals can turn this into a shootout.
Kirk Cousins throwing dimes in the year 2020 pic.twitter.com/mNdZSdTXSG

— Ian Hartitz (@Ihartitz) May 18, 2021
Good offense beats good defense in today's NFL: Quarterbacks set up for success this week in creating chunk plays through the air include: Cousins, Jimmy Garoppolo, Tom Brady, Aaron Rodgers and Josh Allen.
The pecking order in San Francisco is unclear: Brandon Aiyuk (hamstring) has been banged up throughout camp but is expected to be good to go for Sunday. His playmaking ability was already borderline erotic as a rookie; it's hard to fathom how good an improved version could be in Year 2. Still, the 49ers' status as 7.5-point favorites makes this a potential matchup in which Kyle Shanahan leans more on the run game than Jimmy G. There's nothing scary about this Lions secondary; just realize Aiyuk could feasibly be the No. 3 option in this passing game behind Deebo Samuel and George Kittle.
Fun fact: Samuel is the only wide receiver in at least the past decade to total more yards after the catch than actual receiving yards in a single season (min. 25 targets). Essentially used as a running back in the passing game, Samuel will seemingly have the least amount of problems adjusting to whichever quarterback is under center. I give Samuel (WR36) the slight edge over Aiyuk (WR37) in Week 1 due to similar target projections and superior health.
Offense is easier when the defense sucks: The Detroit Lions, Minnesota Vikings, Atlanta Falcons, Denver Broncos, Cincinnati Bengals and Miami Dolphins were the only defenses that allowed an explosive pass-play rate above 9% last season.
Don't expect Mike Zimmer to field another brutal defense: Offseason reports haven't painted Joe Burrow and the rest of this passing game in the kindest of lights, and their Week 1 matchup could be a bit harder than anticipated. Yes, the Vikings finished 29th in points per game allowed last season. Also yes, they previously didn't finish worse than 11th since head coach Mike Zimmer took over in 2014.
Similar to the Seahawks: The 2020 Vikings defense had a horrific combination of poor pass-rush and even worse coverage. Unlike the Seahawks, it appears the 2021 group will be in a better place. Stud edge rusher Danielle Hunter is back, Everson Griffen should also supply some much-needed pass-rush juice, while the likes of Patrick Peterson and Breshaud Breeland are at least an upgrade over what was on the table last season.
Not every passing attack is meant to fly: Quarterbacks who could struggle to consistently create chunk plays through the air include: Dak Prescott, Justin Herbert, Ben Roethlisberger and Andy Dalton.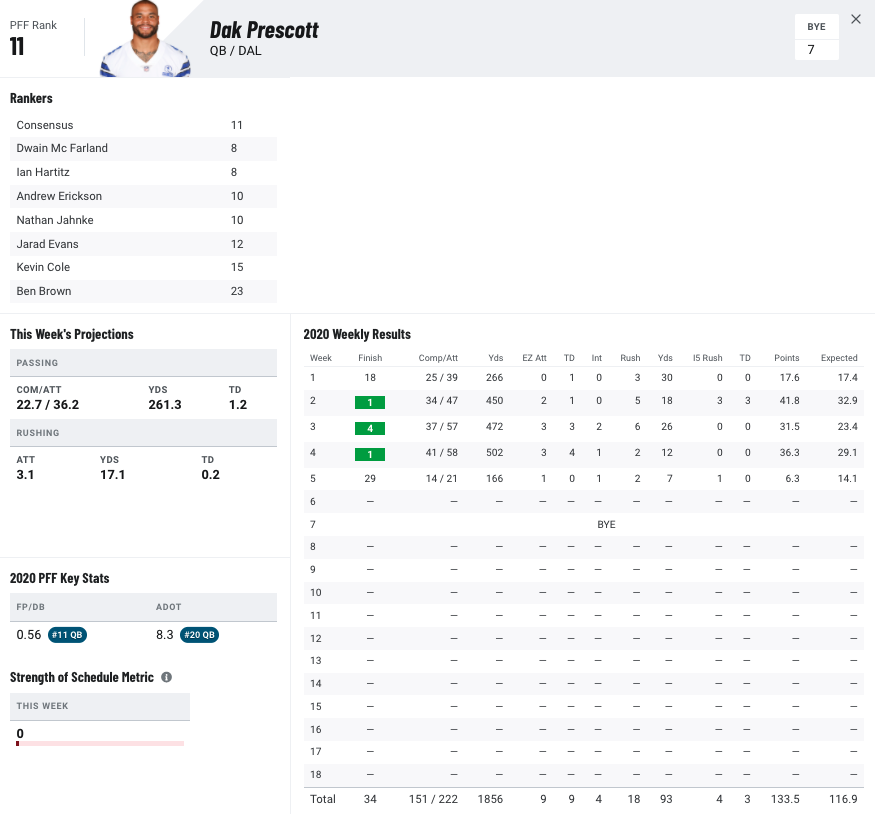 Poor Cowboys: It's fantastic news Prescott is seemingly close to 100% following both his ankle surgery and training camp shoulder issue. Unfortunately, he'll face off against the Buccaneers' buzz-saw defense in Week 1; somehow all 22 Super Bowl starters are back from the league's reigning second-ranked defense in havoc; Prescott and company are implied for a rather mediocre 22 points — the ninth-lowest mark in Week 1. Oh, and all-world G Zack Martin (covid) has already been ruled out. Not great, Bob.
Not to use the "r" word for Herbert but: The Washington Football Team presents a tough initial opponent for any quarterback to deal with. Still, there is some concern surrounding Herbert's Year 2 readiness after he failed to impress as much in some of PFF's more stable metrics as a rookie:
Passing grade from a clean pocket: 76.8 (No. 27 among 49 qualified quarterbacks)

Passing grade on straight dropbacks: 86.6 (No. 7 among 52)

Passing grade on first/second down: 78.4 (No. 16 among 53)

Passing grade with no play action: 76.5 (No. 15 among 56)

Passing grade on throws at/beyond the first-down marker: 90.8 (No. 14 among 46)
This isn't to suggest Herbert will be anything close to "bad." It just wouldn't be surprising if he falls back to Earth a tad in terms of counting stats while continuing to progress in real-life ability.
Don't let these run games get hot: Backfields that are poised for success in busting off some big runs include the Minnesota Vikings, Baltimore Ravens and Tennessee Titans.
Calling the 2019 MVP a running back should be a compliment not an insult: Even a relatively disappointing 2020 campaign from Lamar Jackson still produced rather insane highlight reels as a rusher and passer alike. He'll kick off 2021 with a matchup against one of just eight defenses that allowed at least 22 fantasy points per game to opposing quarterbacks. Implied for the third-most points in Week 1, the Ravens are expected to have their way with the Raiders' always underwhelming defense; don't be surprised if the league's 2019 MVP finds his way into the end zone on multiple occasions. Sheesh note: Jackson totaled more fantasy points last year from purely rushing production than Ezekiel Elliott.
These offenses might just want to pass the ball: Run games that don't appear to be set up all that well to break off some explosive plays on the ground include the Dallas Cowboys, Los Angeles Chargers, New York Jets and Chicago Bears.
Don't fade Zeke just to fade Zeke: Yes, facing off against the Tampa Bay Buccaneers' reigning top-six defense in PPR points per game allowed to opposing running backs without all-world G Zack Martin (covid) isn't ideal. Also yes, Zeke has the sort of high-end usage to still get by in the presence of reduced efficiency. Example: Ezekiel Elliott worked as the overall RB3 in last season's debut against a similarly tough defense in the Los Angeles Rams with starting RT La'el Collins sidelined. He's my RB8 on the week only behind backs with the same sort of three-down role *and* a quality matchup.
Pace
Fast-paced games lead to more plays, which lead to more points. Every week usually consists of at least a few games that could resemble a track meet based on their combined situation-neutral pace (Football Outsiders).
Combined Situation-Neutral Pace: Represents the combined situation-neutral pace between each matchup's two offenses. A lower number indicates fewer average seconds per play (blue  = fast-paced game), while a higher number indicates more average seconds per play (red = slow-paced game).
Mismatch Manifesto Week 1: combined situation-neutral pace.

Low combined numbers (blue) = two fast-paced offenses
High combined numbers (red) = two slow-paced offenses

Data from 2020, Football Outsiders pic.twitter.com/JI0T4eYv2X

— Ian Hartitz (@Ihartitz) September 8, 2021
Get ready to see a track meet: The week's top two fastest-paced matchups feature the Dallas Cowboys (No. 2 in situation neutral pace) at the Tampa Bay Buccaneers (No. 4) as well as the Arizona Cardinals (No. 1) at the Tennessee Titans (No. 3). All four of last season's Mount Rushmore of fast-paced offenses in two games. Great day to be great, indeed.
We'll be moving plenty fast elsewhere, too: Additional matchups that could feature plenty of snaps well below the play clock dies down include the: Los Angeles Chargers at Washington Football Team, Pittsburgh Steelers at Buffalo Bills, Philadelphia Eagles at Atlanta Falcons and Cleveland Browns at Kansas City Chiefs.
Unfortunately, some offenses are slow and lame: The week's slowest-paced matchups feature the Green Bay Packers (No. 32) at the New Orleans Saints (No. 28) as well as the Baltimore Ravens (No. 30) at the Las Vegas Raiders (No. 23).
Seriously, what are you waiting for: Additional matchups that could move more slowly than fantasy managers would prefer include the: San Francisco 49ers at Detroit Lions, Minnesota Vikings at Cincinnati Bengals as well as the New York Jets at Carolina Panthers.
Pressure
An overmatched offensive line can result in poor fantasy days for all skill-position players involved. Meanwhile, QBs with all day to throw can help generate points in bunches. We can determine which offensive lines might be especially better (or worse) this week with help from PFF's offensive and defensive pressure statistics.
Combined Pressure Rate: The sum of the offensive line's rate of pressures allowed per dropback and the opposing defense's total pressures generated per dropback. A higher percentage (red) is better for defenses and indicates that quarterback could be under fire, while a lower percentage (blue) indicates that matchup's quarterback could face reduced pressure.
Mismatch Manifesto Week 1: combined pressure rate

Sum of pressure rates between opposing offenses and defenses.

Higher percentage: that offensive line could be in trouble (red)
Lower percentage: not expecting much pressure on QB (blue)

Data from 2020, PFF pic.twitter.com/GRFMP7gU1I

— Ian Hartitz (@Ihartitz) September 8, 2021
Under pressure — good song, bad for fantasy football: Quarterbacks who could be under consistent duress this week include Josh Allen, Matt Ryan, Daniel Jones, Justin Herbert and Zach Wilson.
Don't worry too much about the league's reigning runner-up MVP: It seems like the Bills are going full real-life-Madden. Overall, Allen dropped back on 28 of his 33 snaps in his preseason debut. Madness. Last season Allen racked up his third-highest single-game regular season mark in total pass attempts (43) against the Steelers; that number could be the floor moving forward if this preseason was any indication. Fantasy football is a game of volume, and Allen should have plenty of it, even if T.J. Watt and company are able to make life difficult.
Losing your best friend sucks: I did a study on quarterbacks without their WR1 in an effort to disprove the idea that the Cleveland Browns are better off without Odell Beckham. While this goal was achieved, another startling truth was uncovered: Matt Ryan has been rather atrocious without the services of Julio Jones over the years.
PFF passing grade: 94.5 with Jones; 74.6 without

Yards per attempt: 7.8 with Jones; 7.0 without

Big-time throw rate: 4.8% with Jones; 3.3% without

Turnover-worthy play rate: 2.7% with Jones; 3.3% without
Overall, Ryan played in nine games with Jones either sidelined or limited to fewer than 50% of the offense's snaps in 2020. He largely struggled in those performances, limping to 238 pass yards-1 TD-1 INT, 285-0-0, 226-0-1, 232-0-2, 185-2-1, 224-1-3, 356-3-0, 300-2-0 and 265-2-0 lines. Ryan finished 2020 as the fantasy QB12, although his status as the QB15 in fantasy points per game better reflects his up-and-down campaign.
Some offensive lines and quarterbacks are just more prone to pressure: The New York Jets, New York Giants, Minnesota Vikings and Philadelphia Eagles were the only offenses to be pressured on at least 38% of their dropbacks last season. The Seattle Seahawks and Baltimore Ravens weren't too far behind.
That'd be awesome if the Jets' latest hopeful franchise quarterback is good: Don't let Zach Wilson's baby face distract from the fact that he's a 6-foot-3 and 215-pound man with a bazooka for a right arm.
Okay Zach Wilson okay pic.twitter.com/prWkZGwZEN

— Ian Hartitz (@Ihartitz) August 23, 2021
Yes, the verdict remains out on whether or not Wilson can still thrive with his patented off-script style of play against stiffer competition. Also yes, that test isn't exactly fully on the table in Week 1 against the league's reigning 18th-ranked scoring defense. Here's to hoping Wilson and company are at least fun to watch; he's my dark horse pick to finish 2021 with the position's largest difference in big-time throw rate rank and turnover-worthy play rate rank. 
Sundial joke about having a ton of time to throw: Tom Brady, Carson Wentz and Kyler Murray stand out as QBs who could have all day to throw this week.
My goodness does TB12 have a loaded offense to play with: This group is honestly unfair. Training camp reports surrounding Antonio Brown have been fluffy all August, Mike Evans is the only wide receiver to ever start his career with seven consecutive 1,000-yard campaigns, and Chris Godwin is fresh off producing an 81-1,072-8 receiving line despite suffering a concussion, grade two hamstring strain and fractured finger all by Week 7.
The largest issue facing this passing game is the reality that there's only one ball to go around. Tom Brady fed the following players at least 10 targets in 12 games after AB entered the offense (note that Brown missed one game during this stretch):
Obviously none of the Buccaneers players should be worried about their targets; they just won the Super Bowl. However, there is some cause for concern in fantasy land. Evans had seven games with fewer than five targets in 2020; he had just five-such games combined from 2014-2019. Volume concerns are the only thing preventing Godwin (WR12), Evans (WR15) and Brown (WR26) from being higher in my Week 1 rankings.
Pass rushes that haunt the dreams of your favorite quarterback: The Pittsburgh Steelers (42% pressure rate), New Orleans Saints (39%), Philadelphia Eagles (38%), Tampa Bay Buccaneers (38%), Kansas City Chiefs (38%) and Los Angeles Rams (36%) separated themselves as the league's top defenses in creating consistent pressure.
The league's finest individual rushers of the passer: Aaron Donald (98 pressures in 2020), Shaquil Barrett (77), T.J. Watt (73), Stephon Tuitt (71), Emmanuel Ogbah (66), Carl Lawson (64), Leonard Williams (62), Cameron Heyward (62), Romeo Okwara (61), Joey Bosa (61) and Chris Jones (60) were the only defenders with at least 60 pressures last season.
Trench Battles
RBs receive most of the praise for an offense's rushing output, but an overmatched offensive line can thwart a team's run game before it even has a chance to get started. We can determine the offensive lines that might be especially better (or worse) off this week by looking at yards before contact.
Combined Yards Before Contact Per Rush: The sum of an offensive line's adjusted line yards per rush and the opposing defense's adjusted line yards allowed per rush. A higher number (green) is good for running backs, while a lower number (red) indicates that matchup's offense could have some trouble consistently running the ball.
Mismatch Manifesto Week 1: combined yards before contact per rush

Sum of each offense and defense's YBC/carry.

High number: Good run-blocking o-line vs. bad run-defending D (blue)
Low number: Bad run blocking o-line vs. stout D against the run (red)

Data from 2020, PFF pic.twitter.com/Dooe0IwtYK

— Ian Hartitz (@Ihartitz) September 8, 2021
Great day to be a great running back: The New Orleans Saints, Baltimore Ravens, New England Patriots and Tampa Bay Buccaneers boast the week's most favorable matchups in the trenches.
A new Robin in New Orleans: Latavius Murray was presumed to be the first man up behind Alvin Kamara entering 2021, but now that honor goes to Tony Jones Jr. The 2020 undrafted free agent totaled just three touches as a rookie but has cemented his spot as No. 2 on the depth chart after Murray was released on Tuesday. In 2019, Murray handled 84% and 82% snap rates while working as a top-three fantasy back in two games when Kamara was sidelined. The ceiling is the roof for Jones if Kamara misses any time. Perhaps Ty Montgomery or Dwayne Washington would see some additional work with Kamara out, but either way Jones is the definitive leader, making him a prime flex option and top-four handcuff league-wide.
Maybe, just maybe, the Patriots have dwindled down their backfield: The departure of Cam Newton under center is ideal for all parties involved; Damien Harris should be leaned on as a legit upside RB2 option in the right spot. That appears to be the case in Week 1, as the Patriots find themselves as 3-point home favorites against a Miami Dolphins defense they racked up 334 combined rushing yards against in two 2020 matchups.
I'll be more in on James White (RB50 in my fantasy football rankings) as the season progresses *if* we confirm J.J. Taylor and/or Rhamondre Stevenson aren't consistent parts of this offense. For meow, Harris (RB22) is the only recommended start out of this ever-muddled backfield.
Personal note: Check out my Week 1 Backfield Report for more specific information on the league's ever-evolving running back stables.
More running backs expected to have a little thing called success: The Washington Football Team, Minnesota Vikings and Los Angeles Rams also boast above-average matchups at the line of scrimmage.
This Rams backfield is suddenly a nightmare to figure out: Sean McVay has shown his hand multiple times at this point that he doesn't believe in Darrel Henderson as *the* featured back, first by drafting Cam Akers (Achilles, IR) with the 52nd overall pick in the 2020 NFL draft, and next by using multiple picks to add Sony Michel to the equation. ESPN's Adam Schefter went as far to suggest that Michel will "probably be the lead back."
My money remains on Henderson to lead this backfield, but it's impossible to feel any sort of clarity in this situation. Hell, Jake Funk could see some usage as well. Ultimately, Henderson (RB23) deserves the benefit of the doubt as the starter, but his ranking could easily be reversed with Michel (RB30) by this time next week depending on how the snaps shake out. Ideally, avoid this situation for a week until there's more clarity surrounding the touches at hand.
The era of AG-DC might just be upon us: The difference between Antonio Gibson functioning as a borderline RB1 and league-winning talent comes down to the size of J.D. McKissic's role. Simply assuming that the man who led the position in targets last season will disappear isn't good process, particularly after McKissic continued to keep Gibson off the field in obvious pass-down situations during the preseason.
Still, this is about as good of a floor/ceiling combo that a fantasy investor could ask for. We already know Gibson is a borderline great receiver; now the opportunity just needs to present itself.
Every morning I wake up and pray to the fantasy football gods for Antonio Gibson to get 80+ targets in 2021pic.twitter.com/91Tr2pdkqQ

— Ian Hartitz (@Ihartitz) September 7, 2021
Gibson himself told The PFF Fantasy Football Podcast that the coaching staff didn't want to put too much on his plate as a rookie; it'd make sense if Ron Rivera and company embrace a similar Year 1 to 2 jump as Christian McCaffrey.
Gotta love a good run game scheme: The Baltimore Ravens (2.01 yards before contact per carry), New Orleans Saints (1.98), New England Patriots (1.91) and Green Bay Packers (1.84) were the league's only offenses that averaged at least 1.8 yards before contact per rush last season. Note that this includes running backs only.
Best Steven Tyler voice: Run away, run away from the pain yeah, yeah, yeah, yeah, yeah: The Dallas Cowboys, Chicago Bears, Seattle Seahawks, Las Vegas Raiders and Los Angeles Chargers stand out as offenses that could have a tough time creating much of a consistent push against their respective opponent's fearsome defensive lines.
Passing Game
Some pass offenses are obviously more efficient than others, while certain secondaries are seemingly capable of shutting down any aerial attack. We can determine the week's biggest mismatches in the passing game using each offense and defense's pass yards per dropback.
Combined Passing Yards Per Dropback: The sum of an offense's passing yards per dropback and the opposing defense's passing yards allowed per dropback. A higher number (green) is good for quarterbacks and receivers, while a lower number (red) indicates that matchup's pass offense could be in trouble.
Mismatch Manifesto Week 1: combined passing yards per dropback

Sum of offense's pass yards/dropback with defensive rate.

Higher number: efficient pass offense vs. bad pass defense (blue)
Lower number: inefficient pass offense vs. good pass defense (red)

Data from 2020, PFF pic.twitter.com/Qy5KmROkJc

— Ian Hartitz (@Ihartitz) September 8, 2021
Look out local birds: The San Francisco 49ers, Minnesota Vikings and Tampa Bay Buccaneers are set up the best to consistently find success through the air this week.
Man, these Vikings receivers are good: Last season, only D.K. Metcalf and Tyler Lockett (48.7%) boasted a higher combined target share than Justin Jefferson and Adam Thielen (48.6%) among every team's top two pass-game options. D.J. Moore and Robby Anderson (71%) were the only duo to beat Jefferson and Thielen (68.2%) when it came to air yard share. The Vikings certainly figure to again utilize a run-first offense, but Kirk Cousins does a good enough job focusing on his top two targets to enable multiple high-end fantasy-relevant receivers (again).
The government calls it a passing league for a reason: The likes of Carson Wentz, Matt Ryan, Sam Darnold, Patrick Mahomes and Aaron Rodgers are also popping a bit as signal-callers who might be able to take advantage of their opponent's secondary.
Sixty percent of the time, this Panthers offense works every time against the Jets: There are seven cornerbacks on the Jets roster: Four are rookies, two are in their second season and absolutely zero were drafted higher than the fifth round (per PFF_Mike). I'm not buying Darnold's comeback szn as a whole, but, hell, Teddy Bridgewater enabled three top-24 receivers in this offense despite only throwing 15 touchdowns last season. Get used to these receivers being set up to smash: The Panthers open up 2021 with matchups against the Jets, Saints, Texans, Cowboys, Eagles, Vikings, Giants and Falcons.
These passing games might be a bit rough n' rowdy: The New York Jets, Washington Football Team, New York Giants and Chicago Bears have the week's least promising matchups in terms of expecting consistent aerial success.
Friends don't let friends even consider benching A-Rob: Jalen Ramsey didn't shadow Allen Robinson last season; that's how we got the infamous Darnell Mooney double-move video, after all. Don't fade legit WR1s like A-Rob because of a perceived tough matchup. He caught all four of his targets for 70 against this defense last season, including a bomb directly over top Mr. Ramsey himself. If you're in a five-man league and blessed with four top-15 receivers: Good for you. Otherwise, start Robinson without hesitation. There are only so many receivers in this league who could feasibly finish with a target total that starts with a two and he's one of them.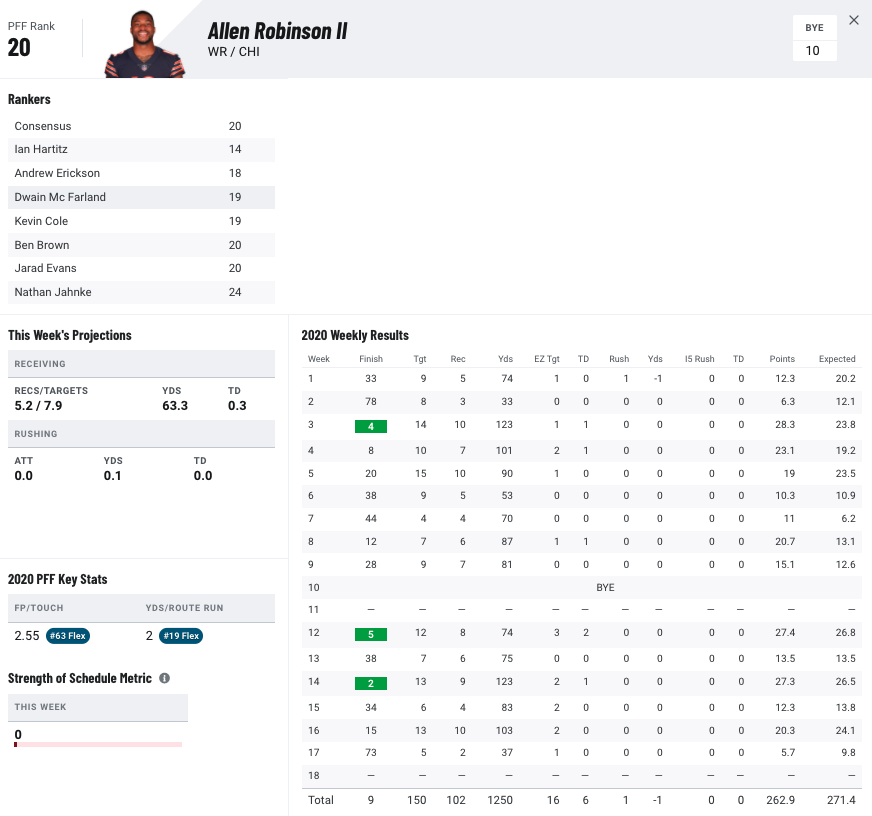 Not so fast my friend: Each of Dak Prescott, Jalen Hurts, Justin Herbert, Ben Roethlisberger, Jared Goff and Teddy Bridgewater also stand out as signal-callers that aren't set up in anything resembling a smash spot.
Did someone say Heisman: DeVonta Smith is one of "My guys" in fantasy land thanks to his status as 1.) one of the best collegiate receivers the game has ever seen, 2.) a top-10 pick, and 3.) the Eagles' projected No. 1 pass-game option. There's a chance Jalen Reagor seizes this honor, but the general sentiment when Smith has been healthy during training camp is that he's been the featured guy. Credit to Quez Watkins on one helluva preseason; any No. 3 wide receiver in a run-first offense is going to have problems producing consistent fantasy production. Get Smith into starting lineups ahead of a Week 1 date against the NFL's reigning worst defense in PPR points per game allowed to opposing wide receivers. Jalen Hurts put up some truly awful efficiency numbers as a passer last season but proved capable of putting up numbers in garbage time with two 300-plus yard performances in his four starts.
Dope secondaries always have the best nicknames: The Baltimore Ravens, Pittsburgh Steelers, San Francisco 49ers, Washington Football Team and Los Angeles Rams were the league's only defenses to allow fewer than 5.5 pass yards per dropback in 2020.
EPA
Points are ultimately what wins football games. We can measure the expected points of every play on offense and defense by considering the down, distance and field position before factoring in the result. Estimated points added (EPA) is thus the value of a play that takes context into account and thereby better measures efficiency at the play level.
Combined EPA: The sum of an offense's EPA/play and their opposing defense's EPA/play allowed. A higher number (green) is good for offenses, while a lower number (red) indicates that offense could be in trouble.
Mismatch Manifesto Week 1: combined EPA per play

Sum of EPA/play of matchup's offense and defense to see the biggest potential overall mismatches

High numbers indicate an efficient offense vs. an inefficient defense (blue), lower numbers are bad for o (red)

Data from 2020, PFF pic.twitter.com/wAznjzWBy6

— Ian Hartitz (@Ihartitz) September 8, 2021
Blowout alert: The Baltimore Ravens, San Francisco 49ers and Tampa Bay Buccaneers stand out as the week's top three offenses that are expected to seriously have their way with their opposition.
Over alert: Matchups featuring positive offenses on both sidelines are the: Seattle Seahawks at Indianapolis Colts, Jacksonville Jaguars at Houston Texans, Minnesota Vikings at Cincinnati Bengals, Arizona Cardinals at Tennessee Titans, Cleveland Browns at Kansas City Chiefs and Green Bay Packers at New Orleans Saints. 
Under alert: Matchups featuring negative offenses on both sidelines are the: Los Angeles Chargers at Washington Football Team, Denver Broncos at New York Giants and Chicago Bears at Los Angeles Rams. These matchups hardly represent the sort of high-scoring environments that fantasy managers should be targeting.
Upset alert: Applicable matchups featuring an underdog with the superior offensive advantage are the: Washington Football Team (+1), New York Giants (+2.5) and Miami Dolphins (+3). Note that the Indianapolis Colts (+1) and Houston Texans (+2.5) also apply, but obviously their respective quarterback changes leave the outlook for their current units looking far different than last year.